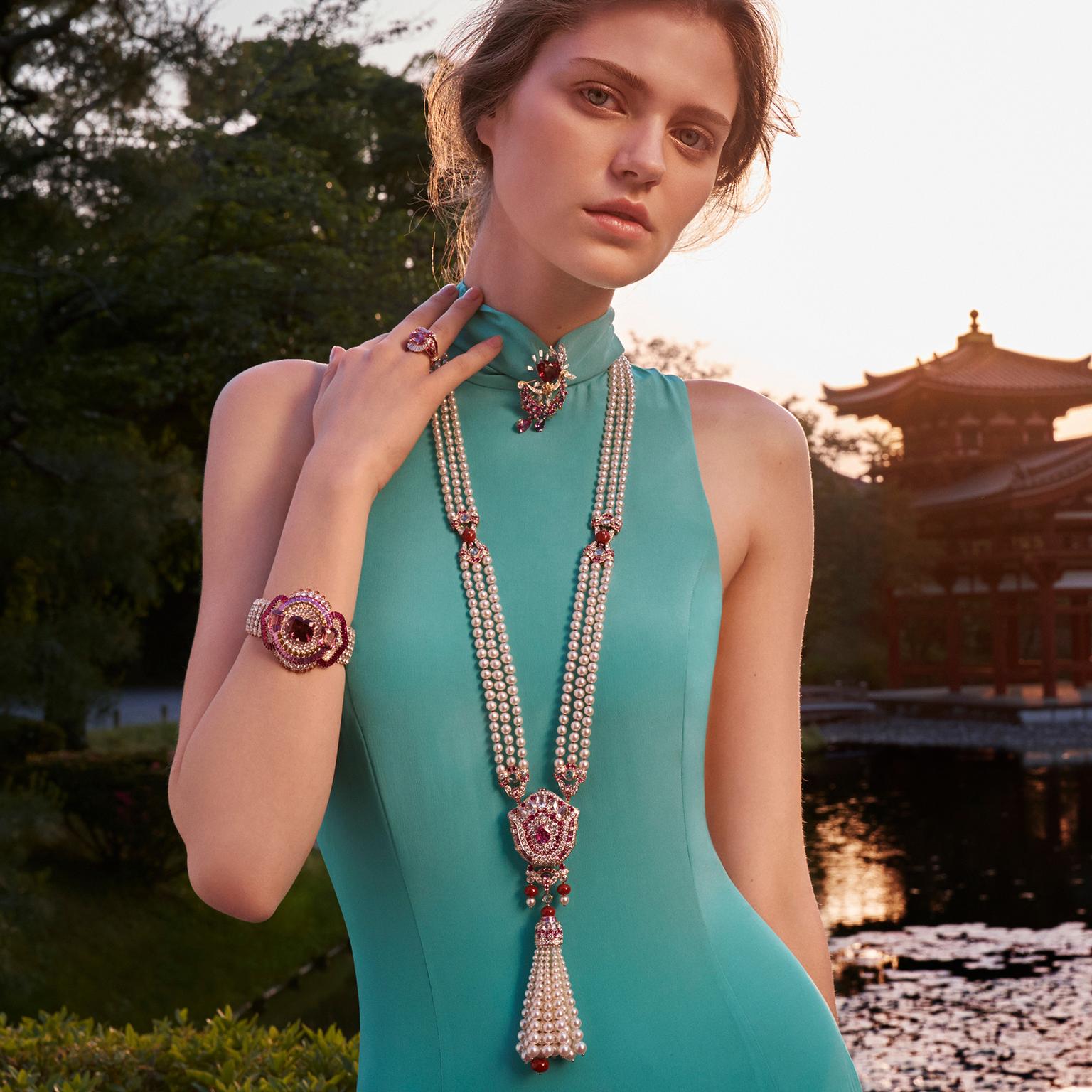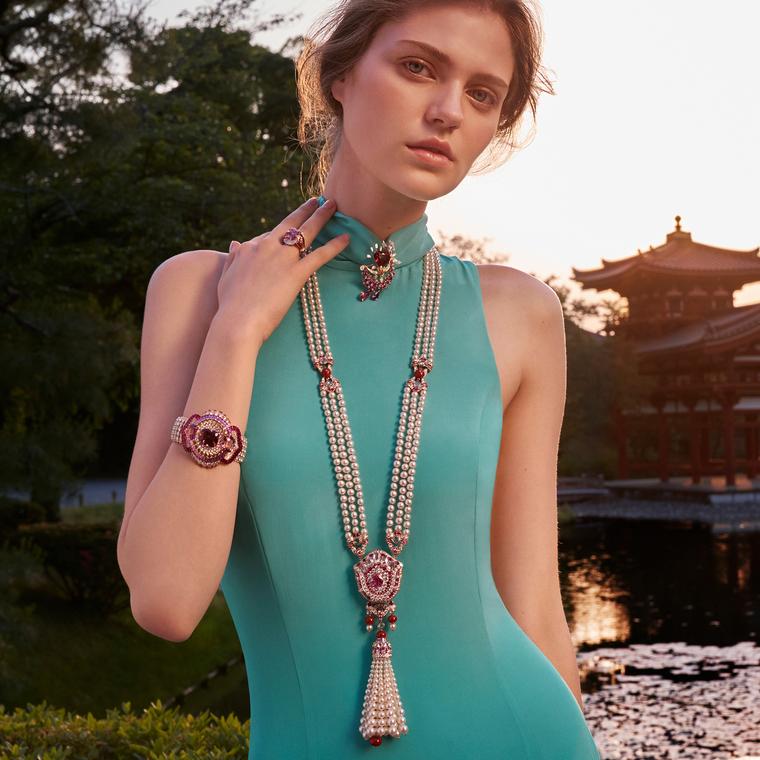 The Parisian jeweller Van Cleef & Arpels is dedicated to delighting and surprising its faithful followers. As masters at creating the most whimsical and heart-flutteringly charming jewels, its designers and craftsmen have created a universe populated with diamond-dusted fairies, gem-laden butterflies and bejewelled flowers for over a century. But the Le Secret collection adds a whole new element of surprise and mystery to the art of haute joaillerie with one hundred jewels that transform, twirl or unfold to reveal their own little precious secret.
The Pégase necklace from Van Cleef & Arpels' Le Secret collection features a 45.10 carat Sri Lankan sapphire surrounded by diamonds and emeralds. The three diamond-set drops can be detached and worn as a brooch, revealing a sculpture of the mythical horse Pegasus, worn with the Cachette des Coccinelles brooch. Credit: Sonia Sieff

Transformable and hiding little secrets, the model wears the Pétale de Papillon brooch, the Papillon secret watch with a 14.56-carat Colombian emerald and the Believe in Luck Between the Finger ring, all from the Van Cleef & Arpels Le Secret collection. Credit: Sonia Sieff

There is more than meets the eye with Van Cleef & Arpels' Le Secret collection that offers not just multiple ways to wear the jewels but conceals hidden delights and amorous messages. Credit: Sonia Sieff

With an Oriental aura, the Cachette long necklace, Couers Enlacées cuff and Secretes des Amoureux brooch are all part of Van Cleef & Arpels' Le Secret high jewels that transform or reveal hidden surprises. Credit: Sonia Sieff
In the world of Le Secret, nothing is quite as it appears. A ballerina in a shimmering skirt of diamonds and blue and mauve sapphires slips away to reveal a swan, in its wake a moonlit pool of precious gems. At the click of a secret mechanism, a brooch in the form of a vivid yellow and mauve sapphire flower releases a butterfly brooch. A 16.46-carat Madagascar sapphire glides out of its diamond frame to make way for a glorious cluster of pinky-violet sapphires and white diamonds.  Three rows of sumptuous pearl ropes form a long Indian-style sautoir necklace ending in a pearl tassel (top of article). Inside the shield-shape pink sapphire and diamond studded locket hides a 2.33 carat Burmese ruby ring.  For the romantically inclined, a heart-shape pink sapphire and diamond brooch, below, comes apart to transform into either ear clips or longer pendant style drops.
But my favourite is a resplendent pink coral and yellow and rose sapphire Lovebird surrounded by mystery-set ruby poppies, below. The proud mother opens her wing to reveal her baby safely nestled in her downy breast. In a similar vein, a life-size ladybird plays hide and seek behind a fan of diamond leaves adding a playful touch to the majesty of the 10.17-carat Zambian emerald centrepiece of a brooch.
Hard at work behind the gem-set gold work, ingenious mechanisms animate these miniature theatrics all lovingly hand-crafted in Van Cleef & Arpels' Place Vendôme ateliers. Each piece is a one-off creation, crafted entirely by hand from start to finish with every mechanism custom-made for each jewel.  Tin models were made of the more complex pieces to ensure not only their aesthetic and craft excellence but ease of use and reliability of the miniature mechanics behind the scenes. 
While transformable jewellery and mystery have long been a forté of Van Cleef & Arpels, these ingenious gem-laden surprises take delightful to new heights.