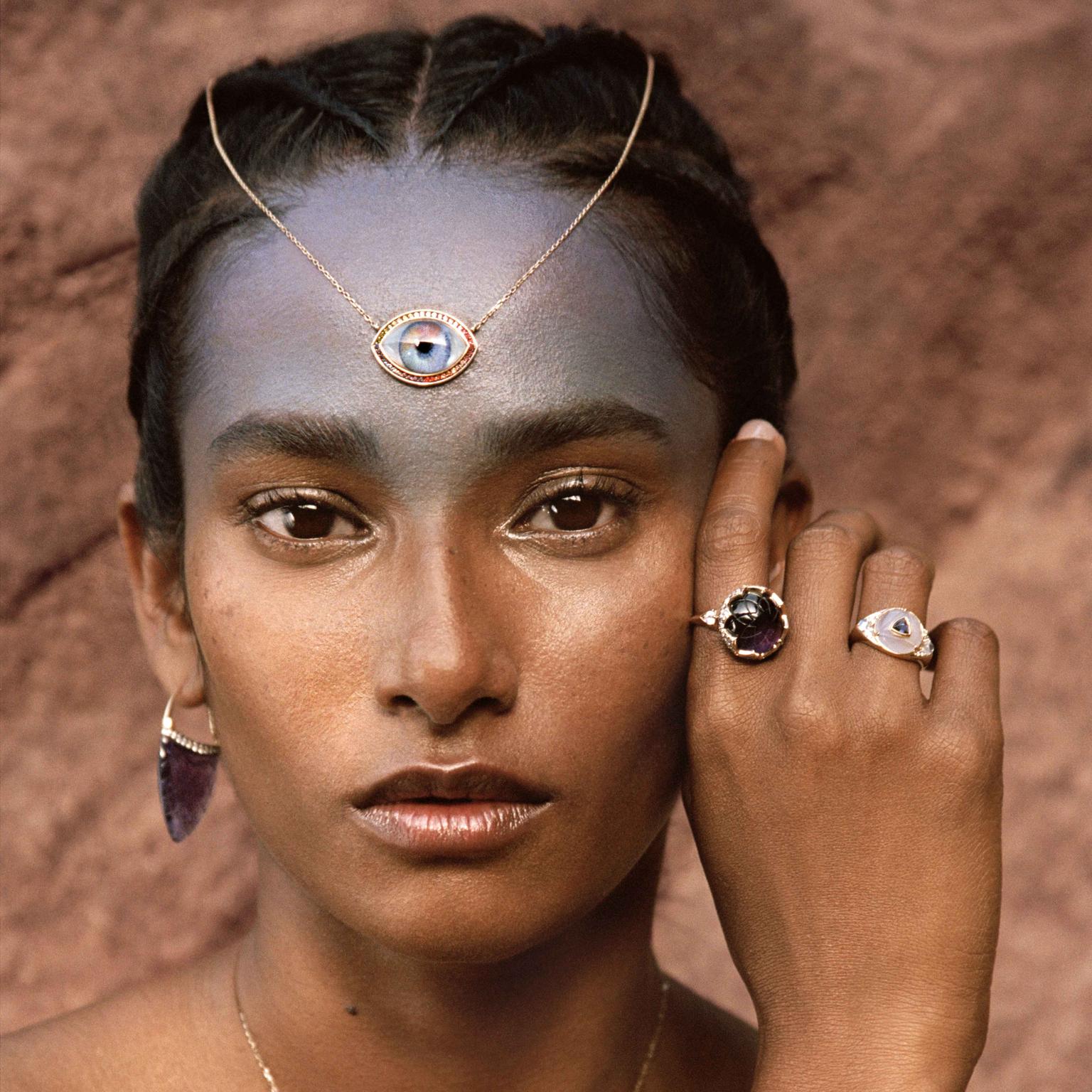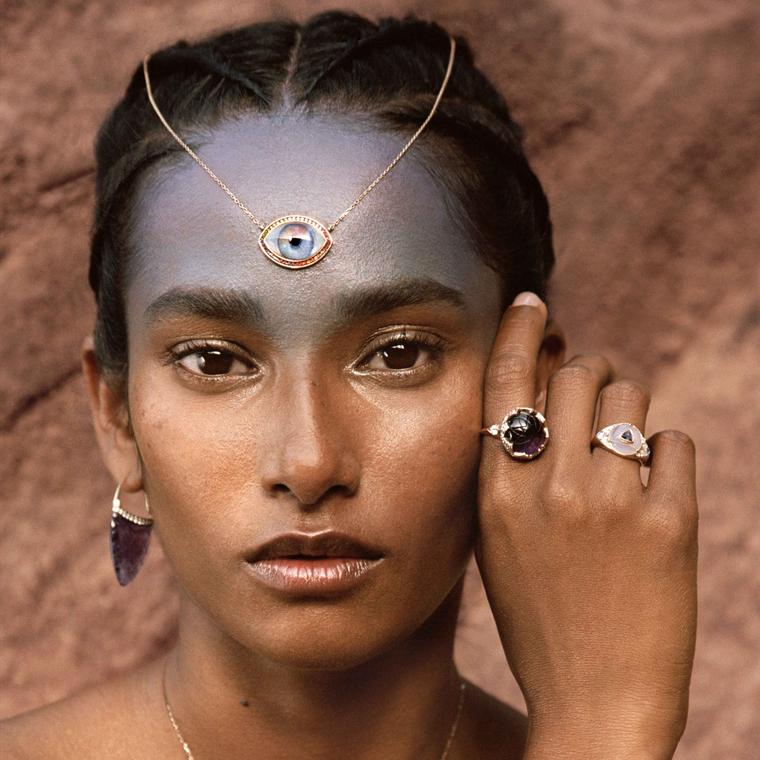 It is always interesting to see what our readers are interested in and thanks to the detailed statistics provided by Google Analytics , we can reveal which articles were the most read in 2020 on The Jewellery Editor.com. As the experts remind us, getting your editorial mix right is a delicate balance between a keen eye for monitoring search criteria and offering unique content from a trusted editor with a strong writing style. So with this in mind, here are the ten most-read articles of 2020 from our audience of 140,000 unique visitors a month from around the world.
Number 1: His and hers: gender fluid jewels for a new decade
Our article on the trend for unisex or gender fluid jewels was the most read of the year. We picked up on what we saw as the biggest tendencies for 2020 and beyond as we looked at which jewellers were offering products that refused to define themselves by sex. We covered jewels from both the big names such as Bulgari  with the BZero1 Rock or the resurgence of Cartier's Just un Clou and Boucheron's Quatre to niche players such as Hannah Martin, Shaun Leane or Julien Riad Sahyoun who were ahead of the curve in embracing gender-bending styles.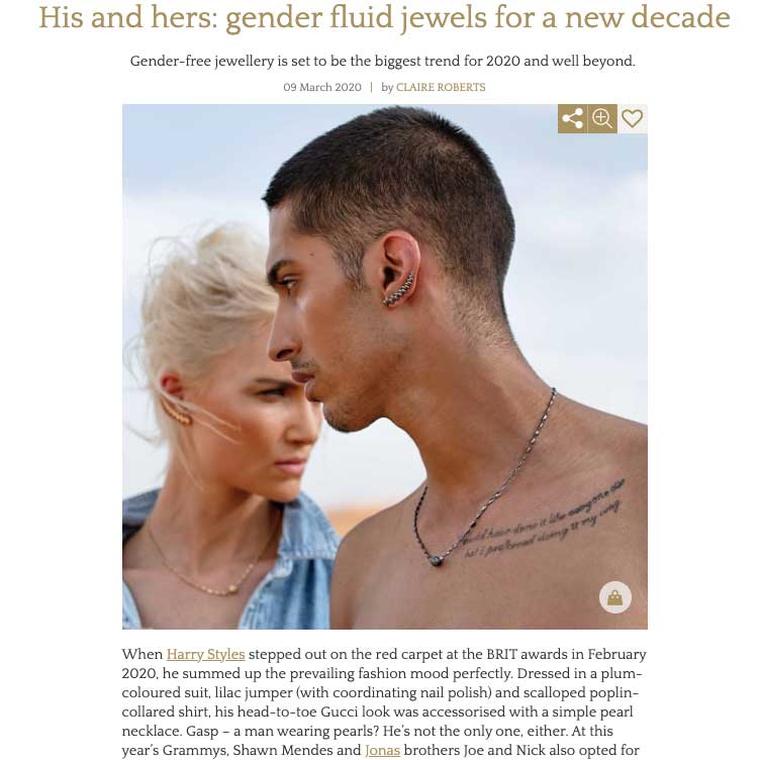 Number 2: The jewellery trends that have become modern classics
Runner-up is our article on which jewellery styles have grown from passing fad to design staples. The popularity of this article confirms the hunger for information on trends and fashions in the world of jewellery. Our readers discovered that setting gems in rainbow waves of colour, lucky charms, talismans and hoop earrings were the favourite jewellery looks to make it main stream. Our lead image of Cara Delavingne in Dior's Rose des Vents no doubt caught the eye of our younger readers as well as the tempting array of easy-to-wear jewels.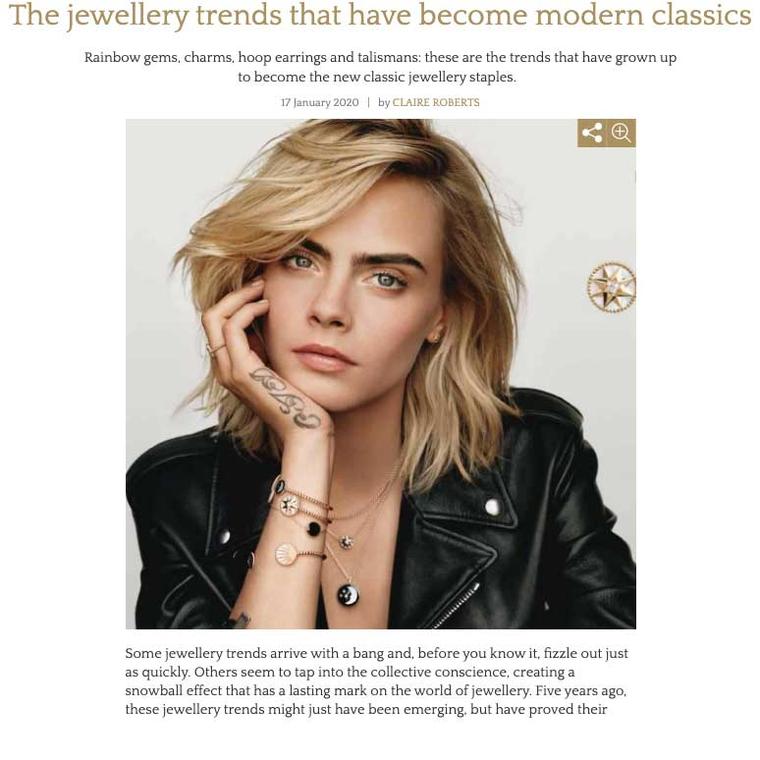 Number 3: Whisper softly to me: grey jewels are on the rise
The rule of three has definitely confirmed that articles looking at jewellery trends are the most popular category on The Jewellery Editor. This time, the focus was on the rise of grey jewels, a phenomenon I couldn't help but notice as humble grey rose to chromatic fame. And this was well before Pantone announced Ultimate Gray one of the two colours for 2021. So, you read it here first.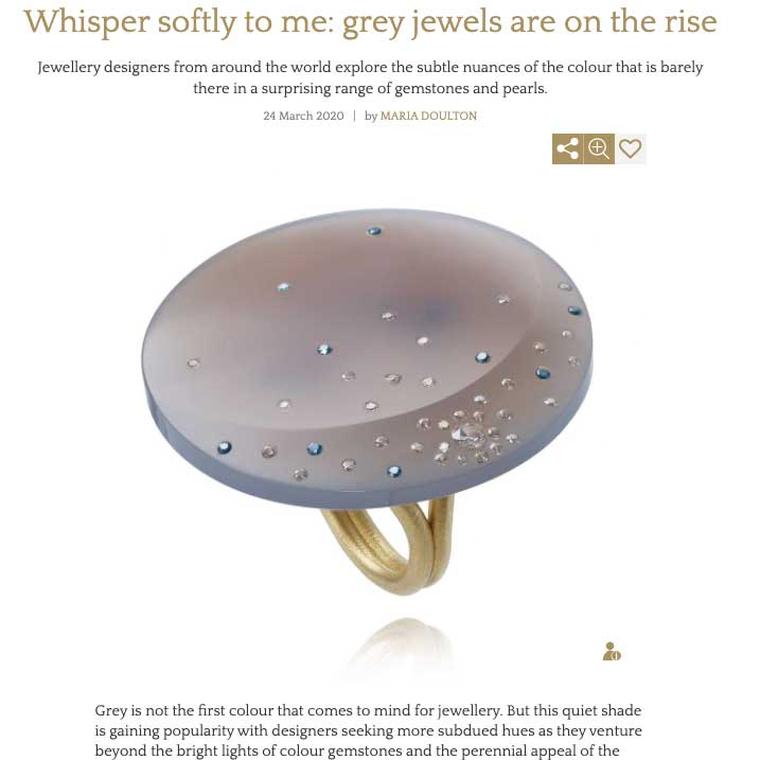 Number 4: Lang Antiques: where jewels move with the times
After trends, it seems that our readers are interested in vintage and antique jewels. This article was dedicated to Lang Antiques in San Francisco, the world's leading retailer of antique and vintage jewels with a thriving e-commerce business that allows them to serve customers well beyond the Bay Area. We believe that the thirst for antique jewels ties in with rising concerns about sustainability and the ethics of jewellery. Buying second-hand be it clothes, an Edwardian engagement ring or an Art Deco diamond bracelet is a trend that is clearly on the rise, and one that Lang Antiques is well-placed to serve.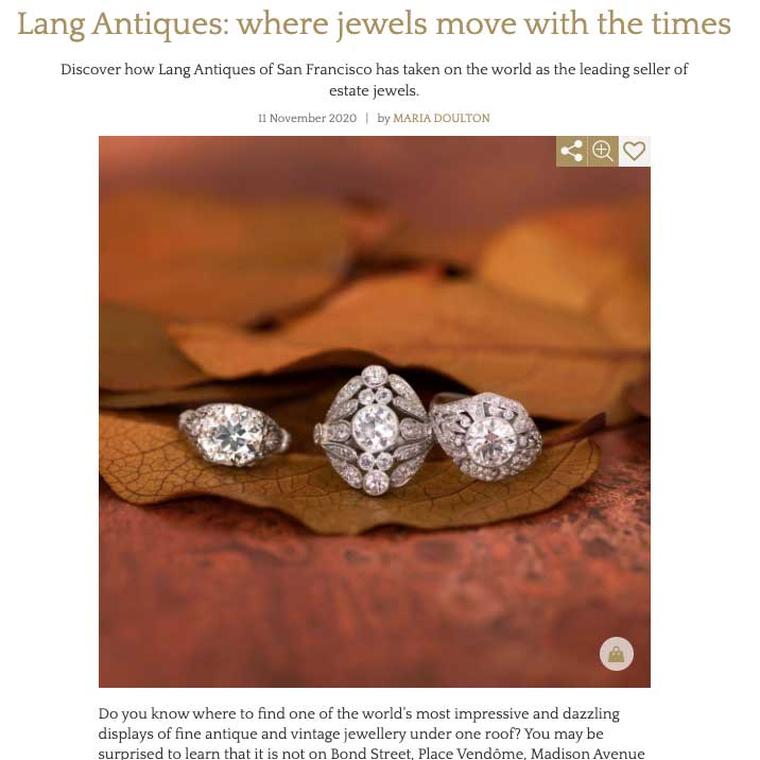 Number 5:Revealed: Ben Day's dazzling and brilliant jewels
Lucky for London jeweller Ben Day, his profile was in the top five articles of the year. To be honest, this is not one we saw coming as Ben Day is something of a jewellery insider's favourite, for those who really love gemstones and appreciate rare beauty and hand made perfection. Then again, The Jewellery Editor is known for being the place to discover little-known treasures of the jewellery world in our ambitious global range of coverage. To date we have over 900 brands and designers in our Brand Hub, each and every one of which has been covered in our 3,500 articles published to date.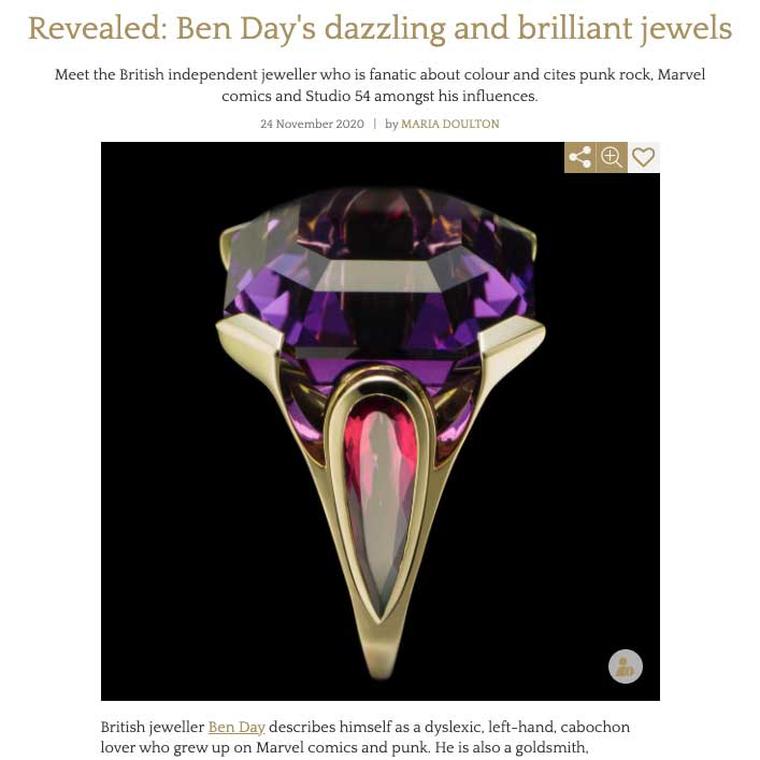 Number 6: Beyond Nature: Cartier's bold new (Sur) Naturel
High jewellery is always popular with our readers and particularly when it is by Cartier, one of the most famous names in the game. Like haute couture, haute joaillerie invites us to dream and collections such as the stunning (Sur)Naturel are the highlight of any jewellery lover's year. Rest assured, The Jewellery Editor is committed to covering high jewellery launches despite what 2021 may bring.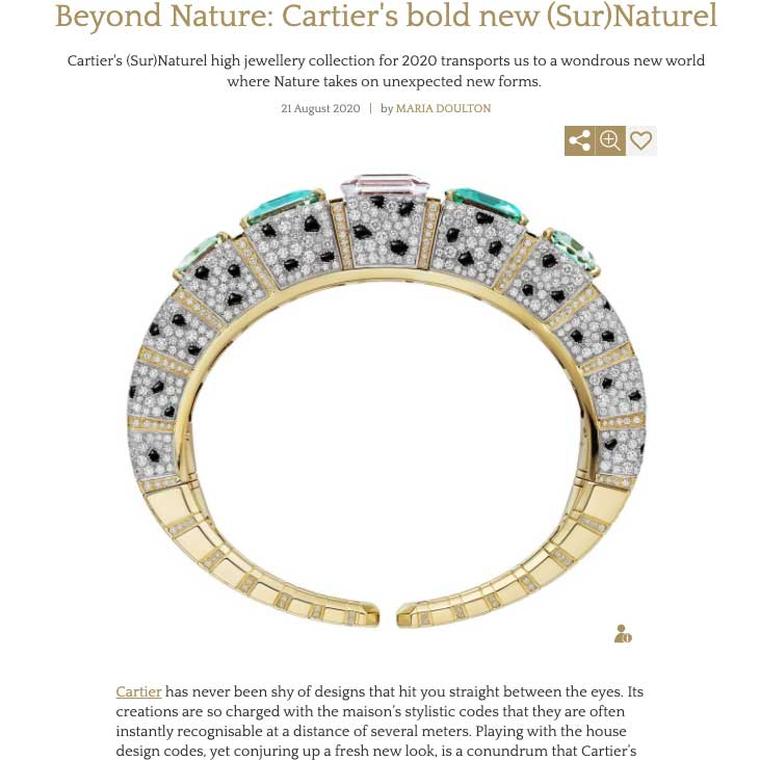 Number 7: The brilliance of Parisian high jewellery
I wrote this article when France went into lockdown ahead of us at the start of 2020. My thoughts were with all the craftsmen and women, designers and employees of the Parisian jewellery houses who were amongst the first in our industry to have their lives turned upside down. This was my homage to the importance of Paris to high jewellery around the world and an opportunity to share some of their exquisite work. It was also a reminder that the great jewellers are true survivors who have faced adversity from revolutions to global economic crashes. A pandemic is another challenge that I believe the industry will find the strength to overcome.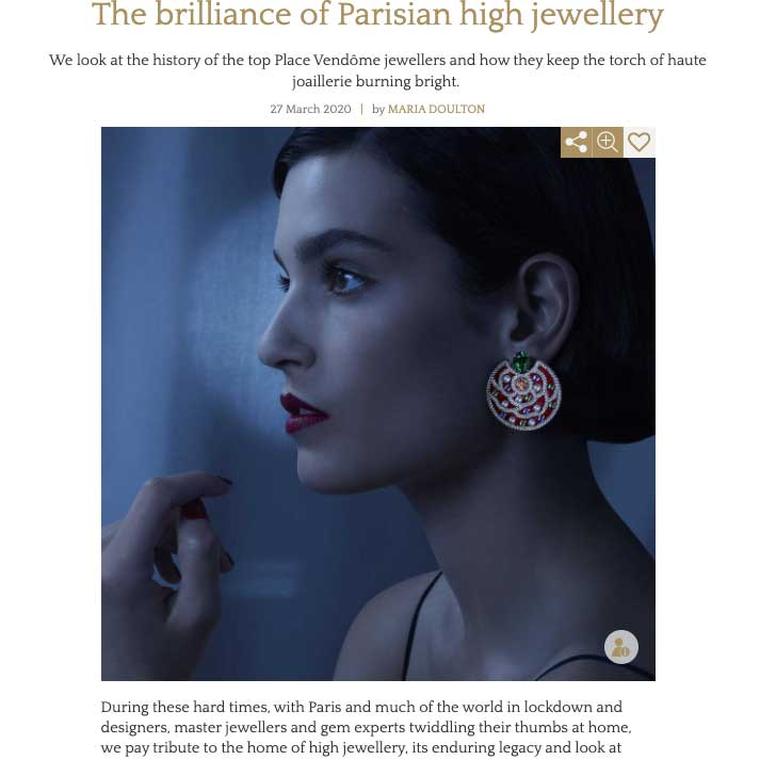 Number 8: Grand designs: the B.Zero1 Rock goes unisex, cool and very contemporary
Two major themes beam out from this article: unisex jewels and the allure of all things Bulgari. We put them together and we had a winner. The re-vamp of the iconic B.Zero 1 is a triumph of Bulgari's innate Italian sense of style combined with the ability to tune into trends without losing the essence of great design.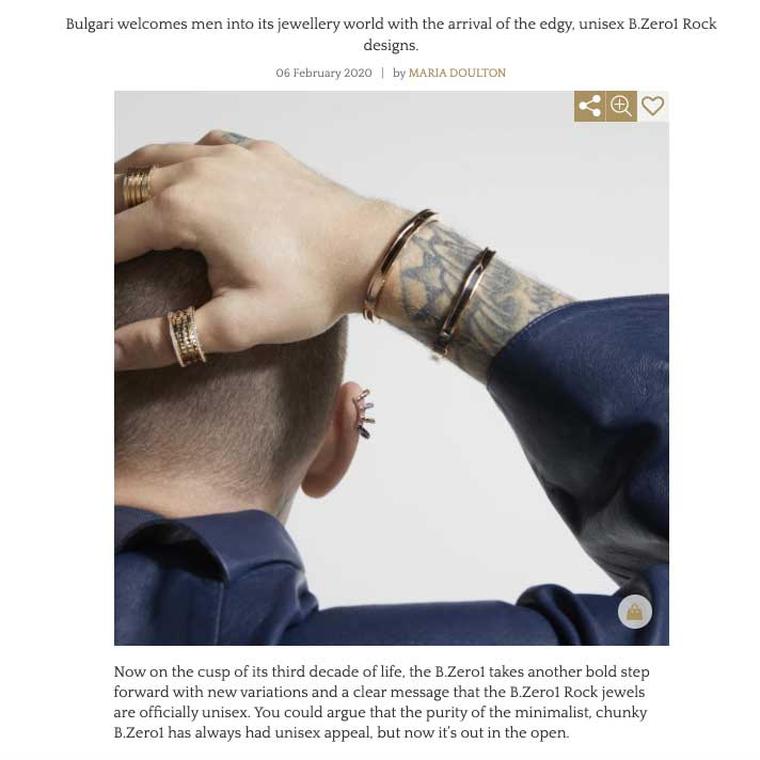 Number 9:  A powerhouse of positivity: the unstoppable rise of Azza Fahmy 
This article was based on my January 2020 visit to Cairo where I spent time with Azza Fahmy and her team. I would like to think that my admiration of this all-women company of pioneering women is contagious but I suspect Azza Fahmy has a strong global following and the article reached many of her fans or those interested in discovering this world-class Egyptian company. Either way, a lot of people love hearing news from Azza Fahmy.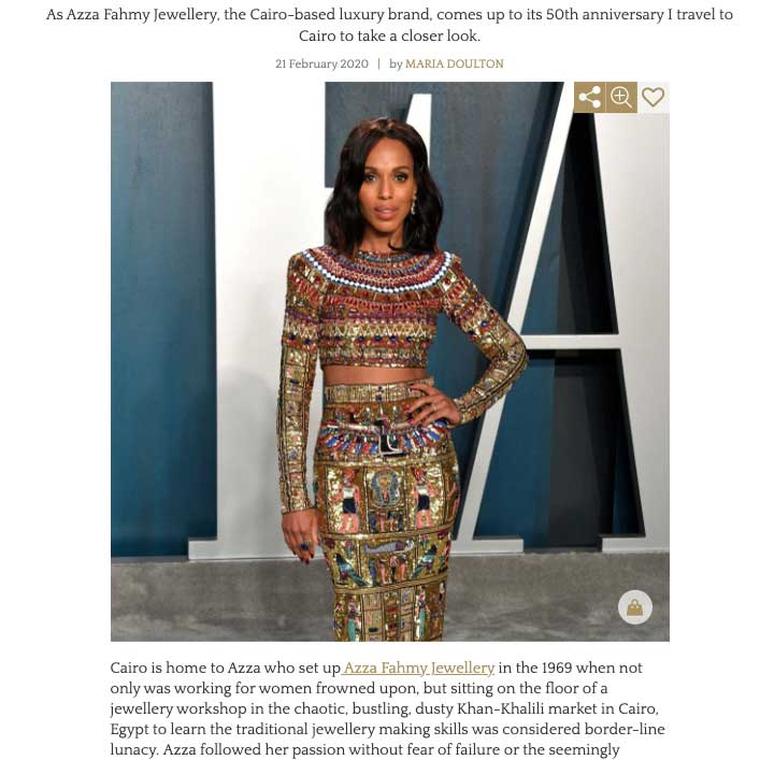 Number 10: Hannah Martin's  A New Act of Rebellion rages 
I am so happy that another woman made our top ten and who better than the feisty Hannah Martin whose launch of her first collection in three years was threatened by the first lockdown. But ever the fighter, Hannah Martin bravely went ahead with the launch. The outsized, gold jewels are an elegant interpretation of how punky rebels with a Mad Max streak would adorn themselves in a post-apocalyptic world – albeit one with a large supply of gold, hard stones and some pretty refined craftsmanship. Rock on Hannah!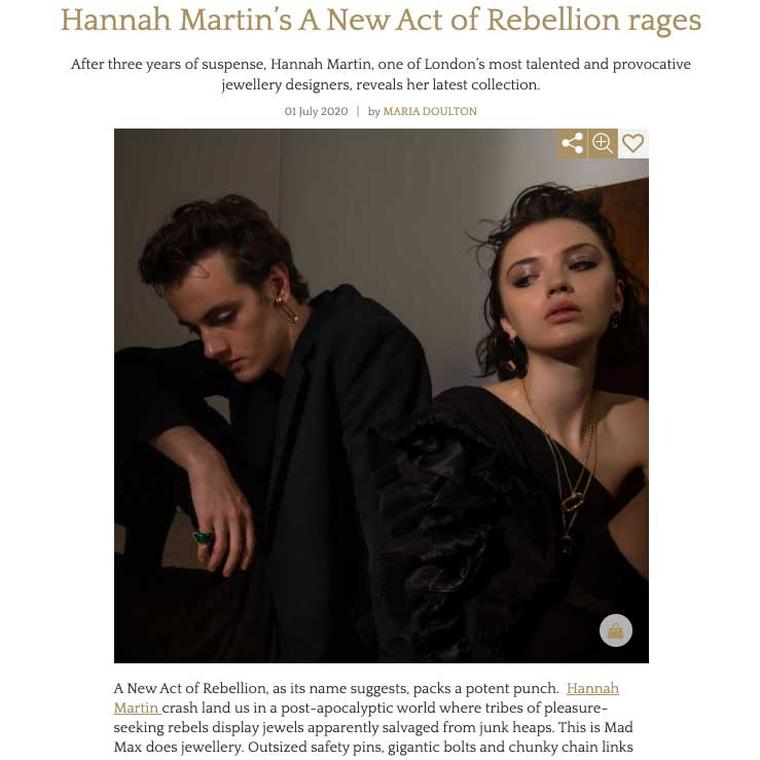 For more information email [email protected] or [email protected]