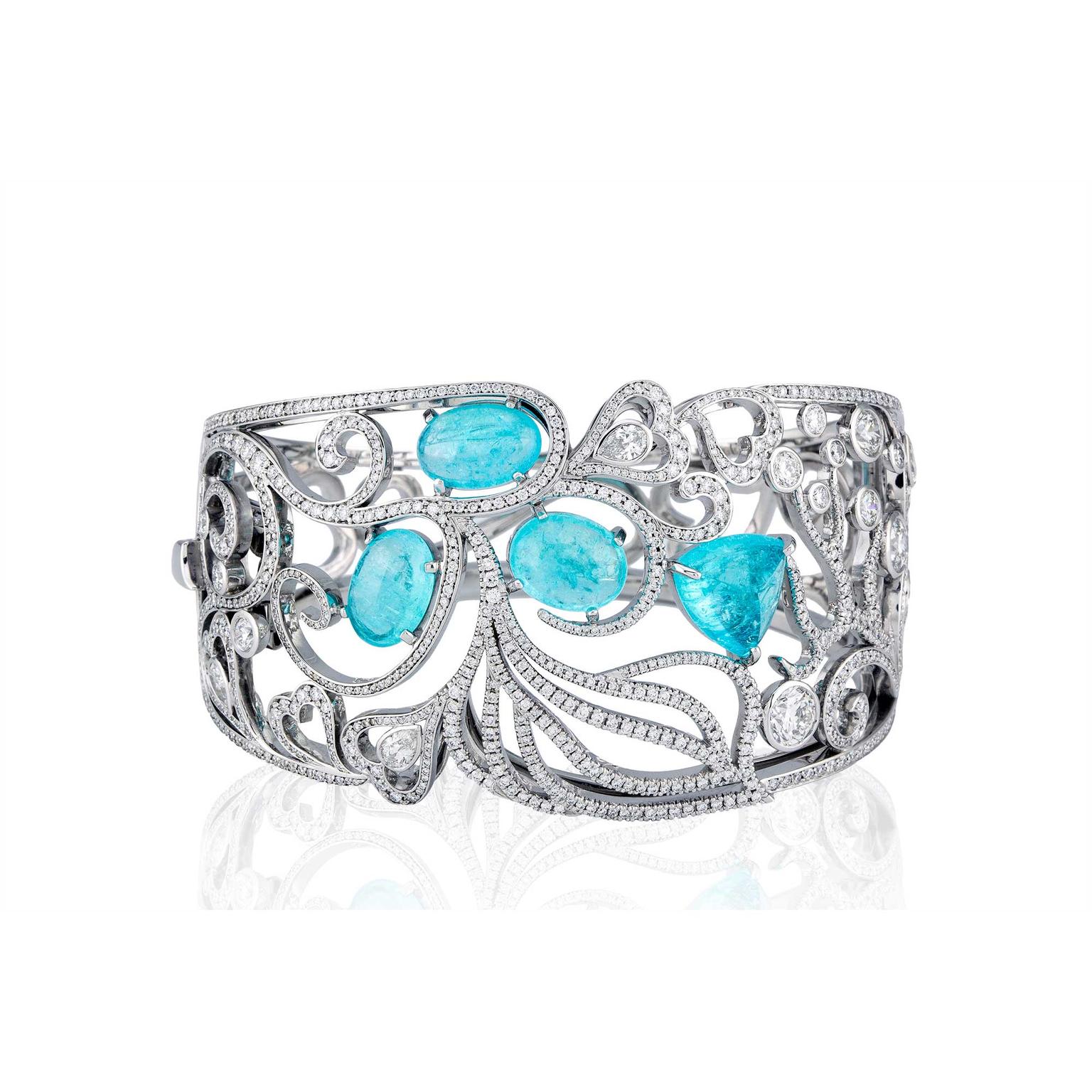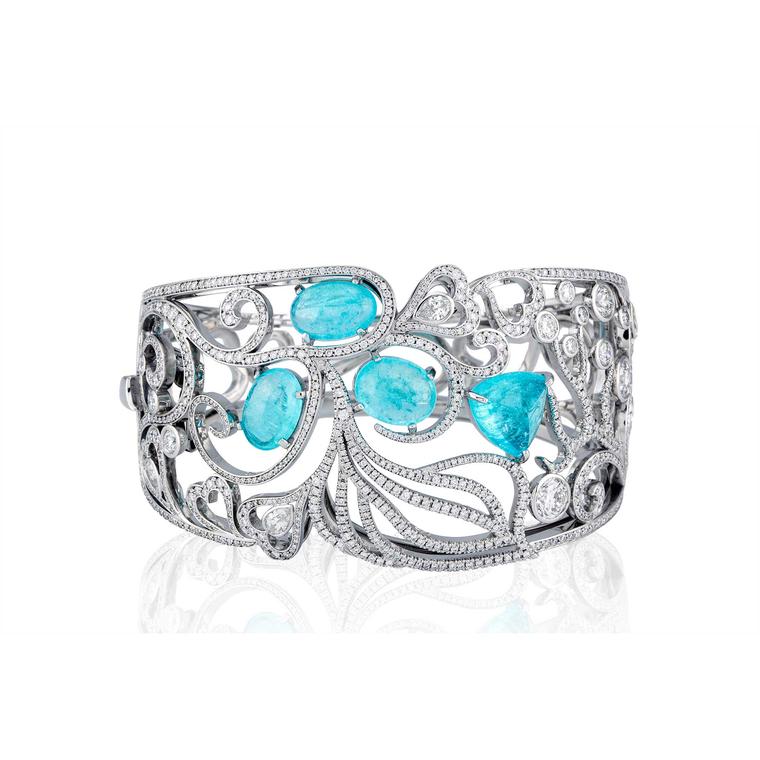 By Rachael Taylor
The latest high jewellery collections from the world's most luxurious Maisons are awash with coloured gemstones, with many of these providing kaleidoscopic whirls that fall outside the traditional hues of emerald, ruby and sapphire, with a few special stones giving the doyennes a run for their money.
Sapphires, rubies and emeralds have long held the top spots when it comes to buying coloured gemstones and, after diamonds, are still fetching headline prices at auction. However, there are some rarer stones starting to challenge the big three both in price per carat and demand.
View a selection of ruby jewellery
"Alternative coloured gemstones can achieve very high prices, however it all comes down to quality to determine price per carat," says Wempe managing director Lynn Schroeder, who lists Paraíba tourmaline, red beryl, blue garnet, black opal, tanzanite and alexandrite as some of the rarer stones the New Bond Street jeweller is working with. "The stones with a natural intensity in colour are the most expensive ones. When they have undergone heat treatment, which is not unusual, the price will come down."
Alexandrite, a colour-changing gem that was first discovered in Russia's Ural Mountains in 1834, on the day future Tsar Alexander II turned 18, is proving to be one of the most expensive gemstones in the world, according to gem dealer Matthew Morrell of Direct Source Gems. "It's something we're seeing more demand for, and it's much rarer than a diamond," says Morrell, adding that a top-quality alexandrite of 5ct and above - a rare find - commands a price of US$40,000 per carat, while 1ct stones can change hands for US$10,000.
Alexandrite, which is mined in Russia and Brazil, flits between shades of green, orange, purple-red, yellow and blue, and its darkly hypnotic hues recently caught the attention of the design team at Fabergé jewellery, leading to it being set in the centre of a ring within its Devotion collection. Other rare gems also make an appearance in this collection, including spinel - a deep red ruby-like gem that currently commands high prices. A ring with an oval-shaped spinel sold at Sotheby's Hong Kong in June for US$81,000.
See more coloured gemstone jewellery from Fabergé
"In the highest quality, these fine gemstones can command prices per carat that are comparable to that of precious gemstones," explains head of design at Fabergé, Natalia Shugaeva. "They are popular with discerning clients looking for a rare, unusual coloured gemstone to reflect their personality. Personally, I find that a cushion cut works especially well for these gemstones as it enhances their character and unique hue."
Paraíba tourmaline is another gem that has been commanding an impressive value per carat of coloured gemstones, with African-mined gems weighing 3ct and above trading for up to US$25,000 per carat, and increasingly scarce Brazilian gems now practically writing their own cheques.
Find out more about Paraíba tourmaline gemstones
Boodles jewellery has set Paraíba tourmalines in its recent ballet-inspired Pas de Deux collection, as well as its Atlantic Blue range, and head of design Rebecca Hawkins says the stone's ability to consistently "add drama" to designs will ensure it reappears in future collections.
Jody Wainwright, director and head of gem sourcing at Boodles, says she is constantly on the lookout for unusual top-quality coloured gemstones that will add an edge to designs. "Recently we acquired an exquisite large GIA-certified cushion-cut morganite that was carefully selected due to its extraordinary pink colour," she says. "These special stones bear such distinctive qualities and appeal that it seems improper to refer to them only as semi-precious. Spinel and Paraíba tourmaline also continue to excite us and command the coloured precious stone market - the rising prices of these reflect their importance."
View our videos featuring stunning coloured gemstone jewellery
While the traditional trinity of diamond, emerald and sapphire will always lead high jewellery collections, their equally attractive alternative cousins are causing quite a stir right now, and these so-called semi-precious gemstones appear to be moving in very precious circles indeed.
Atlantic Blue Paraíba tourmaline and diamond ring in platinum from Boodles jewellery.

Ashoka diamond and Paraíba tourmaline platinum pendant from the Boodles fine jewellery Pas de Deux collection, inspired by The Royal Ballet.

Boodles 26.05ct pear-shape morganite drop pendant with diamonds in platinum from the Pas de Deux collection.

Fabergé fine jewellery ring featuring a central alexandrite stone and diamonds from the Devotion collection.

Fabergé fine jewellery ring featuring a central spinel stone from the Devotion collection.

Mathon Paris Arôme ring with red spinel and diamonds.

Sheldon Bloomfield 2015 earrings in white gold with Morganite and diamonds.

Tivon ring set with a central morganite stone and diamonds.

Van Cleef & Arpels Goutte de Spinelle ring with a 14.32ct spinel surrounded by diamonds and rubies.

Boodles Paraiba tourmaline and diamond cuff in platinum from the Atlantic Blue collection.