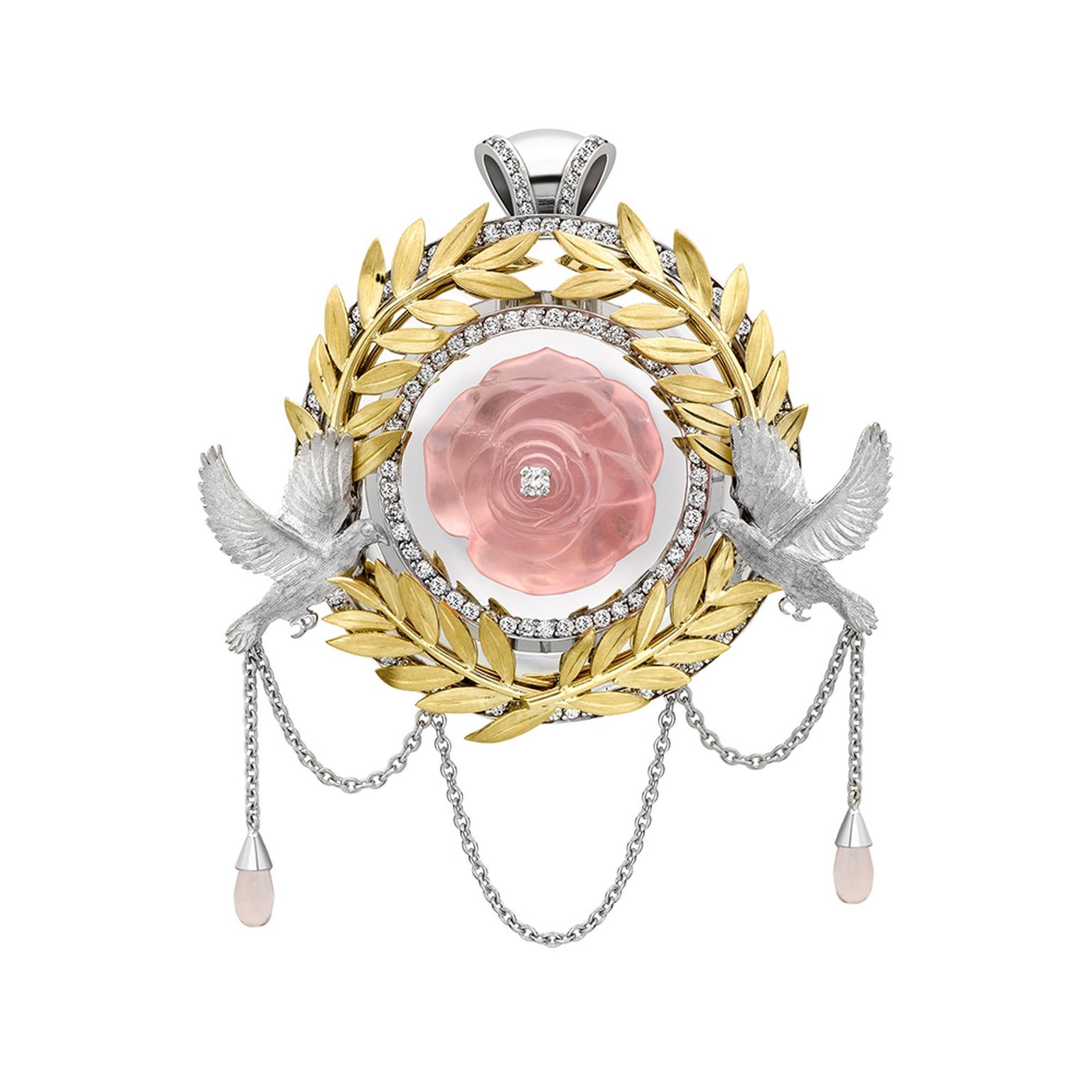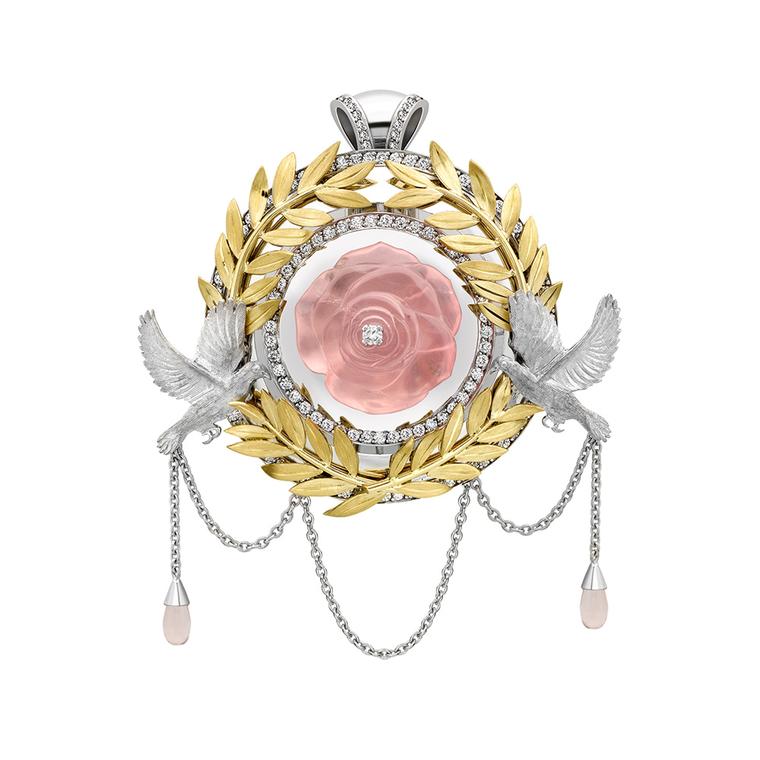 A busy workshop on London's Fulham Road is the creative heart of Theo Fennell's jewellery empire. It is also the origin of every piece of Theo Fennell jewellery, from fun charms to heirloom pieces. Here we are looking at his latest high-end jewels, which took months of intricate work by Theo's incredibly talented craftsmen.

Celebrating spring, Fennell has created three new suites of jewels that represent the pinnacle of his craft. Singular creations that combine Fennell's trademark fertile imagination and attention to detail with breathtakingly beautiful gemstones, every detail is hand-carved in his workshop, from the tiny feathers on a hummingbird - one of Fennell's favourite feathered motifs - to the petals of a flower.
With their looping chains and swooping birds, the chandelier-style earrings and pendants are extravagantly beautiful, but they hide a bold innovation, too. With one small adjustment, the pendant is transformed into a completely different piece of jewellery. Slip the diamond-set bail - the part that attaches the necklace to the pendant - beneath the pins and voila, your pendant becomes a brooch.
The hummingbird and hibiscus suite (from £8,750) - the first of two Floral Suites - features delicate white gold flowers, overlaid on yellow gold. A single coloured gemstone unites both pieces: the mesmerising green-blue Paraiba tourmaline. But rather than opting for identical sparkling gems, Fennell contrasts different cuts of the same stone: brilliants on the earrings with briolettes and a dainty, hand-carved, hibiscus-shaped Paraiba tourmaline on the pendant.
The second Floral Suite (from £10,900) features those eternal symbols of peace, the dove and the olive branch, individually crafted in 18ct white and yellow gold. The centerpiece of the pendant is a 14ct rose quartz, carved into the shape of a rose. Hanging from the delicate white-gold chains are six briolette-cut rose quartz of the palest pink, above which, on the earrings, sit four pink sapphires.
The swallow pendant/brooch and earrings in 18ct white gold, which comprise the Summer Suite (from £9,950), are simply beautiful. Fennell uses tanzanite - a coloured gemstone that is the same shade of purple-blue as the forget-me-not flower - to provide a single shock of colour. Amid the tiny flowers, perfectly rendered swallows and dazzling white diamonds, the tanzanite forget-me-not at the heart of the pendant is so intricately carved you can see each individual petal. 
Part of Theo Fennell's Summer Suite, the Carved Tanzanite Swallow Pendant in 18ct white gold features a central 6.75ct tanzanite carved into the shape of a forget-me-knot and can also be worn as a brooch (£26,000).

Theo Fennell Dove & Olive Branch Drop Earrings in 18ct white and yellow gold, set with 1.02ct pink sapphires and 0.27ct diamonds (£10,950).

The reverse of Theo Fennell's Carved Rose Quartz Dove & Olive Branch Pendant Brooch. The diamond bail slips off over the pins allowing the pendant to become an extraordinary brooch.

The chandelier earrings from Theo Fennell's new Hummingbird and Hibiscus Suite in 18ct white gold, set with luminescent Paraiba tourmalines (£8,750).

The pendant within Theo Fennell's Hummingbird and Hibiscus Suite in 18ct white gold - one of two new Floral Suites - can be also worn as a brooch.

Theo Fennell's new 18ct white gold and tanzanite Swallow Earrings, part of the new Summer Suite (£9,950).

Theo Fennell Carved Rose Quartz Dove and Olive Branch Pendant Brooch in 18ct white and yellow gold, with 13.94ct rose quartz and diamonds (£21,000), which can be worn as either a brooch or a pendant.