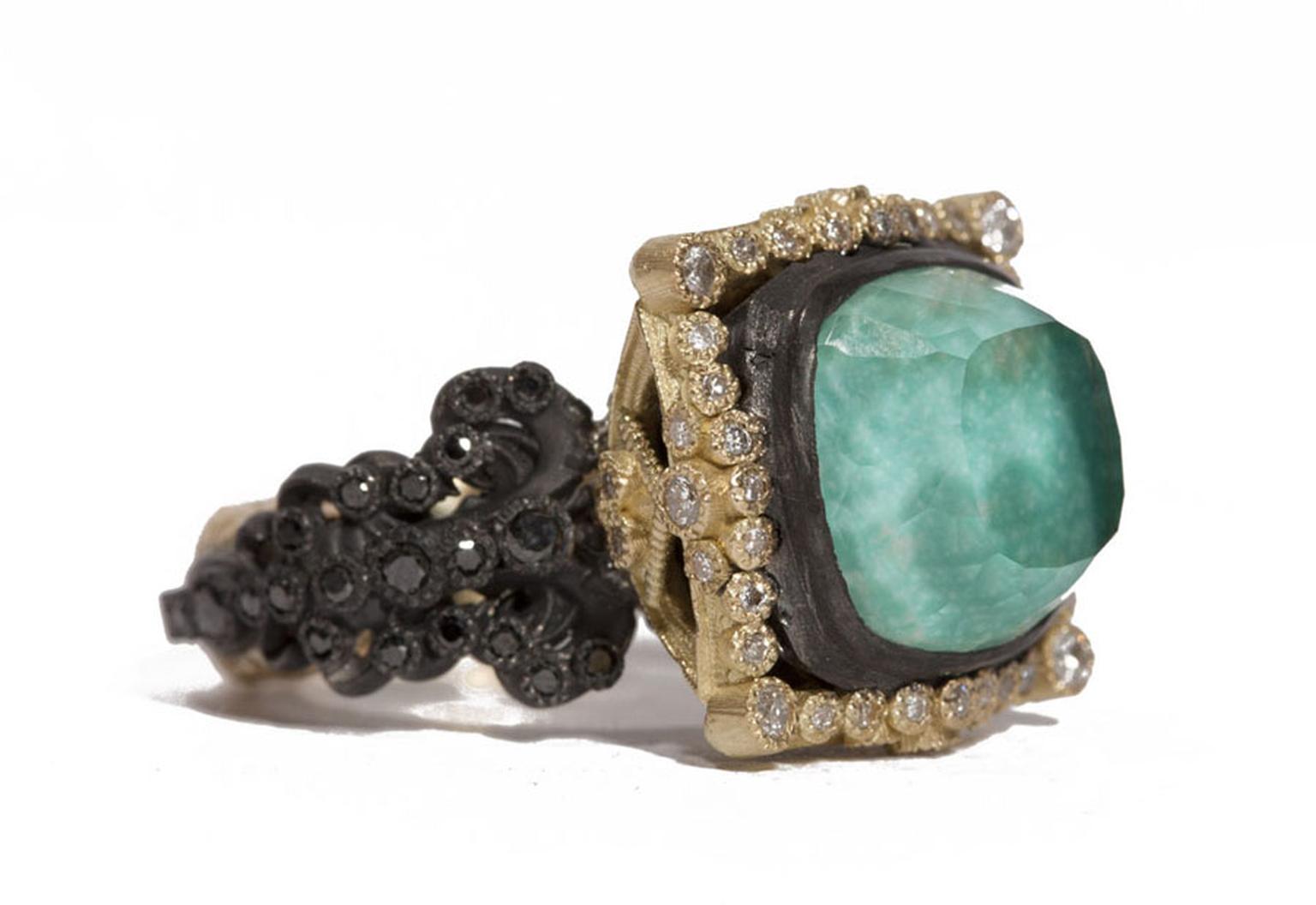 By Daisy Tinker
As the nights draw in and darkness falls, our romance with gothic-style jewellery has returned with a vengeance.
Recently, jewellers in their dozens have released collections with a gothic edge. But this season, rebellious jewels have been revamped with a glamorous baroque twist. Softer yet still with lashings of attitude, gold jewels are finished with delicate lace detailing, lustrous pearls and scattered with dark gemstones.
Stephen Webster's penchant for the macabre is his trademark. His new 'Fly By The Night' collection features thorned earrings and barbed wire rings in a mostly monochrome palette, with black and white diamonds and purple amethysts giving each jewel a luxurious edge. Fellow British jeweller Theo Fennell's famously oversized rings come in a variety of gothic guises, adorned with rubies, black diamonds, crosses and skulls. And even De Beers, which has never ventured into the dark side before, is this winter launching a ring made from black ceramic, set with its famously sparkly diamonds.
A key element in this particular trend is religious symbolism. Moving away from its traditionally colourful collections, this year Pomellato launched the Victoria collection of monochrome jewels. Black jet and white agate are cut to resemble lace on crucifix pendants that reveal an identical rose gold design on the reverse.
Grecian designer Nikos Koulis recently released a large, shield-like ring emblazoned with a diamond-encrusted cross, while his across-the-finger rings, designed in swirly rose gold and rhodium, give the impression of filigree, an ornamental type of metalwork used in jewellery making since the 4th century. Theo Fennell's 'Deus Dux Meus Est' yellow gold pendant, set with a large orange Mandarin garnet and inscribed in Latin, looks particularly holy.
The most baroque feature of all, however, is the decadent designs themselves. At Armenta, oversized bracelets, rings and earrings show off lavish settings. White and gold diamonds are set into oxidised silver and gold alongside bright turquoise, opal and lapis lazuli. Percossi Papi's flamboyant earrings are layered up with diamonds, peridots, pearls and amethysts - an accessory fit for any queen who likes her jewels presented with plenty of baroque charm.
Faraone Mennella's baroque-style gold earrings.

Armenta oxidised silver and yellow gold shield ring at Talisman Gallery.

Theo Fennell yellow Gold, mandarin garnet and diamond 'Deus Dux Meus Est' pendant (£19,500).

Nikos Koulis rose gold along the finger ring from the Fontana collection.

Armenta chain bracelet with lapis lazuli at Talisman Gallery.

Amedeo initial pendants.

Nikos Koulis diamond cross ring from the Phaedra's Box collection.

Pomellato's Victoria necklace. One side of the cross has been cut from black jet. The same design is repeated on the other side in rose gold.

Percossi Papi amethyst and diamond earrings at Talisman Gallery.

Stephen Webster 'Thorn' long finger ring set in white gold with black diamonds (£14,350).

Stephen Webster 'Cascade' earrings set in blackened white gold with black and white diamonds from the Fly By Night collection (£12,000).

Percossi Papi pearl and peridot earrings at Talisman Gallery.