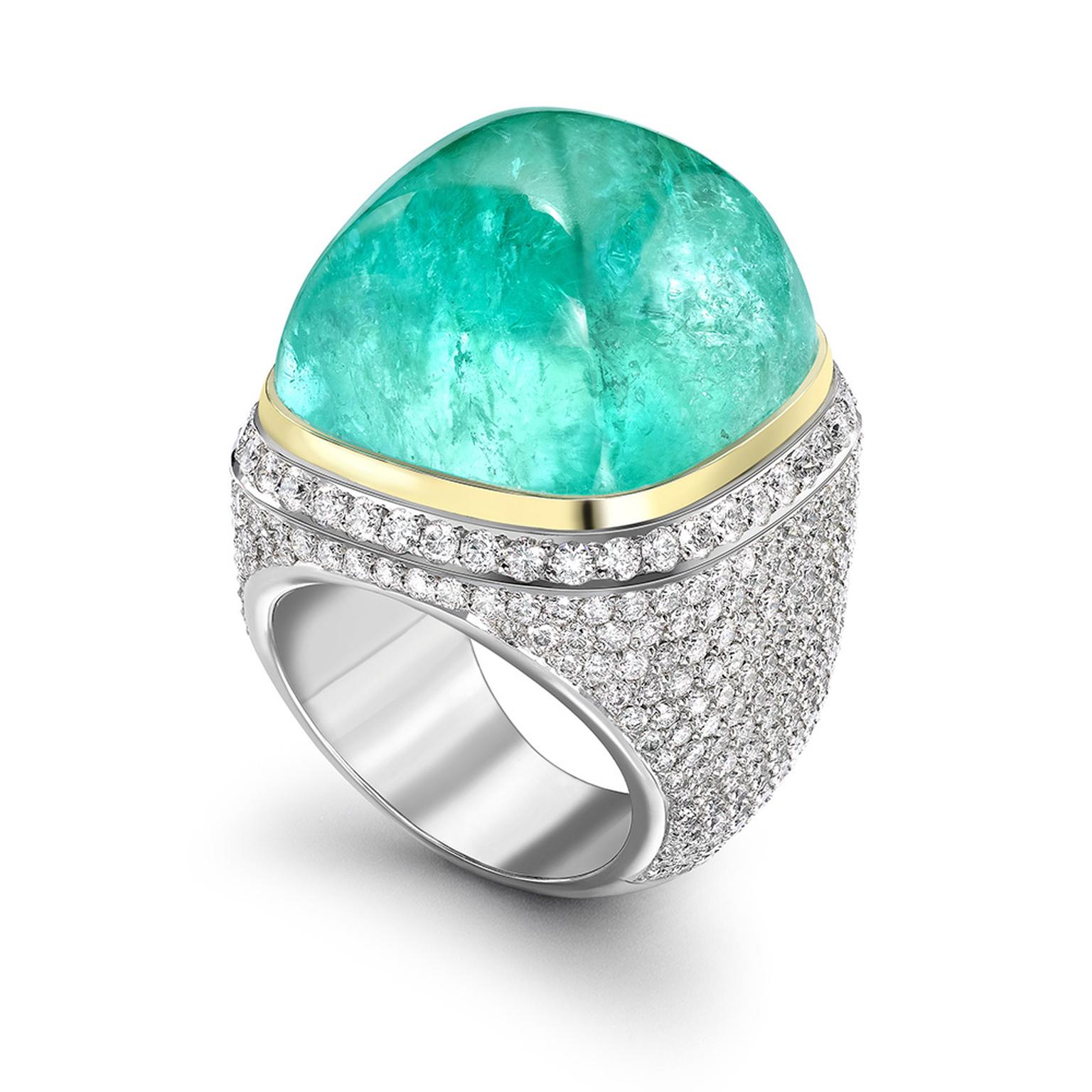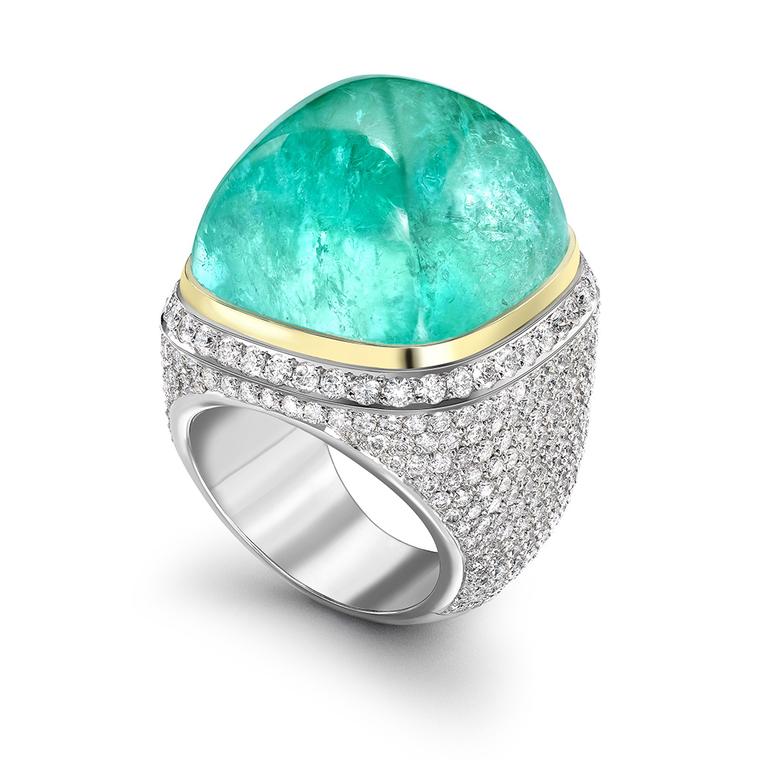 Theo Fennell's boutique on the Fulham Road is well known by Londoners as the place to go for jewels with a difference. Forget traditional three stone rings, diamond studs and sensible pearl necklaces. At Theo Fennell, exciting and creative designs, coupled with glorious bursts of colour, are what jewellery is all about. Watery blue tourmalines, blood red rubies and blushing pink tourmalines are just some of the exceptional stones that you can find shimmering, winking and whispering at you from the windows of Theo Fennell.
I had the chance to talk to Theo Fennell, who founded the brand in 1982, to find how he creates his imaginative, eclectic, unusual and sometimes whimsical jewels. Like his jewels, Fennell has a strong streak of irreverence, a fabulous sense of the ridiculous and an imagination as rich as a Christmas pudding.
 "I have two different ways of working," says Fennell. "Either a stone suggests a theme to me or I cut a stone to fit the story. Sometimes I see a stone and I just fall in love with it and know exactly what I will do with it. Paraiba tourmalines, for example, have a South Sea Islands, fathomless-blue-sea feel to them, so a marine story immediately comes to mind. Sometimes the allusions are less obvious, though. At the moment I have a tanzanite that looks medieval as it has a steely look to it, while other stones are more Elizabethan. But they all resonate and pull out different feelings. Some can be full of passion, while others are quite cold and uninteresting."
Fennell's approach is not always predictable. "Sometimes I have no idea what I am going to do with a stone and wait for it to talk to me," he says. And according to Fennell, the stones do indeed talk to him. "They talk to me in 'stonese'. I am pretty fluent in it now," he explains. "But they all have different accents: aquamarines have a strange Brazilian lilt, while rubies have a Burmese twang to them. I always think of black diamonds as having a North Country accent, while white diamonds have a tinkling Home Counties ring." He is joking, but not entirely. "When I see a really beautiful sapphire or ruby I can really hear them whistle," he adds.
But diamonds don't talk to Fennell in the same way. "When you have such a fantastic palette, a diamond ring is a black and white drawing," he explains. "I love the idea of diamonds highlighting really interesting stones. Most people don't know that a spinel, a theatrical Paraiba tourmaline and a mysterious Padparadscha sapphire are all incredibly rare and wonderful. Diamonds are obvious - they throw themselves in peoples faces."
Keeping track of his world-view and capturing sparks of inspiration, Fennell, who studied Fine Arts, always carries a Moleskin notebook with him and sketches rather than photographs what he sees. "I jot down ideas, things I see. It's a very good catalyst to get one's brain working. There is something about sketching that starts the whole design process. If you start taking photos it creates the first degree of separation between you and the object. Photography is not as good an aide memoire as sketching - even if it is very sketchy. That's because it makes you look more carefully, whereas photos are too easy and too simple. I find sketching very therapeutic and more intimate."
It is not surprising that Fennell would like us all to see the world his way. "I would love people to think about jewellery and having pieces made for them - to be involved in the choice of stone and the design so that they end up with a piece of jewellery they have nurtured and loved." To get your imagination working, here is a selection of some of Theo Fennell's exceptional stones, set into some rather marvellous jewels. Maybe one of them will speak, whistle or even shout at you.
Theo Fennell's 'Chinese Secret Garden' ring is made from yellow and rose gold, engraved with delicate flowers and featuring a 12.53ct green tourmaline surrounded by diamonds. On each side, a small door opens to reveal enamelled scenes of a traditional Chinese garden.

From Theo Fennell's 'Keys' collection, this white gold key pendant features an exceptional 8.70ct emerald. At 110mm, the body of the pendant is adorned with 2.79ct of diamonds.

This Theo Fennell ring is skilfully carved from the tusks of a long-extinct Mammoth. The 6.52ct tanzanite, set in white gold, is framed by 0.22ct of diamonds.

Theo Fennell's handcrafted ring features a 10.64ct rubelite, framed by 0.45ct of diamonds and set in rose gold. Along each side sits a beautiful bunch of hand-carved peonies, offset by the ring's black enamel finish and two trilliant-cut diamonds.

Made from the ivory tusks of a long-extinct Mammoth, this Theo Fennell ring is a tiny work of art. The 10.46ct red spinel is set in 18ct yellow gold, surrounded by 0.30ct of diamonds.

Theo Fennell's 'Under the Sea' ring is set with a dazzling 44.86ct blue topaz, which sits above yellow, white and rose gold sealife, including fish, coral and seahorses. The ring also features 0.64ct of diamonds.

The 46.99ct morganite in Theo Fennell's 'Hummingbird and Blossom' ring is decorated with yellow, white and rose gold flora and fauna, including delicately detailed flowers, with 0.49ct of sapphires and 0.46ct of diamonds.

One of Theo Fennell's first designs, the 'Bombé' ring has become an icon of the brand. This specific piece includes a 4.90ct tourmaline in a summery shade of lavender, as well as 1.07ct of diamonds, all set in white and yellow gold.

From Theo Fennell's 'Carpe Diem' collection, the 'Deus Dux Meus Est' pendant features an eye-catching 4.62ct Manadarin garnet at its centre and is also decorated with 1.52ct of diamonds and seed pearls, all set in yellow gold.

This 18ct white gold and enamel Theo Fennell locket pays homage to the Koi Carp. The front showcases a sea-blue 29.13ct topaz surrounded by diamonds and sealife, while the is engraved with a Koi Carp.

Theo Fennell Mozambique ring in white gold, set with a 61.94ct African Paraiba tourmaline and diamonds.