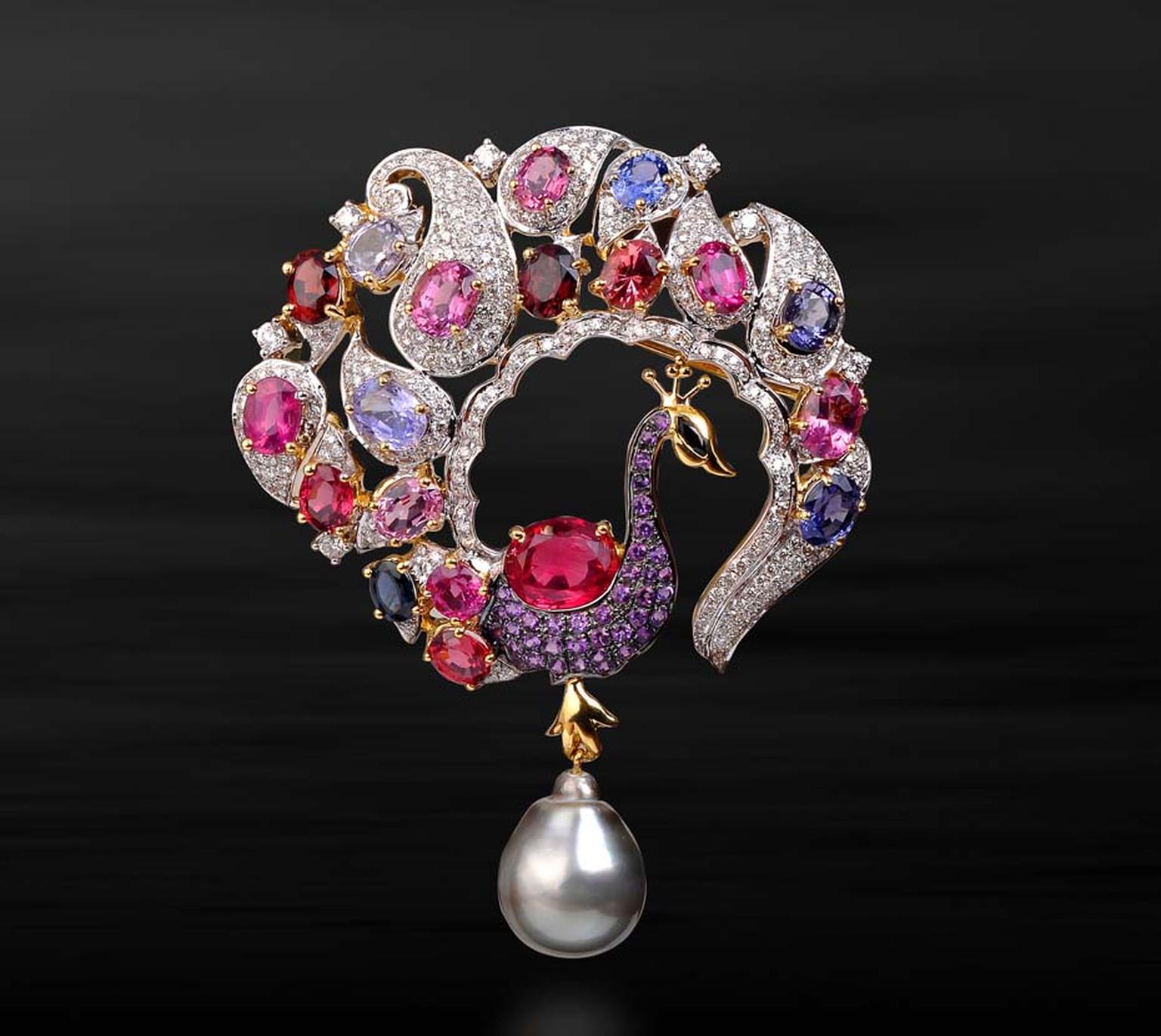 By Preeta Agarwal in New Delhi
With summertime in full bloom in India and an abundance of luscious yellow-orange mangoes, it is only natural to be drawn to jewels inspired by this juicy king of the fruits.
Called the "ambi" (amb means mango in Punjab), "kairi" (mango seed) or "manga in" in India, "boteh jegheh" or "butain" in Persia and "paisley" in Britain, the Indian mango motif is one of the most enduring symbols in the design world, its origins dating back to the 18th century or earlier.
Representative of life and eternity for some, a symbol of rebellion for others, most Indian designers have worked with the paisley motif at some point in their career, while some have spent their lifetime exploring its form.
Ganjam's design team has dedicated an entire collection to the paisley motif, offering a range of delicate-looking jewellery that is studded with diamonds, with hints of rubies and emeralds. The all-diamond paisley ear studs are one of its best-selling products.
Some designers prefer to opt for a simple and sleek interpretation of the motif, while others present more elaborate interpretations. From Anmol's intricately filled paisley earrings to Zoya's enamelled jewels from the Banaras collection, whatever form it takes, the paisley never fails to evoke a sense of grace and beauty.
While Mirari has created brooches featuring just a single, elegant paisley motif, Farah Khan likes to play with the motif in all shapes, sizes and colours. Khan's peacock brooch, with a paisley tail, is very popular among the Bollywood glitterati.
Birdhichand Ghanshyamdas' rose-cut diamond and emerald earrings offer a more abstract interpretation of the paisley silhouette, while noted Mumbai jeweller Mahesh Notandas' paisley earrings are a simple and stylish way to wear this classic design. 
The paisley motif changes as you travel south in India. Sunita Shekhawat's kundan polki paisley jewellery encapsulates the Rajasthani culture, with pastel colours paired with uncut diamonds. Surrounded by intricate gold work, each uncut diamond in a pair of earrings has been transformed into a paisley. Azva's gold necklace and cuff feature seven paisleys on each, denoting the seven vows taken by a couple during a Hindu wedding ceremony.
Further south, especially in Kerala, the paisleys are called manga (mango), and a manga-mala (a garland of mangoes) is one of the most famous pieces of jewellery from this region. A traditional manga-mala necklace features a succession of paisley motifs, linked on a chain. Available in a variety of styles, they range from simple, all-gold designs, like the manga-mala in Tanishq's wedding collection, to Ganjam's elaborately studded heritage manga-mala.
And while the paisley is predominantly found in women's jewellery, it is not solely a feminine motif - men also wear paisley jewels. The Indian kalgi (read more about jewellery for the Indian groom here), a turban decoration for your wedding day, is in the form of an elongated paisley. Post wedding, it is worn as a brooch with Indian formal wear. 
Ganjam's paisley pendant, worn as a hair accessory.

Ganjam's Paisley collection gold earrings studded with diamonds.

Anmol Paisley enamelled earrings set with baguette, princess, marquise and round brilliant diamonds.

Zoya Banaras collection enamel and kundan polki diamond ring with emerald beading.

Mirari's Paisley brooch in white gold with five drop-shaped pearls and diamonds.

Birdhichand Ghanshyamdas earrings with rose-cut diamonds, emeralds and pearl drops.

Mahesh Notandas paisley-shaped Leaf earrings studded with diamonds and cabochon emeralds.

Sunita Shekhawat yellow gold Paisley necklace studded with uncut diamonds.

Azva's beaten gold choker necklace with seven paisley motifs, each studded with rubies and decorated with enamel work.

Azva's beaten gold cuff with seven paisley motifs, each representing the seven vows made at a traditional Indian wedding.

Tanishq manga-mala (garland of mangoes) necklace in yellow gold, from the wedding jewellery collection.

Ganjam gold studded Heritage collection manga-mala necklace.