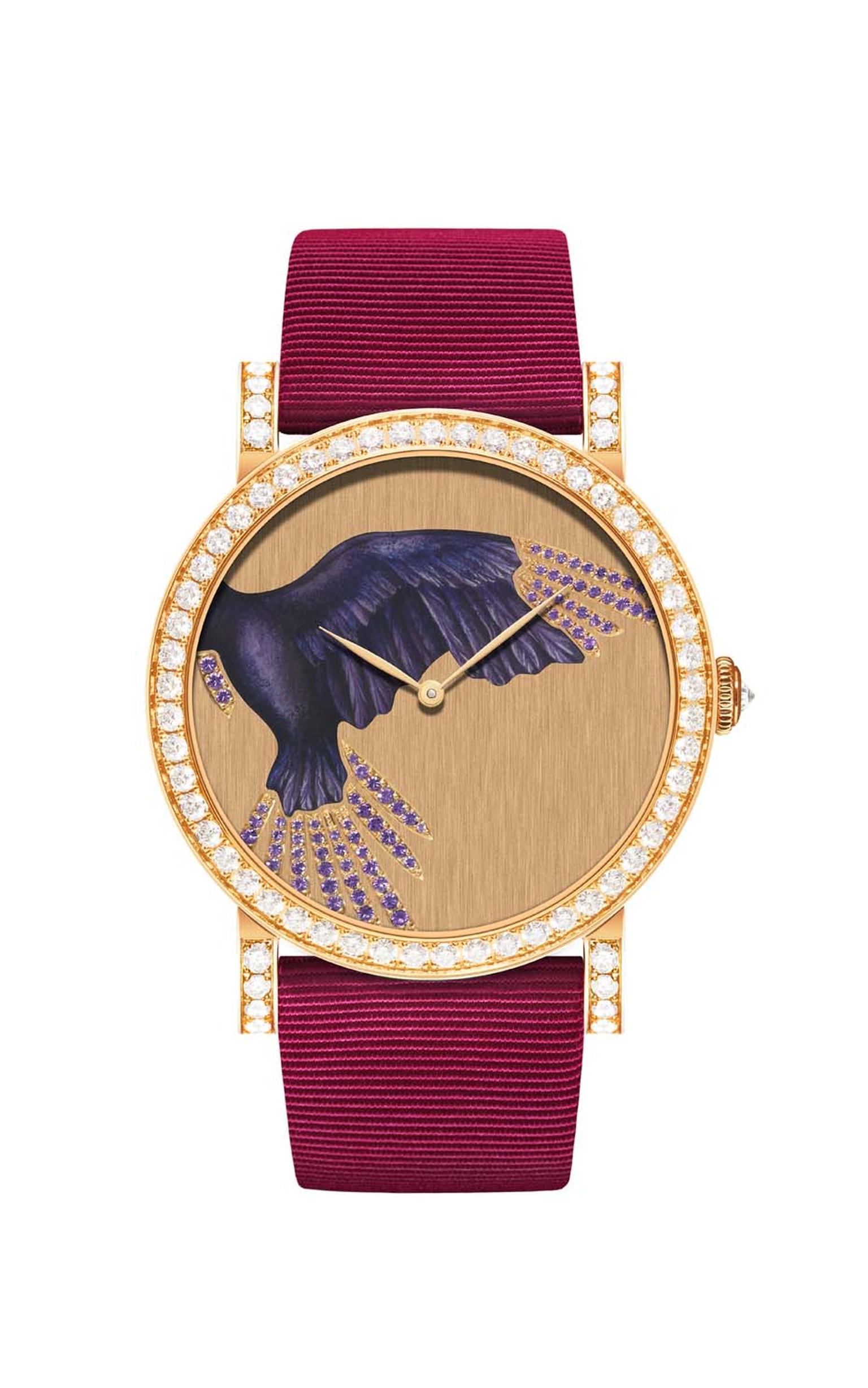 Stepping foot in DeLaneau's Geneva boutique and workshops is like entering an art gallery - one that is constantly changing and offering new miniature works of art to delight and fascinate the visitor. But unlike an art gallery, each of these creations can be worn on the wrist and goes everywhere with you, from your most intimate moments to those you share with the world.

This is because DeLaneau specialises in watches for women with decorated dials using techniques such as enamelling, miniature painting, gem-setting, stone marquetry, guilloché or engine-turned engraving and carving. Using these crafts with the eye of an artist, the house is able to offer timepieces that are quite literally works of art.

The ever-changing array of models on show at DeLaneau follow three main themes: Strength, Movement and Origin. Within these categories are the round Rondo models, the square Dôme watches and the rectangular Atame case shape. Between them there seems to be an almost infinite combination of craftsmanship and artistry.

Under the Movement theme, which captures graceful gestures found in the animal kingdom, a series of new dials featuring butterfly and bird wings illustrate the beauty of motion using gem-setting to highlight the miniature enamel paintings of feathers and light-as-powder butterfly wings. The Rondo Parrot wing combines champlevé Grand Feu enamel work with diamonds and amethysts to create a strikingly beautiful dial that is as unusual as the Rondo Butterfly wing in soft grey and pink shades with smoky quartz and rubies.
The Dôme Green Butterfly wing is an intriguing combination of delicate Grand Feu enamel painting set with tsavorites and diamonds. Using the Grand Feu enamel technique to a different end, the Rondo Zebra's Eye shows how a simple but dramatic pattern of black and white stripes can create a striking design, highlighted by just one blue sapphire that represents the animal's sparkling eye. Another zebra-inspired watch is the Rondo Zebra watch, which mimics the animal's distinctive markings using mother-of-pearl marquetry to stunning effect.
Bringing together watch-making genius, fabulous diamonds and painting skills, the Dôme Tourbillon Polar Bear has a Grand Feu enamel dial featuring our furry Arctic friends embellished by more than 12ct of icy white diamonds.

Nature and flowers are another theme that DeLaneau captures with a lightness of touch and grace in the Origin collection. Even the less-showy thistle is beautifully interpreted in the Rondo Chardon, painted in hues of blue using Grand Feu enamelling and diamonds, with a sprinkling of blue sapphires to add sparkle to the wintry scene. The Poppy Plique à Jour is a tour de force of enamelling skills, combining translucent pailloné enamel with a layer of gold leaf under the lacquer and grisaille enamelling, which uses a dusty white porcelain powder to create barely-there patterns against a dark background.

The award-winning Rondo Translucent models are some of my favourite DeLaneau watches. An engine-turned engraved pattern is covered with layers of glossy, translucent Grand Feu enamel in some of the most beautiful colours under the sun, all with matching coloured straps and a single navette diamond at 12 o'clock, encircled by a fiery ring of diamonds set into the bezel. Seeing coloured gems in a new light is possible thanks to several new dials in the Strength collection, which celebrates the purity of earth's precious stones. These include slices of ruby and fossilised wood, creating a deep and mysterious effect in the Rondo Ruby Heart and Fossilised Tree.
The night sky is another source of inspiration for the team at DeLaneau. The Ursa Major and Phoenix constellation, also part of the Strength collection, are captured in diamonds, hard stones and precious gems that sparkle like a perfectly clear night far from civilisation.

A visit to DeLaneau always brings new surprises and I can't think of any other work of art that so seamlessly and elegantly integrates itself into your life. So watch this space for new arrivals from DeLaneau, the house that has made an art out of decorated dials.
One-of-a-kind DeLaneau Atame Flying Parrot automatic watch with a colourful parrot's wing visible in Grand Feu enamel. The white gold case is set with baguette-cut blue sapphires and diamonds.

The one-of-a-kind DeLaneau Dôme Green Butterfly Wing automatic watch features a Grand Feu enamel dial set with tsavorites and diamonds. The iconic dôme red gold case is set with brilliant-cut diamonds, with additional on the buckle.

One-of-a-kind DeLaneau Rondo Butterfly Wing automatic watch with a 42mm white gold case set with diamonds. The butterfly wing has been hand-painted in Grand Feu enamel and set with smoked quartz and rubies. Additional diamonds are found on the buckle and crown.

One-of-a-kind automatic DeLaneau Rondo Chardon automatic watch in white gold, with a Grand Feu enamel and hand-engraved face, set with blue sapphires and diamonds.

The DeLaneau Rondo Tourbillon Ursa Major Constellation timepiece displays the Ursa Major constellation against a night sky. The white gold case is set with baguette-cut blue sapphires and diamonds.

The enamel dial on the DeLaneau Light Pink Translucent automatic watch enamel dial is decorated with an underlying Rosette Guilloché pattern and set with a single navette-cut diamond. The 36mm red gold case is set with diamonds on the bezel, crown and buckle.

One-of-a-kind DeLaneau Rondo Zebra's Eye automatic watch captures a zebra face in close-up on a Grand Feu enamel dial, set with a single navette-cut blue sapphire and diamonds.

The red gold case of the one-of-a-kind DeLaneau Rondo Fossilized Tree automatic watch is encircled by orange sapphires, with an orange sapphire-set crown. The dial id made from fossilized tree and set with a single navette-cut diamond.

DeLaneau's Rondo Ruby Heart automatic watch in white gold, set with rubies and diamonds.

The DeLaneau Dôme Tourbillon Polar Bear watch in white gold features a Grand Feu miniature enamelled dial and a tourbillon movement, set with baguette-cut diamonds and diamonds.

The DeLaneau Poppy Plique à Jour combines the grisaille, plique à jour paillon enamelling techniques in this one-of-a-kind watch. The white gold case is decorated with 185 diamonds, with a diamond-set crown and buckle.

The magnificent DeLaneau Dôme Tourbillon Phoenix Constellation timepiece in white gold captures the Phoenix constellation in the night sky. The gold and aventurine dial is set with diamonds and blue sapphires, with diamonds decorating the case, tourbillon movement and strap, and sapphires set into the case and crown.