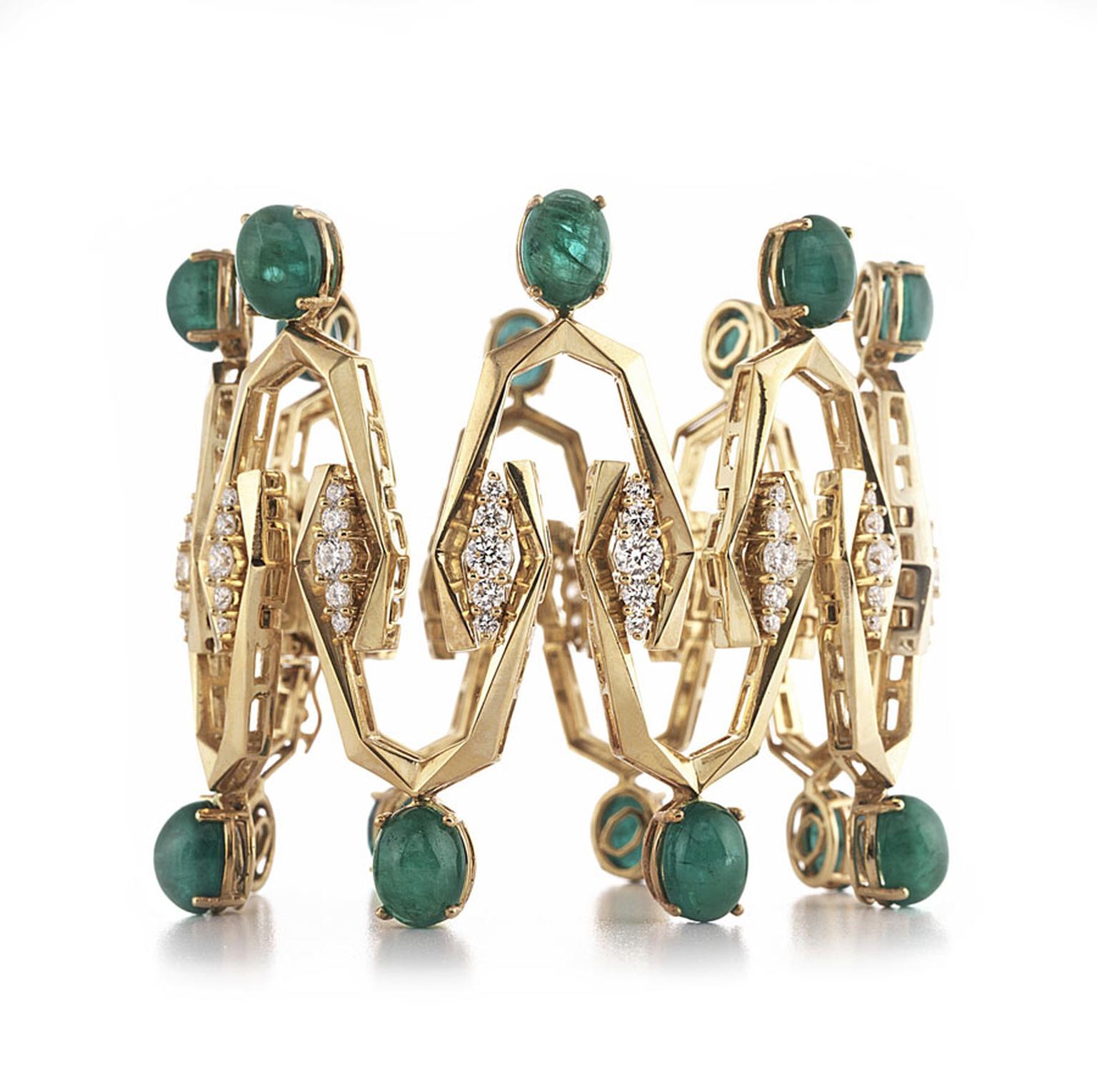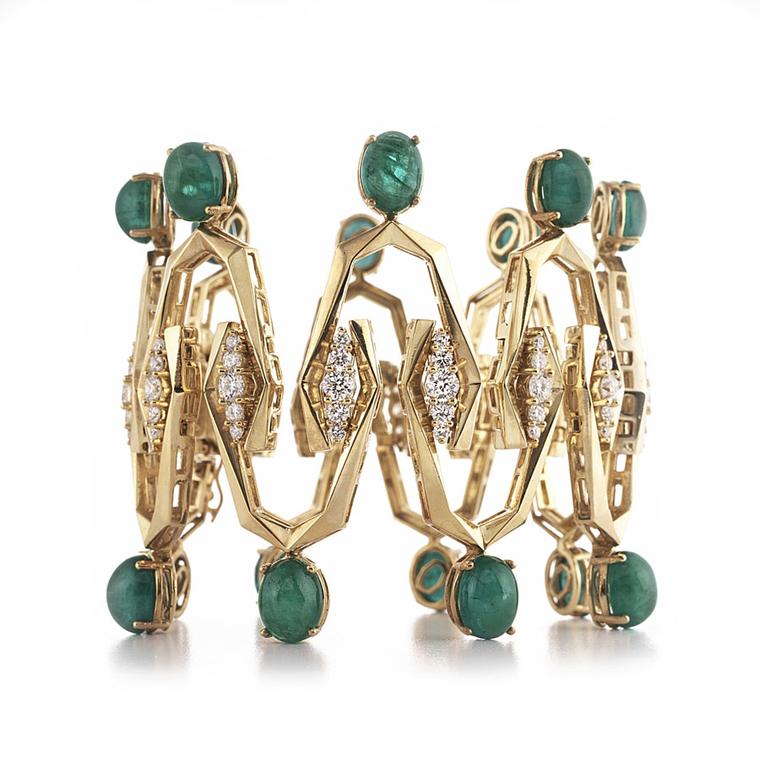 By Maria Doulton
Octium is a simple name for a brand that is richly steeped in a passion for beautiful jewels and making a quiet mark for itself by doing things quite differently. For starters, the name inspires the jewellery designs, which are based around the eight-sided octagon.
Born of a simple desire to wear comfortable, well-designed jewels, the story, most romantically, began on Alanood Al Sabah's honeymoon in 2003. Perusing jewels and not finding exactly what she wanted, her husband Fahad Al Hajiri encouraged Alanood, a Kuwaiti royalty, to design one for herself.
The idea of creating her own precious objects blossomed and steadily evolved into the brand Octium, which launched officially in 2009. Alanood's architectural training in the USA and a love of art and jewels informed her minimalistic, clean designs. The Octium Creates Alpha and Octium Creates Series II collections, with their functional, no-nonsense names, are elegant, pared-down jewels in gold with diamonds, with no distractions from the strong, geometric designs, all based around the octagon. The shape, which is classic yet eternal, is sometimes tessalated or honeycombed or even intertwined. Forming a series of elegant riffs on a simple premise, the jewels require a flawless execution. Little details, such as adding facets to the miniature gold structures, show a sophisticated and restrained approach to evolving a solid design premise light years away from the designs one would expect from the opulence of the Gulf.
And then came colour in the Octium Creates Al Andalus collection, which pays homage to the delicate, light-flooded beauty of the Moorish culture in 15th century Spain, the paragon of which is the Alhambra palace in Granada. Still clearly recognisable as Octium designs, the jewels are enriched by precious coloured stones and symbols associated with Arabesque culture and architecture, such as crescent moons, stars and intricate repeated patterns. There are jewels for night and for day. Some jewels even transform: a simple stud can be transformed into longer, more elaborate earrings for the evening. Octium's hands-on approach allows for special commissions and bridal jewels which, like all the pieces, are designed by the smiling and generous-natured Alanood and made in some of the best jewellery workshops in Italy and the Far East.
On home turf, Octium has a concession in Harvey Nichols Kuwait, where the work of individualist jewellers such as Shaun Leane and Spanish legend Vicente Gracia - all chosen by Alanood - are displayed alongside Octium's own creations. Octium's jewels were also retailed at Harrods in London and are available in New York by private appointment, where a showroom will be opening next year, giving a hint of the global nature that this brand is poised to become.
Like the brand itself, the look of Octium's shop-within-shops is carefully considered. The very best in design and materials come into play. The concept, a collaboration between celebrated Spanish designer Jaime Hayon and Octium's Co-Founders, uses materials including American walnut and hand-lacquered furniture, with a hefty and reassuring presence of solid brass. No expense is spared when it comes to realising the pair's design vision.
Recognition of Octium's achievements have been liberally forthcoming from the global press. Harper's Bazaar Arabia stated: "Al Hajiri and Al Sabah are quietly working to shift the stereotype of the Middle Eastern consumer's love of all things flamboyant and flashy in favour of a more innate passion for luxury jewellery." 
A presence in Harvey Nichols in Kuwait - a retailer that knows its business and always back winners - is a clear indication of the gravitas and design kudos of the brand. More recently, Octium teamed up with the ethical coloured gemstone supplier Gemfields and created two exquisite jewels using Zambian emeralds that were showcased on a worldwide platform, something for which Octium was clearly well-groomed.
Today Octium, still a husband and wife team, is a growing and evolving business. With five ranges of Octium Creates jewels designed by Alanood, the next step is to venture into new product areas. And the next high-profile event on Octium's busy calendar is what promises to be a spectacular evening in the heart of Milan as the roaring machine of Milan Fashion Week sparks into action, where an opulent sampling of the house's jewels will be presented to the world press and buyers - a strong statement of the firm's confidence in the future.
And there is a surprise: the first of Octium's lifestyle products will be unveiled in Milan during Fashion Week. We can't reveal any more for the moment, but believe me, it is in the best possible taste yet exquisitely opulent.
Octium Creates Series II yellow gold and diamond ring from the Series II collection (US$7,180).

Octium yellow gold and diamond earrings from the Series II collection ($44,450).

An illustration of the interior of Octium's flagship boutique.

Octium co-founders Alanood Al Sabah and her husband, Fahad Al Hajiri.

Three yellow gold Octium Creates Series II rings: one plain gold, one half pavéd with diamonds and one fully pavéd (US$1,775; US$5,890; US$8,960).

The Octium for Gemfields bespoke gold earrings, set with Gemfields Zambian emeralds and diamonds (£POA).

Octium Creates Couture rose gold and diamond ring.

Octium couture rose gold and diamond earrings (POA).

Octium rose gold and diamond earrings from the Series I collection ($6,980).

Octium rose gold and diamond ring from the Series I collection ($5,750).

Octium rose gold and diamond earrings from the Series I collection ($8,640).

Octium rose gold and diamond bracelet from the Series I collection ($11,940).