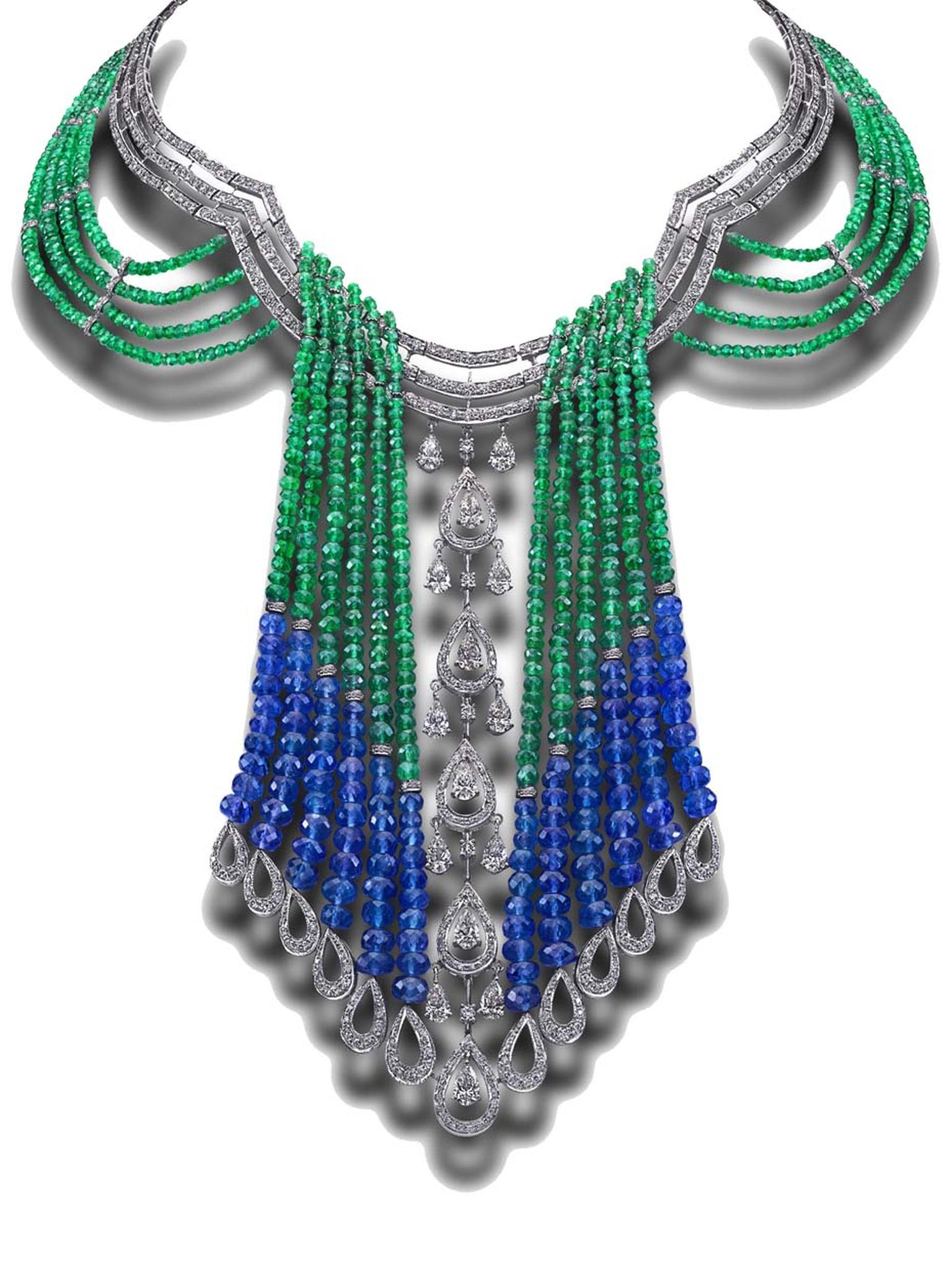 With its deep, inky, purplish-blue allure, tanzanite jewellery is trending in India, usurping the long-ruling dynasty of the emerald and the ruby.
The Indian consumer has always been attracted to blue gemstones, such as blue sapphires and turquoise, but because of entrenched astrological beliefs that associate the blue sapphire with the more negative effects of planet Saturn, customers are hesitant to buy sapphire jewellery and jewellers tend to keep limited collections. Known as the strongest and the fastest-acting gemstone in astrology, it is believed that blue sapphire can fulfill all the dreams of the wearer but can also convert a king into a pauper.
With the recent discovery and easy availability of tanzanite, the Indian market has found a beautiful replacement to fulfill its desire for deep-blue gemstones, and all India's most prominent jewellers have launched collections featuring tanzanites.
Biren Vaidya was one of the first to introduce tanzanites under his brand House of Rose. Combining them with emeralds for a vivid green-blue appeal, he has launched a range of tanzanite jewellery featuring cut, cabochon and beaded blue gems. The elaborate House of Rose collar necklace, with three diamond rows draped with emerald and tanzanite beads and cascading pear-shaped diamonds, has bewitched many customers. 
Farah Khan has used tanzanites in combination with a variety of different gemstones, including pearls, coral, rubellites and emeralds. Her pearl string necklace with large tanzanite cabochon drops transmits the serenity of a starry night. Mostly used on white gold, Khan has also used tanzanites on yellow gold along with yellow sapphires for a more classic look.
"Tanzanite has become one of the most sought-after gems, especially in India as it replaces the myth and legends that surround the blue sapphire and is considered a 'safe' stone astrologically," explains Khan. "Also the purplish-blue tint of tanzanite makes it very appealing and easy to combine with other gemstones such as emeralds, rubies, yellow sapphires and rubellites. Most jewellery buyers in India have already purchased their emerald and ruby sets and refrained from blue in the past only because of the auspicious and inauspicious characteristics of the blue sapphire given by astrologers. Therefore the tanzanite allows them to now add the colour blue safely into their jewellery wardrobe."
Using tanzanites in her signature styles is Bina Goenka with her Swan necklace, which is studded with diamond slices and tanzanite beads. Amrapali gives this mystical gemstone a traditional touch in combination with opals and pearls in an antique finish. The design team at Ganjam has created a one-off tanzanite necklace named Violet with an extremely rare 47.11 carat cushion-cut tanzanite of exceptional colour and clarity as the centre of attraction, set amongst 64.00 carats of diamonds. Diacolor, a new name in the Indian luxury jewellery industry with Rishabh Tongya at the helm, also boasts a tanzanite ring with a 21.88 carat step-cut blue gem as the star.
The two-row fancy-shaped tanzanite necklace by Entice and the Varuna D Jani tanzanite pendant ear drops are more classic renderings using this vibrant stone. Also not to be overlooked are Mirari's delicate diamond necklace with a sugarloaf tanzanite centre and Anmol's collection of tanzanite ear studs, rings and bracelets.
Diacolor diamond ring set with a 21.88ct step-cut tanzanite.

House of Rose earrings with tanzanites, emeralds and diamonds.

House of Rose emerald and tanzanite ring with diamonds.

Farah Khan classic diamond necklace with cushion-shaped and pear-shaped tanzanite accented by yellow sapphires set in yellow gold.

Farah Khan classic pearl and diamond necklace with cabochon tanzanite pendants.

Farah Khan rubellite and tanzanite earrings surrounded by diamonds.

Bina Goenka Swan necklace with diamond slices and pear-shaped tanzanites and beads.

Amrapali cabochon tanzanite necklace with pearls and opals set in antique-finished gold.

Ganjam Violet necklace with a 47.11ct tanzanite centre surrounded by 64.00ct of white diamonds.

Entice necklace with fancy-shaped tanzanites surrounded by diamonds.

Varuna D Jani tanzanite drop earrings.

Mirari tanzanite and diamond necklace with a sugarloaf tanzanite centre.