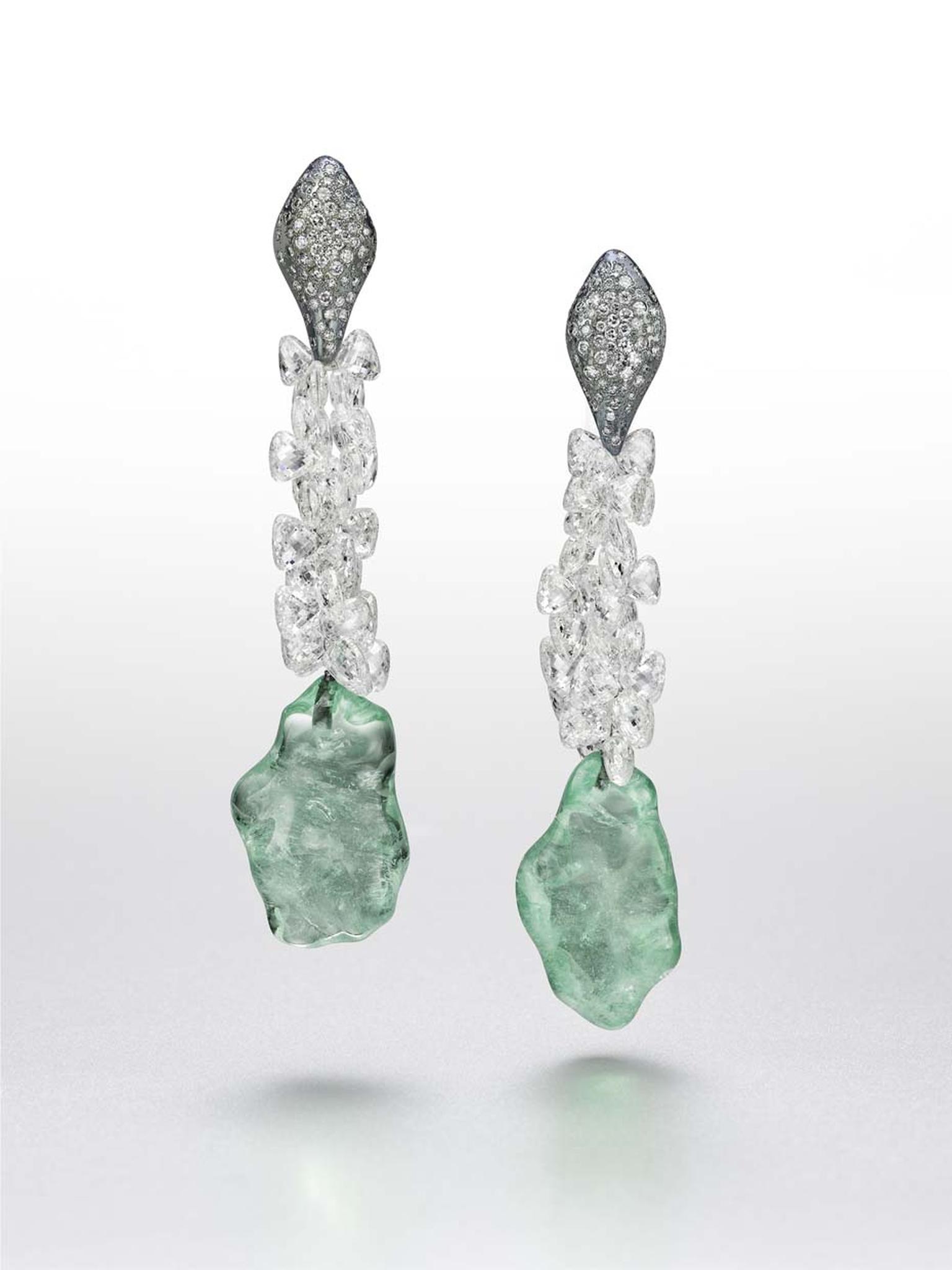 By Rachel Garrahan in New York
Art jeweler Suzanne Syz is no stranger to international travel. Based in Geneva, she frequently traverses the world to share her one-of-a-kind pieces with international collectors. Having lived in New York with her family in the 1980s, she does, however, have a particular soft spot for the city.
Last weekend, a few short months after showing at Masterpiece London, Suzanne returned to The City that Never Sleeps for the Park Armory Art & Antiques Show in the heart of the Upper East Side. She took some time out from charming show visitors and collectors to share her passion for her work, and for meeting people, like me, who fall in love with her pieces.
It was during the time that Suzanne lived in Manhattan that she became friends with many contemporary artists, including Jean Michel Basquiat and Andy Warhol. "I was very influenced by those years in the contemporary art world in New York. It was amazingly exciting," she says. 
Describing the experience as "training her eye for color", she had become bored by the fine jewelry on offer at the time and channeled the inspiration to create her own jewels that were beautiful, vibrant and unique without being too serious.
Basquiat and Warhol's inspiration is still visible today in her signature Pill and Life Saver pieces. She was inspired to make the latter when she was stranded at New York's LaGuardia airport about eight years ago and picked up a packet of Life Saver candy to stave off a sugar low.
And while the eclectic designer believes that "there is not a huge difference for me between London and the US as many of my clients go back and forth for work and pleasure", she does say that her American clients were the first to understand what she was doing with such contemporary, tongue-in-cheek work. "They were the first buyers of the Life Savers," she adds.
While we are talking, one well-heeled visitor approaches us to congratulate Suzanne on her collection. "These are a real work of art," she says of the rare spinel earrings that are spectacularly brought to life with a surrounding basket of diamonds, inspired by Cinderella's carriage. They make a statement yet, constructed from titanium, are light as a feather. 
Suzanne beams with the compliment, which reminds her of another difference between Europe and the US: "Americans are so outgoing. When you do something with a passion, it's wonderful when people are enthusiastic," she says.
Suzanne Syz Take it or Leave it earrings in yellow gold with pills in enamel, rose-cut diamonds and diamonds.

Suzanne Syz The Big Bang titanium bracelet set with nine flat denditrique diamonds totalling 115.32ct.

Suzanne Syz Rocky Baby titanium ring set with one flat 16.00ct denditrique diamond and 215 diamonds.

Suzanne Syz Wheel of Brilliance earrings in white gold set with 58 slice diamonds and 1,128 diamonds.

Suzanne Syz Tie That Knot titanium earrings with two pear-shaped briolette beryls and 644 diamonds.

Suzanne Syz Sugar Baby Love titanium ring with a 51.99ct centre cabochon sapphire surrounded by more than 400 pink diamonds.

Suzanne Syz Ali Baba's Trove titanium ring set with a Paraiba tourmaline from Mozambique and 13.57ct of domed crown diamonds.

Suzanne Syz was inspired to make her signature Life Saver earrings when she was stranded at New York's LaGuardia airport and picked up a packet of Life Saver candy to stave off a sugar low.

Suzanne Syz I Want You ring in titanium set with 227 diamonds.

Andy Warhol was a friend of Syz and a major influence on her creations. Pictured is a Warhol painting of Syz and her son.

Suzanne Syz Snow White titanium and white gold earrings with 20.66ct of pear-shaped spinels, briolette diamonds, bead diamonds and 16.28ct of diamonds.

Suzanne Syz Shanghai Lilly earrings in titanium set with 117.40ct of purple jade, purple sapphires and 5.49ct of diamonds.