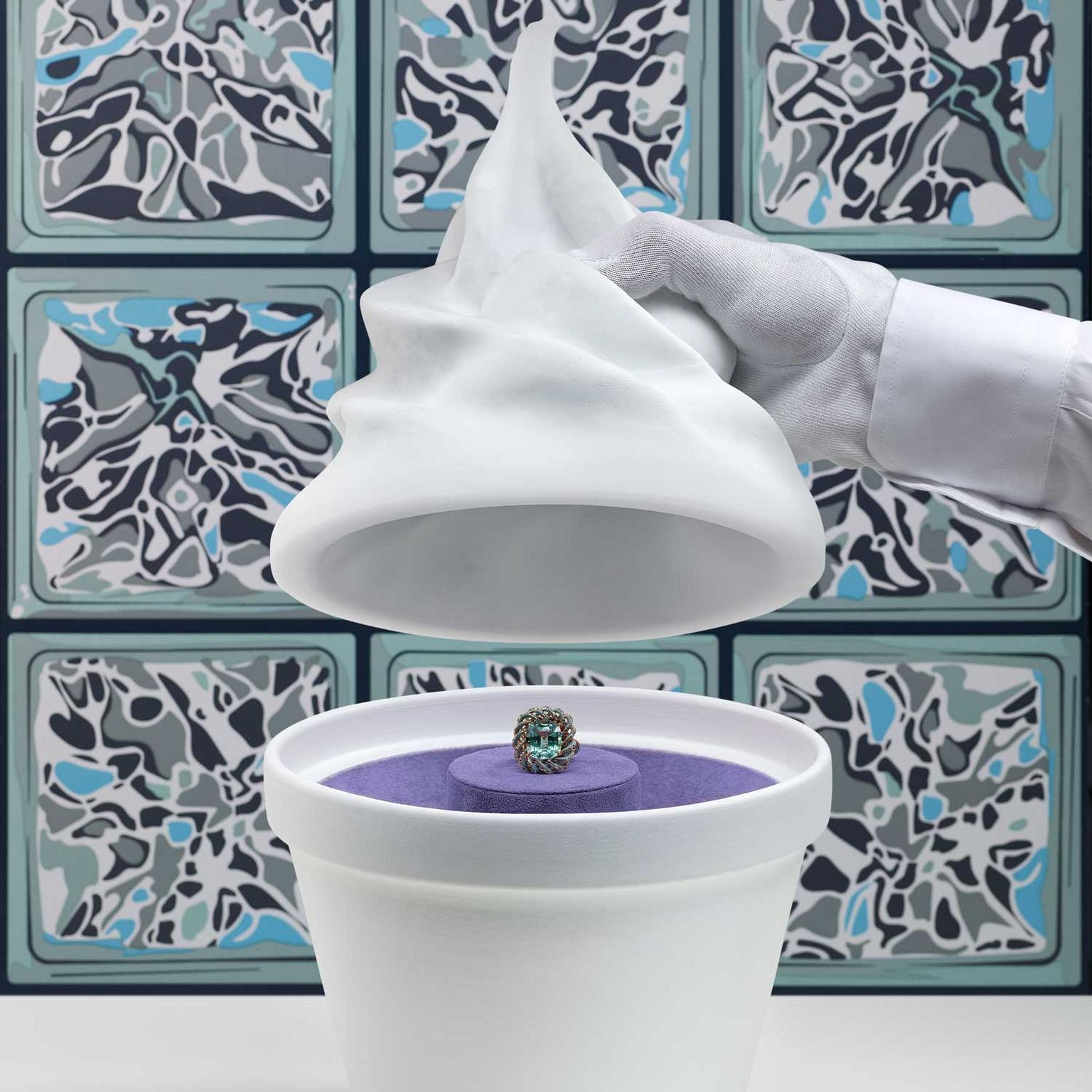 It is not often that frozen yogurt is a reference in the world of jewellery, but Suzanne Syz likes doing things differently with her one-of-a-kind Art Jewels. It was Syz who brought us Life Saver earrings, Smartie rings and galette biscuit bracelets, so it shouldn't be a surprise to find her venturing into the world of chilled treats and serving up frozen yogurt alongside her candy-bright jewels at London's PAD fair this autumn.
Syz's partner in this latest venture to create sculptures that also happen to be jewellery boxes is Californian artist Alex Israel, following on from the jeweller's collaboration with Swiss artist John Armleder last year.
"When Alex told me about the importance of frozen yogurt to him in his life, I knew that we had found the perfect point of overlap," explains Syz of this unusual pairing. The result is in an edition of five Frozen Yogurt jewellery boxes. The weighty whipped cream top half is made of hand-blown glass and the bottom is painted ceramic.
A copy of the book Alex Israel B. 1982 Los Angeles, dedicated to the multimedia artist exploring the American Dream through popular media, Hollywood, the cult of celebrity and, with his jewellery box collaboration with Suzanne Syz, frozen yogurt. 

Suzanne Syz beside her Frozen Yogurt machine at PAD London.

Suzanne Syz "Hello it's me" hoop earrings in white gold and blue aluminium, set with diamonds (POA).

Suzanne Syz has collaborated with Californian artist Alex Israel to create a limited-edition sculpture that also happen to be a jewellery box.
Born in 1982 in Los Angeles, Israel has found success both as an eyewear designer and a multimedia artist exploring the American Dream through popular media, Hollywood and the cult of celebrity that abounds in his hometown. His colourful works of art have been exhibited in leading museums and galleries across the world. 
Israel explains his connection: "Suzanne Syz, from the very beginning, has been a great supporter of my work. We share a love of all things pop and also a love of sugar and sweets… From my conversations with Suzanne it became clear that a jewellery box is not only a place to store jewels but also a vessel for the storage of great memories. The collaboration was inspired by The Bigg Chill, my marble and styrofoam sculpture of frozen yogurt named after my father's shop, and my memories of hanging out there almost every day after school."
An avid collector of contemporary art, on discovering Alex's work in Miami in 2011, Syz says: "I experienced an immediate connection. It brought me back to my first visit to LA, and to the strong attraction to American culture that I've always felt. Hollywood, entertainment and the movies are of course a big part of that, but there's also the products, the packaging, and the candy that's inspired so much of my work."
Alongside the Frozen Yogurt jewellery box and a fully operational frozen yogurt machine, Syz presented her latest jewels, which confirm her sweet tooth and a love of candy-bright colours, including a very impressive African Paraiba tourmaline of almost 80 carats set into a rock crystal ring and studded with diamonds. Listen in as Syz introduces her new ring in our video, above.