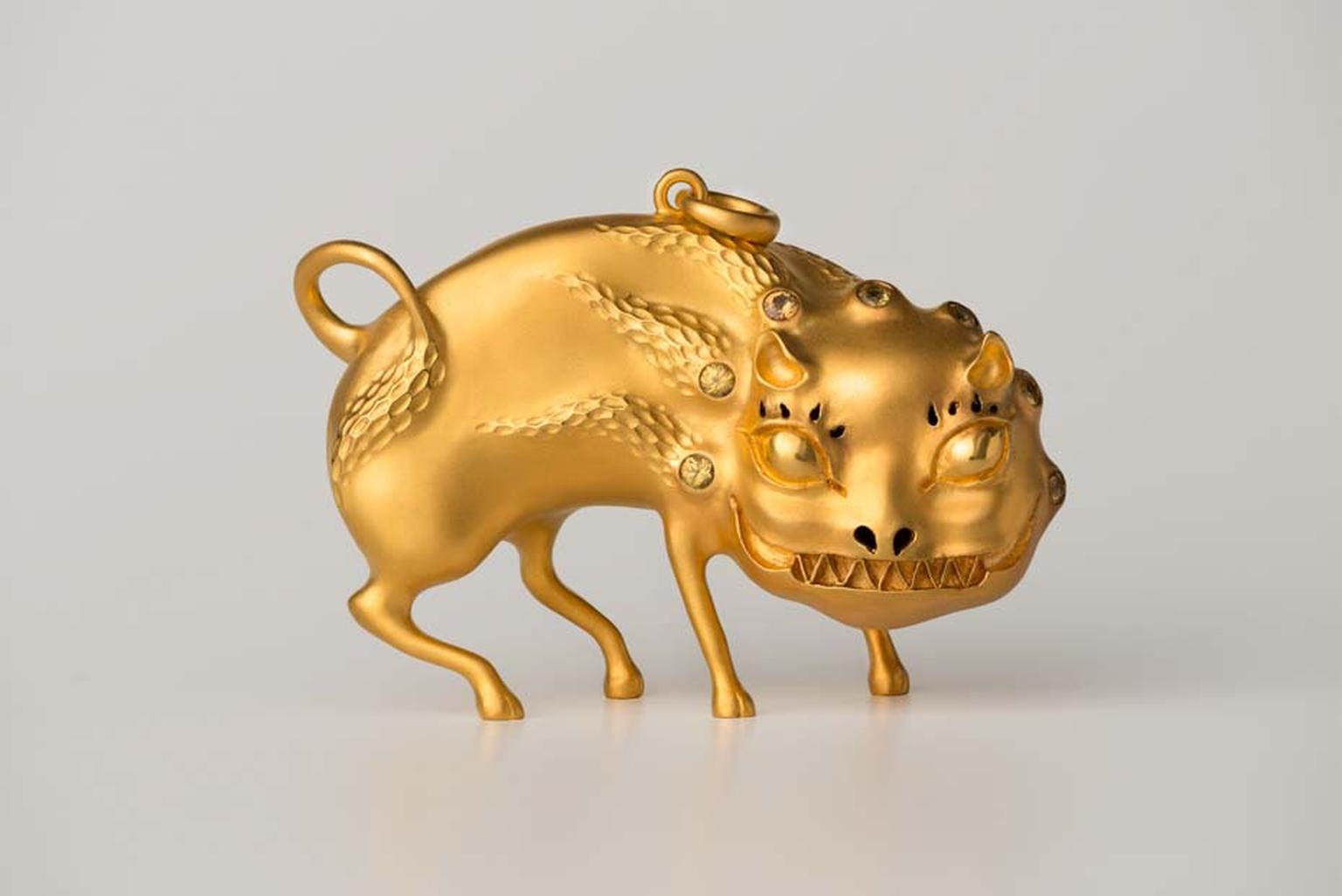 By Anna Jackson-Stevens in Moscow
Bug on Lotus, Bumble Bee, Tropical Fly, Snail and Spider-Derdak are just a few of the names Russian artist-jeweller Dashi Namdakov has given to his exquisite designs. "I love observing how beetles live - what an amazing shape they have," he says. "The world is so rich, I am merely a grain of sand in the ocean."
His curiosity and self-deprecating approach to life is reflected in the minute attention to detail displayed in his art. Born in Transbaikal, in eastern Siberia, he is a descendant of the ancient Bedouin culture, which has a saying: "Wherever I place the pole for my yurt, there is my home." Namdakov may lead a nomadic lifestyle, but he is fiercely proud of his roots.
Many of the names of his pieces are inspired by heroes from the Eastern fairy tales Dashi Namdakov was told by his elders as a child while sitting by the fire during haymaking: Dakini (Tibetan Heavenly Dancers), Eternity, Fantasy, Bayarseseg (Mongolian "Flower of Joy") and Love. 
As a child, he sketched and later enrolled in art school, where he studied classic sculpture. In the 1990s he worked with masters of stone, bone and wood carving in order to make ends meet and collaborated with his brother on a range of jewellery, which was functional in form but quite unique. Namdakov's path allowed him to develop in a number of directions, applying experience and know-how to complementary spheres of art, which have brought him widespread recognition. Today, he continues to work across disciplines as a jeweller, graphic artist and sculptor, including his huge sculptures for outdoor spaces. 
His achievements show the breadth of his artistry. Appointed to the Russian Artists' Union in 2001, he was given the honorary title "Siberian of the Year" in 2003. In 2007 the film Mongol received an Oscar nomination for Best Foreign Film, which he worked on as the Production Designer. He participated in France's "Year of Russia" in 2010, installed a monumental Genghis Khan sculpture in London in 2012 and last year participated in the 11th Annual Russian Heritage Month, organised by the Russian-American Foundation. It seems that every discipline Namdakov touches turns to gold.
Namdakov works with precious metals, mixing them with bronze, mammoth tusks and semi-precious stones.  He likes rare uncut rocks, particularly corundum with its wonderful spectrum of colours, sourcing them from traditional markets but also visiting specialists in Thailand and India.  He sketches everywhere - on planes, in cafés, in his studio and while visiting archaeological sites and the burial mounds of Tuva or Altai.
A sketch can germinate over months or years. Designs take shape with the help of a toolmaker to create a piece of jewellery, a figurine or an item with no particular purpose at all.  Observers may see symbolism in his work, but Namdakov insists his task is not to solve world problems through the language of moulding - although subconsciously he refers to religions, rituals and ornamental motifs in Mongol culture regularly.
Namdakov considers himself fortunate that his work is his favourite activity.  He loves hunting and going to the forest or mountains where he feels totally free.  The wilderness and nature's beasts are present in his work and form part of his universe that strives towards tranquillity and harmony. 
His Lion ring, made of white and yellow gold with diamond and rubies, features a large-headed naïf lion poised on the ring with a diamond-studded face and large sapphire eyes that seem to look imploringly at their owner. Sapphire Elephant is a pendant in white gold and black rhodium, with a saddle of diamonds, sapphires, rubies and emeralds between smooth flappy ears. 
Of his admirers, Namdakov is discreet, naming no names, only expressing gratitude for their support.  Despite his gentle nature, Namdakov has big ambitions. His achievements, he explains, are the ones not yet realised, still in his head or on paper - perfect, beautiful, ripe for bringing to life in grandiose sculptural or architectural form.  At the same time, he's deciding between exhibitions in China, Russia and Europe, so that he has sufficient strength to do them justice. Namdakov's treasure chest is full of Eastern promise - let's hope it continues to fill with gems.
Dashi Namdakov Elephant ring in white gold and black rhodium with diamonds, sapphires, rubies and emeralds.

One of Dashi Namdakov's most important works is this Eternity pendant in yellow and white gold, set with pink spinel, sapphire, beryl, rhodolite and citrine.

Dashi Namdakov Little Tiger pendant in yellow gold with diamonds and sapphires.

Dashi Namdakov Snail ring in white and yellow gold with diamonds.

Dashi Namdakov Chameleon pendant in white gold and black rhodium with black diamonds, rubies, sapphires and amethysts.

Dashi Namdakov Tropic Fly ring in yellow gold with iolit.

Dashi Namdakov diamond and ruby Bumble Bee ring in white gold and white and black rhodium.

Dashi Namdakov Transformation Erdeny ring in yellow gold with diamonds and rutilated quartz.

Dashi Namdakov Manta pendant in yellow gold with diamonds, turquoise, sapphires and mammoth.

Dashi Namdakov Pearl ring in white and yellow gold with diamonds, yellow sapphires, emeralds and pearls.

Dashi Namdakov Golden Snake pendant with diamonds, pearls and emeralds.

Dashi Namdakov Sapphire Elephant pendant in white gold and black rhodium, pictured from above, with a saddle of diamonds, sapphires, rubies and emeralds between smooth flappy ears.