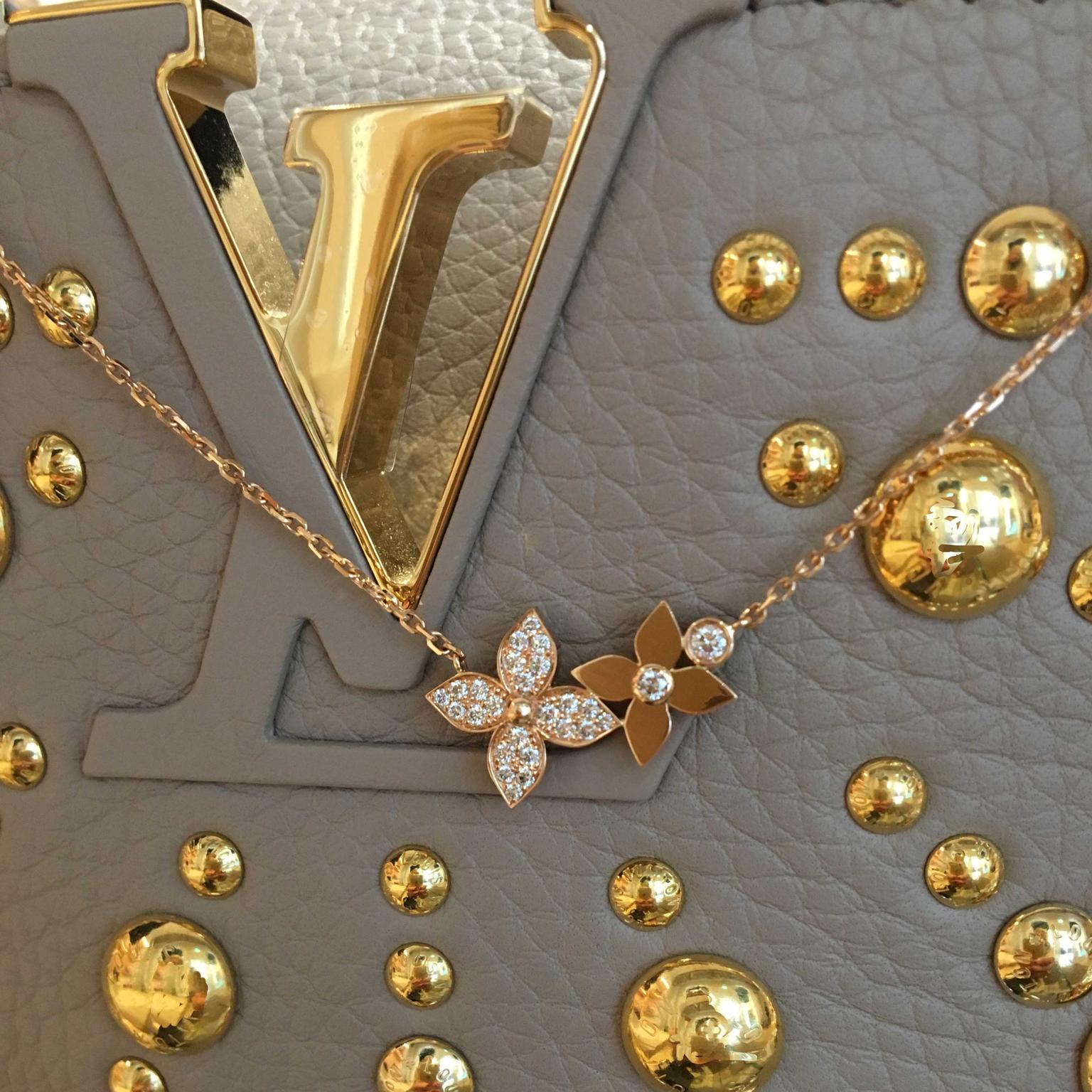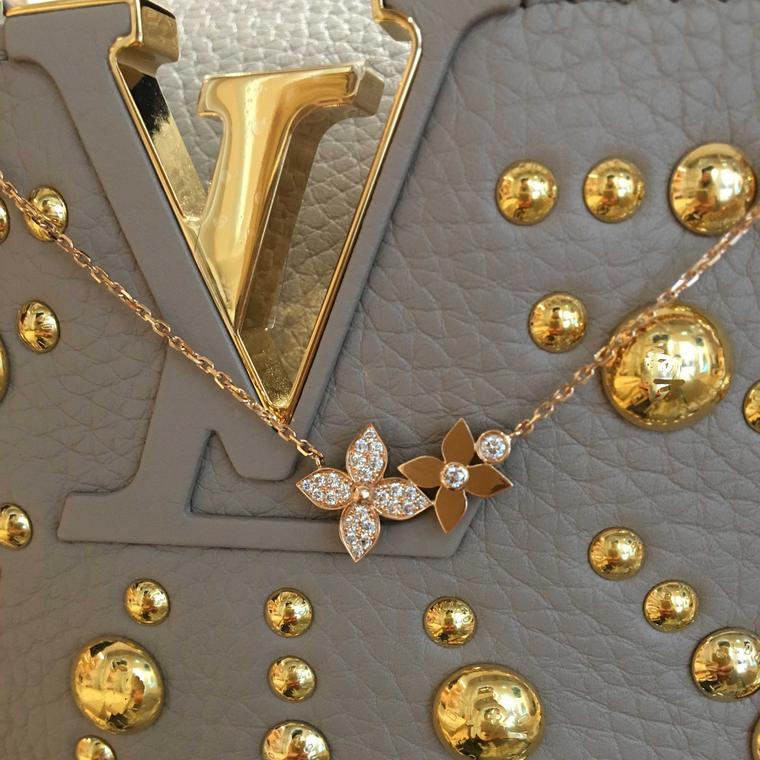 If you are hunting for that special Christmas present and your loved one happens to be a Louis Vuitton fan, then your search is over. With a wide range of jewels and watches to choose from, it would be very hard to go wrong. Many of the rings and bracelets are easy to stack and mix and match so there are plenty of options if she already has a Vuitton jewel. Single earrings are a great idea for the youngest of those on your Christmas list. In the highly unlikely situation that she has all the Louis Vuitton jewellery she needs, then there are some gorgeous watches too.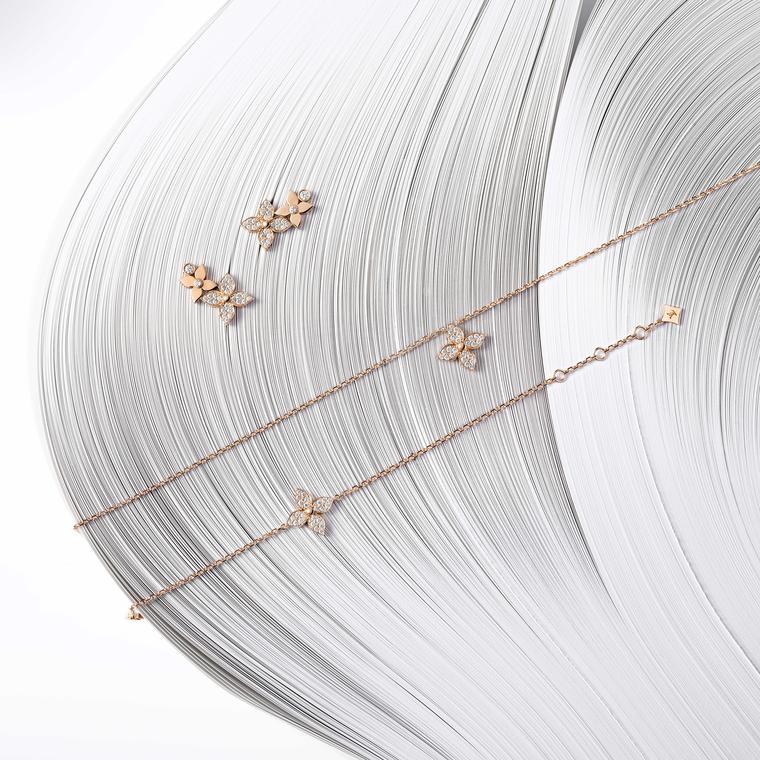 Louis Vuitton may be better known for their steamer trunks from the golden days of travel when a gentleman wouldn't consider embarking on a foreign voyage without his fold-out camper bed, full tropical wardrobe, library and typewriter, each in a custom-made trunk.  However, Louis Vuitton has managed to grace every jewel with an echo of the firm's remarkable history  by incorporating details from these original Vuitton products into each and every jewel and watch design.
Take the Star Blossom collection (above) of dainty gold diamond jewels, the four-leaf motif comes straight from the famous Monogram pattern that Louis Vuitton created to distinguish his trunks from competitors and counterfeiters. Hand-drawn in 1896 at the time when Japonism was all the rage in Paris, the minimalist pattern of stars and flowers has since been used on almost all Vuitton products, from handbags to jewels where its simple shape shines out in precious metals and diamonds.  I am sure that Georges Vuitton could never have imagined that his star-like flower is now a floral motif for a new generation despite having first seen light of day over one hundred years ago.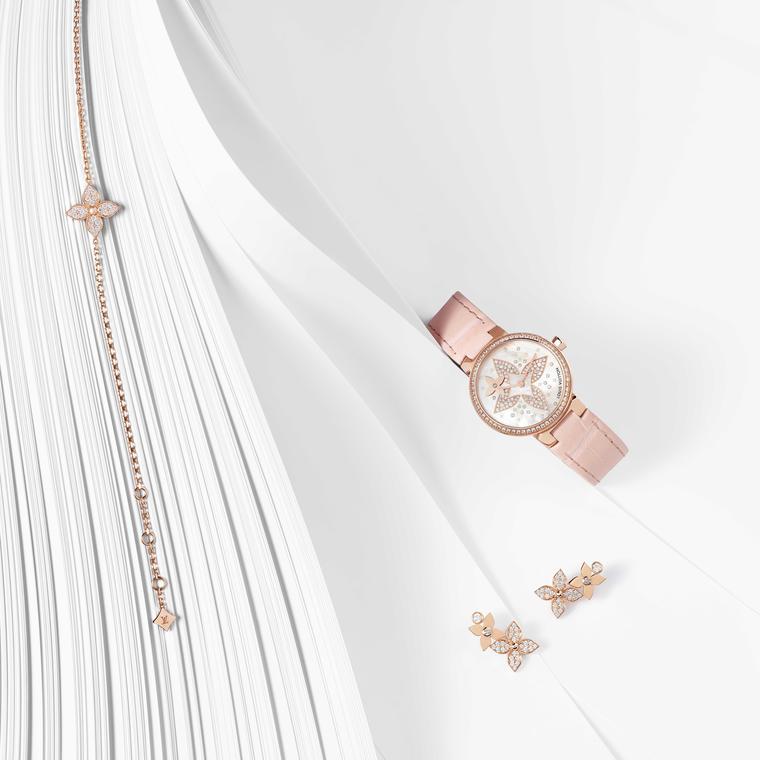 Today the Star Blossom jewels are available in the three tones of gold with diamond highlights. Slender bracelets, dainty rings and charming pendants and earrings make this one of Louis Vuitton's most successful jewellery designs. And there is a watch to match. On the dial of the Star Blossom rose gold watch a diamond pavé bloom shines out against the warm shimmer of white mother of pearl, perfectly complemented by a soft pink leather strap (above).
Louis Vuitton's new watches are amongst the prettiest of the season and the Tambour Moon Divine watches have a diamond-set outline of the flowers blooming on the dial. Each one is rich in details from engraved mother-of-pearl to deep burgundy lacquer as well as a wide variety of diamond-setting options. What's more, all Vuitton watches have easy to change straps meaning you can update the look of your watch in seconds – and without snagging a nail thanks to the clever new patented system.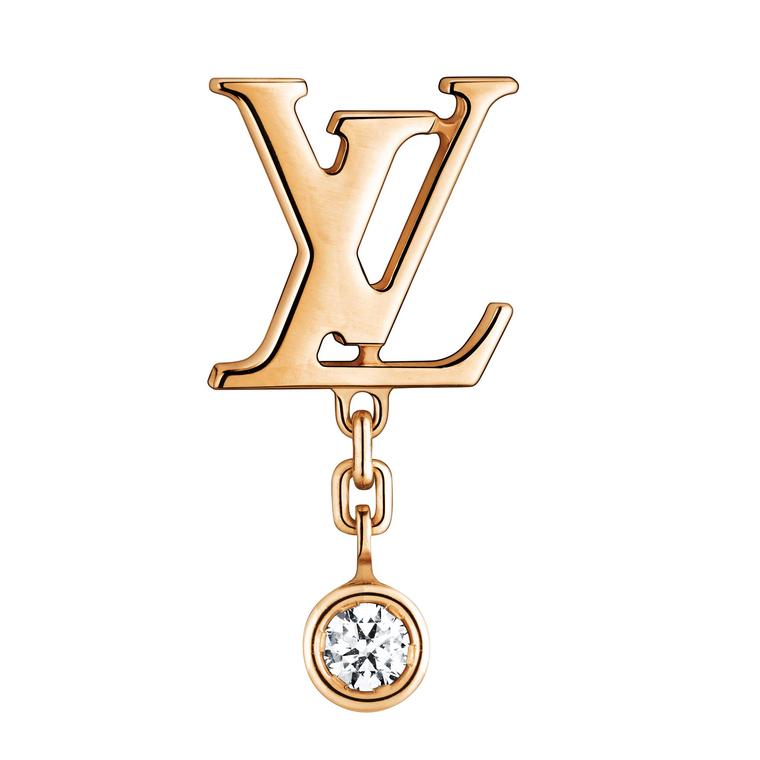 Perfect for lovers of the famous LV logo, the clean lines of the Idylle Blossom (above) offer a chic and contemporary jewellery option perfect for fashionable young girls.  Bracelets, single earrings and necklaces all string a single diamond on a fine yellow, rose or white gold chain alongside the graphic LV logo.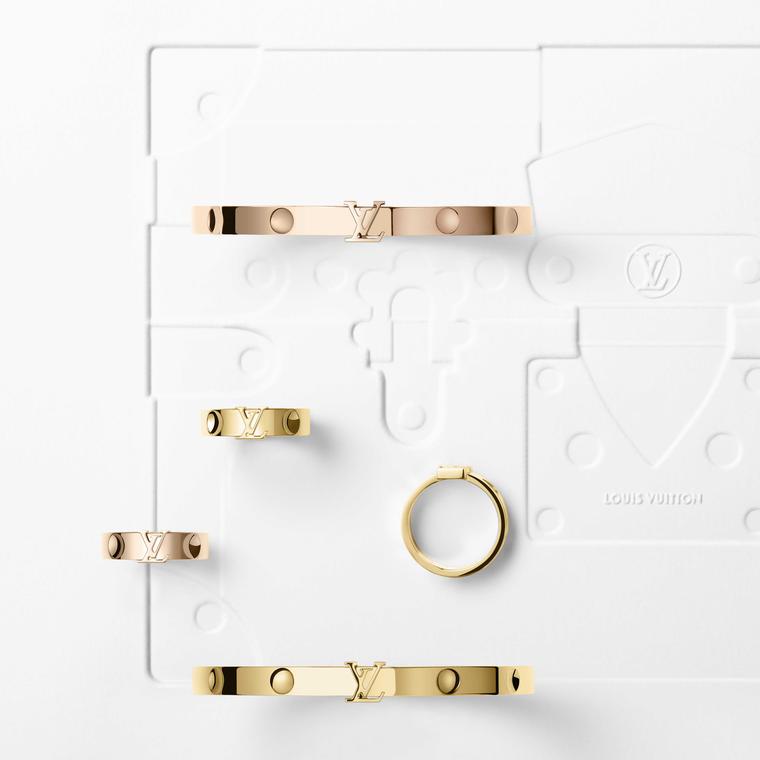 The Empreinte jewels (above), launched in 2004 perhaps best showcase the creativity of the Vuitton jewellery team in coming up with clever ways to use the maison's design icons. Empreinte, which means 'imprint' or 'impression' in French features the brass studs used on Vuitton trunks. But rather than use the domed version of the stud, its concave imprint is pressed into gold bracelets, rings and pendants creating tactile little dips that catch the light. The simplicity of the design makes the plain gold rings and necklaces a favourite for both men and women, while the flat bands of the bangle-style bracelets are made for stacking with the white gold diamond-set bangle the shimmering star of any wrist.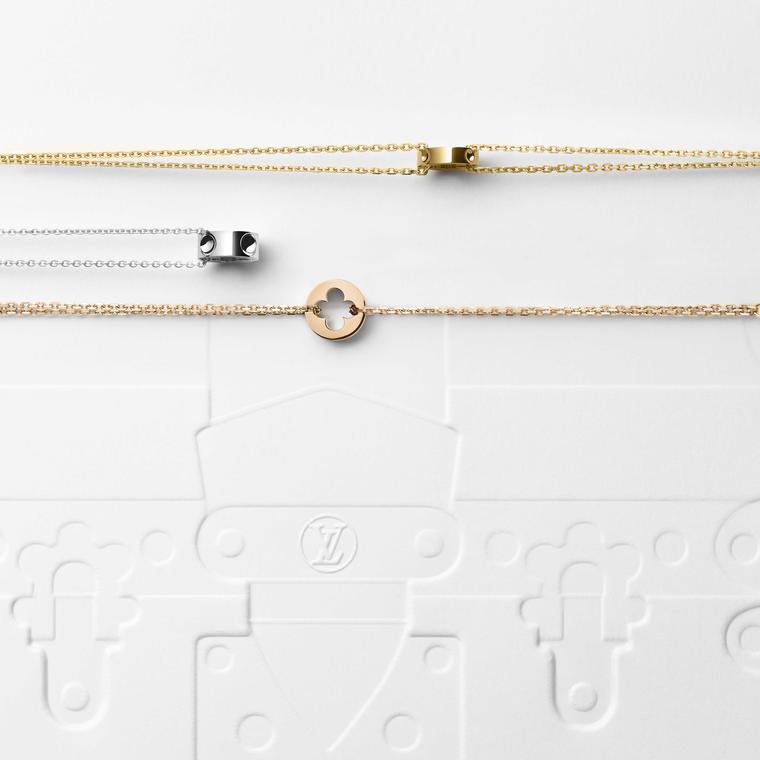 Full of movement and playing with negative space, a pendant hangs from necklaces and twirls around in the brand new double chain bracelet (above). The pendant is a thick gold ring perforated with the Blossom motif and edged with 'empriente' stamps.
With all these Louis Vuitton options to choose from this Christmas, you are sure to find her or indeed him, a gift that will delight. But be warned, Louis Vuitton jewellery is highly addicted and you may unleash a passion for Empreinte, Star, Idylle and Blossom that will need to be constantly satisfied.
Created in 2004, the Empreinte family of jewels are now available in these more luxurious versions in white gold and diamonds. 

A logo becomes a delicate adornment, enhanced by the light of a diamond set on this slender chain necklace from the Louis Vuitton Idylle Blossom range.

The Idylle Blossom appeals to the young and the young at heart with cute earrings like this single stud with a diamond that sways with your every move. 

The  Louis Vuitton Tambour Moon Divine watch is treated to a burgundy-hued lacquer dial with rich details including ripples that radiate out from the centre and diamond-set Blossom motifs as well as diamond-set lugs, all in a rose gold case with an interchangeable watch strap. 

The Empreinte embraces the Monogram flower in these bracelets with a cut-out centre surrounded by a thick band of white, yellow or rose gold stamped with the stud motif derived from the original steamer trunks. 

Louis Vuitton's Star Blossom gold necklace and earrings with diamonds are based on the firm's famous Monogram flower-like star motif first seen on the early steamer trunks. 

The Star Blossom collection includes not only stud earings and chain bracelets but a range of watches, all of which feature the famous house motif and a liberal use of diamonds. 

Several of the Empreinte jewels are unisex thanks to its simple design based on an imprint of the studs found on the famous travel trunks for which this French luxury company is best known.

The Star Blossom rose gold necklace with diamonds against a gold-studded Capucines handbag.