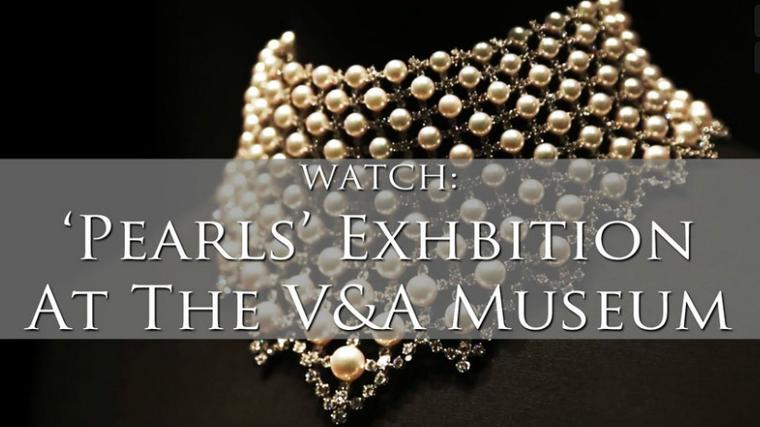 On Saturday 21 September, London's V&A Museum opened the doors to its much-anticipated new exhibition: Pearls. Ahead of the big reveal, Maria Doulton visited the Kensington museum for a preview of the exhibition's stand-out pieces and to speak to its curators, Beatriz Chadour-Sampson and Hubert Bari.
In collaboration with the Qatar Museums Authority, the exhibition, which runs until 19 January 2014, delves into the long and distinguished history of the pearl, showcasing a variety of gems, from ancient specimens to modern-day jewels. A number of exceptional pearl ceations are included in the exhibition, including Hemmerle's spectacular Trantula brooch, which features a 111.76ct dark brown conch pearl, a pearl necklace owned by Marilyn Monroe, the single pearl earring worn by Charles I on his execution and a spectacular Cartier necklace made up of five graduated strands of natural Gulf pearls.
Watch our latest video to see some of the highlights of the V&A's major restrospective of pearls, with insights from the exhibition's two curators.
Lover's Eye brooch, England, 1800-1820, in gold, with pearls, diamonds and a painted miniature © Victoria and Albert Museum, London.

Mikimoto's Marilyn Monroe strand of 39 cultivated Akoya pearls. This necklace was a gift to the star from her second husband, Joe DiMaggio, and is on show until 19 January 2014 at the V&A's Pearls exhibition in London.

YOKO London "Carnevale" pearl and diamond necklace.

Hemmerle's Tarantula brooch (1995), from the "Art of Nature" series. The body is made up of a 111.76ct dark brown conch pearl - one of the largest and rarest ever found - and 39.84ct natural coloured fancy shaped Umba sapphires.

Watch our latest video as Maria Doulton goes behind the scenes at the V&A's major exhibition of pearls.