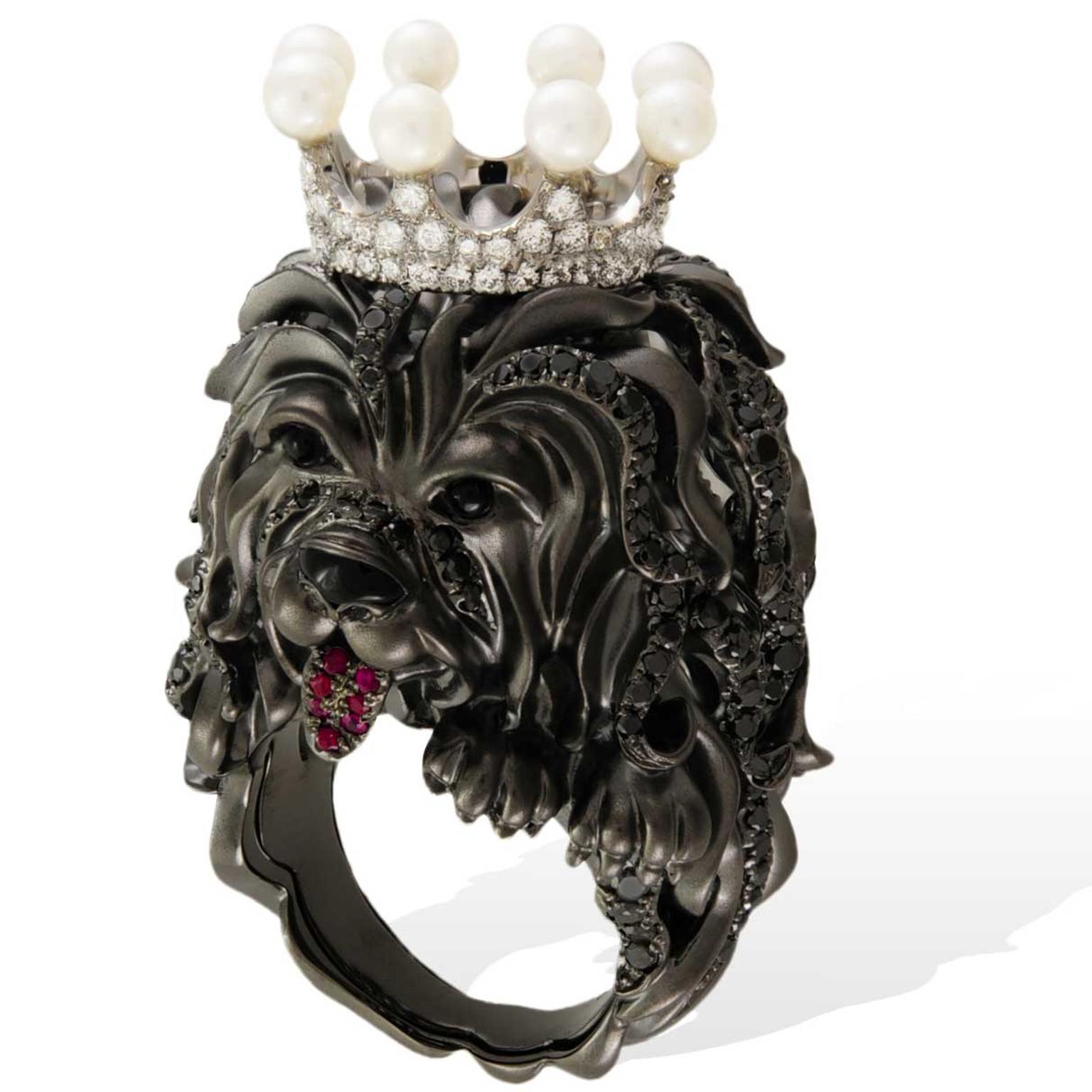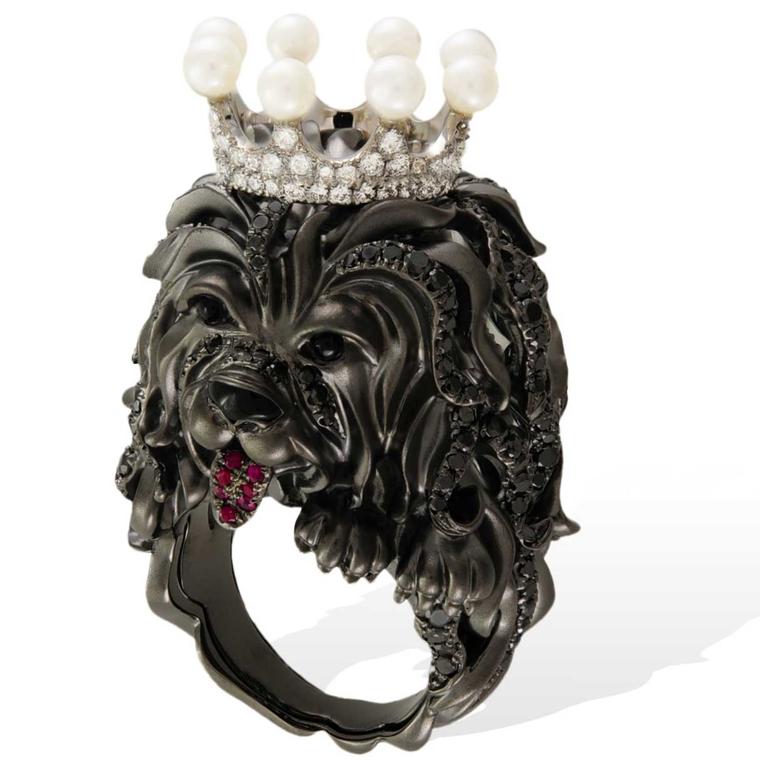 Lydia Courteille has never shied away from difficult or unusual subjects for jewellery. Spiders, dung beetles, monkeys, pigs, turkeys, cows, scorpions and even three-legged toads become wondrous and beautiful in her world.
"I have always loved animals and wildlife and it has been my greatest source of inspiration," says Lydia. "I continually to my bestiary; the latest is a beautiful elephant ring with brown diamonds. And I even prefer animals that are considered to be lucky charms in different cultures from the Aztecs to the Chinese, such as the frog or the toad."
And when not taking on commissions, Lydia likes to ad lib and has created some bizarre animal hybrids. For the Sahara collection, Lydia dreamt up a spider with a mouse head (below) poised ominously in its web.
As the majority of this Parisian jeweller's works are one-off creations, her rue Saint Honoré address is the go-to address if you are looking to immortalise your pet in a ring, tie-pin, cufflinks or perhaps even a bracelet or tiara. The best way to do this is to take a photograph of your pooch, pussy cat, python or parakeet and post it or pay a visit to Lydia in Paris. Lydia's boutique is just around the corner from the Place Vendôme and you can easily spot it as there is usually someone gazing into the window at the latest display of fabulously uncanny jewels. The last time I went an Incan landscape had been recreated complete with a brooch in the form of a mummified human sacrifice, an Aztec skull bracelet and dancing pink flamingo earrings. And that is because Lydia's purple-clad micro-boutique is dedicated to the weird, wonderful and precious, a wunderkammer of the unexpected, where your special requests will be welcomed.
The owner of the green-eyed cat Alf (above) came to Lydia to commission a ring of her beloved pet. The result is a tongue-in-cheek homage to the feisty Alf, his pelt a bristling carpet of black diamonds, diamond whiskers resplendently curling across his face, his tsavorite eyes twinkling mischievously. The devotion of a beagle (bottom) is perfectly captured in a pair of cufflinks carved out of petrified wood, carefully picking out the pattern of his fur and his glossy wet, black onyx nose.
A perky Scottie (top) cast in black gold is crowned in pearls and diamonds. You can almost hear this pooch panting, his little red tongue set with rubies. Black diamonds highlight his glossy mane and beady eyes.
Lydia is as protective of the identities of her clients as the most faithful of companions which makes each commission so intriguing. Take this tie-pin (below): a very well-known Parisian gentleman asked Lydia to carve the image of his adored cat into the back of a rock crystal dome to create a jewel. Do you recognise the cat?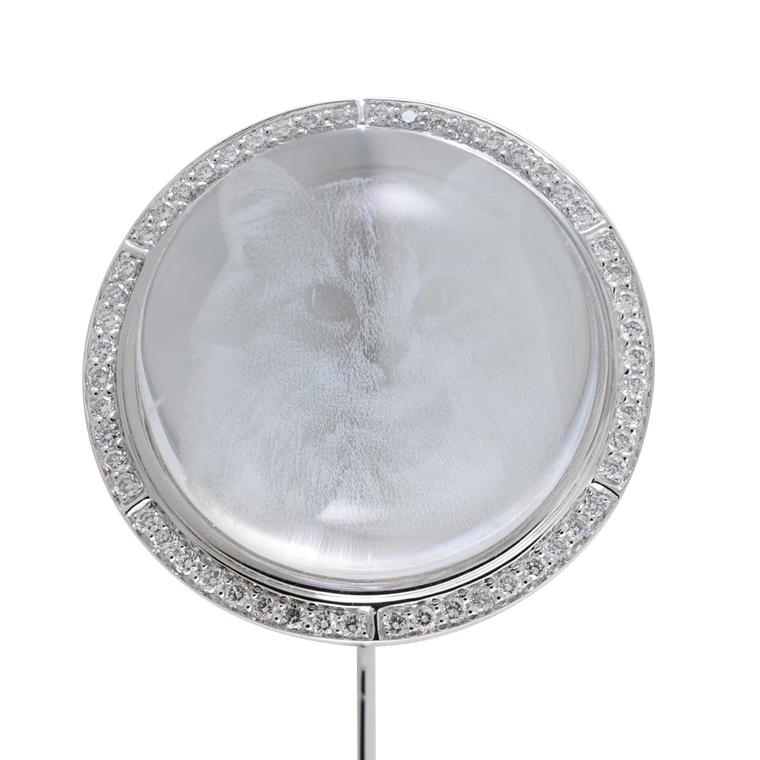 Lydia tells me about the funniest pet commission she has received to commemorate a talking parrot (below): "I made cufflinks with a parrot on one side and the name "Coco" on the other."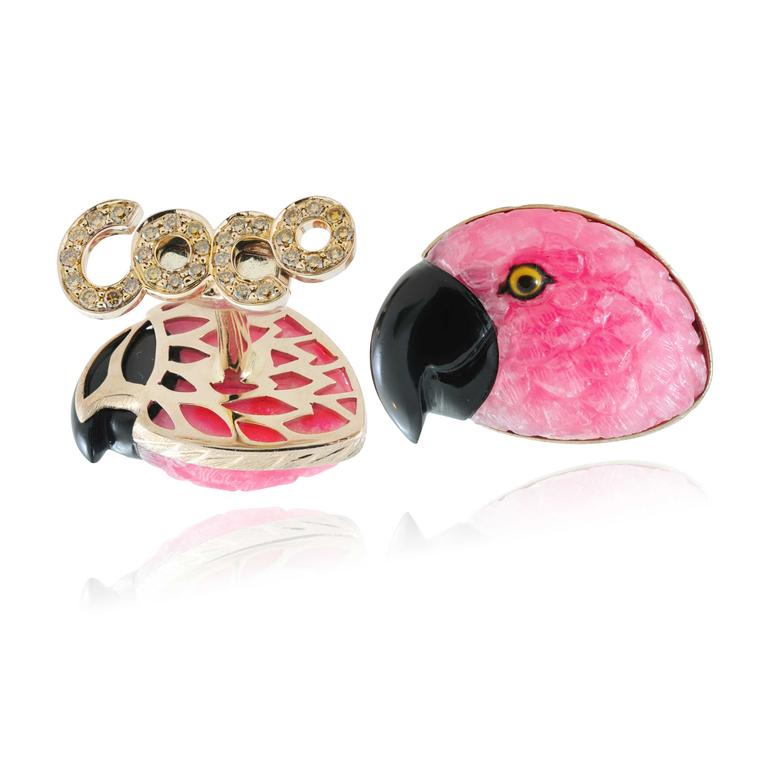 Looking at these six animal, it would be difficult to guess that they are all the work of one artist jeweller. And that is genius of Lydia Courteille, she surprises, delights and provokes at every turn. 
Perfectly capturing the expression and personality of this adored beagle, Lydia Courteille pays attention to the smallest details to create a life-like miniature version of this dog on a pair of bespoke cuff links carved from petrified wood. 

If you are mad about the pup, then show him off with a pair of bespoke cufflinks by Lydia Courteille which perfectly capture this beagle's likeness and temperament. The back section is in the form of a paw, set with black diamonds. 

Alf's owner was so in love with her cat that Lydia Courteille was commissioned to make a ring in black and white diamonds and tsavorites of their beloved pet.

Head on view of Alf the cat complete with his little crown spelling out his name. He is set with 220 black diamonds and his eyes are green tsavorites.

The owner of this cat will remain anonymous, but can you guess who this elegant pin belongs to? A portrait of the cat has been carved into rock crystal and surrounded by a crescent moon of diamonds set in white gold. 

Carved from pink rhodochrosite and set with brown diamonds, the lively personality of Coco the talking parrot is perfectly captured by Lydia Courteille in these special commission cufflinks. 

Love your dog? Then ask Parisian jeweller Lydia Courteille to create a one-off ring of your pooch complete with a ruby-studded little red tongue. Pearl crown is optional but this dog-owner thought his Scottie deserved a regal head piece and 1,945 black diamonds.