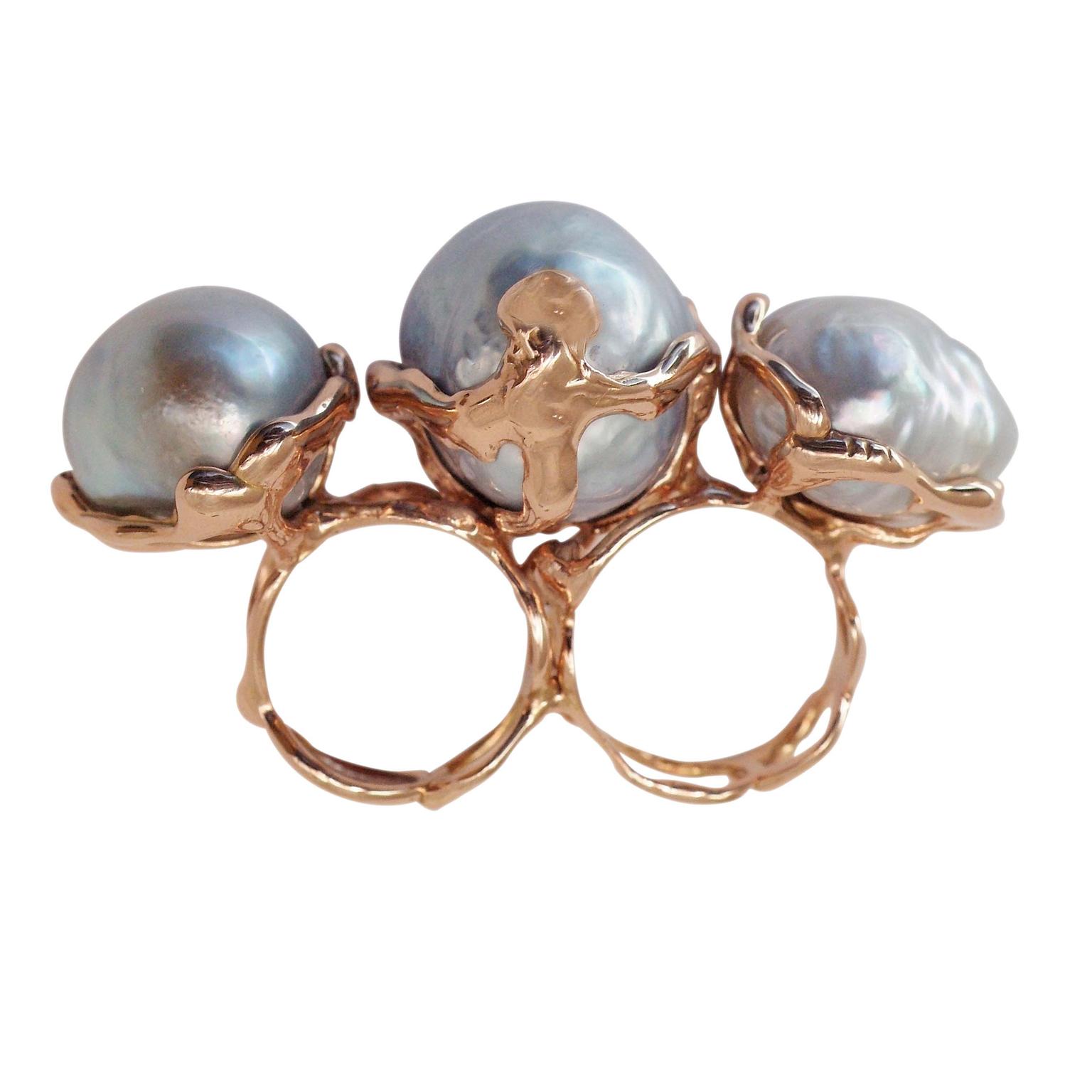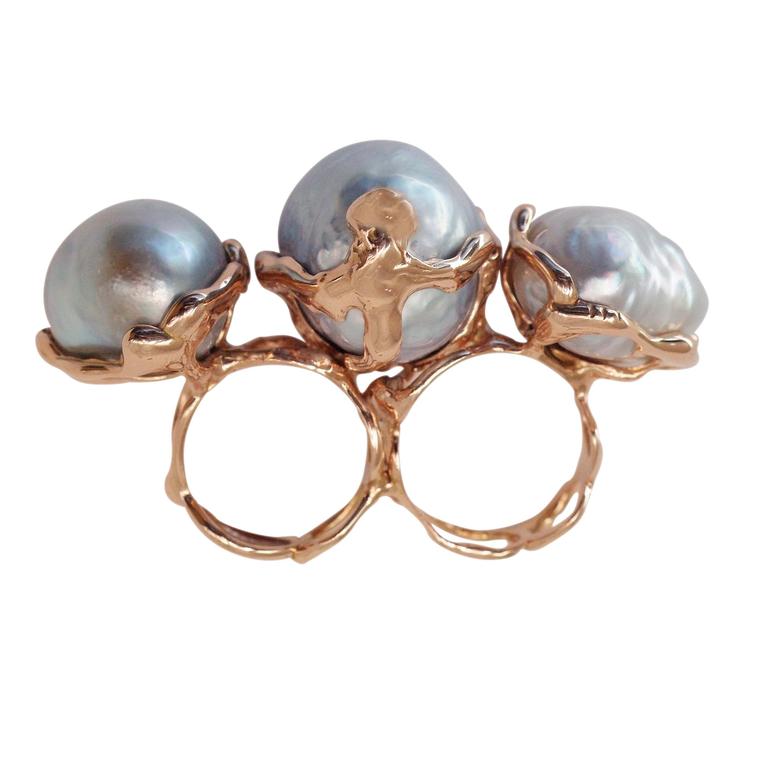 Much has been written on the return of pearl jewellery on The Jewellery Editor, which is encouraging designers to take this classic gem and use it in increasingly imaginative ways.
At the Couture Show in Las Vegas earlier this month I saw Tahitian pearls liberally sprinkled in fairy dust, innovative clasps that transformed a pearl choker into a naval-grazing necklace in seconds and a pearl bracelet that had been given the Ziggy Stardust treatment. And that's before I had even set eyes on Arman Sarkisyan's necklace, with a huge baroque pearl hanging like a trophy round the neck of an adorable deer.
Designed to mirror the misshapen contours of three baroque pearls, Lucifer Vir Honestus' writhing across-the-finger ring lets the pearls do the talking. Treasured for their non-uniformity, baroque pearls are a fascinating deviation from the norm that fit in perfectly with the organic look and feel of Vir Honestus' jewels.
Stephen Webster's new pearl jewellery is equally creative. In his new Lady Stardust jewels, inspired by David Bowie's 1970s alter-ego, the pearls temper the vintage rock vibe and exaggerate the Art Deco feel, the era in which pearls were at their peak of popularity. His pearl tassel bracelet - which can also be worn "inside out", with white diamonds rather than black as embellishment - features Tahitian and South Sea pearls that segue beautifully from one shade to another, with a flash of emeralds accentuating the 1920s colour palette.
The talented Alessio Boschi presented a fabulous necklace and earrings, which pick out the blue tones that swirl in Tahitian pearls by contrasting them with vivid tanzanite beads. The necklace - which can be worn as a long lariat or shorter necklace and bracelets, with or without the flaming gem-set pendant - and earrings can be taken apart and reassembled to create different looks, making these transformable jewels as playful as they are precious.  
Peter Schmid the German jeweller, whose Atelier Zobel creations are pure, flamboyant art, entertained us with a new way to wear our pearl necklaces. With three different-coloured pearl strands in his hand, adapted to fit his innovative clasps, he popped the pearl necklaces together to create a long lariat of pearls, held together by his elaborate artwork.
Anthony Lent's earrings, meanwhile, are pure fantasy. Sculpted out of gold, fairy legs dangle beneath two Tahitian pearls - a charming introduction to this artist jeweller from Philadelphia, who was showing at the Couture Show Las Vegas for the first time.
Read about pearls in the latest trends in the world of high jewellery
Alessio Boschi Stardust convertible Tahitian pearl earrings with blue tanzanite beads, which can be detached and worn in different ways.

Anthony Lent Tahitian pearl earrings in gold with diamonds.

Arman Sarkisyan baroque pearl pendant with brown diamonds decorating the yellow gold deer.

Another look for Alessio Boschi's Stardust lariat necklace, with Tahitian pearls, tanzanite beads, diamonds and sapphires.

Alessio Boschi's convertible Stardust Tahitian pearl earrings, with detachable blue tanzanite beads and gem-set flames.

Stephen Webster Lady Stardust pearl bracelet set with black and white diamonds and emeralds.

Alessio Boschi's Stardust pearl necklace, with Tahitian pearls, tanzanite beads, diamonds and sapphires. white and yellow diamonds, and blue and purple sapphires. It can be worn as a long lariat necklace or two necklaces and two bracelets, with or without the drop and tassel.

Atelier Zobel Vario clasp in gold and silver, with a Tahitian pearl and champagne brilliant diamonds.

Stephen Webster Lady Stardust pearl ring in white gold, set with a South Sea pearl and diamond pavé.

Atelier Zobel Vario clasp in silver and gold, with a mabe pearl and champagne diamonds.

Lucifer Vir Honestus multi-finger pearl ring.