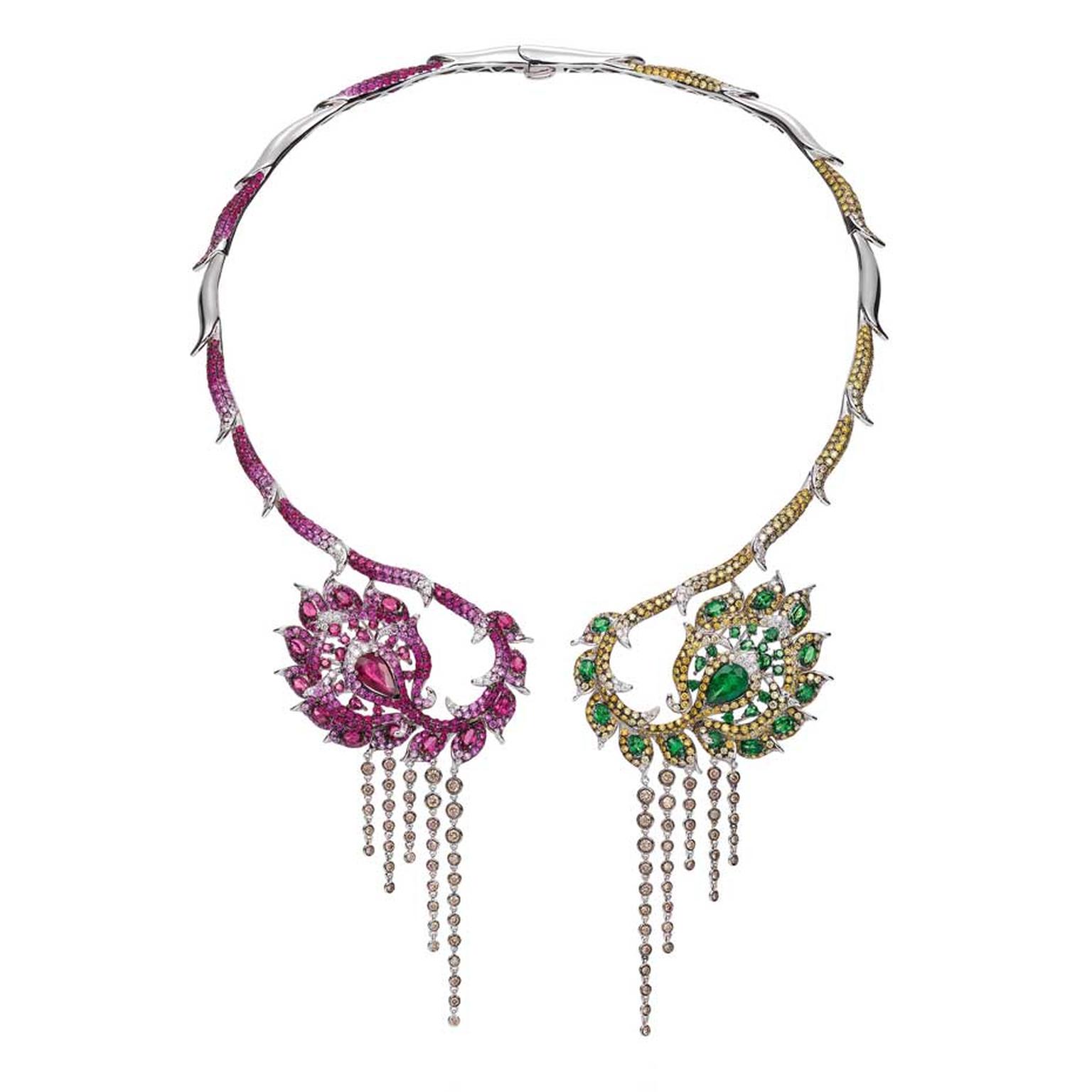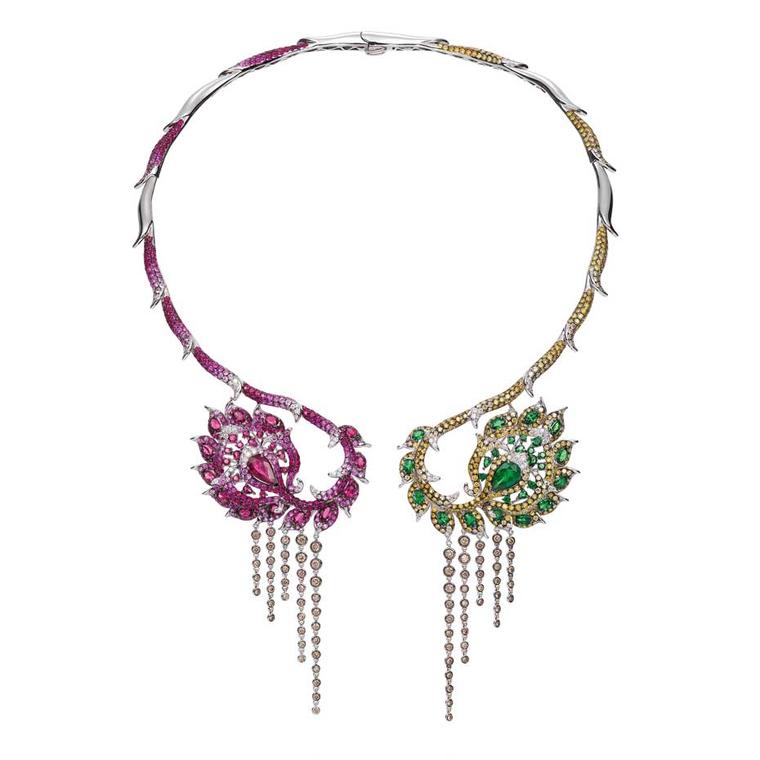 Few jewels can beat open collar necklaces for glamorous sensuality. With the 1970s trend pervading the catwalk, designers at this week's Couture Show Las Vegas are drawing inspiration from the era's sleek, modern designs, creating sculptures for the collarbone that mix colored gemstones with a tantalizing glimpse of skin.
Marc Alary jewelry, known for its chic, playful animal motifs, recreates the natural beauty of the horns of a gazelle. Twisted, tapering gold horns sit elegantly around the neck, each end punctuated by the subtle sparkle of champagne diamonds.
The mismatched beauty of deer antlers inspired the Colette choker - a simple gold wire ending in rangy lines of tiny diamond pavé, which will add instant sex appeal to any look.
For a sleek, everyday jewel, the Sophie Bille Brahe pearl necklace ends in the perfect counterbalance of an Akoya pearl and a golden orb.
There is nothing minimalist about Stephen Webster's Plummage collar from his Magnipheasant couture collection. It creates high drama with a fiercely sensual and intense combination of fire opals, rubies, yellow sapphires and black diamonds.
Wendy Yue also goes for color and exuberance with her fantastical flowers in intense shades of yellow, green and pink colored gemstones. Diamond tassels provide added detail to the wearer's décolletage.
Whether you are aiming for high drama or sleek simplicity, these chokers are designed to be slipped on as sensual, feminine armor.
Discover more new trends at the Couture Show Las Vegas.
Jacquie Aiche Double Deco Wing choker in rose gold with pavé diamonds ($4,565).

Maiyet Constellation open collar necklace in gold with diamonds ($10,500).

Stephen Webster Magnipheasant Plummage couture collar necklace in white gold set with black diamond pavé, marquise-shaped rubies, fire opals, yellow sapphires, and central pear-shaped fire opals ($80,000).

Colette gold open collar necklace from the Desire collection, set with 4.28ct white diamonds ($18,900).

Marc Alary hinged gazelle double horns necklace in yellow gold, set with two champagne diamonds.

Wendy Yue open collar necklace with champagne diamonds, tsavourites, rubellite, pink sapphire, ruby, white diamonds and golden diamonds ($78,000).