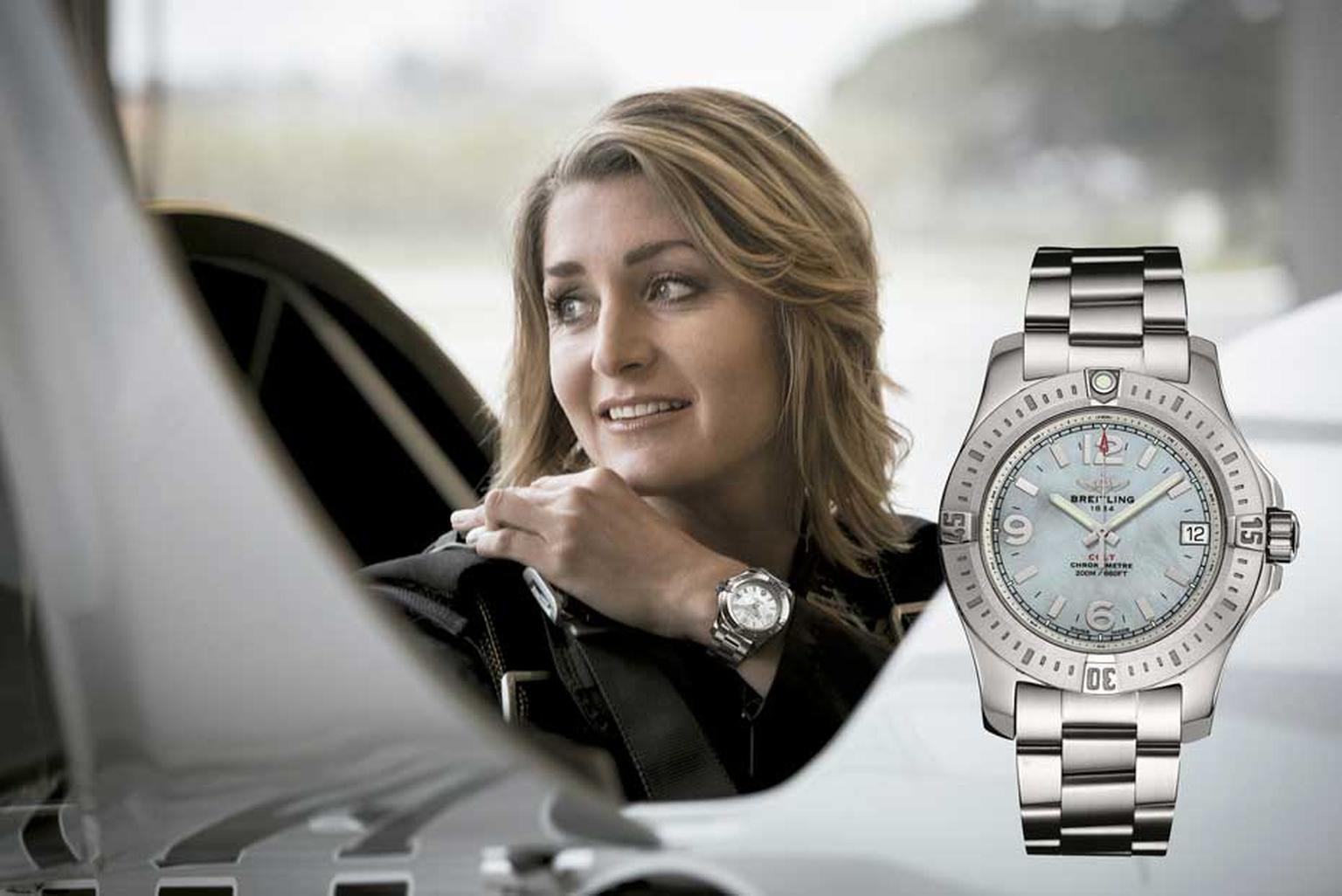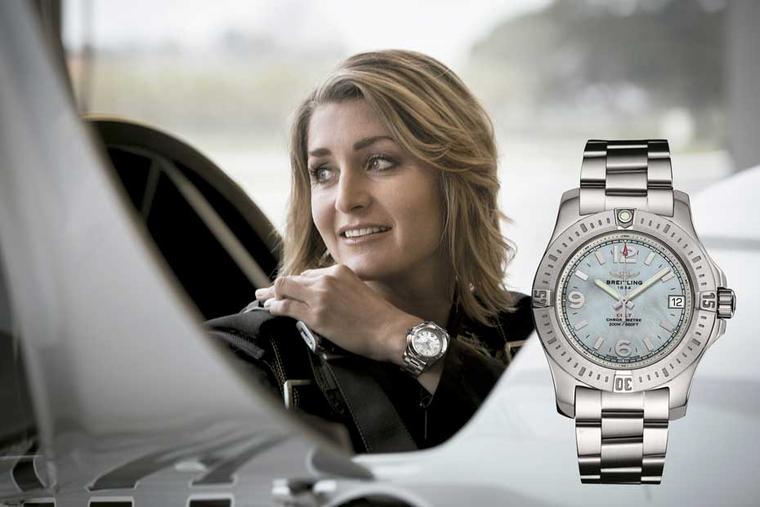 By Rebecca Doulton
Aviation is the natural habitat of Breitling watches and, over the years, the brand has provided cockpit instruments and sophisticated mechanical watches for both civilian and military markets.
Just say the word Breitling and the image that springs to mind - well at least in my mind - is John Travolta sitting on a tarmac somewhere with his private jet in the background, or in a more recent reincarnation with an X-15 rocket plane. Many will recall Raquel Welch in the 1967 film Fathom as the sexy American skydiver, more often than not wearing a lime green bikini. However, and this is where we women come into the picture, during one of her daredevil jumps she is pictured wearing a Co-Pilot Chronograph from Breitling watches, showing the world that action women need proper action watches, and look pretty good in them too.
Breitling not only produces timepieces designed to withstand the most trying conditions at either death-defying altitudes or for exploring the ocean's floor, each and every model is certified as a Swiss COSC-chronometer.
Read more about chronometer watches
For women with a head for altitude and speed, the Breitling Colt watch is a classic aviation companion. First launched in the 1980s for the armed forces, the Colt appealed to civilians thanks to its sturdiness, functionality and legibility. Over the years, the Colt has become the most attractively-priced Breitling watch and is the timepiece of choice for the reigning world aerobatics queen, Aude Lemordant. The 36mm ladies' watches are available with mother-of-pearl dials and the option of diamond indices and a diamond-set bezel for an extra touch of femininity. The chronometer-certified Superquartz movement offers a degree of precision 10 times superior to standard quartz and has a battery life of eight years.
The new Superocean II ladies' watches are reliable, rugged and great-looking dive partners, which will see you to depths of up to 200 metres. With their all-white look and 36mm case designed for smaller wrist dimensions, these watches are serious superdivers. The unidirectional rotating rubber bezel - a crucial ally on your dive - displays large, clearly visible numerals with a luminescent marker at 12 o'clock. The numerals and hands are accentuated with luminescent coating, and the sturdy steel case with its screwed-down crown and caseback, is presented on a sporty white rubber Ocean Racer strap with a row of holes for a cool 1970s groove. It is also equipped with a chronometer-certified automatic movement to keep the hours, minutes, seconds and date in perfect synch.
Breitling's more sophisticated Galactic collection also features 36mm ladies' watches available in a combination of materials and finishes. I particularly like the striated crown of this Galactic model and the super practical and very cool wavy stainless steel bracelet. The COSC-certified Breitling 37 automatic movement offers a 42-hour power reserve and can be plunged to depths of 100 metres. 
Who said Breitling watches are only for men?
American sex-symbol Raquel Welch in the 1967 film Fathom wore a Breitling Co-Pilot Chronograph for her skydiving stunts.

Breitling Colt 36mm ladies' watch with a blue mother-of-pearl dial keeps impeccable time with a chronometer-certified Superquartz movement.

Breitling Colt 36mm ladies' watch with a diamond-set bezel and diamond indices. Like the Superocean, this watch has a screwed-down crown and caseback and is water-resistant to 200 metres.

Breitling's Galactic 36mm for women features a very cool stainless steel bracelet. The movement to power the date, hours, minutes and small seconds counter is an in-house automatic calibre, water-resistant to 100 metres.

Breitling Superocean II 36mm watch for women in an all-white look is a superdiver with a unidirectional rotating bezel for dive times, luminous hands and numbers, and a sturdy case to withstand depths of 200 metres. Inside the case is a COSC-certified automatic movement.

The new Breitling Superocean II for women, with a feminine-sized 36mm case, is a reliable, rugged and great-looking dive partner, which will see you to depths of up to 200 metres.

The Breitling Colt watch for women in 36mm stainless steel is the same model worn by pilot and aerobatics champion Aude Lemordant for her thrilling stunts.