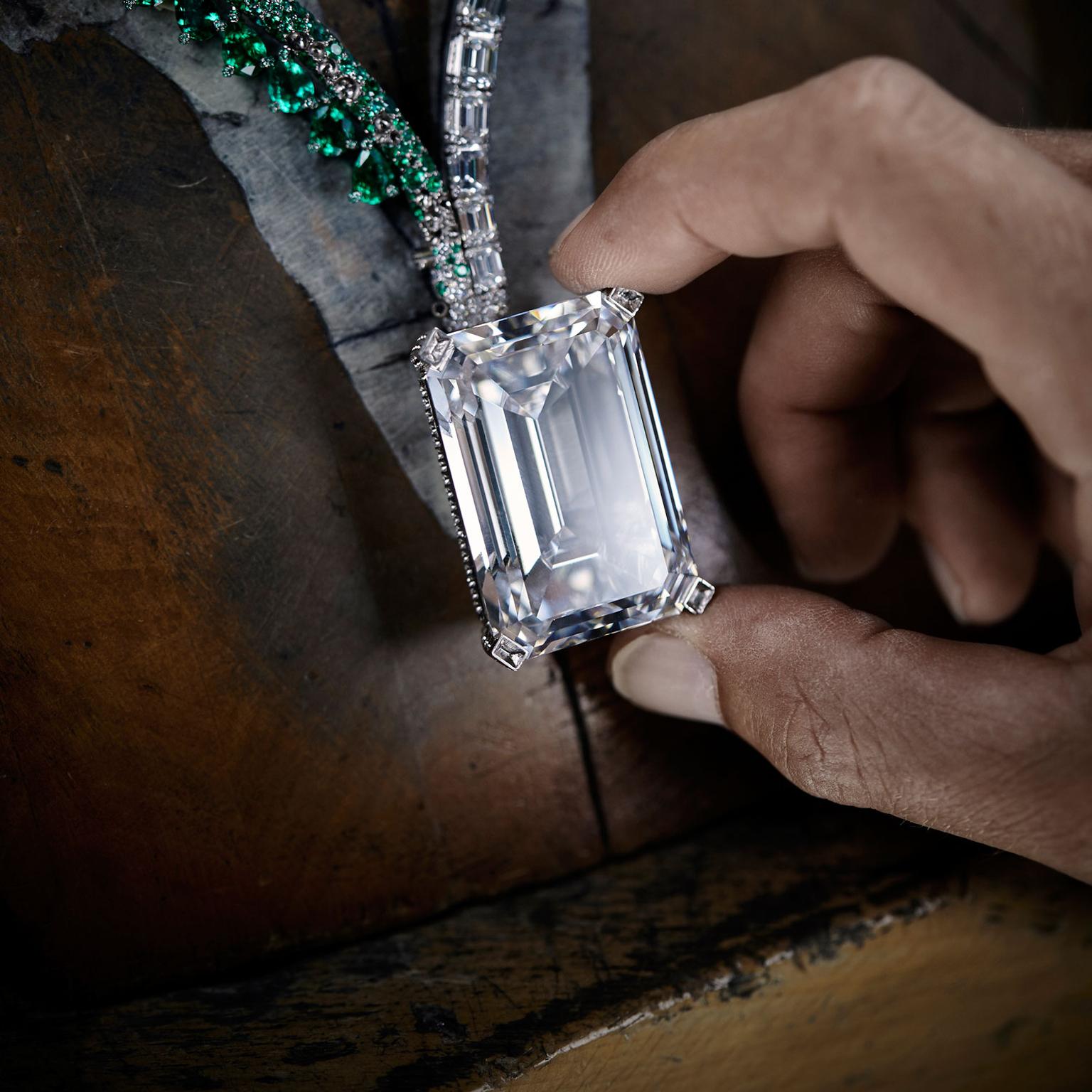 In a remarkable journey from mine to masterpiece,  de GRISOGONO revealed the Creation I necklace in October, featuring a 163.41 carat emerald-cut diamond.
The largest of its kind in the world, after public viewings in Hong Kong, London, Dubai and New York, the extraordinary diamond was auctioned at the Four Seasons Hotel in Geneva as part of Christie's sale of Magnificent Jewels on 14 November 2017. 
The second to last lot to go under the hammer, Creation I sold for $33.7m, setting a record for any D colour flawless diamond sold at auction.
In charge of auctioning Creation I, Rahul Kadakia, International Head of Christie's Jewels, commented: "Over our 251-year history, Christie's has had the privilege of handling the world's rarest and most historic diamonds. The sensational 163.41 carat perfect diamond suspended from an elegant emerald and diamond necklace propels de GRISOGONO into a class of their own."
Shortly after the auction, founder of de GRISOGONO, Fawaz Gruosi, commented: "This auction marks a high point for de GRISOGONO and the team that have worked so tirelessly to bring this incredible stone to life in this beautiful piece, Creation 1. This is the largest emerald-cut diamond ever to come to auction and so it was uncharted territory. I am truly privileged to have had the opportunity to work with a historic stone of such perfection and would thank everyone who has taken part in this beautiful journey from mine to masterpiece."
However, the news came as a surprise to many, despite the record-breaking price achieved. "The diamond is over 40% larger than the 118.28-carat D Flawless oval sold by Sotheby's in 2013 for $30.6m and the price failed to reflect that comparison," says Tobias Kormind, managing director of 77diamonds.com.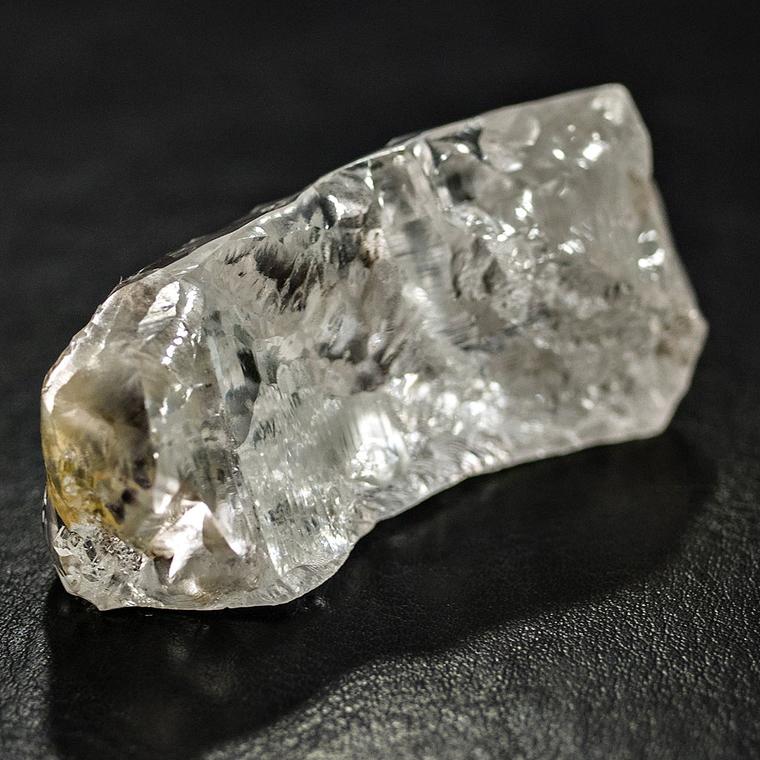 The discovery of the 404-carat "4 de Fevereiro" diamond
On the 4 February 2016, as Angola celebrated its national independence day, a momentous event occurred in Block 8 of the Lulo mine in the remote eastern grasslands of the country: the discovery of a 404.20-carat diamond. Aptly baptised the "4 de Fevereiro", it is the largest diamond ever found in Angola and the 27th biggest in the world.
Since it first saw the light of day, this huge, billions-of-years-old diamond has been on an 18-month voyage, during which it was transformed from a 404.20-carat rough into a 163.41-carat emerald-cut D Flawless Type IIA diamond, set into a suitably magnificent necklace designed by Fawaz Gruosi, founder and creative director of de GRISOGONO, and christened The Art of de GRISOGONO Creation I.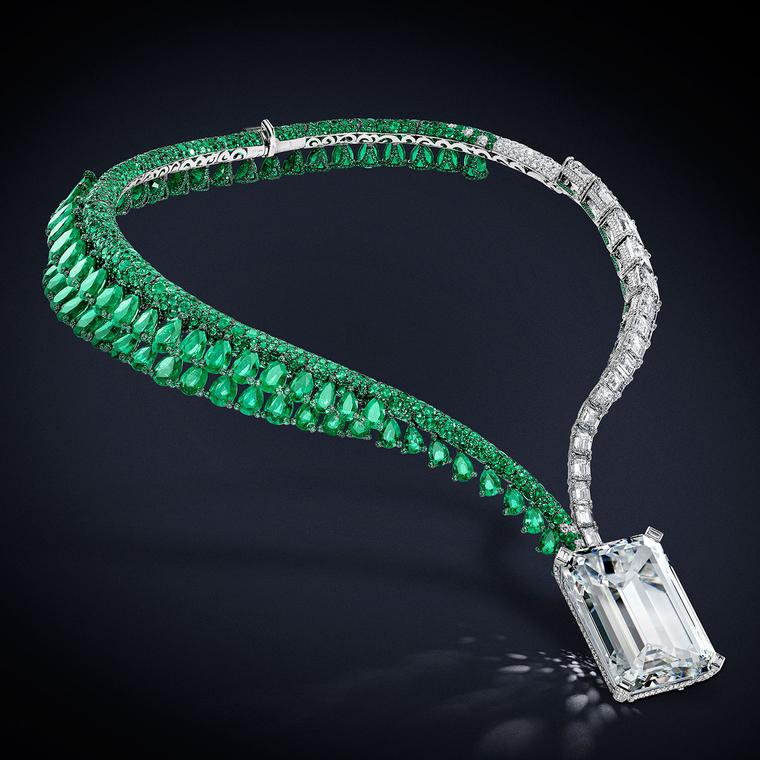 The ice-cube sized diamond is showcased in characteristic de GRISOGONO style, in a necklace bold in design, rich in colour and covered with opulent details. What's more, the necklace represents a seminal moment  for de GRISOGONO. For the first time in its 25-year history, the Swiss jeweller has been able to work with an important diamond from the very first cut, putting it in the rare league of diamantaires able to determine every nuance of a stone. This is thanks to a partnership with the Dubai-based diamond dealer Nemesis, which promises future collaborations involving outsized diamonds set into jewels with de GRISOGONO's characteristic audacity and flair. 
The"4 de Fevereiro" diamond: truly one of a kind
The 163.41-carat diamond is blessed with a trilogy of wonders. Not only is it a remarkable size and the enviable top-rank D colour, it is also a Type IIa diamond free from nitrogen, giving it exceptional clarity and limpid qualities. Type IIa diamonds, of which the Cullinan – the largest gem-quality rough diamond ever found – is one, are normally associated with the famous and now depleted Golconda mines of India.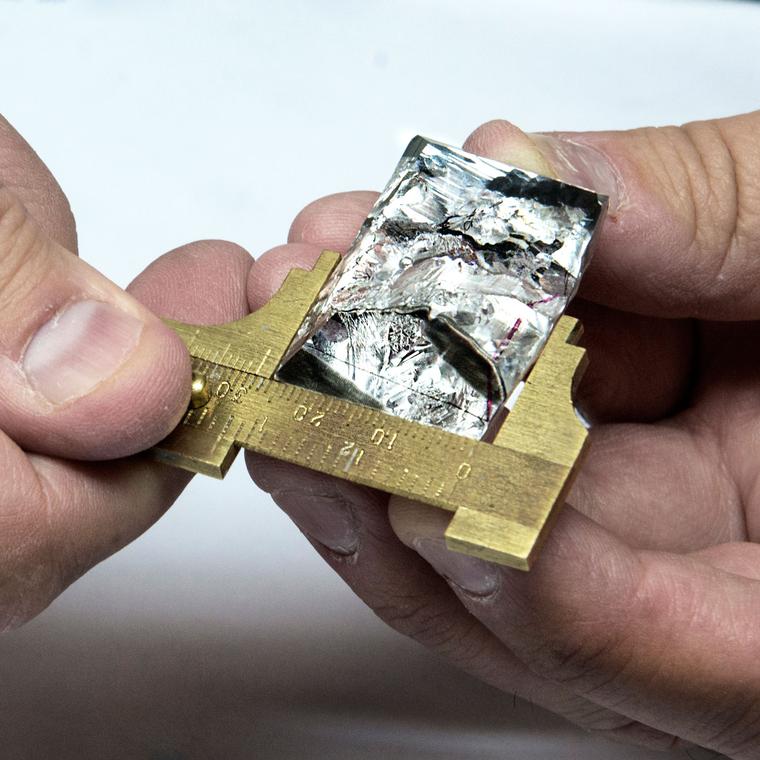 To find a Type IIa of this size is remarkable, as acknowledged by the Gemological Institute of America, which examined and certified the stone. The Institute has written a monograph on the stone and notes: "The extreme rarity of a diamond of this quality cannot be overstated; few comparable crystals have been recovered from the earth that have no internal or surface reaching inclusions, are virtually colourless, are a chemically pure Type IIa, and are a remarkably large size."
After extensive analysis to determine the maximum yield and beauty obtainable from the rough, it was cut and polished in New York's diamond district. Using the simple, centuries-old simple tools of the diamond-cutters' trade, as is traditional, the first cleave was carried out by hand by a master cleaver as onlookers held their breath in anticipation. The emerald cut was further refined on a diamond polishing wheel, each facet skilfully honed as diamonds have been known to shatter or explode on cutting.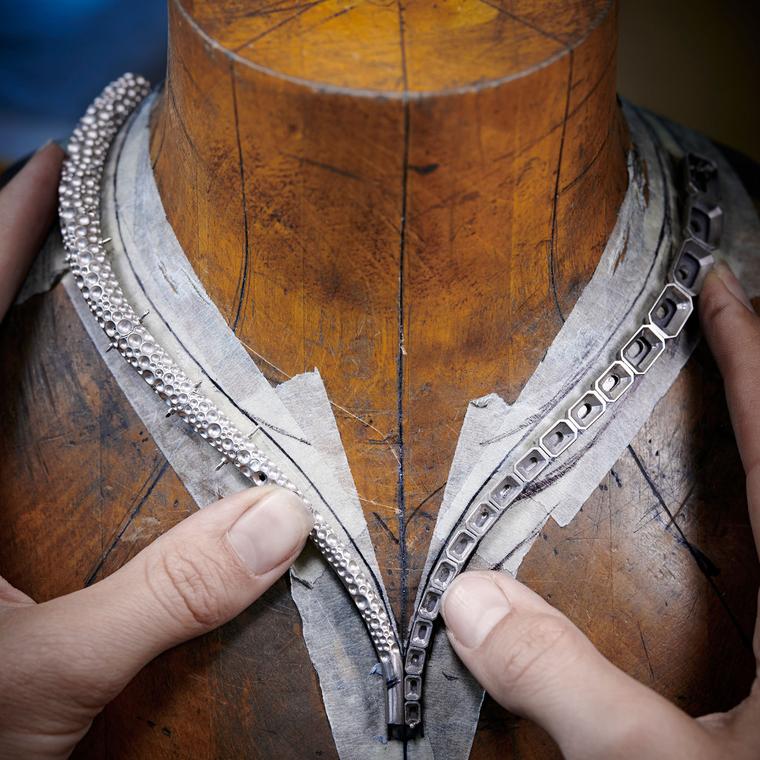 A spectacular setting for a spectacular diamond
The necklace was designed and created in de GRISOGONO's high jewellery atelier in Geneva. Meticulously crafted by hand and assembled as the necklace gradually came to life, each component was checked and adjusted every step of the way. The tools of the jeweller have changed little over the centuries and each link and claw was made by hand using processes handed down over generations.
With the 163.41-carat diamond as its centrepiece, the asymmetric necklace features on one side a riviere of baguette-cut diamonds ascending from around 0.5 to 8 carats set in chain-like structure that drapes around the neck.  On the other side, close to 6,000 lush green emeralds shroud the goldwork to create a shimmering spectacle from which 66 pear-cut emerald drops are suspended.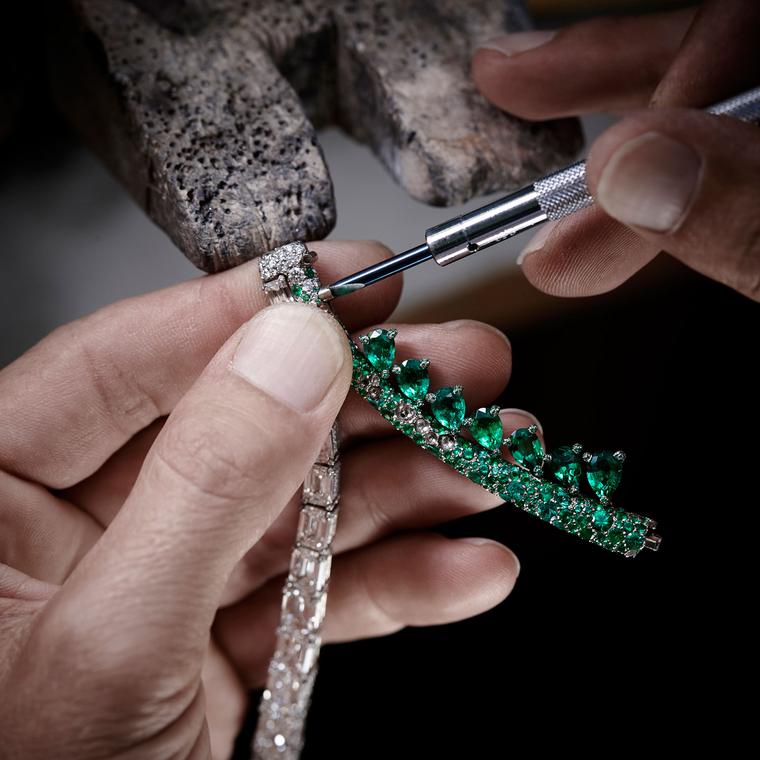 A total around 160 carats of emeralds are set into the richly intricate design along over 200 carats of diamonds, including the central stone. "I chose the design that gave the most effective look without touching the diamond. I 'dressed' around the diamond," explains Fawaz Gruosi. "It is almost two pieces of jewellery: the 'queen' or diamond is alone but surrounded by an haute couture dress." As for the dramatic contrast of colours, Fawaz Gruosi says: "I chose emeralds because I love the colour green and mixing it with other stones. The green gives great contrast and enhances both colours. And, being Italian, I am superstitious. Green means good luck – you will see a lot of it in my collections."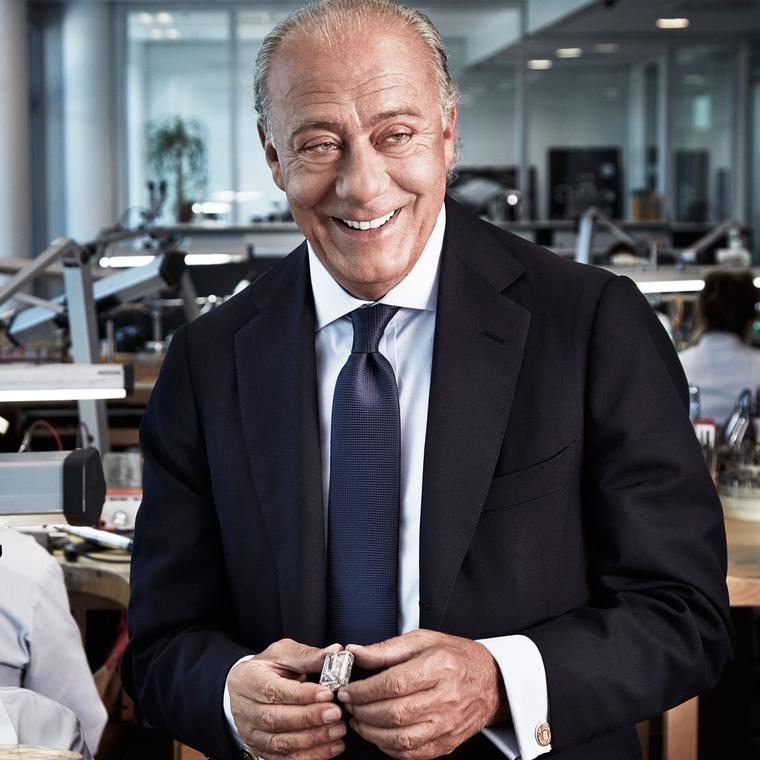 *Updated November 2017