Named Color Blossom BB, these have to be some of the cutest mini-jewels to cross our desk here at The Jewellery Editor. Right on trend, these petite jewels may be small but they pack a full-size punch.
So-called BB (bebé) or baby because of their adorable dimensions, Louis Vuitton's now-famous Blossom range shrinks in proportions but grows in desirability.  The classic four-petalled flower – or quatrefoil to use its proper name – that was first used on Vuitton's steamer trunks in the 19th century is set to woo Millennials as the Monogram springs to life with fresh new colours. 
Drape it your way with the new Blossom Color BB jewels, as worn by Michelle Williams is Louis Vuitton's new advertising campaign (ring £2,700).

Young and irreverent, the Louis Vuitton Blossom Color BB jewels include single earrings as worn by Michelle Williams in the house's new advertising campaign.
Petals of blush mother-of-pearl, vibrant malachite, exotic lapis lazuli, glossy black onyx and sky-blue turquoise sit against yellow and white gold discs or lozenges that are strung on dainty gold chains to form bracelets, earrings and necklaces. A single diamond adds a sparkling highlight to each precious jewel. The colourful ornamental stones and the mother-of-pearl flowers are each hand carved and polished to create the pleasingly plump form of each petal. The surrounding gold is softly rounded and smooth to the touch.
What's more, each stone has its own symbolism adding to their appeal and gifting possibilities. Mother-of-pearl beams out health and wellbeing while malachite brings good luck. Choose a turquoise bracelet as a gift of vitality or onyx for strength. The deep-blue depths of lapis lazuli represent the virtue of serenity for those more challenging moments in life.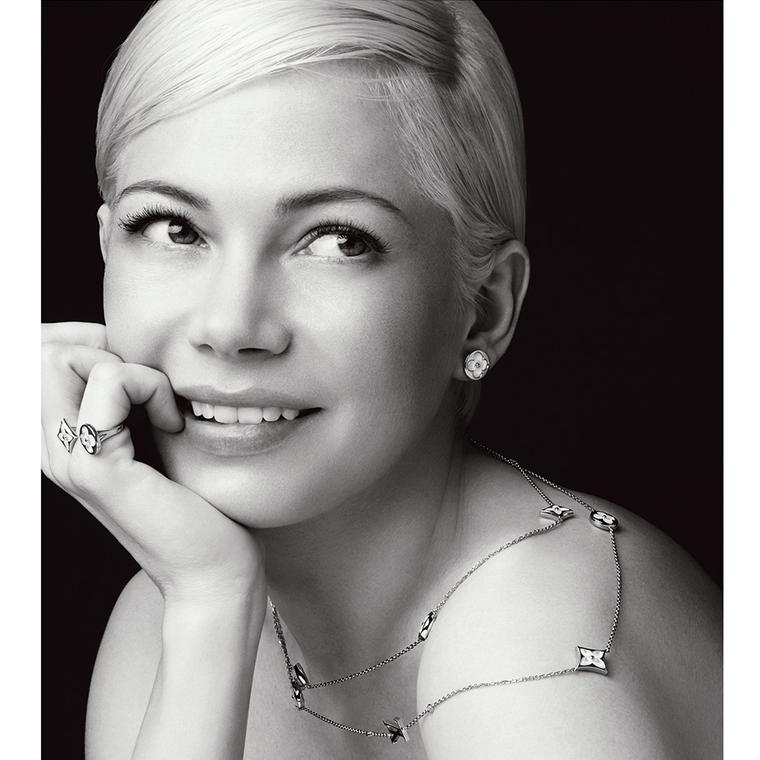 Louis Vuitton through and through, the gold letters LV punctuate a long sautoir-style necklace of pink mother-of-pearl quatrefoils. Born to be stacked, you can choose your own mix of bright colours or pair a single long earring, sold separately, with a stud. One of our favourite pieces is the edgy yet sophisticated between-the-finger ring, below, with two mother-of-pearl flowers. The beauty of the collection is that being mini, or BB, you can wear more than one and make your very own stack of Color Blossom. 
Just looking at the turquoise Color Blossom bracelet I feel summer is around the corner. Look out for new colours in the growing family of Blossom jewels, made to make you feel happy.