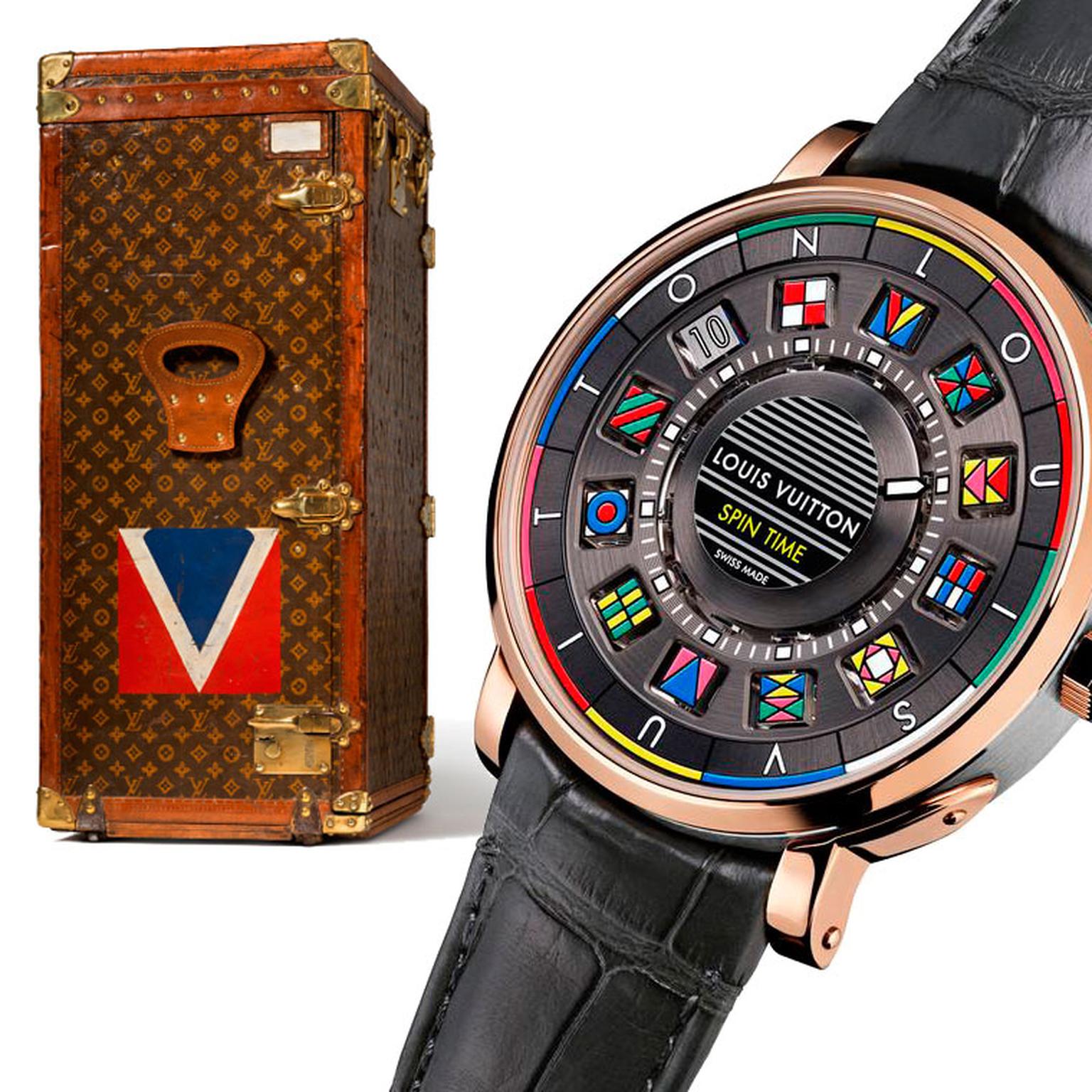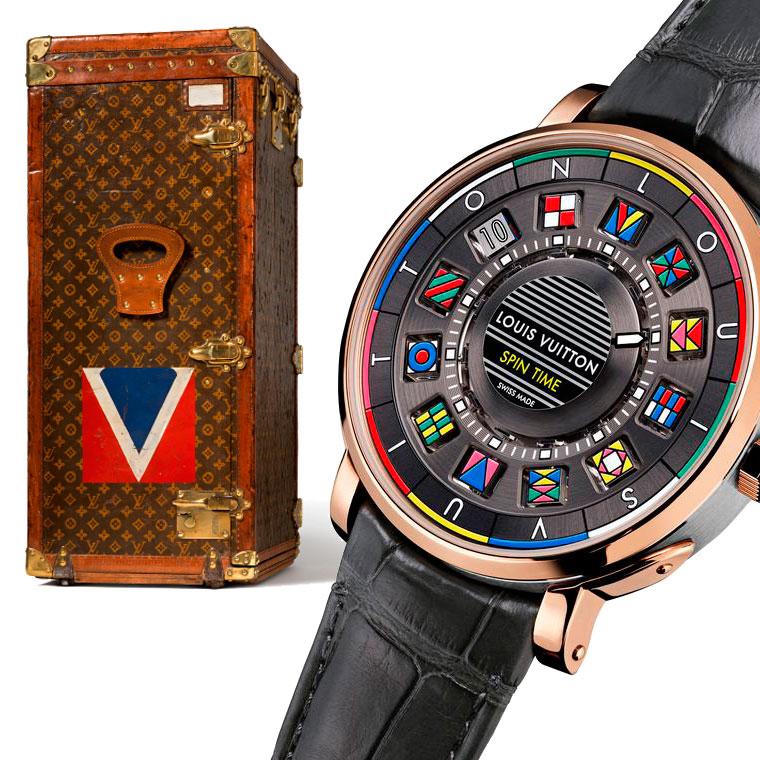 It will come as no surprise to anybody that Louis Vuitton is the undisputed king of luxury. With a brand value of $29.2 billion* in 2017, Louis Vuitton is the leader of the luxury pack, outstripping houses like Cartier, Chanel and Hermès.
What might come as a surprise, though, is the fact that this giant luxury label did not start life in the lap of luxury: far from it. Diligence, ingenuity and the invention of the flat-topped stackable trunk were behind Louis Vuitton's rags-to-riches tale. Join us on this fact-filled journey and discover how an impoverished runaway built an empire on a trunk.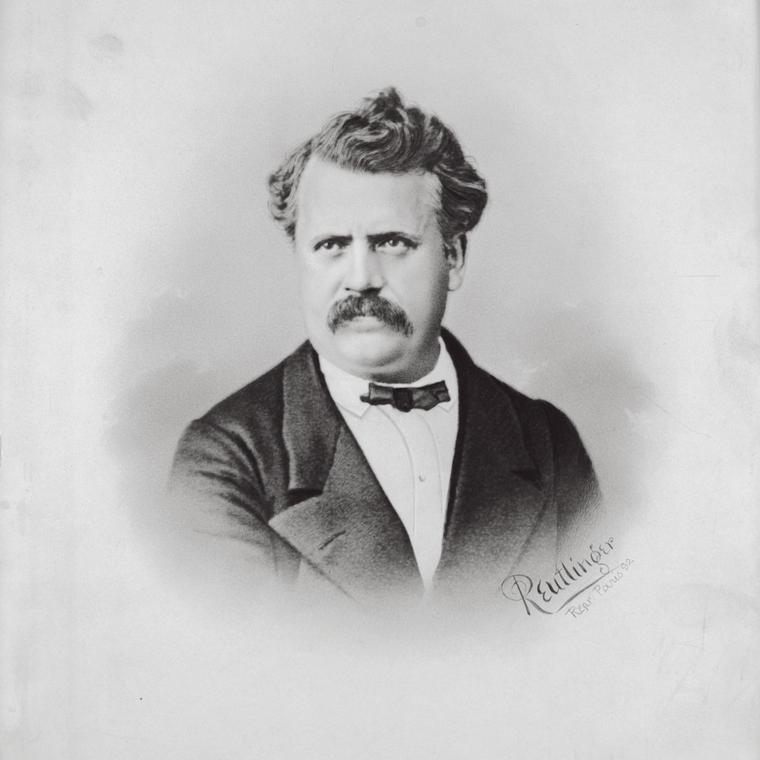 1. A fairytale start
Louis Vuitton was born in 1821 in Anchay, a hamlet in the Jura Mountains close to the Swiss border. Following his mother's death when he was just 10, Louis' father remarried and his wicked stepmother set out to make his life impossible. At the age of 13, Louis Vuitton packed his bags and set off on a journey to Paris to seek out his fortune - on foot.
Stopping en route to take on the odd job to earn money for his keep, this young man finally arrived in Paris, two long years after his departure from Anchay. Luckily, Vuitton had acquired carpentry skills on his journey and was taken on as an apprentice by Romain Maréchal in 1837 to work in his successful box-making and packing workshop on Rue Saint-Honoré. Vuitton gained a reputation for his excellent handiwork and was soon considered one of the best box-makers in the city.
2. Packing for the rich and famous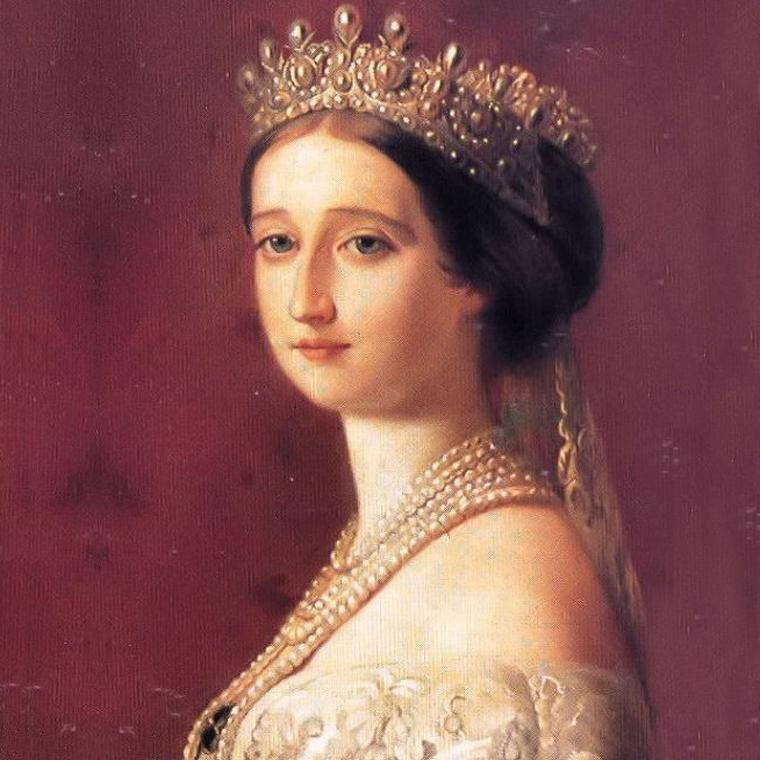 Box-making and packing might not be our idea of glamour, but Vuitton's trade brought him directly in contact with the crème de la crème of Paris, women and men who needed bespoke trunks to transport their valuables. One of these clients was Napoleon Bonaparte's wife, Empress Eugénie de Montijo, who appointed Louis Vuitton as her official packer and box-maker in 1853.
Judging by the voluminous outfits of the age, packing the Empress' frilly petticoats and accessories as she flitted between her royal residences required skill and discretion. The patronage of such an illustrious figure had lucrative repercussions and Louis Vuitton was soon catering to the rich and famous, allowing him to open his own company in 1854. Louis Vuitton Malletier, located on Rue des Capucines, in 1854 guaranteed its customers the safe packaging of "the most fragile objects" with a speciality in "packing fashions".
3. Travelling in style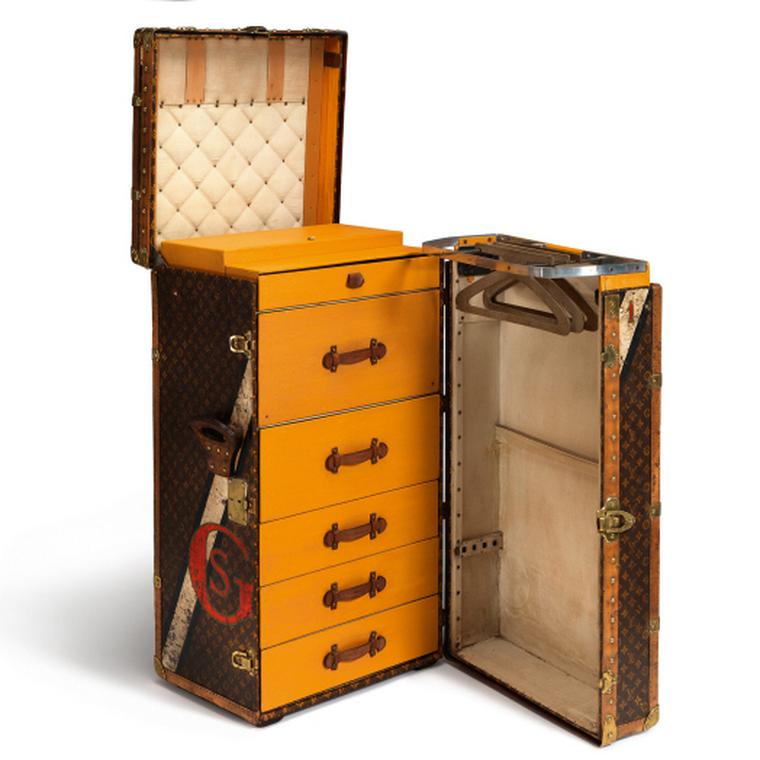 With the advent of more extensive and exotic shipping and train routes, travellers and explorers needed specific luggage to transport their kit. Commissions poured in and Louis Vuitton crafted luggage and boxes for a new generation of affluent men and women on the move, converting a necessary, utilitarian item into a luxury product.
One of Louis Vuitton's most popular products was the deluxe vertical steamer trunk, a portable wardrobe with compartments and hanging space, allowing a traveller to dress without having to unpack. Other curiosities included a leather box designed to house all the volumes of Proust's masterpiece In Search of Lost Time and a box for the Maharaja de Baroda, once the ruler of India's most powerful princely states, to transport his silver tea set while travelling. Another ingenious invention was Louis Vuitton's trunk with a folding bed, below, designed for the French explorer Pierre Savorgnan de Brazza for his expedition to the Congo in 1876.
Creature comforts: Louis Vuitton's ingenious trunk bed was often taken on colonial expeditions.

One of Louis Vuitton's first clients was Napoleon Bonaparte's wife, Empress Eugénie de Montijo, who appointed him as her official packer and box-maker in 1853.

A complete wardrobe trunk in Monogram canvas belonging to Sacha Guitry, 1913 ©Collection Louis Vuitton/Patrick Gries.

Louis Vuitton's 1858 flat-topped, rectangular trunk, covered in Trianon grey canvas. Lightweight, airtight, water-resistant and odourless, this trunk revolutionised luggage. 

The famous Tumbler Lock invented by Georges Vuitton in 1890, which was fitted with individual numbered keys.

Contemporary renditions of the supple Keepall travel bag and the Noé bag of 1932, which was originally designed to transport five bottles of champagne ©Louis Vuitton/Jean-Marie Troude.

Louis Vuitton's mini Petite Malle handbag, emblazoned with the iconic Monogram canvas and rivets, plaques and locks, just like those featured on the famous trunks, captures the DNA of the brand to perfection.

A groundbreaking world time watch, the Escale Time Zone is also a minute repeater and chimes the home time on demand (€280,000).

Designed to stop copycat imitations of his trunks, Louis Vuitton patented the Damier chequerboard canvas in 1888, which was followed by the iconic Monogram canvas patented by his son Georges Vuitton in 1896. 

Portrait of founder Louis Vuitton, who ran away from home at the age of 13 and built a luxury travel empire on the back of a trunk. 

The Tressage Tote bag in Monogram Reverse canvas shows how timeless Georges Vuitton's Monogram pattern has proved.
4. Flat-top trunks: the birth of modern luggage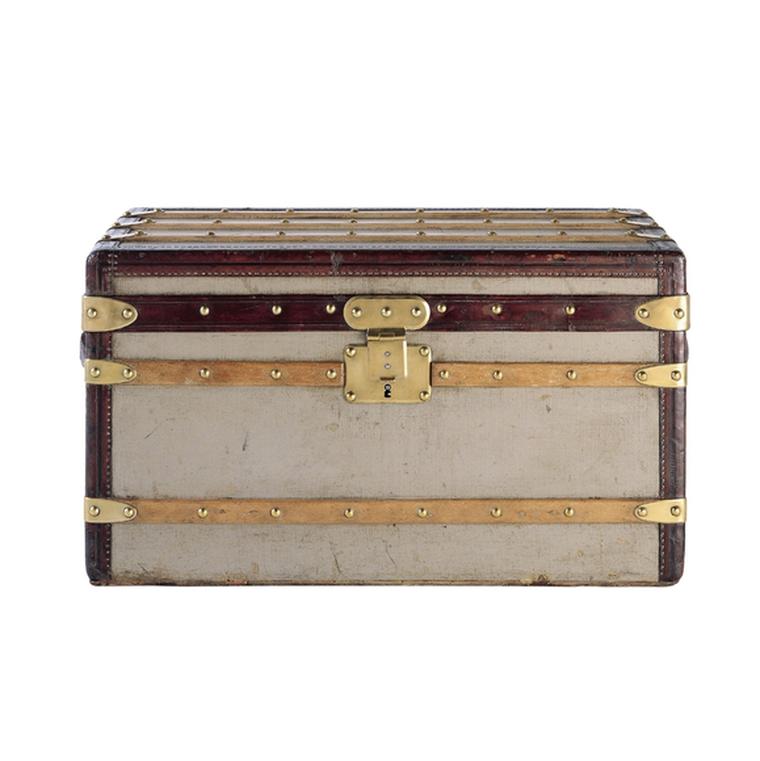 Producing beautiful trunks was not enough for this pragmatic impresario. In keeping with the realities of travelling to exotic destinations, his trunks would be able to take a beating and still look brand new. They would be lighter, more resilient, with an entirely new physiognomy.
One of the biggest problems with conventional trunks in the 19th century was the dome-shaped lid, making them impossible to stack and occupying valuable space in the hold. Vuitton's Eureka moment came in 1858 with the creation of a flat-topped, rectangular trunk that could be stacked. Instead of using hide to cover the flat-top trunks, which could get mouldy and smelly in the tropics, Vuitton used canvas over the poplar wood frame. Lightweight, water-resistant, airtight and odourless, his distinctive Trianon grey canvas trunks became the must-have travel gear for affluent globetrotters.
5. The iconography of a brand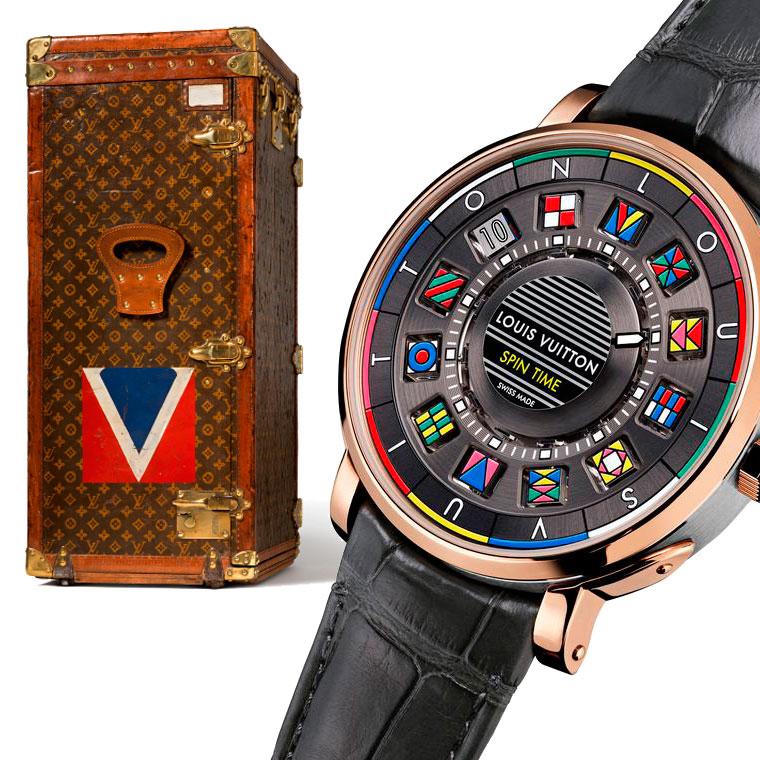 There was one problem, though: all the luggage looked the same. The scramble played out on chaotic quays and railway platforms around the world, with porters struggling to identify the luggage of their clients, prompting Louis Vuitton to offer his customers a simple solution in the form of a bespoke tag.
Anything was possible and eye-catching monograms, crests, stripes, initials and geometric motifs in bright colours were painted on the luggage, allowing porters to pick out their patron's belongings at a glance.
6. Countering forgery
Success and popularity ensued, as did a blight of counterfeit Louis Vuitton trunks made by his competitors. To counter the forgeries, Vuitton designed a new canvas composed of alternating brown and beige squares. Known as the Damier canvas - the French for chequerboard - the pattern earned Louis Vuitton a gold medal at the 1889 Exposition Universelle in Paris but didn't do anything to stop the copycat imitations.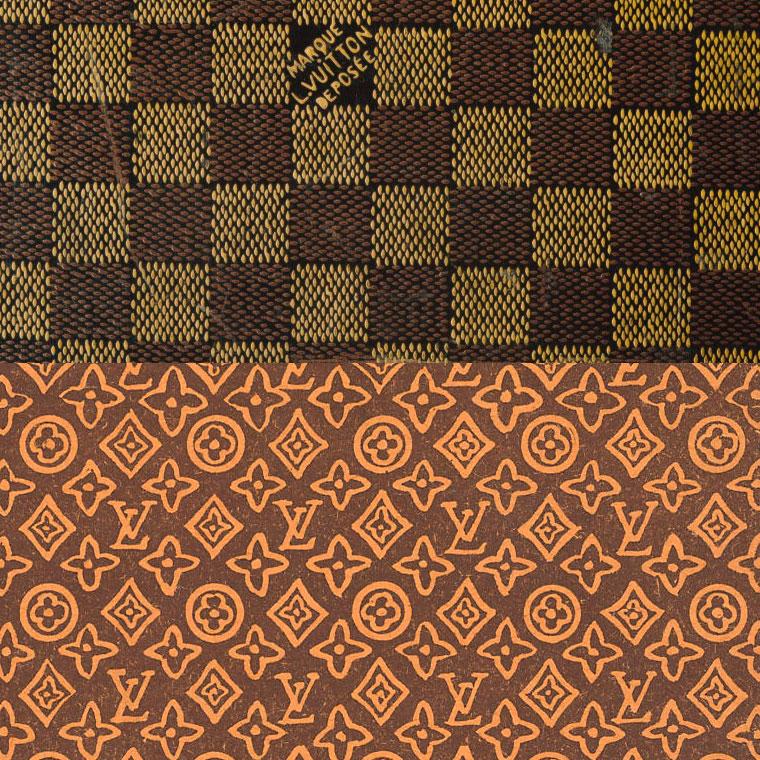 Louis Vuitton's son and heir Georges Vuitton tackled the problem again with the creation of the iconic Monogram canvas. The design was conceived in 1896, inspired by the pattern of four-petal flowers on the Gien earthenware tiles in the family kitchen in Asnières. Decorated with quatrefoils and the interlocking initials of the founder LV, the Monogram is the keystone of Louis Vuitton's identity. Sadly, forgery is still a big issue these days and the brand has an entire division dedicated to tracking down counterfeit products.  
7. A theft-proof lock
Travelling in style meant travelling with valuable objects. In 1890, Georges Vuitton produced a theft-proof tumbler lock with a numbered key.
Convinced of the superior safety of his tumbler lock, Georges Vuitton publicly challenged Harry Houdini to escape from a trunk with his new lock. The American escapologist didn't take him up on the offer and Georges' tumbler locks are still used to this day.
8. Downsizing from trunks to bags
During World War I, the Louis Vuitton factory in Asnières was used to make folding stretchers for the front and luxurious products were temporarily taken out of production. However, by the late 1920s the world's richest and most stylish clients were placing orders again. Coco Chanel, the Aga Khan, the Duke and Duchess of Windsor and the Vanderbilts were devoted clients of the brand, and even the legendary American pilot Charles Lindbergh ordered two suitcases after his epic transatlantic flight in 1927.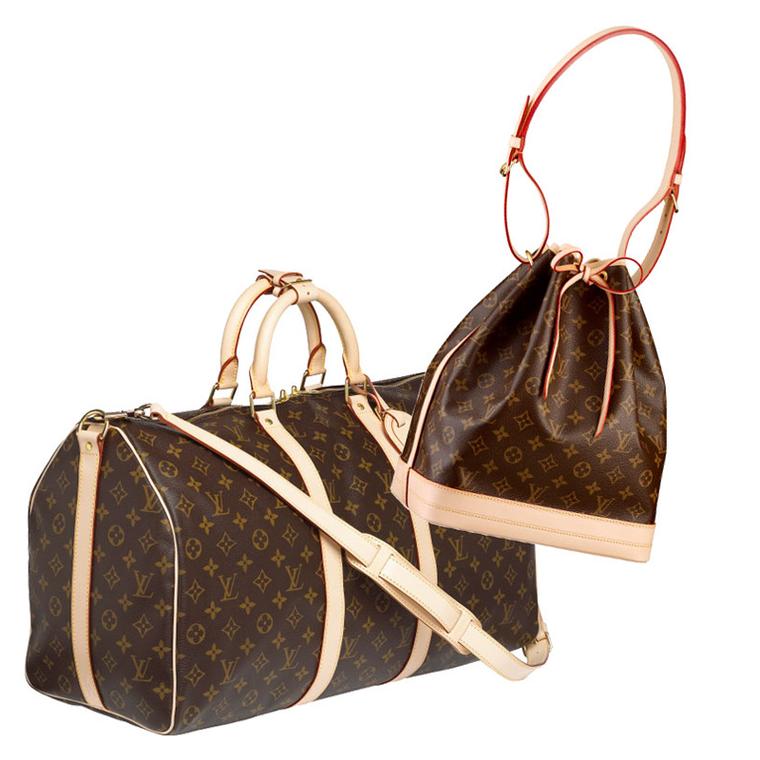 Many of the most desirable Louis Vuitton handbags available today are in fact the descendants of models introduced at the turn of the last century. The famous Alma bag can trace its ancestry to the Steamer bag, a humble linen and night bag designed to keep trunk drawers tidy and your dirty clothes separate from your clean ones.
The Keepall bag appeared in 1930 and, as its name suggests, was a handy supple travel companion that could be stuffed with goodies. The Noé bag of 1932 was originally conceived to transport five bottles of champagne and its bucket shape is still going strong.
9. A global luxury empire is born
Ten years after the merger with LVMH in 1987, the board of directors felt it was time to venture beyond luggage and recruited star designer Marc Jacobs to create the first men's and women's ready-to-wear collections. Succeeded by Nicolas Ghesquière in 2013, the creative designer has rejuvenated the LV monogram and insisted on incorporating the LV monogram in just about any product imaginable.
Louis Vuitton is the goose that lays the golden eggs for LVHM, tempting consumers from all income brackets to enter its luxury portal with products ranging from a £180 bottle of perfume to a high jewellery diamond and tourmaline necklace worth millions.
10. A voyage into watchmaking
Watches are also part of the Louis Vuitton universe and since travel and wanderlust are the operative words, GMT watches and world timers occupy pride of place in the collections. Embarking on a maiden watchmaking voyage is not without its perils, especially for a brand intent on playing in the big league. To ensure a smooth ride, Louis Vuitton acquired La Fabrique du Temps manufacture in Geneva in 2011.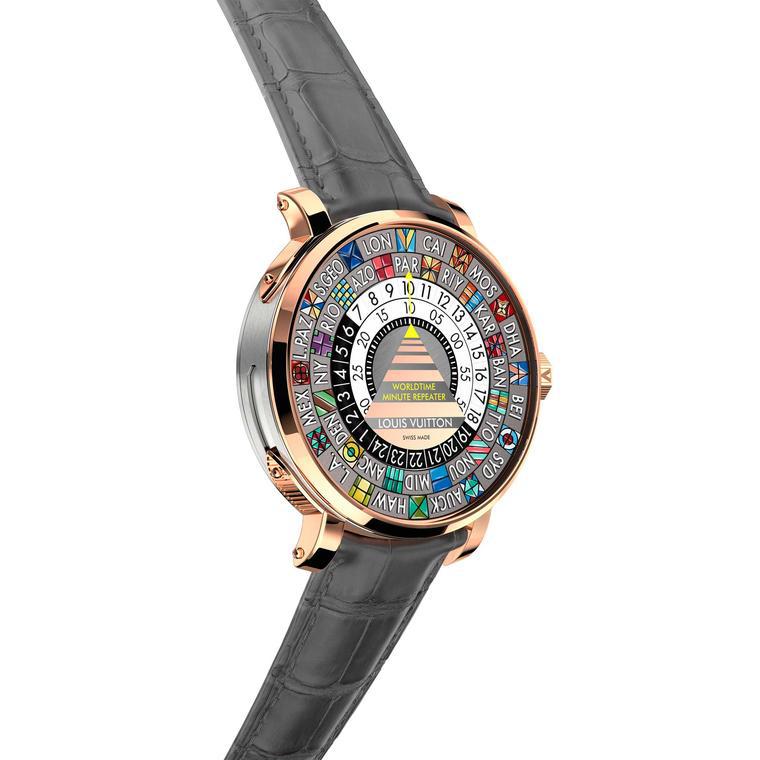 This niche Swiss company, led by watchmaking wizards Michel Navas and Enrico Barbasini, is renowned for its pioneering approach to complications, daring yet intuitive solutions and contemporary design codes. In 2014 Louis Vuitton built its very own manufacture in Meyrin, consolidating everything - from R&D, movement production and dial making - under one roof.
Hallmark identity traits of the brand, like the riveted plaques from trunks on the LV Fifty Five or the colourful bespoke trunk markings on the Escale Worldtime, are deftly worked into the design. Fully acknowledged as a key player in the haute horlogerie spheres, Louis Vuitton's colourful, chiming masterpiece, the Escale Worldtime Minute Repeater, is the stuff of horological history.
* BrandZ™ Top 100 Most Valuable Global Brand, 2017