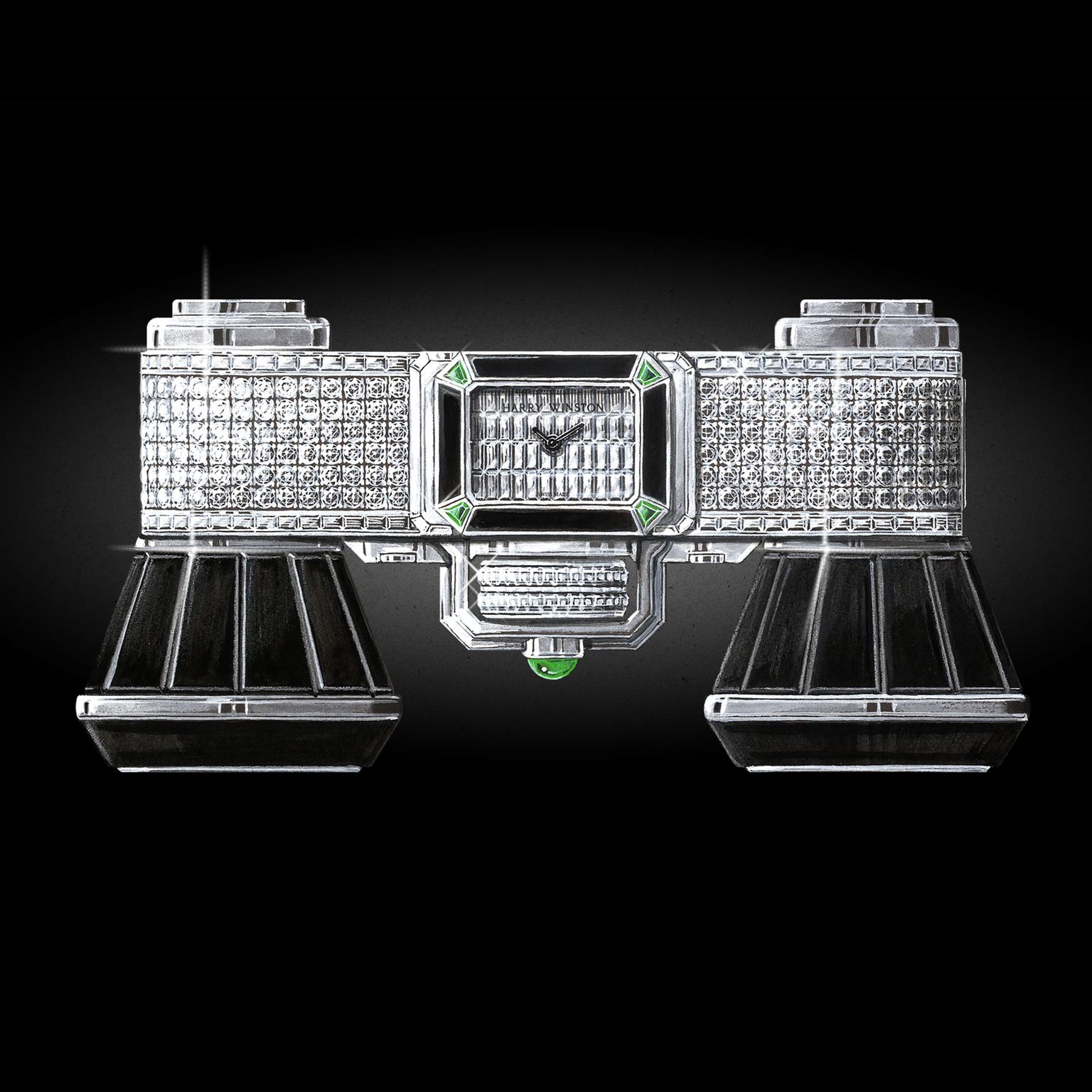 I have to admit that when Harry Winston's opera glasses were unveiled to The Jewellery Editor team at Baselworld 2017, there was a unanimous cry of "wow!". Having been in this sector for over a decade, it takes something very special to elicit such a genuine sense of surprise.
The Broadway Glasses are designed to evoke the bright lights of New York's famous theatre district and capture the sleek Art Deco aesthetics that prevailed when Mr Harry Winston, aka the King of Diamonds, founded his jewellery emporium in the city that never sleeps in 1932.
Opera glasses are hand-held magnification devices that allow a close-up view of the action on stage and have, throughout history, been dressed up to appeal to sophisticated women who wanted an accessory to match the elegance of their attire.
A high jewellery interpretation, the Broadway Glasses are made from a combination of white gold and titanium and covered in diamonds and black onyx. Even the small wheel used to adjust the focus of the lenses is set with baguette-cut diamonds, in true Harry Winston style. What's more, the baguette diamonds are set upside down to ensure a better grip on the wheel. The contrasting panels of sleek black onyx inlaid on the lenses and eyepieces consolidate the strong Art Deco spirit of this creation.
Set directly on the bridge of the binoculars is a discreet timepiece shaped in Mr Winston's favourite diamond cut, the octagonal emerald cut, shimmering with 48 baguette-cut diamonds and emeralds in each corner. To set the hour, a small button makes the timepiece pop up like a flash on a camera and the time can be adjusted from the inside.
Equipped with professional binocular lenses, the opera glasses are flexible and can be adjusted to fit the shape of your face. Another elegant consideration on behalf of the designers at Harry Winston is the addition of a white gold telescopic handle allowing you to hold and angle the opera glasses in one hand as opposed to holding them with both hands and looking like a bird spotter.
The idea of the handle was appropriated from the tradition of the lorgnette - a pair of foldaway spectacles attached to a long handle, favoured by fashionable society women in the 18th and 19th centuries. Derived from the French "to take a sidelong look at" or, in more contemporary lingo, to "check somebody out", lorgnettes have made a comeback in the hands of Hong Kong jewellery designer Anita So, above. But be forewarned: with the sheer amount of dazzling diamonds on these Harry Winston glasses, you will not go unnoticed.