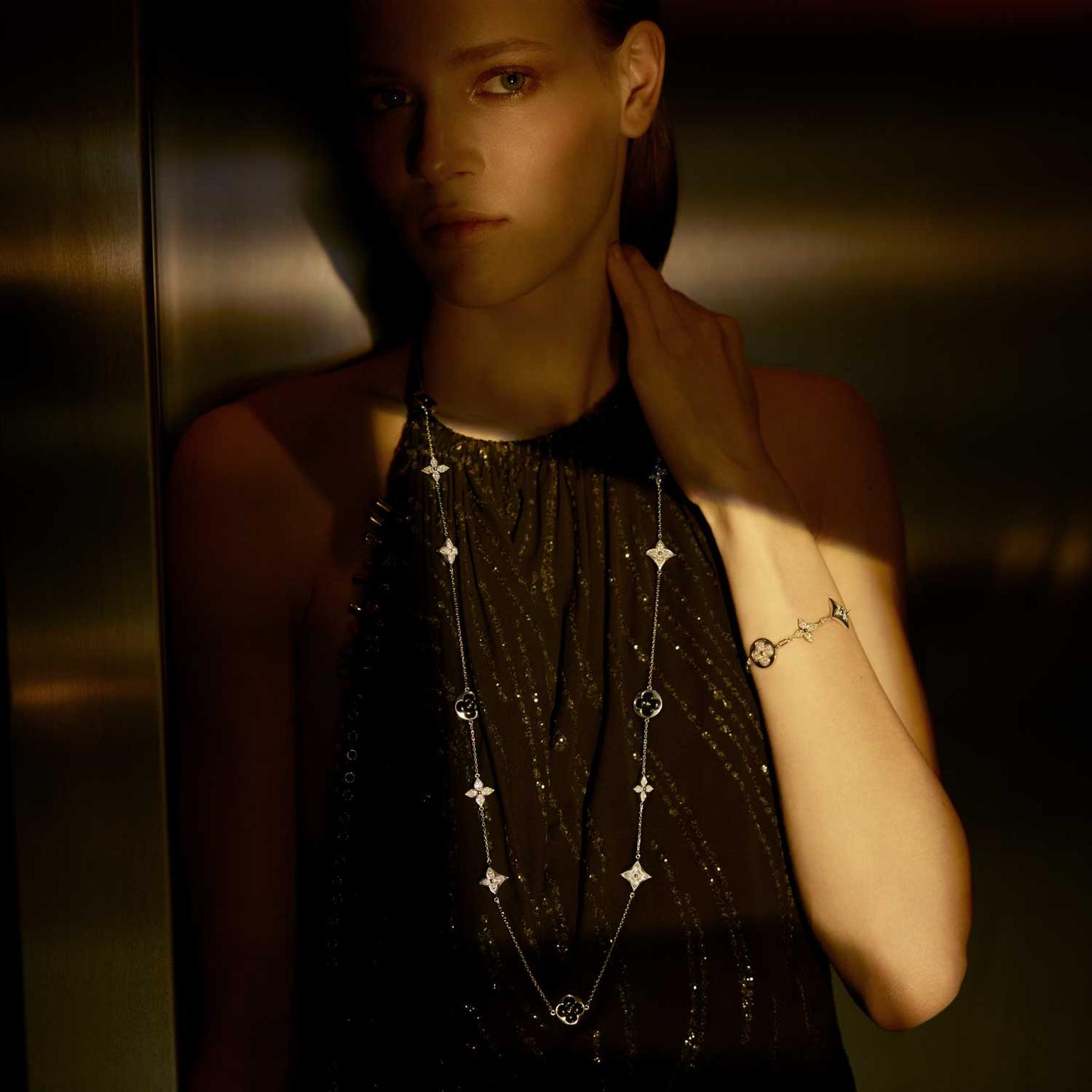 Over the past five years, Louis Vuitton has been steadily building its Blossom family of jewels, all of which feature the four-petalled flower – a shape that has a long history chez Louis Vuitton.
In 1888, George Vuitton was the first to distinguish the house's flat-top steamer trunks from imitations by placing the words marque L. Vuitton deposée on the patented "damieres" canvas. But, soon enough, the chequer-board pattern was copied, so he chose a unique asymmetric design of Japanese-inspired four-leaved flowers and interlocking LV initials to stand out from the crowd. And, as an extra precaution, he patented the design. Since then, the Monogram canvas, with its blossom and star motifs, has travelled the world and become the byword for luxury.
Designed to stop copycat imitations of his trunks, Louis Vuitton patented the Damier chequerboard canvas in 1888, which was followed by the iconic Monogram canvas patented by his son Georges Vuitton in 1896. 

Star and flower motifs alternate along the chain of Louis Vuitton's new Onyx Diamond Blossom sautoir, with five onyx and diamond flower discs for a chic and easy-to-wear look (£32,000).
It is from this very canvas that Louis Vuitton's Blossom jewels were born and continue to flourish. Following on from earlier mother-of-pearl and Color Blossom jewels featuring carved hard stones including onyx, turquoise, lapis lazuli and malachite, this season diamonds add their fire to the Diamond Blossom collection.
Making their debut in a shimmering pavé of diamonds set into white gold, the collection consists of three necklaces, a bracelet and single ear studs. The longest necklace is a sautoir-style chain that can be worn long or wrapped twice around the neck. Star and flower motifs alternate along the chain, with five onyx and diamond flower discs for a chic and easy-to-wear look.  The smaller Diamond Blossom pendant, with an onyx flower punctuated by a single diamond, is likely to be a favourite for gifting this season.
The Les Ardentes family also grows thanks to the arrival of new designs for a necklace, ring, above, and single ear stud. Les Ardentes melds the star and blossom Monogram shapes to create light and airy jewels in white gold, sparkling with the lights of dozens of diamonds.
The jewels are full of meticulously crafted details. Beyond the obvious Monogram motifs, the carved onyx flower of the Blossom Diamond is hand-sculpted to achieve the pleasing volume of each petal and the gold is polished to a high sheen, bringing more light to the diamonds. The dot at the heart of the Blossom flower reminds us of the hundreds of brass pins used to make a Louis Vuitton trunk. 
Like Louis Vuitton's classic handbags and luggage, these jewels are robust yet elegant and will add a dash of Louis Vuitton glamour to even the most everyday outfit.