Unless you've been hiding under a rock, you can't have missed that opals were one of 2015's hottest jewellery trends. Beloved by designers for their awe-inspiring play of colour and light, there are numerous variations of precious opals in a vast array of hues such as white, grey, red, orange, yellow, green, blue, pink, brown or black. One of the most intriguing and arresting of them all is the matrix opal, where flecks of bright colours create a series of tantalising patterns and shapes on a dark background. 
Read more about opal jewellery here
Found in Queensland in Northern Australia, matrix opals are a type of boulder opal attached to ironstone that are formed when rainbow-hued opal silica flows into the minute cavities and voids of the host rock. Matrix opals are always cut with the host rock included so that the patterns created by the opal inclusions can be seen. Although more than 90% of the world's opals are sourced from Australia, only 2% of that total is made up of boulder opals, which are considered the second most valuable type after the black opal. There is also another form of matrix opal from Andamooka in Southern Australia, but it is naturally lighter in colour and therefore usually treated with black carbon to make the background stone darker. 
Due to the thinness of the multi-coloured veins, the matrix opal is often cut into irregular shapes to maximise the dramatic colour play, which makes it ideal for setting into contemporary jewellery pieces, where perfect symmetry is less important. In the latest Twig collection for her K Brunini jewellery brand, Katey Brunini has used her signature "shapes of strength" textures to bring to life the natural patterns, which are said to resemble the souls of ancient Aboriginal ancestors who have left their presence behind. The opal cuff bracelets are particularly striking, with large boulder matrix opals framed by sparkling white diamonds.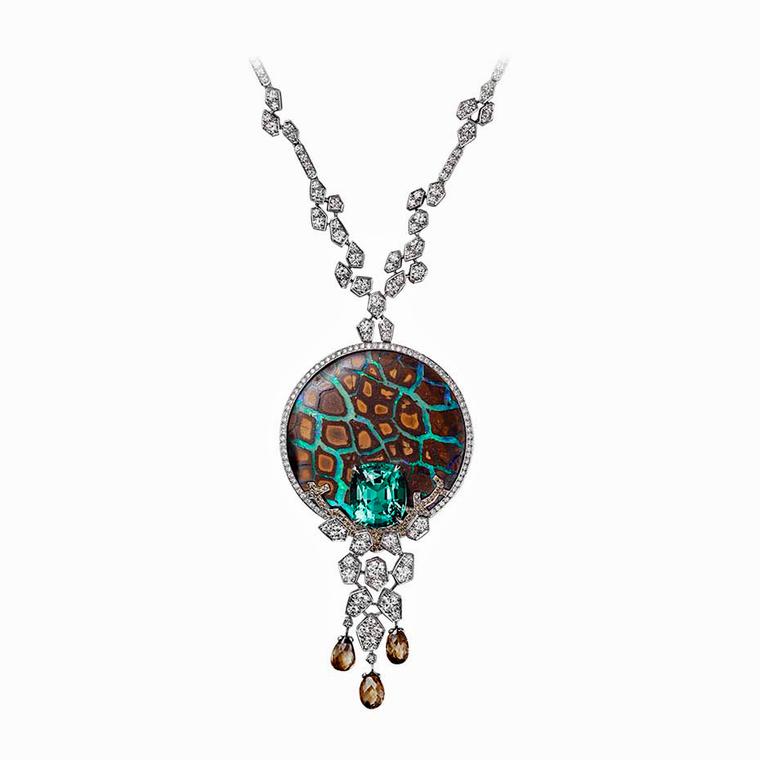 In one of last year's most daring and accomplished collections of Cartier jewellery, the Maison chose to feature the matrix opal in a high jewellery collection entitled L'Odyssée de Cartier Parcours d'un Style. With a pattern that resembles that of a reptile's skin, the matrix opal in this Cartier necklace is one of the finest specimens we have ever laid eyes on. 
As one would expect from a jewellery designer based in the land of the opal, Australian Margot McKinney harbours a serious soft spot for the extraordinary multi-coloured matrix opal. A former winner of the International Opal Jewellery Design Haute Joallerie Award, she has a knack for setting her country's signature stone into pieces that sing with joyous colour and artful design. "I love using matrix opals because of the surprise bursts of intense colour that shine through the host gem material. The extraordinary green, blue, orange and red hues make this gem both fabulously vibrant and organic at the same time," enthuses Margot.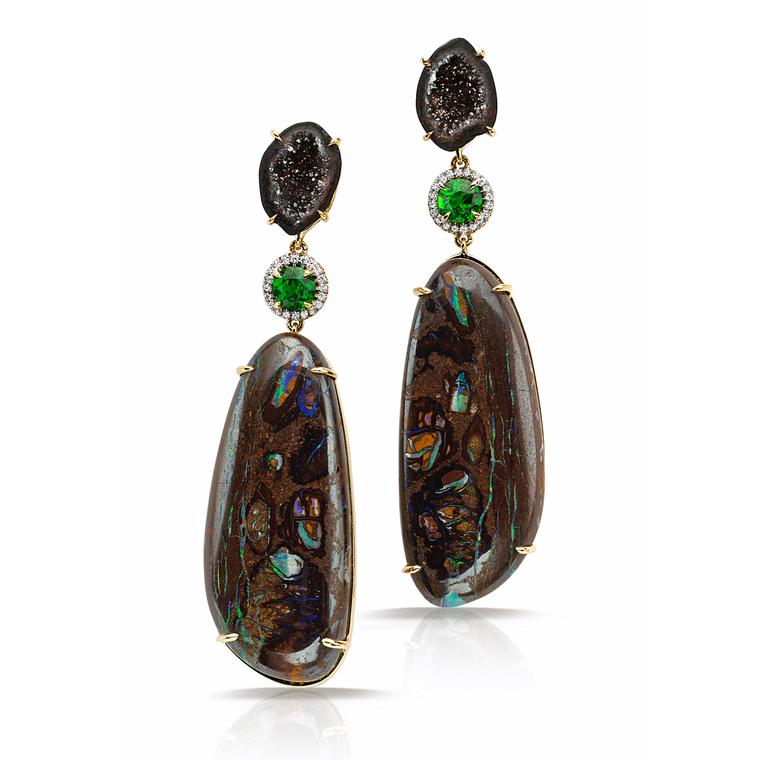 American jewellery designer Pamela Huizenga also has a penchant for unusual materials and freely admits to an obsession with organic stones such as Australian boulder opals. She emphasises the colourful swirls in the russet-hued gems by teaming them with diamond-framed chrome diopside in these opal earrings, while the same mesmerising effect is achieved with bright green jade in a range of Corrado Giuspino jewellery. 
With the soaring popularity of opal jewellery showing no signs of slowing down, we fully expect the matrix opal to continue to cast its colourful spell on plenty of fine jewellery collections in 2016. 
Earrings by Italian jeweller Corrado Giuspino featuring matrix boulder opals and jade cabochons in a yellow gold frame with a burnished silver border.

L'Odyssée de Cartier high jewellery necklace in platinum set with a matrix opal, cushion-cut emerald, brown diamonds and brilliant-cut diamonds.

Pamela Huizenga yellow gold cuff featuring a 13.65ct Australian boulder matrix opal and coloured diamonds.

Necklace by Australian jewellery designer Margot McKinney featuring boulder opals, golden South Sea pearls, emeralds and sapphires.

Sylva & Cie handcarved matrix opal pendant.

Pamela Huizenga earrings in yellow gold with a 59.37ct boulder matrix opal, micro geodes and chrome diopside with a diamond frame.