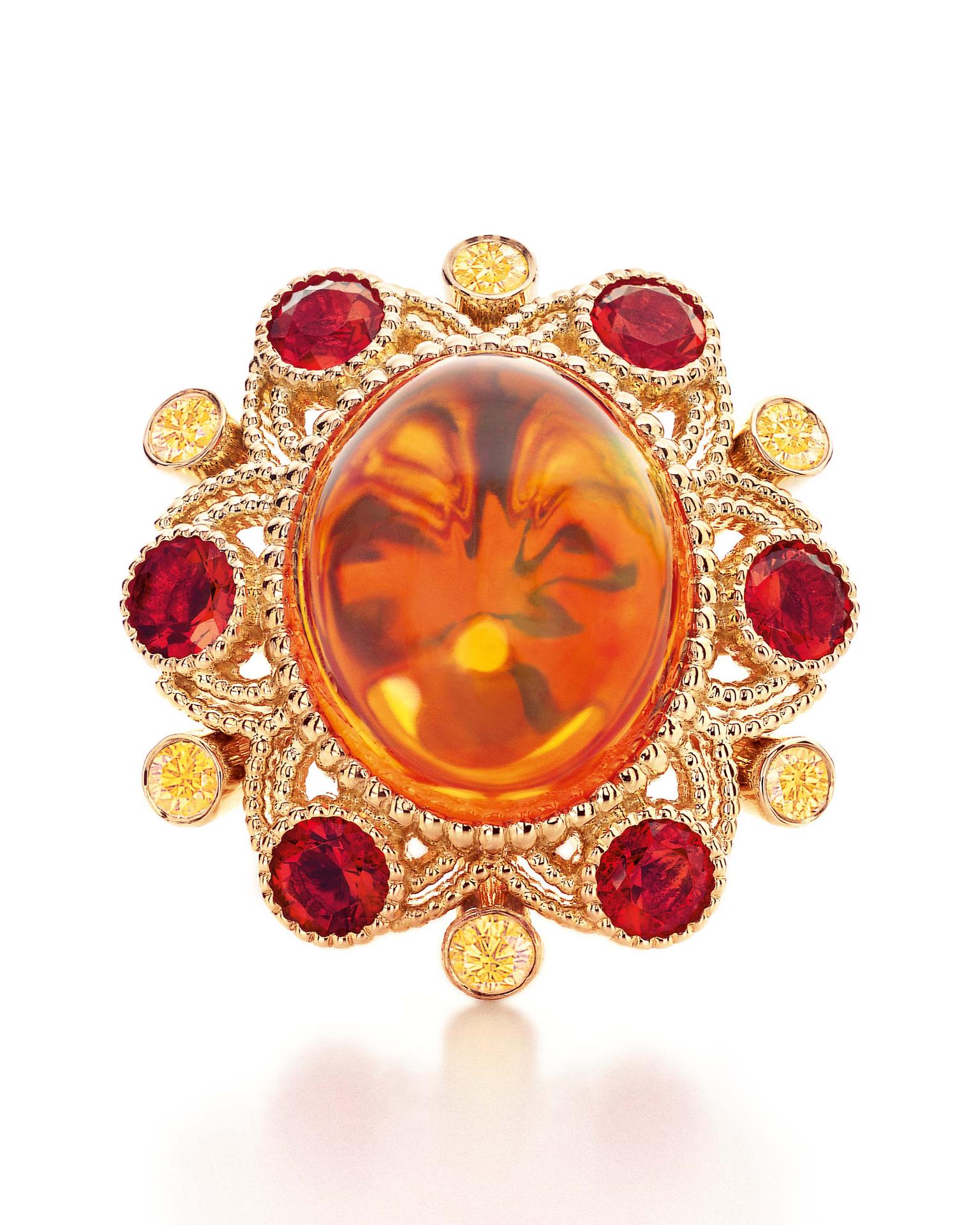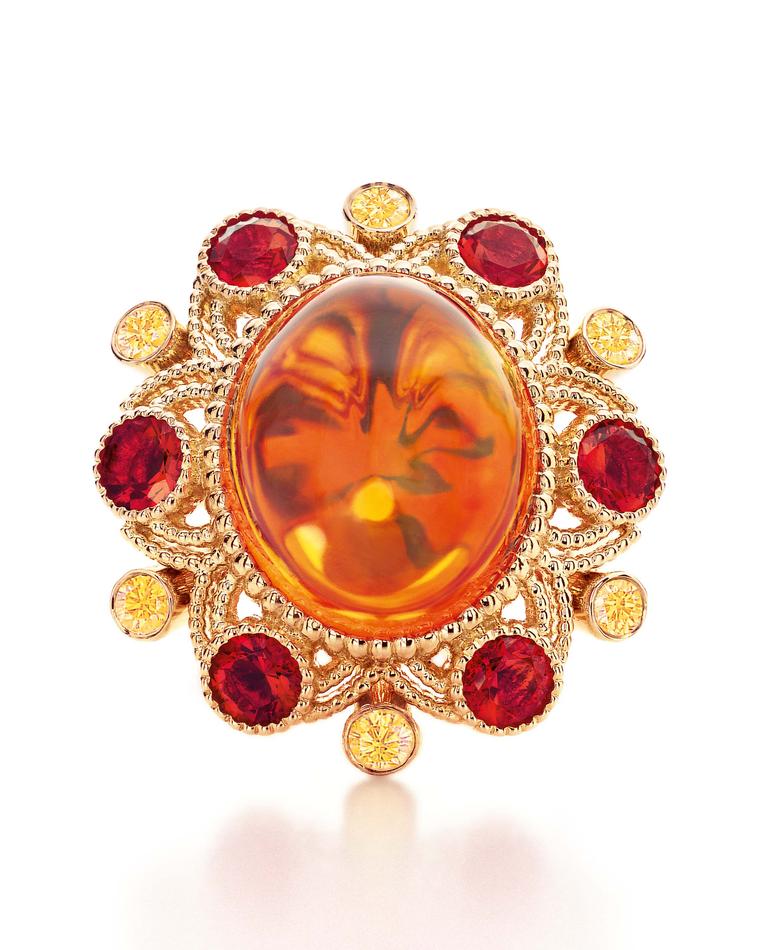 By Jordan Clary in Nevada
At dusk in the small Mexican town of Magdalena, Jalisco, a man named Gustavo rolls his taco stand into the square and sets up in front of the bank. He'll put out a few plastic chairs, but most people will sit on the curb to drink beer, eat what are allegedly the best tacos in town and gossip. There's a good chance the local talk will include opals.
More than 80 opal mines are spread out around Magdalena, and the town is very much centred on opals. The area's first mine was discovered in the late 1950s, but according to legend, opals have a long history in Mexico.
Fire opals have a rich, historical appeal and can be traced to the ancient Aztecs - and perhaps Mayans - rooting them firmly in pre-Hispanic Mexico. The Aztecs used the "Quetzalitzlipyollitli" or "hummingbird stone" for ceremonies and rituals, which is described as a glittering gem that resembles the bird's colourful plumage.
After the Spanish conquest, many of the localities of the "hummingbird stone" were lost until 1840 when don José María Siurab discovered opal deposits in Esmeralda, Querétaro. Today, Mexican fire opals originate primarily from the states of Querétaro, Nayarit and Jalisco.
It's not an easy life bringing some of the world's most exquisite gems to the surface. For example, 30 years ago Hector Healy staked his claim and began digging the Santa Rosita mine. He's been working it ever since, patiently carving out new tunnels using nothing but a bulldozer and hand tools. In the past he sometimes hired outside workers, but these days he mostly works with his son, Catarino Tamayo, when he's in town.
"It takes a lot of patience and courage to mine for opals," says Tamayo. "My father has more patience than I do. Sometimes we dig all day and don't find anything. But when you find a valuable stone, it makes it all seem worthwhile." Healy works all year, even during the rainy season when the danger of cave-ins is great.
Fire opals are truly spectacular, sparkling with an inner fire saturated with every hue of red and orange on the spectrum. The cabochon fire opal in Tiffany & Co.'s magnificent Blue Book Collection ring burns bright on the finger, surrounded by intense red fire opals to accentuate its flaming orange colour. Irene Neuwirth regularly features fire opals in her statement jewels, while Kimberly McDonald celebrates the fire opal in its natural form in her cabochon fire opal matrix pendant, which preserves the surrounding rock that housed the gemstone during its formation.
It might seem that people in Magdalena are not as enamoured with fire opals as the rest of the world. After all, they've seen thousands of them. But Martin Castillo Carrillo, owner of La Sorpresa, which sells opals, told me a few years ago when I visited: "In Magdalena you'll find the best Mexican opals of all colours and grades." His eyes lit up as he talked about the gems and, picking up a piece of rough fire opal, he signalled me to come outside. "See how the colours change in the light? These stones make you feel the presence of God."
Paula Crevoshay Orchid brooch with fire opals, amethysts and diamonds.

One-of-a-kind Irene Neuwirth ring in rose gold with a Mexican fire opal surrounded by diamond pavé.

One-of-a-kind Irene Neuwirth earrings in rose gold with Mexican fire opals and Boulder opal drops.

Tiffany & Co. Blue Book Collection fire opal earrings and ring with diamonds set in platinum.

One-of-a-kind Irene Neuwirth earrings in rose gold with mint chrysoprase, Mexican fire opals, Lightning Ridge opals and rose-cut diamonds.

K. Brunini Chains of Love Twig ring in rose gold with a Mexican fire opal centre stone flanked by pink tourmaline cabochons.

Tiffany & Co. Blue Book bracelet set with fire opals, yellow diamonds, tourmalines and a central cushion-cut garnet.

Kimberly McDonald fire opal matrix and diamond pendant in yellow gold.

Martin Katz white gold ring featuring a central 13.18ct fire opal cabochon, micro-set with diamonds, tsavorite garnets and orange-red sapphires.

Mauro Felter Path of Flowers yellow and white gold earrings featuring fire opals, rubies, tanzanite, tsavorite, multi-colour sapphires and diamonds.

Tiffany & Co. Blue Book Collection ring in gold with a 10.54ct cabochon fire opal, yellow diamonds and smaller faceted fire opals.