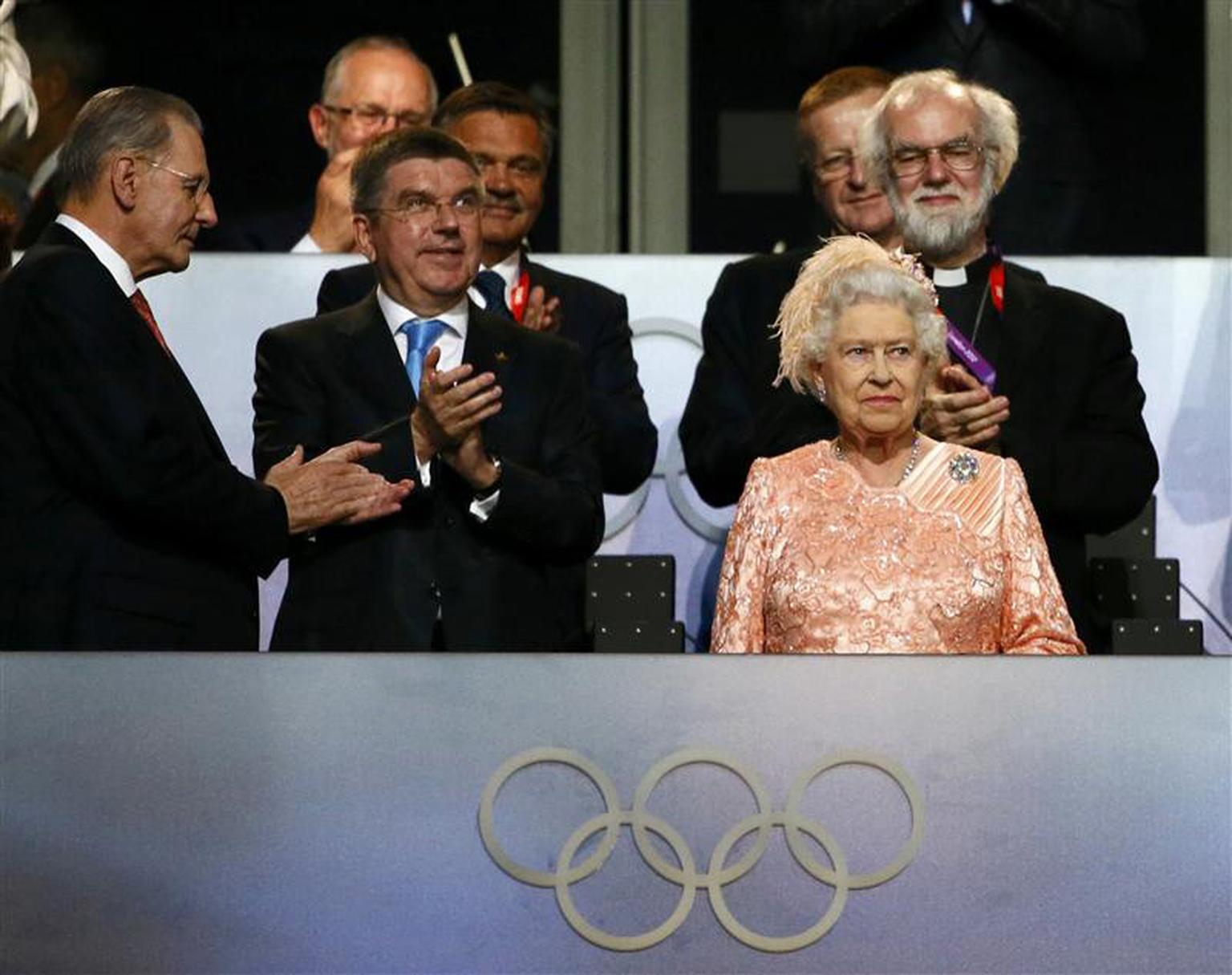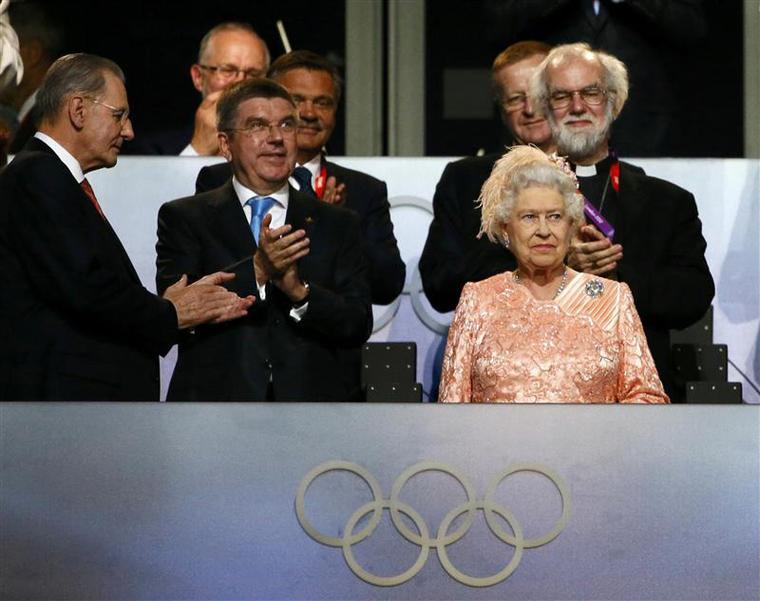 The Queen chose to wear some special diamond jewellery for the opening ceremony of the London 2012 Olympic Games in Stratford. Gamely going along with Danny Boyle's eclectic representation of British life she appeared to parachute from a hovering helicopter to arrive at the Olympic stadium with no feathers ruffled and sporting some pretty serious diamonds.
First I must point out that my guess as to what jewels the Queen was wearing is mere speculation as glimpses of the diamonds adorning our Sovereign were limited as all eyes and cameras were on Mr Bean's farcical musical antics, a pop-up industrial revolution, lovable hoodies and Mexico's mariachi mayhem outfits.
However, I am going to stick my neck way out and place my bets on the fact that the Queen was wearing Queen Adelaide's brooch and here comes the real gamble, Queen Alexandra's collet necklace. I say this with trepidation as the necklace was barely visible and mostly tucked under her salmon pink outfit, all topped off by a fluttering pink feather.
The Queen uses jewels to convey messages, a toned down version of the unmissable message a crown or sceptre shouts about status and occassion. In this case I think the Queen's choice of fairly hefty diamond brooch that was worn by Queen Adelaide in her coronation portrait of 1831, shows the importance that Queen gives to this event and a mark of respect for the Games. The brooch of six diamonds was made using stones from a Badge of the Order of Bath that had belonged to George III and reset for the 1831 coronation.Given the size of the Olympic stadium it is an apt choice  a substantial diamond brooch is sure to be seen. And I am glad that the clasp was secure enough to survive a faux helicopter parachute jump.
If the necklace is Queen Alexandra's collet necklace of 31 olc-cut Golconda diamonds, then the Queen really was pushing out the boat for the opening ceremony. These rare and very beautiful old Indian diamonds are collet-set with the metal wrapped around the diamonds and often open at the back to allow light to shine through the stone, and hence the name of the necklace. Queen Mary was particularly fond of this style of necklace and liked to stack them up high. Here is a photograph of Queen Mary in 1938 wearing not one but seven collet necklaces, one of which is the Queen Alexandra's collet necklace.
The necklace was given to Queen Alexandra by the City of London on her marriage to the Prince of Wales in 1862 and made by R & S Garrard & Co. Like many royal jewels, each monarch adapts it to the styles and tastes of their day and Princess Alexandra sometimes wore the necklace as a choker against a black velvet band. As for the earrings, well they were very large diamond studs but I am afraid that I would need binocular vision to even attempt a guess at which they are.
The Queen's choice of jewels that speak of our history and traditions were spot on for this event that spoke to the world of what it means to be British.
Queen Adelaide's brooch that I believe Queen Elizabeth II wore to the London 2012 Olympic opening ceremony.

Queen Alexandra's collet necklace made up of old-cut Golconda diamonds and made in 1862 by R. & S. Garrard & Co

Queen Mary in 1938 photographed by Hay Wrightson wearing Queen Alexandra's collet necklace amongst her stack of seven impressive diamond necklaces, which was fairly normal for this Queen who loved her bling. Queen Mary is also wearing what look like the Cullinan I & II diamonds in a brooch and the Diamond Diadem: an impressive array of diamonds.

Queen Alexandra in 1883 wearing the collet necklace on a velvet band. It was given to her by the City of London for her wedding and this gift started a tradition of the City of London giving wedding presents on the occasion of royal weddings.

Queen Elizabeth II at the opening ceremony of the London 2012 Olympic games.