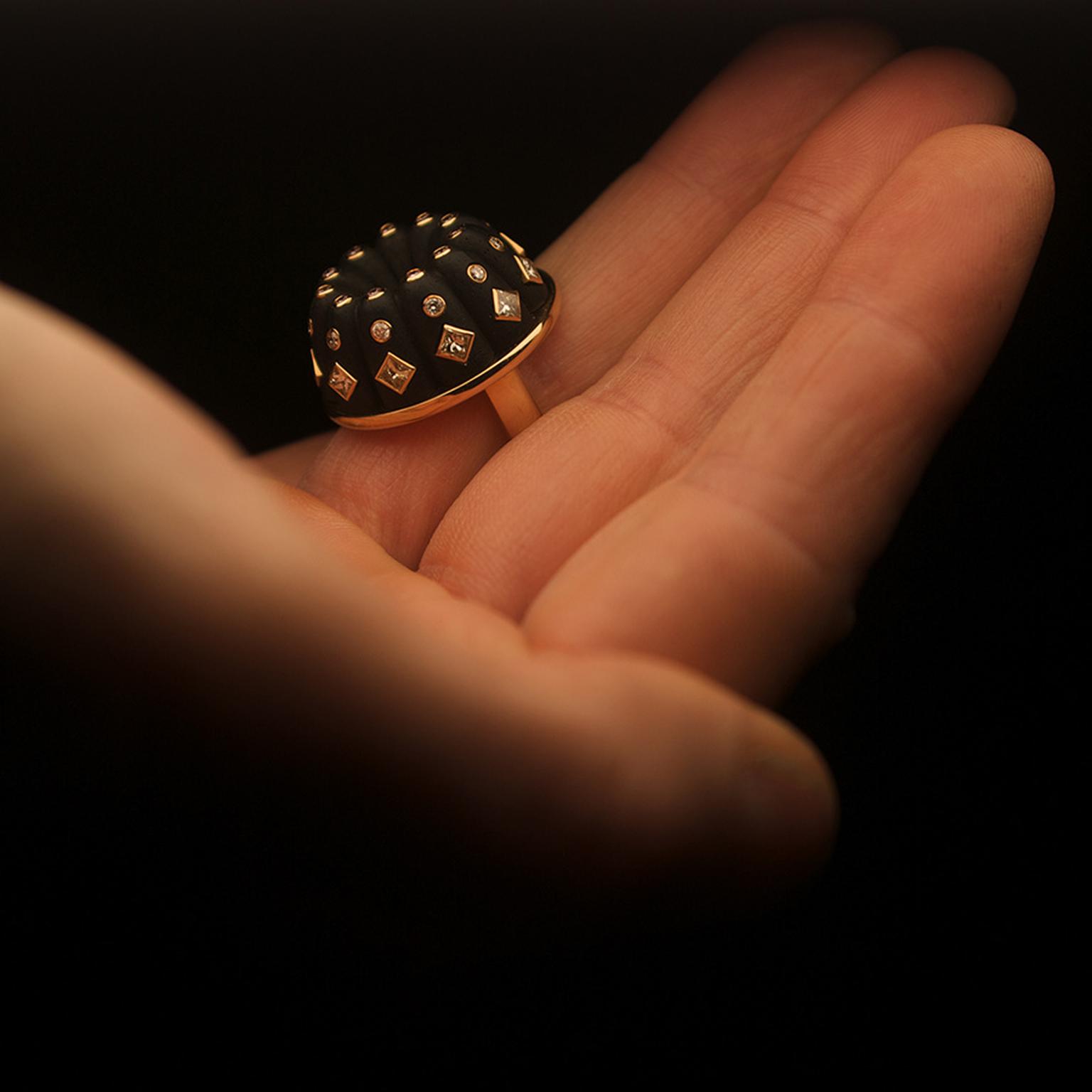 Cora Sheibani's collection of copper mould jewels are inspired by the cake and jelly tins used to make the sweet treats that were an integral part of her childhood in Zurich. "I used to stop at a café after my violin class every afternoon once a week and have a piece of Gugelhopf cake," she tells me of the link between food and her jewels.
When I went to visit her in London in early Spring, on her finger sat a Gugelhopf cake carved out of the green malachite. Other than the ring, she was free of adornment and her long flame-coloured hair and pale clean-scrubbed skin are set off by an eau de nil silk shirt.
"Or sometimes I wear this ring," she says picking up two golden cones that wrap around the finger. Atop one is a translucent green jade sphere while its twin holds a white shell scoop. Kiwi and pistachio, I think. Holding the ring to the light Cora says: "I love how you can see what look like little flecks in the stone, just like real ice cream."
Orginally Cora had considered being a packaging designer but thought that jewellery would be preferable as she could work from home. "I was very naïve," she says of the amount of work involved in designing and overseeing the creation of her jewellery ranges.
Cora's life is bursting with colour. As the daughter of an art dealer growing up in the 70's, the Memphis movement and the designer Ettore Sottsass were a big part of her childhood. In fact, in 2006, Ettore Sottsass a friend of the family, wrote an essay about her "Valence" collection of jewels. "What Cora Sheibani designs is not really 'jewellery' but rather a sophisticated suggestion," wrote Sottsass. "The silences of Cora Sheibani," he continues "her refusal of the easiest, most predictable and appetizing solutions make her a very special figure, with a very special, sophisticated, poetic and intellectual vision of the future."
Despite being steeped in the world of art and intellect, Cora says she aims to make jewellery that is wearable and that her designs are not driven by art. But playful as these jewels might be, Cora is very serious about her jewellery. There is a rigour to her approach and a Swiss inflexibility when it comes to the quality of workmanship and uncompromising about materials. Generous amounts of gold are used in the large smooth simple mounts that are unforgiving of the slightest error. The clean lines let the beauty of the stones sing out. Little details such as a bright berry perched on top of a jelly ring are carefully measured as there is nothing kitsch about these jewels that hint, but don't gush, of fond memories of childhood.  
Cora's pieces are all one offs and she sells privately by appointment or at trunk sales and fashion events. To see more, visit her website by clicking here.
Cora Sheibani pudding ring in gold with prenite, similar rings cost £3,600 - £3,800

Cora Sheibani green jelly and guglehopf ring £3500-£4200

Cora Sheibani Linzer Torte Ring (£4,300). This collection of jewels is inspired by the cakes and sweet treats of Cora's Swiss childhood.

Cora Sheibani jelly and guglehopf rings £3,500-£42,00

Cora Sheibani Ice Cream rings in white gold £3,600-£4,200

Cora Sheibani Linzer Torte Ring £4,300

Cora Sheibani Ice Cream ring £3,600 - £4,200

Cora Sheibani Pretzel Necklace 90cm Yellow Gold £6,500

Cora Sheibani Decorated Gugelhopf ring with diamonds, similar rings between £7,800 - £9,000