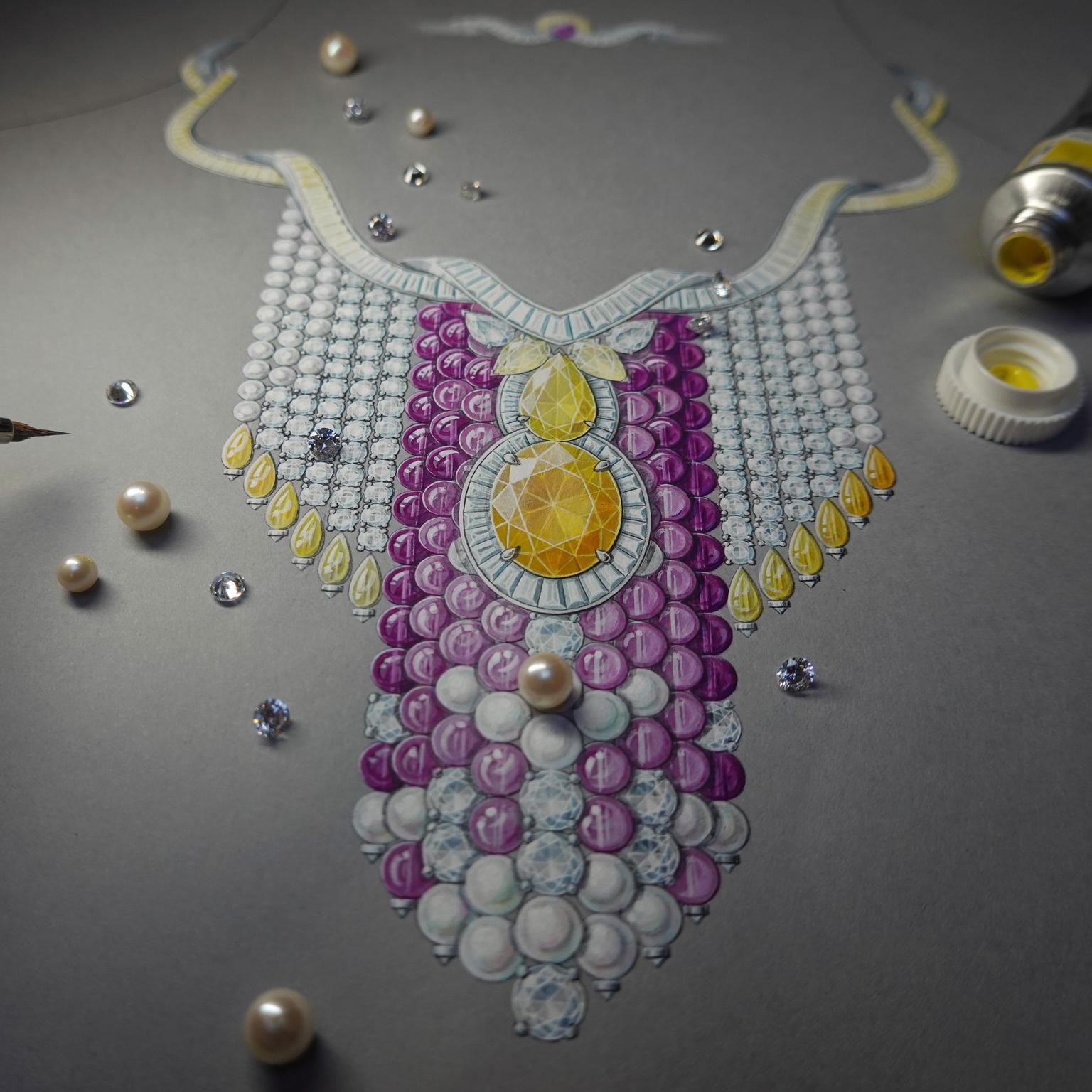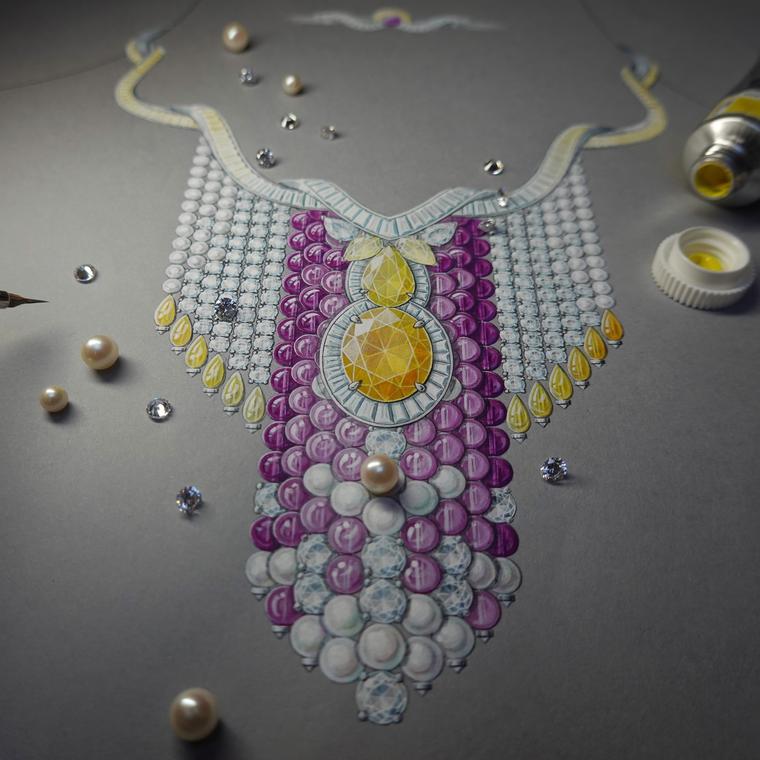 Just how is a high jewellery piece created? It is of course about craftsmanship and precious gemstones, but let's rewind and focus on the very first step: imagination. Every jewel starts in the mind and heart of an artist whose skill is to bring their dream to life, starting with a sketch and followed by a gouache painting.
While listening to the latest song of the rock band Placebo, the French artist Estelle Lagarde is drawing, mixing pigments, creating shadows and bringing life to her painting. Precision and care are essential: one drop of water can ruin the entire piece. Used to switching from pencils to paintbrushes since a young age, Estelle has always had an artist's sensitivity for creation and design. As a teenager, Estelle made jewels using Swarovski crystals to sell at the village market in her hometown in Haute Savoie,  France a region close to the Swiss border. Her passion for jewellery bloomed at the age of 15 during a short stint working in a jewellery shop where she fell in love with precious gemstones and was in awe of the extraordinary craftsmanship and techniques used to make the jewels.
After completion of her Métiers d'Art diploma in Paris, Estelle was hired by Van Cleef & Arpels. Here, she perfected her gouache techniques and painted some of the most exquisite high jewellery pieces to emerge from Place Vendôme, such as the famous Zip necklace and the Snowflake collection. A year and a half later, the artist returned to her home town where she continued working for Van Cleef & Arpels as an enameller, mastering this painting technique. She worked on intricate watch dials such as the iconic Pont des Amoureux, a complex watch by the Parisian maison.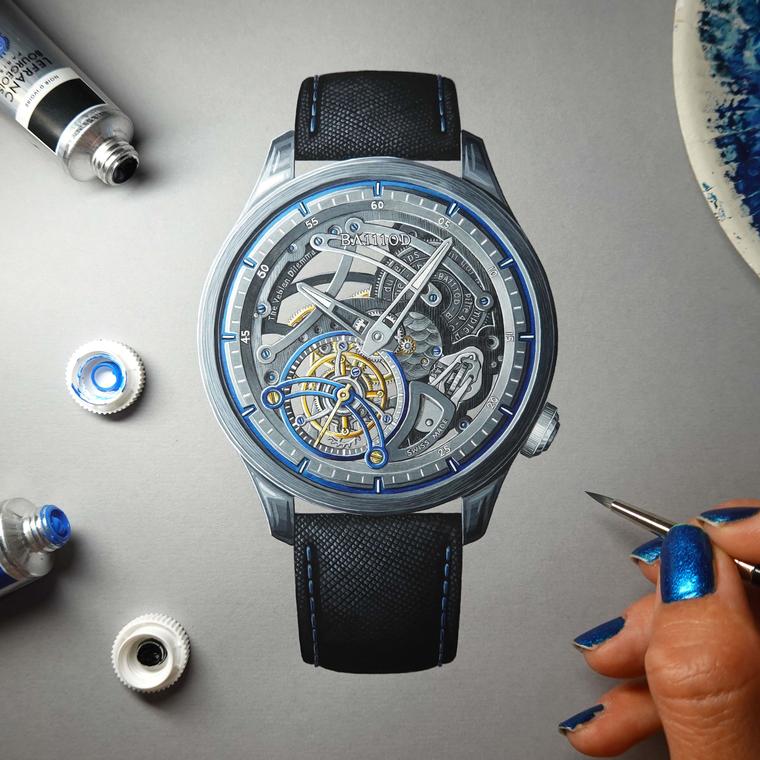 Eager to pursue her dream, in 2018 Estelle created Studio Lagarde, her own design and gouache painting company. She expresses herself through her paintings, taking inspiration from the architecture that surrounds her as well as wonders of nature. Her free spirit leads her to play with textures and colors. Her creativity is matched by her perfectionism and this conscientious and detailed-oriented approach is key to her masterpieces that gives her the ability to represent depth, transparency and brightness in her astonishingly realistic gouache paintings. Her skills were soon spotted on her social media channels and she began designing for various international brands. Her sketches are not only used to guide the making of jewels, but also for marketing purposes and even given to the clients, should they wish.
Her love for this painstaking craft led Estelle to share her savoir-faire online. In 2019, with her brother Thibaud Lagarde, Estelle began uploading painting courses on her website: a series of videos and exercises aimed at both amateurs and professionals. The four programmes take you through the steps of how to paint different materials such as metal, enamel, leather and marquetry work, as well as stones and their different cuts. These online classes reveal all her trade secrets and painting techniques, helping students to progress at their own pace.
On top of her numerous design commissions, Estelle is busy working on her own jewellery brand that will officially launch in 2023. Meanwhile, a collection of high jewellery creations made of colorful precious stones is taking shape. Her first ring, Espoir, is an exciting preview of her future designs. This cocktail ring is a mix of cabochon, oval and pear cut gemstones including sapphires, emeralds and diamonds all set in white gold. As its name suggests the colours are a combination of bluish-green hues echoing serenity and hope. Estelle's jewels are handmade in France, focusing on traditional craftsmanship and natural gems.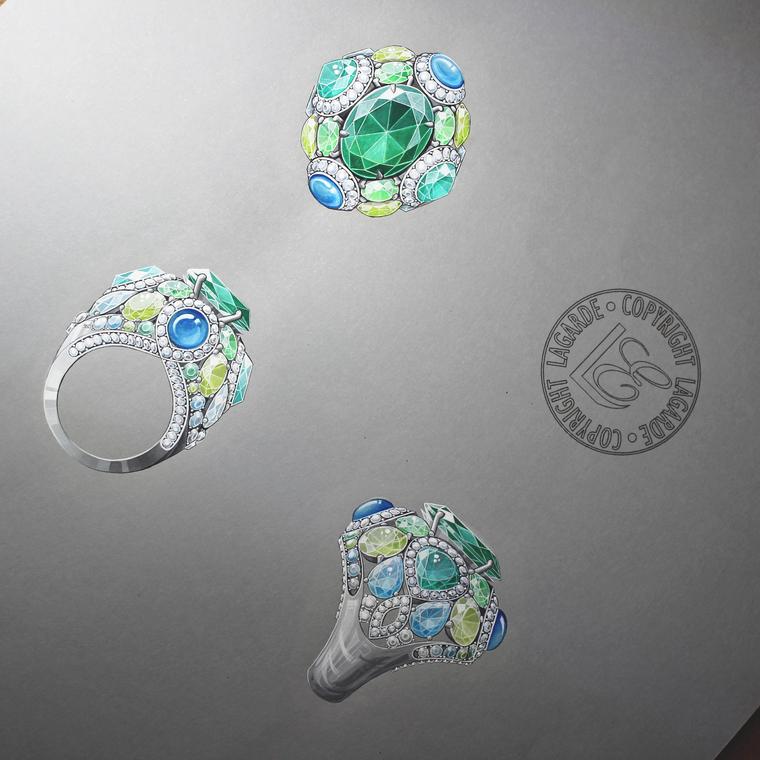 Estelle will participate for the first time at GemGenève in May 2022. She will take advantage of this international jewellery fair to present her artworks as well as hold several painting courses. The artist will also be demonstrating her craft, for everyone to witness her talent firsthand.
Estelle Lagarde offers online courses teaching all essential painting techniques in jewelleryand watchmaking. Her step-by-step programs reveal her secrets and tips to bring life to masterpieces. 

Estelle Lagarde paintings are made with gouache, which has an opaque body and creates a more precise and realistic effect than watercolor.

The Veblen Dilemma Watch featuring a tourbillon complication. Painting by Estelle Lagarde for BA111OD Watch Concept. 

The Solar Lights necklace by Estelle Lagarde features white pearls, coral beads, rubellites, yellow sapphires, yellow and white diamonds and red enamel. This exotic one-of-a-kind piece was inspired by the colours of the sunset. 

Estelle Lagarde's painting of the Givre Etincelant Earrings led to the 3D rendering of the piece which supports the production.

Estelle Lagarde paintings are made with gouache, which has an opaque body and creates a more precise and realistic effect than watercolor.

A 3D rendering image of the Givre Etincelant earrings by Estelle Lagarde helps to imagine how the piece will look like when it is finished.    

Part of Estelle Lagarde's first jewellery collection, the Espoir Ring is made of white gold set with emeralds, sapphires, Paraiba tourmalines, topazes, aquamarines and diamonds.

An average of 40 hours of work is required to paint a high jewellery necklace such as this Mon Précieux Macramé Necklace by Estelle Lagarde.