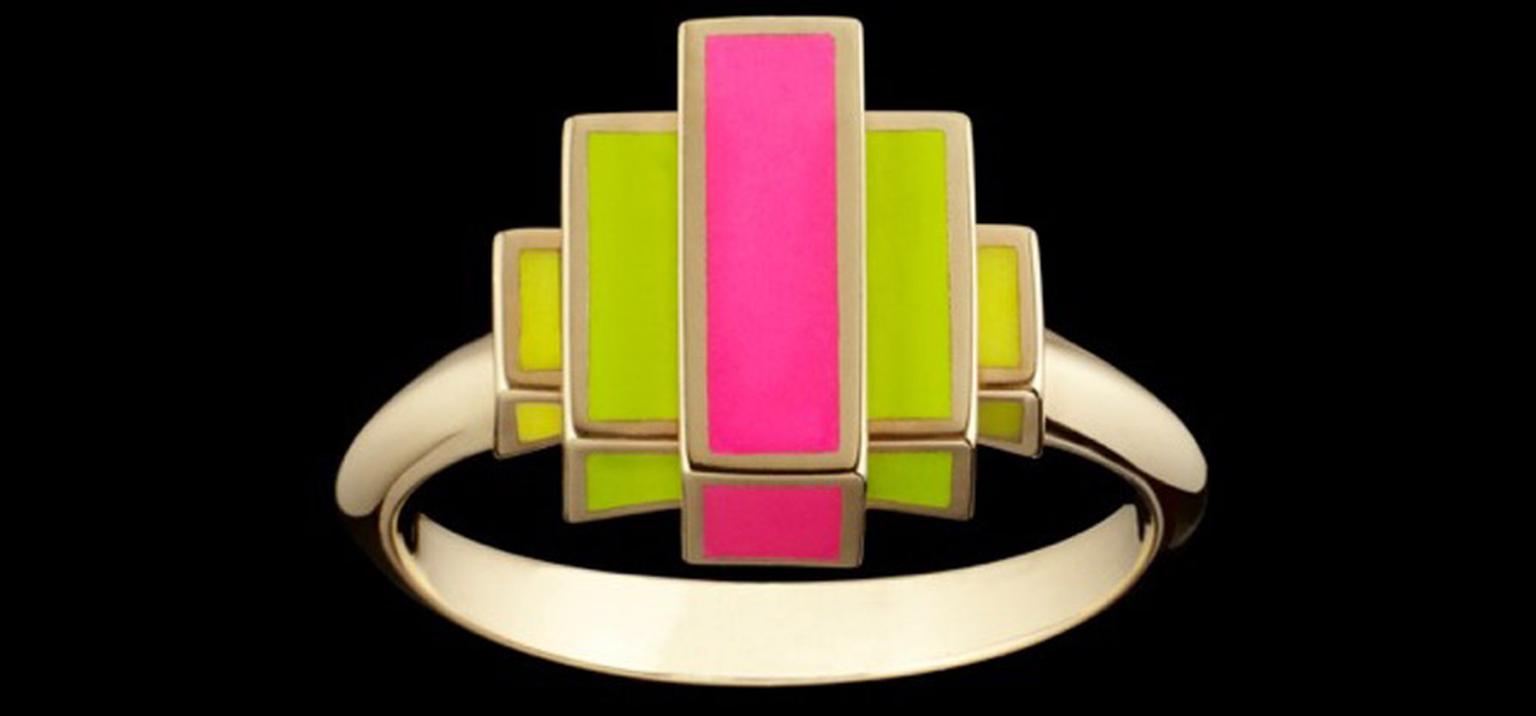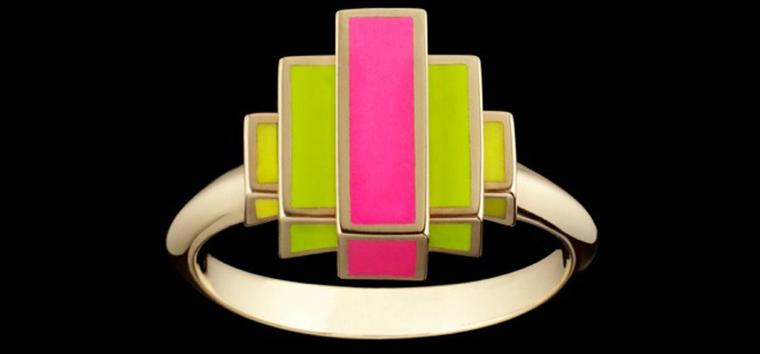 British jewellery designer Hattie Rickards' bold and beautiful new Strata ring is a spanking new accompaniment to her recently launched GEO collection, which continues the fabulous precedents set out in her previous 'Revealed' collection, using ethically sourced gold and precious stones in boldly confident ways, mixing "aesthetics with a story and knowledge of origin".
The Strata ring is handmade in recycled silver and 18ct yellow gold plating with striking enamels which can be made to fit any colour combination you may desire. The idea of 'connection' was Hattie's inspiration, the thought of bridging a gap in order to make one. 
Debuting in November last year, the GEO collection includes the gorgeous 18ct Flip Octo Ring with precious stones surrounding a revolving octagon which is also available as a pendant; as well as many more brightly coloured creations, there is also the deceptive elegance of the Kindred Ring with its 18ct white, red and blackened yellow gold with precious stones set in two interlocking rings.
It's easy to see from these pictures why Hattie Rickards' admirers include Livia Firth, Poppy Delevingne and Pippa Middleton amongst many others. These are rings for a new generation of girls who like a bit of fun, funkiness and feel good factor with their jewels.
Hattie Rickards. Connect Bracelet in 18ct Yellow Gold with precious stones. Price from £3,400.

Hattie Rickards. Fip Octo Pendant in 18ct Fairtrade Fairmined Ecological Gold with Precious stones. Revolving central octagon. Price from £3,500.

Hattie Rickards. FFlip Octo Ring with Enamel in 18ct Fairtrade Fairmined Ecological Gold with Enamel. Revolving central octagon. Price from £2,400.00

Hattie Rickards. Flip Octo Ring in 18ct Fairtrade Fairmined Ecological Gold with Precious stones. Price from £2,900.00.

Hattie Rickards. Kindred Ring in 18ct Fairtrade Fairmined Ecological Gold with Precious stones. Two separate interlocking rings. Price from £1,700.

Hattie Rickards. Mother and Daughter Pendant in 18ct Yellow Gold with precious stones. Price from £3,400.

Octo Bracelet in 18ct Yellow Gold with precious stones. Revolving central octagon. Price from £3,200.Hattie Rickards.

Hattie Rickards. Octo Brooch in 18ct Yellow Gold with precious stones. Price from £2,000.

Hattie Rickards. Rubix II ring in 18ct Fairtrade Fairmined Ecological Gold with Precious stones. Spinning central band. Price from £7,600.

Hattie Rickards. Tube Ring in 18ct Fairtrade Fairmined Ecological Gold with Precious stones. Price from £5,500

The 'Strata' ring is handmade in recycled silver and 18ct yellow gold plating and colourful enamels