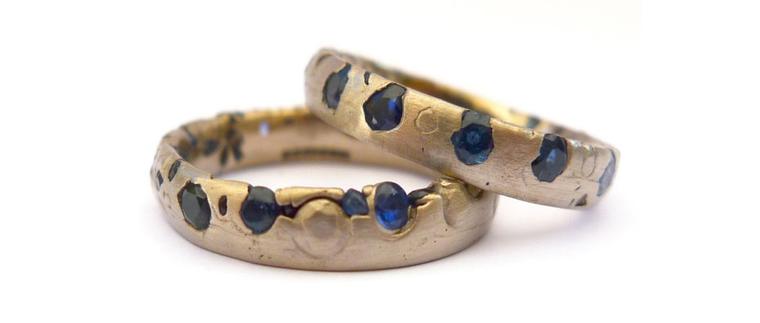 When you first look at her jewellery, it's easy to see why Polly Wales has already become such an awarded designer, having won the 2007 Crafts Council Development, the coveted Goldsmiths Craft & Design Award in 2005 and the Goldsmiths award for Outstanding Body of Work in 2002, and those are just a few. Having studied at Wimbledon, London Guildhall and the Royal College of Art, her innovative use of precious stones and metals has ensured that each of her pieces bears the truly unique hallmark of her craftsmanship, and the beginning of what one hopes will be a legacy for the British designer.
As seen in her Archipelago and Crystal collections, the wondrous nature of her work derives from the way in which she has worked with stones and metals to make them meld into one. The result is a unique look that makes the jewellery feel as if they were some marvellous wonder dug out from the earth itself. This molten fusion of stones and metal has become her trademark style, the handcrafted quality giving way to vibrantly alive colours. Despite their organic nature, in her Archipelago collection, the pieces also echo jewellery styles of the Byzantine and Baroque periods. Her beginnings in sculpture are evident throughout her collections, with each and every piece displaying its maker's mark.
Polly Wales' jewellery is breathtaking to behold: one need only see the combinations she dreams up when setting rubies and sapphires directly into gold, or the complex settings of the Bismarck, Solomon and Archipelago rings to understand why. Having gained recognition worldwide her pieces are now available in the USA.   Polly Wales's handcrafted artistry also extends to private commissions, so like the elegant rock formations these are so reminiscent of, you too can have your own one-of-a-kind piece from the supremely talented mind of Polly Wales.
Polly Wales. Archipelago Ring. Oval London blue topaz in 9ct gold setting embedded with antique blue and green sapphires. POA

Polly Wales. Bismarck Ring. Oval London blue topaz in an 18ct yellow gold setting embedded with antique blue sapphires. POA

Polly Wales Black sapphire crystal ring in 18ct gold. POA

Polly Wales. Rainbow sapphire ring. Fancy cut sapphires, 18ct yellow gold. POA

Polly Wales. Ruby Crystal rings, 18ct yellow gold. POA

Polly Wales. Solomon Ring. 18ct yellow gold embedded with antique rubies. POA

Polly Wales. Dusk ring. 18ct white gold with blue and black sapphires. POA