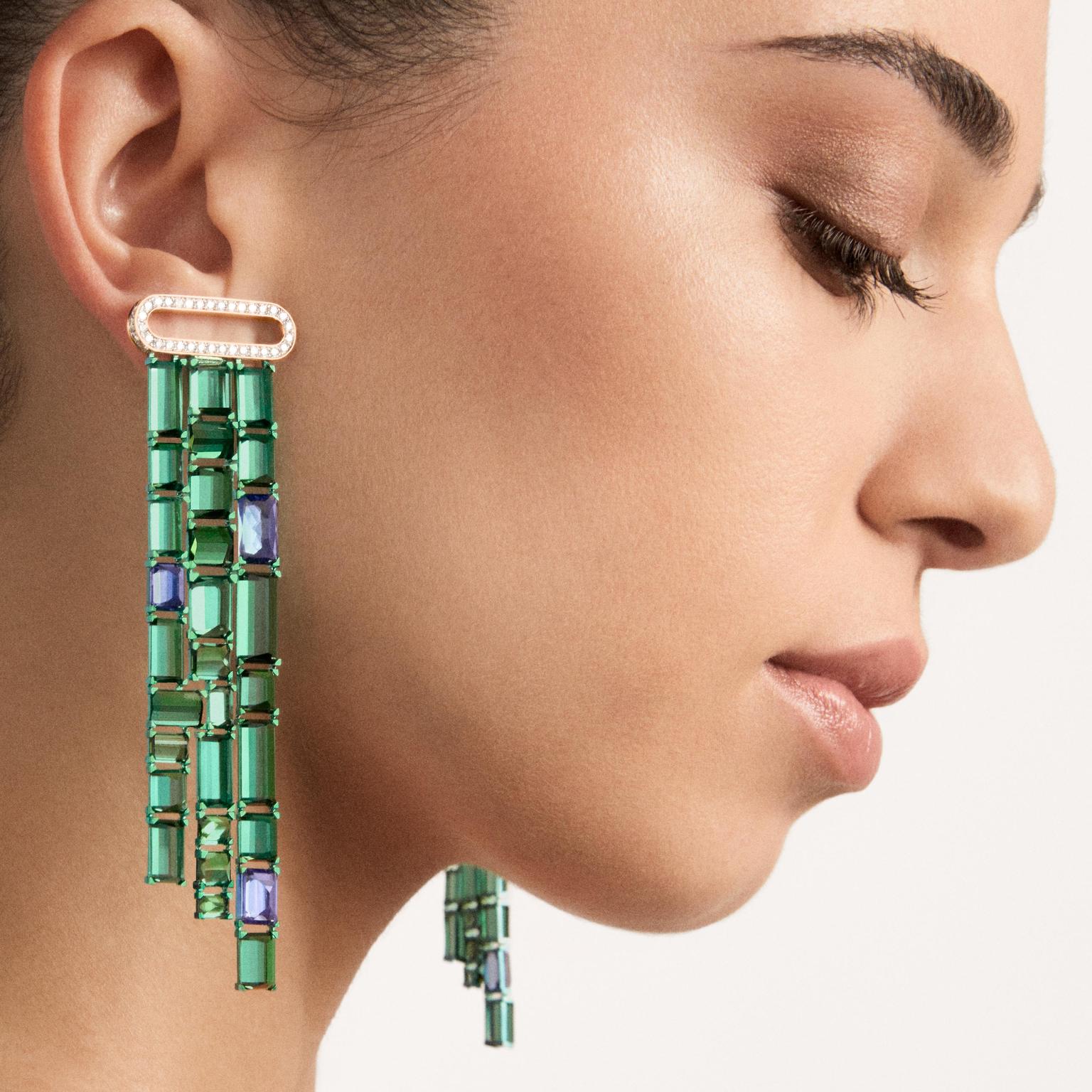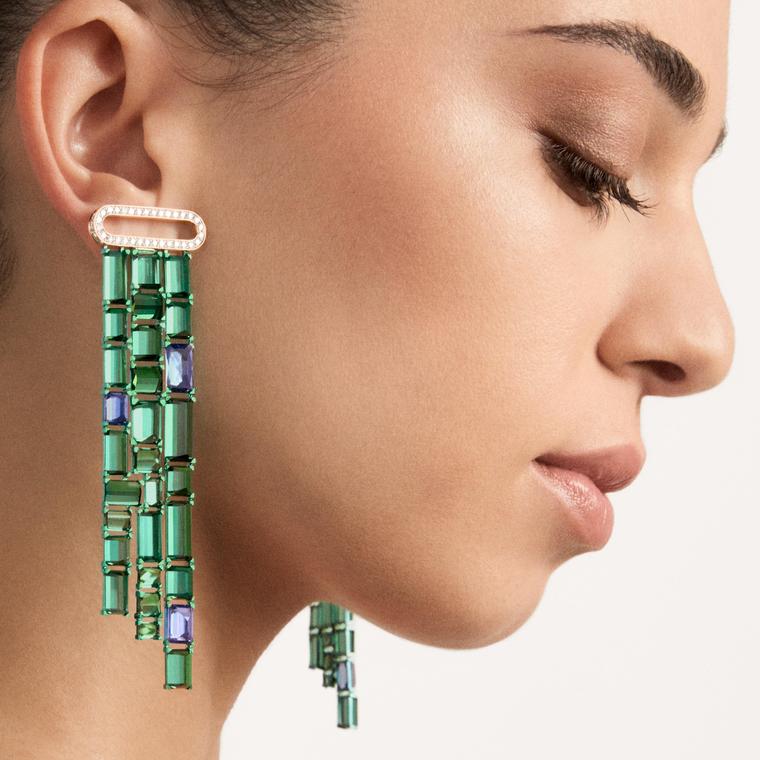 Founded in 1967, Pomellato pioneered everyday jewellery for a new generation of independent women whose lives were changed by the Women's Lib movement. In 2020 the Milanese jeweller ventured into the world of high jewellery and since then, has presented themed collections every summer.  
Pomellato's latest one-of-a-kind collection presented in Paris last July pays homage to its beloved hometown of Milan, which sits at the epicentre of Italian fashion and design. Here are five key features about 'Ode to Milan':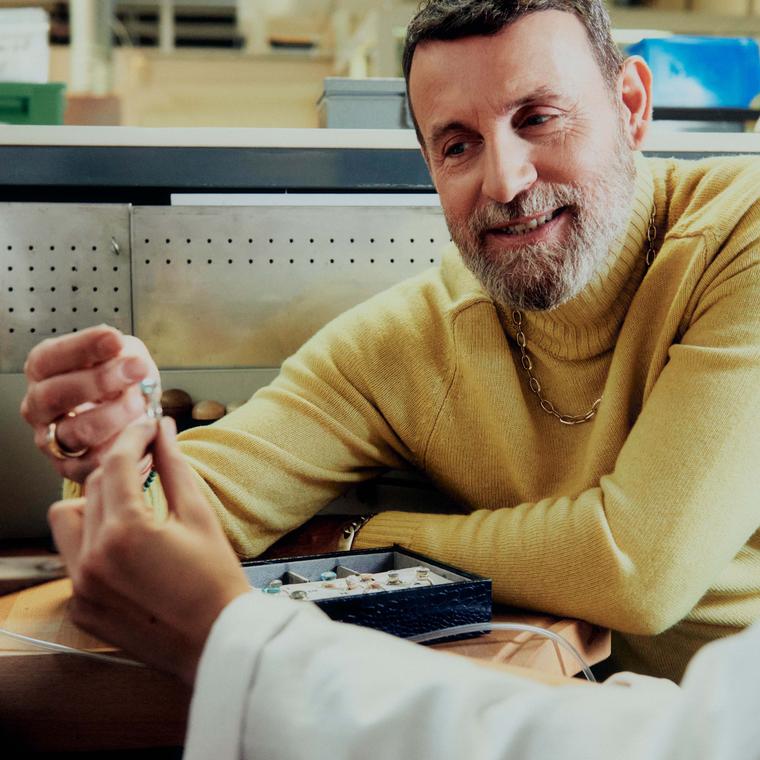 No1: Happy 20th anniversary Vincenzo Castaldo​
This year, Vincenzo Castaldo celebrates his 20th anniversary at the creative helm of Pomellato. Coinciding with this anniversary, he designed 'Ode to Milan', a high jewellery collection in honour of the constantly evolving cityscape .
Inspired by the city's rich history and hidden treasures, the collection features 33 modern yet timeless designs. Drawing inspiration from the prowess of Milanese design, Pomellato boldly debuted its jewellery collection in Paris, the capital of haute joaillerie, with the aim of fostering rich discussions on high jewellery between the two cities.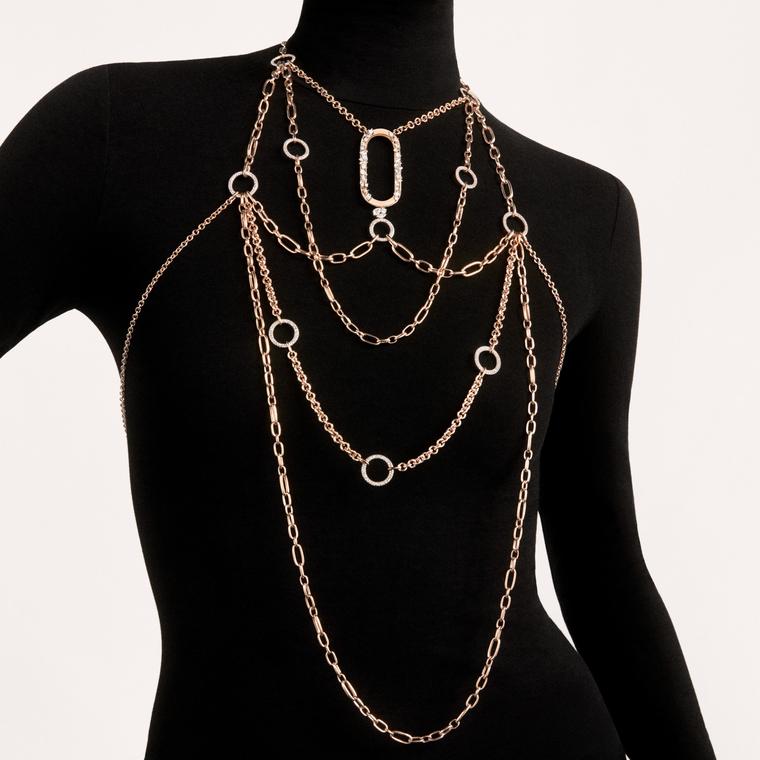 No2: The Sipario necklace is a theatrical masterpiece with chains and diamonds
Creativity on Stage, one of the four chapters of "Ode to Milan", draws inspiration from Pomellato's chain-making heritage, symbolising the vibrant creativity of La Scala theatre and via Montenapoleone. The Sipario chain necklace envelops the body in an intricate web of various chains and diamond-studded links. Its central link sparkles with a random pattern of brilliant and fancy-cut diamonds, adding a touch of magic and awe.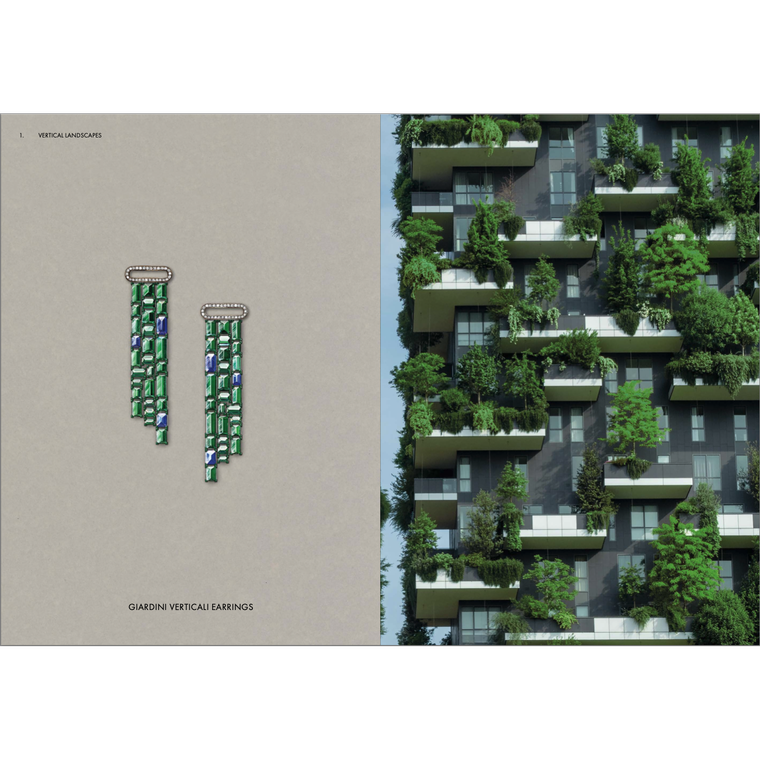 No3: From Bosco Verticale to Giardini Verticali earrings
The Giardini Verticali earrings, a stunning masterpiece crafted from a cascade of 52 magnetic green tourmalines and six violet-blue tanzanites, are reminiscent of the transformative impact seen in projects like the Bosco Verticale. The meticulous reverse-setting and flow of colour of the gems captures the beauty of the vegetation. In 2014, Arreca and Giovanni La Varra completed the Bosco Verticale - Vertical Forest -  in Milan's Porta Nuova district. Eight hundred trees and five thousand  shrubs are planted in the terraces of these two famous towers. Cleverly integrated into the structures, the towers are a testament to the power of green architecture. The towers nurture a mesmerising mosaic of living greenery, offering residents a vibrant oasis, reducing CO2 emissions, mitigating heat island effects, and promoting biodiversity.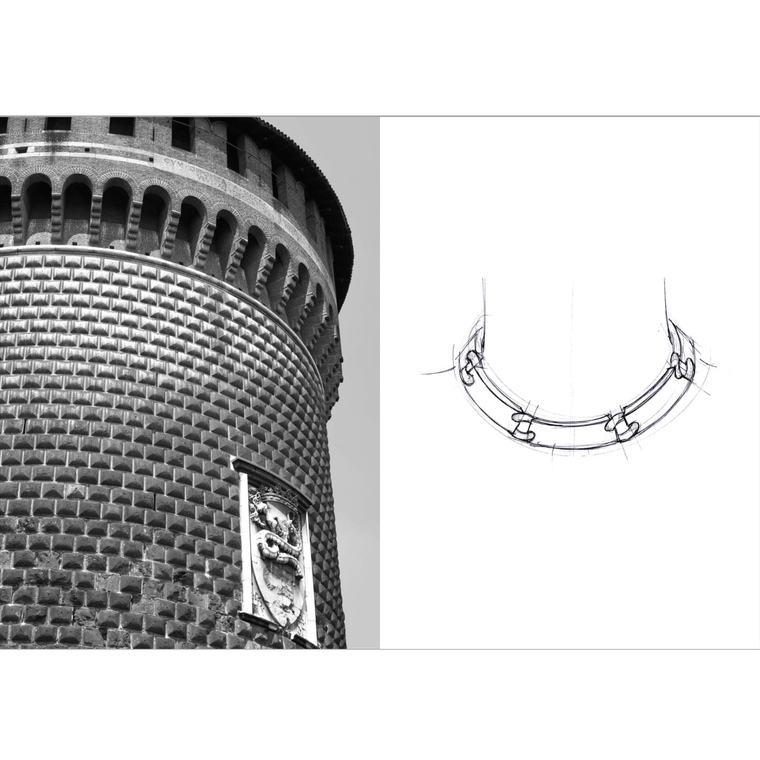 No4: Bossage is a new type of pavé inspired by the mediaeval Castello Sforzesco
In honour of Milan's most commanding monument, the medieval Castello Sforzesco, Vincenzo Castaldo, and the design team reinterpreted a 1972 choker found in the archives to create the Castello necklace. Beyond the choice of stones - 28 carats of baguette, princess and brilliant-cut diamonds, and five reverse-set rubellites - the settings are also unique. By arranging the gems in an unorthodox fashion, their pronounced angles echo the rugged stone masonry of the Castello's facade, yielding a novel pavé style that Pomellato describes as 'bossage'. This architectural technique, employing stones with clearly defined edges and a raised central area, exudes an aura of power and invincibility.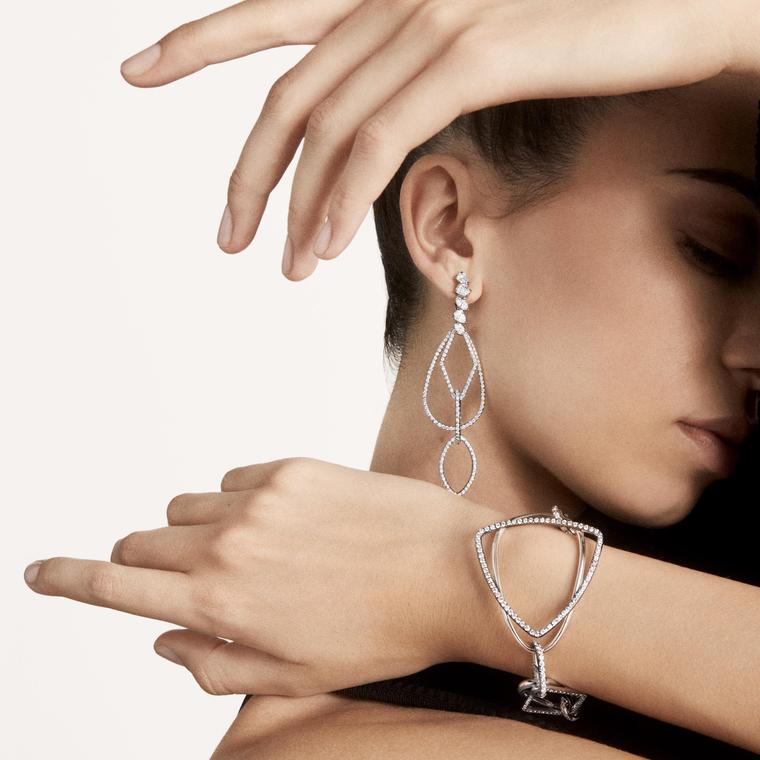 No5: Jewels that are as easy to recognise as they are to wear
The Terrazza Duomo bracelet and earrings are a perfect example of how Pomellato approaches its high jewellery creations. These jewels take inspiration from the white marble façade of the Duomo's 14th-century Gothic architecture. It deconstructs the ornate style of the cathedral into key geometrical shapes that form the basis for this elegant collection. The one-of-a-kind jewels' simplicity and beauty reflects Pomellato's approach to high jewellery.  Sabina Belli, CEO of Pomellato said: "We are very proud to present our most precious high jewellery collection ever in Paris, the capital of high jewellery, where we will share our unique vision. Pomellato is different as all of our designs are made to be worn every day. We have always put women at the centre of the creation process, offering modern pieces of great quality and beauty that are easy to wear. This collection is no exception. Even the most precious pieces are designed to be worn casually and not just for special events. We believe that jewelry should accompany women on all occasions, in line with the emancipated and contemporary character of the Pomellato woman."
Inspired by the mediaeval Castello Sforzesco, the Castello necklace by Pomellato is set with five rubellites and 28 carats of diamonds. 

The one-of-a-kind Terrazza Duomo bracelets with abstract geometrical shapes set with diamonds are handcrafted with white or rose gold. 

Pomellato's Giardini Verticali earrings are inspired by Milan's Bosco Verticale, reflecting the idea of integrating greenery into urban design to reduce emissions and revitalize spaces.

The Terrazza Duomo one-of-a kind jewels by Pomellato include abstract geometrical shapes in rose or white gold set with diamonds. 

The main link of the Sipario necklace by Pomellato features a random pattern of large, dazzling diamonds, both brilliant and fancy-cut.

Inspired by the mediaeval Castello Sforzesco, the Castello necklace by Pomellato is set with five rubellites and 28 carats of diamonds. 

On the Castello necklace, by arranging the gems in a unique way, they resemble the rough stone walls of the Castello Sforzesco, creating a new pavé style called 'bossage' by Pomellato.

In 2023, Vincenzo Castaldo celebrates his 20th anniversary as Creative Director of Pomellato.

Inspired by the two famous Milanese towers called Bosco Verticale, the Giardini Verticali earrings by Pomellato are set in rose gold, titanium and feature green tourmalines, tanzanites and diamonds.