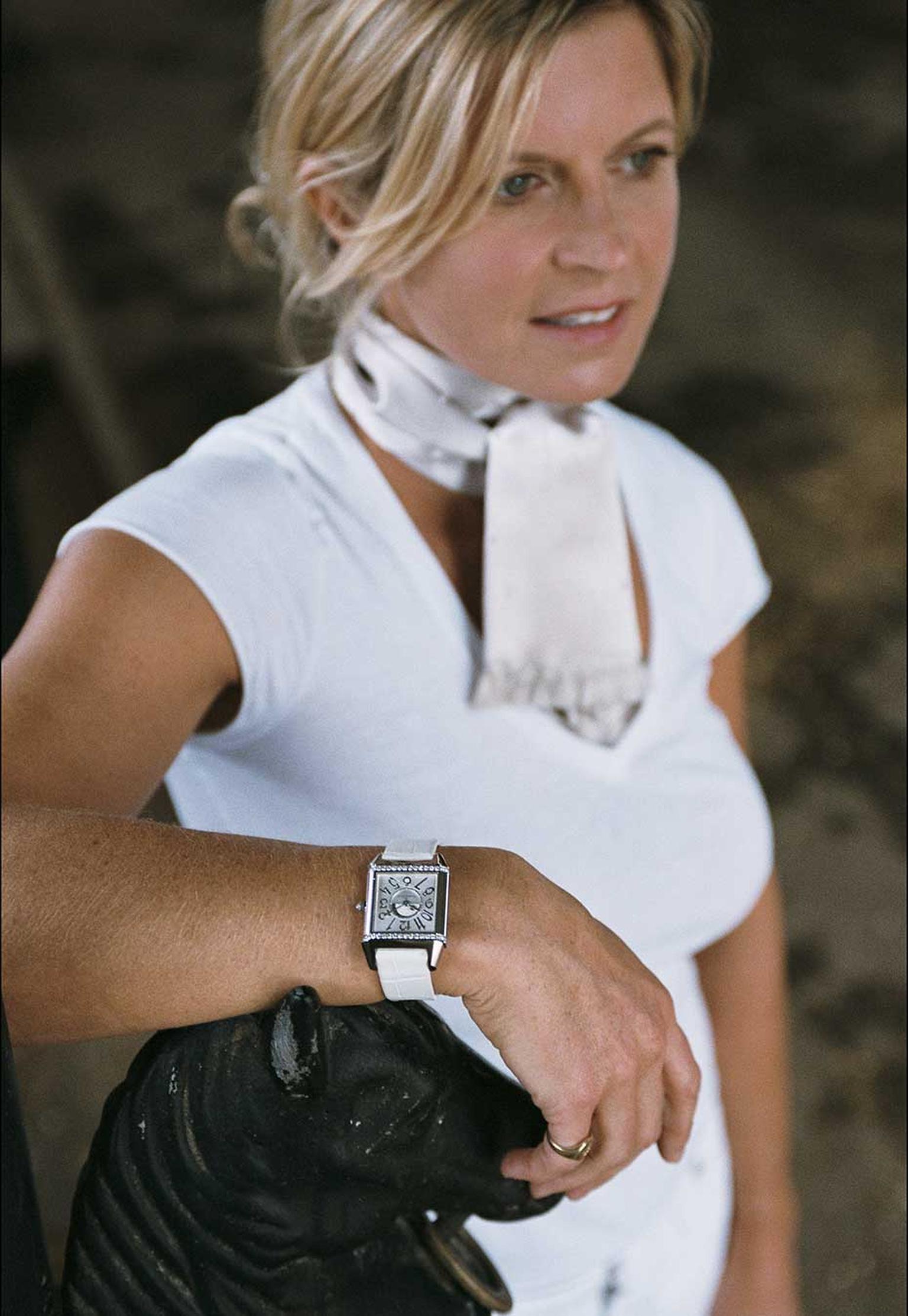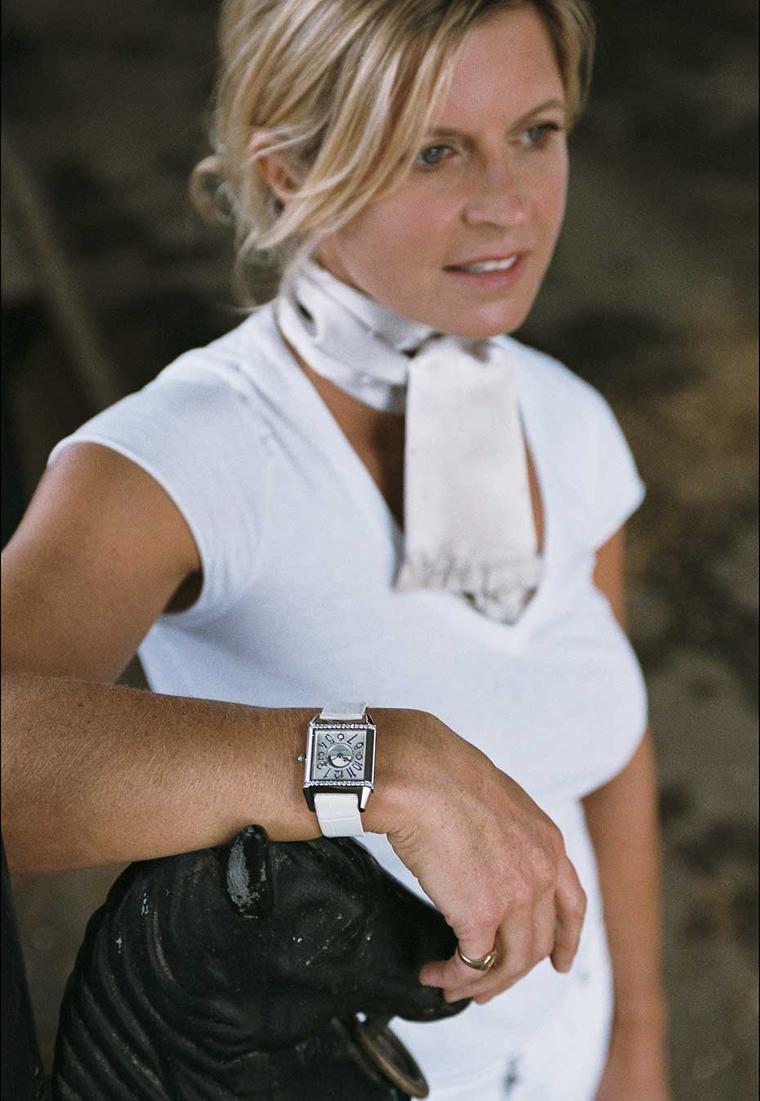 By Maria Doulton in London
It would be hard to envisage a more perfect match for Jaeger-LeCoultre's iconic Reverso watch line than Clare Milford Haven. An accomplished polo player, a journalist and former social editor of Tatler, Jaeger-LeCoultre's first polo ambassador, the Marchioness of Milford Haven, is now in her tenth year as captain of the mixed UK polo team, which is sponsored by the brand.
The blonde athlete told me how the alliance was initially forged. "I'd been playing polo for about five years and had fallen in love with the sport," she explains. "But as you know, it's a very expensive game and I was looking for somebody to sponsor me. I asked journalist Nick Foulkes if he had any suggestions. 'Clare, it's so obvious,' he said and encouraged me to get in touch with Jaeger-LeCoultre in 2004." 
His advice was spot on because the sport of polo and Jaeger-LeCoultre are inseparably allied in the watchmaking universe. Conceived in 1931 as a wristwatch "which can slide on its base and flip over on itself", the Reverso was created following a petition from British Army officers in India. Tired of smashing the glass on the dial of their watches, they wanted something more robust to weather the blows of the sport. The reversible Art Deco case that emerged allowed a player to flip over the dial and protect it from stray mallets, balls and fickle polo ponies, earning itself a place in the kingdom of timeless designs.
Milford Haven wears different models depending on the occasion and her mood. The Jaeger-LeCoultre Squadra is one of her favourite watches for everyday wear. "I tend to like bigger watches, but the overall factor is that is has to be feminine and sporty," she says, and the slightly larger dimensions of the Squadra case (42 x 28.8 mm) are ideal. With 36 F-G Top Wesselton diamonds nestled in the bezel and a beautiful sunburst guilloché dial, size and femininity are perfectly reconciled in the Squadra.
The Jaeger-LeCoultre Reverso Duetto Classique, with its two distinct faces, appeals to the polo player because of its versatile night and day aspect. "One side of the watch is very much a day watch and I can flip it over and wear the black face in the evening."  The two faces are driven by a single mechanical, hand-winding movement with a power reserve of 48 hours.
When it comes to exposing her watches to the duress of a polo match, Milford Haven relies on the more robust Jaeger-LeCoultre Gran Sport model with a rubber strap. It's the height of the polo season in the UK at Cowdray Park, and Milford Haven is in the saddle and competing almost daily. "I go through about five to six ponies during a match although the average is four - one pony per chukka." Asked if the game is dangerous, she laughs. "You've got eight horses on the field going at high speed, you've got mallets, balls and contact. You need to have your wits about you. I'm literally put together with bits of tape and metal." 
Over the years Milford Haven has developed a much keener appreciation for time. From the polo field to society parties, her life was picture-perfect until, in 2006, her eldest son James took his life. Time came to a standstill, but working at her charity - the James Wentworth-Stanley Memorial Fund - to spread awareness about teenage suicide,  she slowly got back on her feet. "I've become more aware of giving time to people, to talk, to listen. Sometimes people need your time and we are not aware of it."
Another great source of comfort came from the brand. "They were hugely loyal and supportive to me and the foundation," she says about her friends at Jaeger-LeCoultre. "They encouraged me to keep on playing polo, which was absolutely the right thing to do. And although it sounds like something an ambassador should say, I do really feel like I'm a part of the JLC family."
Read about Jaeger-LeCoultre in our iconic watches for men
Jaeger-LeCoultre's first polo ambassador, Clare Milford Haven, is an accomplished sportswoman, a journalist and former social editor of Tatler. Image: Aline Coquelle

The Jaeger-LeCoultre Reverso Duetto Classique appeals to Clare Milford Haven because of its versatile night and day aspect. "One side of the watch is very much a day watch and I can flip it over and wear the black face in the evening." The two faces are driven by a single mechanical, hand-winding movement with a power reserve of 48 hours.

The Jaeger-LeCoultre Squadra watch is one of Clare Milford Haven's favourites for everyday wear. "I tend to like bigger watches, but the overall factor is that is has to be feminine and sporty," she says. The larger dimensions of the Squadra case (42x28.8mm) are ideal.

Clare Milford Haven alongside her teammates. Clare is now in her tenth year as captain of the mixed UK polo team, which is sponsored by Jaeger-LeCoultre.

Polo player Clare Milford Haven wears different models depending on the occasion and her mood. The Squadra is one of her favourite watches for everyday wear. Image: Aline Coquelle