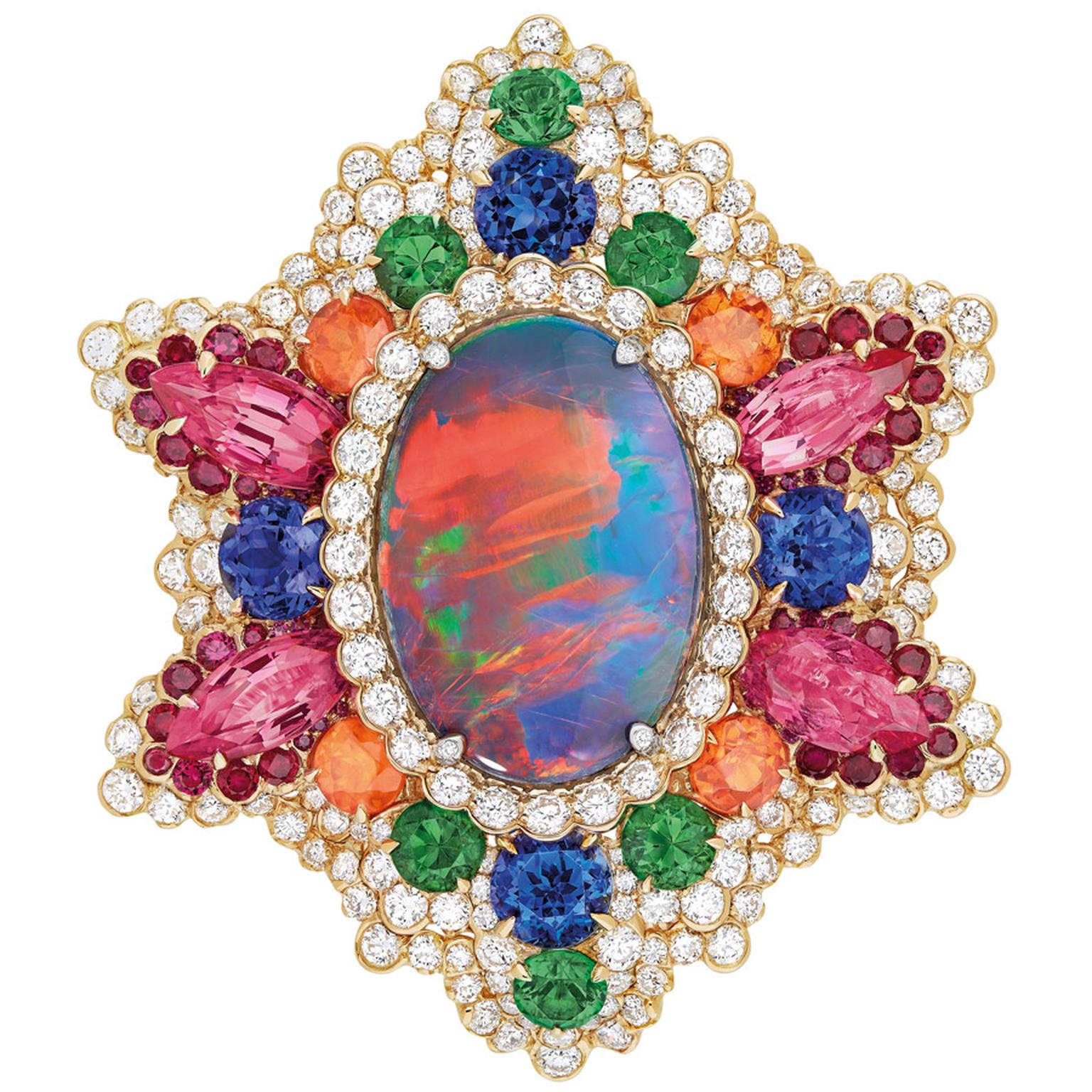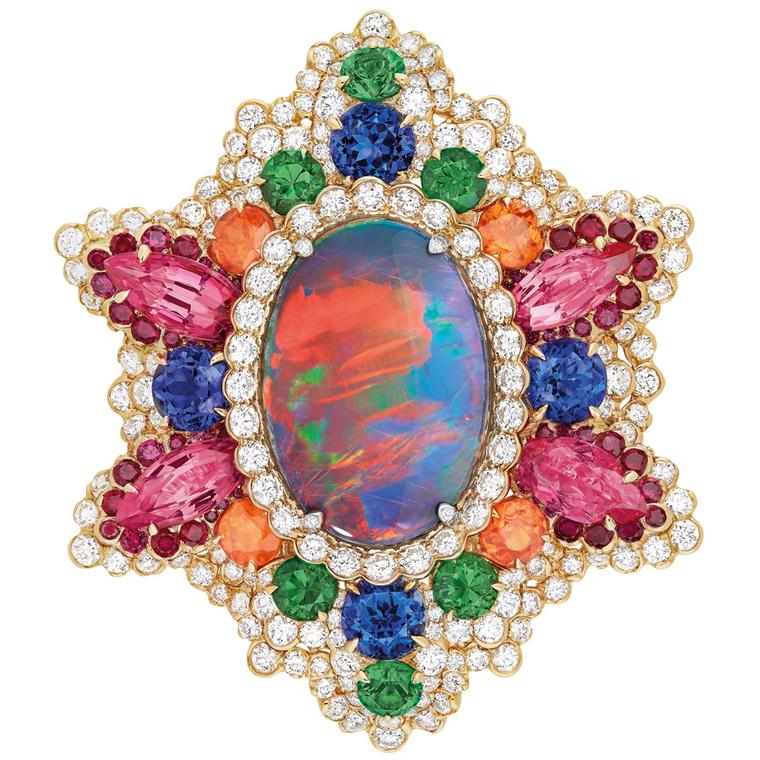 'Dear Dior' is the name of the new collection of high jewellery by Dior that was presented during Paris Haute Couture week as a preview to the full collection to be unveiled at the Biennale des Antiquaires in September. Creative Director Victoire de Castellane was present at the jewels first viewings, just after the haute couture shows. 
The collection is an explosion of colour in outsized rings, earrings and brooches and as with all of Victoire de Castellane's work, it never fails to surprise with its eye-searing and unexpected combinations of stones, and in particular opals. This collection has an abstract theme which is a departure from Victoire de Castellane's normal approach to designing which usually has a strong narrative. Previous collections like the Bal des Rose had a story to tell linked to the house's heritage in which imaginary roses get dressed in haute couture gowns before heading out to the ball.
The name of each set of jewels or piece is made up of two or three elements: a detail from an haute couture dress mixed with the name of the central stone or a harmony of colours: Dentelle Chantilly Multicolore, Organza Brodé Paraïba, Résille Bouquet d'opales, Guipure Framboise Rebrodée, Broderie Grenade Irisée, Dentelle Opale d'Orient, Dentelle Saphir Iris, Tulle Pointillés Colorés, Dentelle Médaillon Soleil, Résille Grenat Exotique and Dentelle Tourmaline Rebrodée. 
 "It is a couture story," the designer told me at the presentation in Paris. "The idea is that today we have too much information from the internet, lots of signs around us and more and more people doing a lot of real jewellery with poetic and creative themes so I wanted to do a style exercise with something more abstract playing only with colour and stones and settings. I also wanted to play with the idea of couture and embroidery." 
Turn a piece over and you will see that in contrast to the jostling colours on the front of the jewels, the backs are dainty renditions of lacy metal, the designs of which are all from the Dior lace archives from the 1950's and reproduced in gold. "The idea of two different stories on each side means it is never boring," explains Victoire de Castellane.
 The press release says that the jewels are inspired by the costume jewellery Monsieur Dior used to design for his couture collections in the 1950's. Victoire de Castellane also tells me that the jewels are like: "an explosion of many stones. It is like when you are in an airplane at night and you see all the lights of the city sparkling, I want to have that kind effect. I want an idea of crumbled stones."
But there is more to these jewels. Victoire de Castellane tells of more threads of inspiration that weave into the rich texture of this most opulent of collections: "It can be Renaissance, it can be Russian, it can be Indian. It really is about exoticism," she says. What I see is Victoire de Castellane's love of colour unleashed with diamonds playing second fiddle. "I love colours," she confirms. "I think colour is life. It is so important and so attractive for me. I like to play with different colours and make contrasts or degradés or special mixes that can be stunning.  It's about the magic of stones. They are like super-power jewellery, like when you are a child and you want super powers. I imagine it gives you super powers." 
Original vintage advertorial for the Christian Dior costume jewels

Chrsitian Dior and his model Victoire in 1954

These Dear Dior earrings are one of the only two reproducible pieces in the collection.

This Dear Dior ring was one of the only two reproducible pieces in the collection.

Dear Dior creator Victoire de Castellane in the design studio by Francois Halard

Dior Dentelle Opale d'Orient bracelet

Dior Dentelle Tourmaline ring from the Dear Dior high jewellery collection, designed by Victoire de Castellane.

Dear Dior Dentelle Chantilly Multicoloured ring, starring a magnificent central Paraiba tourmaline.

Dear Dior Dentelle Medaillon Soleil Earrings (back)

Dear Dior Dentelle Medaillon Soleil Earrings (front)

Dear Dior Dentelle Opale d'Orient Bracelet (back)

Dear Dior Dentelle Tourmaline ring (back)