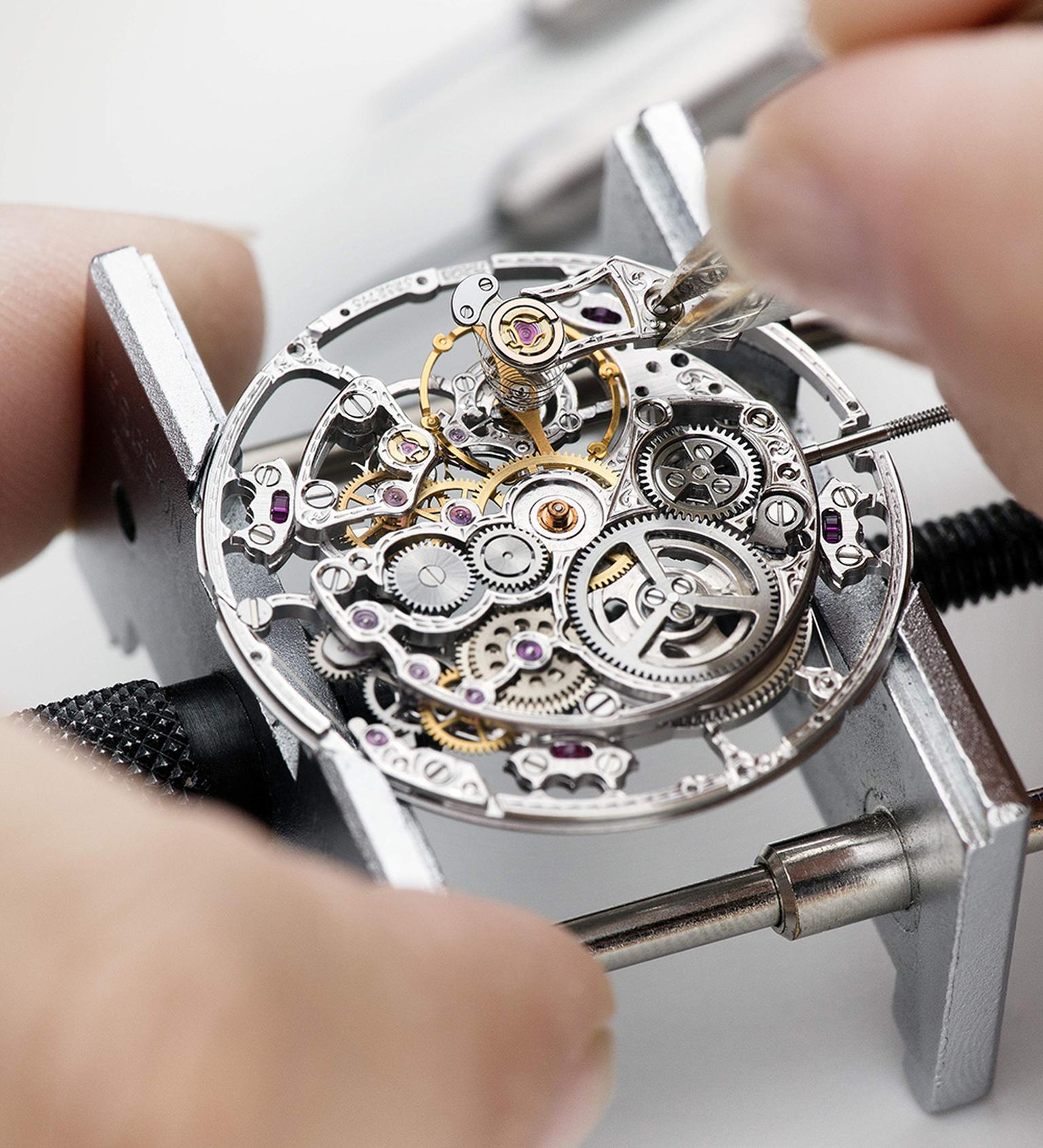 Have you ever wondered about the intricacies involved in enamelling a watch face or the precision required to put together a movement with parts that can only be seen through a microscope? An enlightening new exhibition in Somerset House's West Wing, hosted by Genevan watchmaker Vacheron Constantin and Walpole British Luxury, intends to show visitors first hand, with live demonstrations designed to give guests an exclusive insight into the essence of a craftsperson's art.
Running from April 4-6 and free to get in, the inaugural Crafted: Makers of the Exceptional will showcase the work of 20 of the UK's most talented artisans, who together represent the pinnacle of outstanding British luxury craftsmanship. From makers of furniture to lapidary, watches to tweed, each will demonstrate the traditional and often rare skills involved in their creative process, from raw material to finished piece, in workshops recreated at Somerset House.
The exhibition is divided into four themes - A Craft Perfected, A Tradition Preserved, A Life Devoted and A Business Nurtured - with a focus on the people as well as the products. A rare chance to chat to the dedicated craftspeople who are working to keep time-honoured skills alive in our digital age, it promises to be a fascinating insight into the artisanal talent at the heart of the luxury goods industry. Showing the different stages in the creation process of a timepiece will be Vacheron Constantin's Enamellist Anita Porchet, while jewellers Jessica Poole and Jacqueline Cullen will demonstrate the intricate skills required to bring their unique jewellery to life.
At a time when the manufacturing sector continues to dip in the UK, and with concerns about the retention of skills and apprenticeships within the workforce, Walpole and Vacheron Constantin believe it is crucial that the skill and talents of the country's craft makers are celebrated, preserved and nurtured. "Promoting arts and crafts is more than a commitment for Vacheron Constantin - it's a duty," says company CEO Juan-Carlos Torres. With their design acumen and insight, these craftsmen and women embody the creativity and excellence that makes British fashion, design and luxury so compelling to the global consumer. "The aim is to help them develop businesses that are strong, growing and sustainable in order to support themselves properly, do commercial justice to their outstanding skills and, crucially, allow them to pass these skills on," says Guy Salter, Founder and Chairman of the Walpole Crafted programme.
Crafted: The Class of 2013 will run alongside the exhibition showcasing the craftspeople being supported this year by Walpole British Luxury through its Crafted mentorship programme, of which Vacheron Constantin is the proud patron. These include fine jeweller Sabine Roemer, who will be mentored by Pamela Harper of Halycon Days, and hair accessories designer Jo Thorne, who will be working alongside Annoushka Ducas from Annoushka.
Exhibitor Angus Ross' unique rocking chair. "We bend, mould, sculpt and fold wood – always pushing to find new limits."

Exhibitor Ben Gaskell - carvers of precious and ornamental stone.

Sabine Roemer's Sharyar feather bangle, a one-off piece made from 18ct yellow gold and set with white diamonds.

Exhibitor Bridget Bailey making a necklace.

Magnificent blue suede shoes by carréducker LLP, maker of fully hand-stitched, bespoke footwear for men.

Fair Isle Knitwear by Mati Ventrillon, one of three remaining knitters making garments on Fair Isle in Scotland.

Exhibitor Jacqueline Cullen's Whitby jet electro formed pendant on silk threads. Cullen is a jewellery designer who specialises in contemporary Whitby jet.

Jessica Poole's Double Trumpet ring in yellow gold with pavé diamonds.

Jewellery designer Jessica Poole handcrafting a ring in her workshop. Her workshop will be recreated in Somerset House's West Wing.

Sabine Roemer is part of The Class of 2013 exhibition at Crafted. This necklace, from the Leaf Collection, is handcrafted from 18ct white gold and precious stones.

A dress from Eloise Grey's 2012 summer collection, which features hand-pleating with one of the few steam pleaters in the country.

Flora lanterns by exhibitor Rothschild & Bickers - one of a handful of glassworks still active in the UK where glass is still hand-blown.