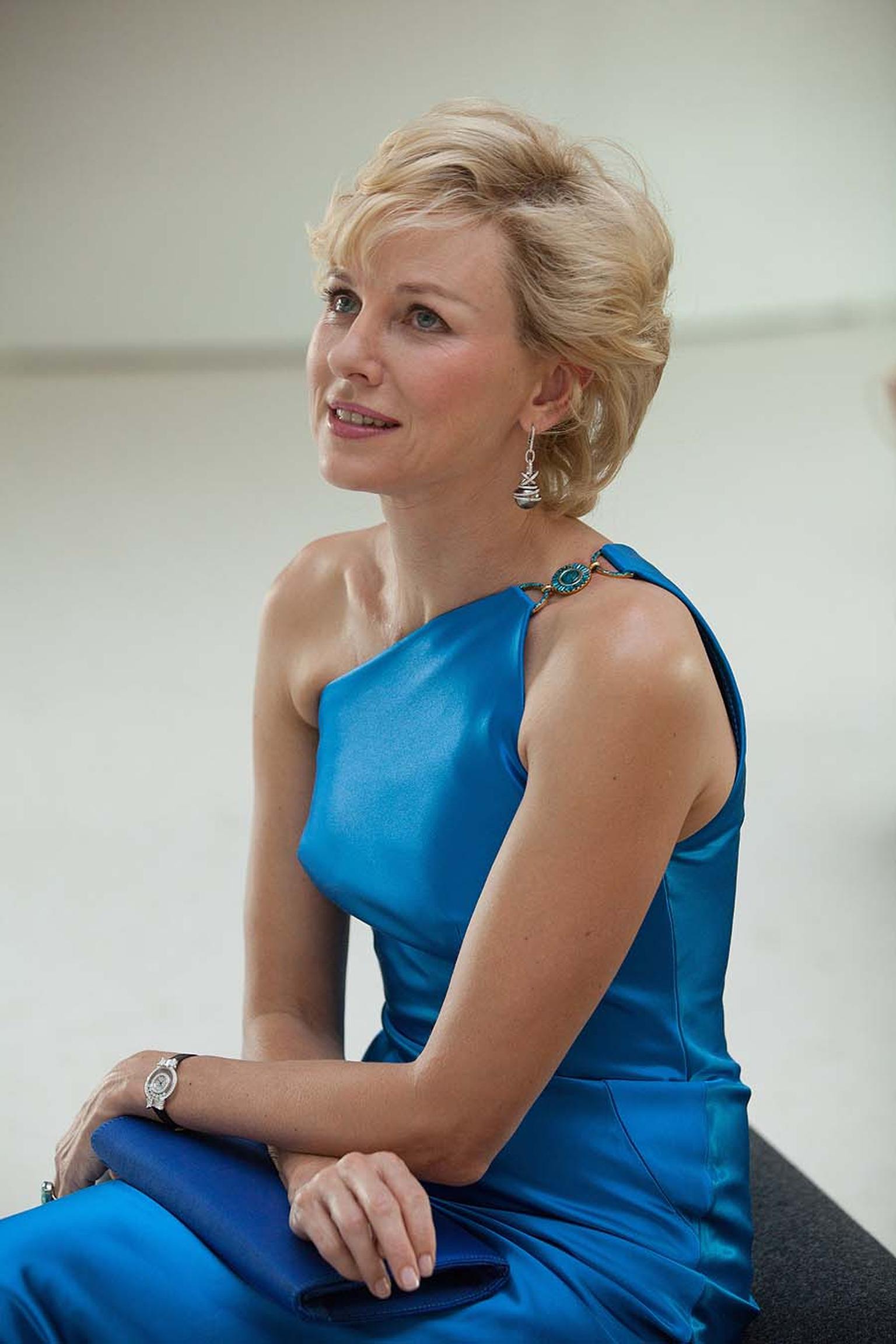 Chopard recently announced its latest big screen role as official jeweller 'Diana' the movie, a royal biopic about the late Princess of Wales that opens in cinemas this September. In the trailer for the film, actress Naomi Watts, who plays the troubled princess, wears one-off high jewellery necklaces and classic earrings, chosen by the Swiss jeweller to reflect Diana's inimitable style.
Stills of the film have been released, which show Naomi recreating famous moments in Diana's life. These include the day she stepped out in Australia, shortly after her divorce from Prince Charles, wearing an electric-blue Versace dress, and the fateful evening she was ushered into a Mercedes outside The Ritz in Paris, surrounded by paparazzi.
For authenticity's sake, it was up to costume designer Julian Day to source pieces that Diana herself might have chosen. "I realised that I was going to need magnificent jewellery," Day points out. "When the opportunity arose to work with Chopard, I knew this was going to be possible."
Chopard put together a coherent collection of jewels that mirrored Diana's style, including a pair of oval sapphire earrings reminiscent of her engagement ring and a high jewellery necklace consisting of three rows of 92 diamonds. Classic yet extraordinary pieces, they capture Diana's grace and elegance perfectly.
Caroline Scheufele, Co-President and Artistic Director of Chopard, was thrilled to work on the film. "She was a person blessed with extraordinary charisma and great elegance, both in her personality and her style. After having worked on the film 'Nine' in 2009, this new partnership was exciting, and even more so because Naomi Watts is a fantastic actress."
Plastron high jewellery necklace in white gold by Chopard, made up of three rows of 92 pear- and cushion-cut diamonds, as worn by Naomi Watts in a red carpet scene from the forthcoming movie 'Diana'.

A high jewellery diamond Chopard necklace from 'Diana' the movie, which Naomi Watts wears alongside sapphire and diamond earrings.

Chopard grey pearl earrings, as seen in the forthcoming film 'Diana'.

Chopard Happy diamonds watch, which Naomi Watts wears Chopard earrings.

The Chopard Happy Diamonds earrings that Naomi Watts wore to recreate the fateful scene outside The Ritz in Paris, the night Diana died.

Naomi Watts wore Chopard Happy Diamond earrings to film to scenes that led to Diana's fateful car crash in a tunnel in Paris.

Chopard compiled a coherent collection of jewels that reflected Diana's style, including this three-strand diamond high jewellery necklace.

One of the high jewellery diamond necklaces loaned by Chopard for the filming of 'Diana'.

Chopard sapphire and diamond earrings, chosen because of their likeness to Lady Diana's engagement ring.

Naomi Watts plays Diana, the Princess of Wales in the soon-to-be-released biopic of the troubled princess. The director of the film chose Chopard to provide the jewellery.