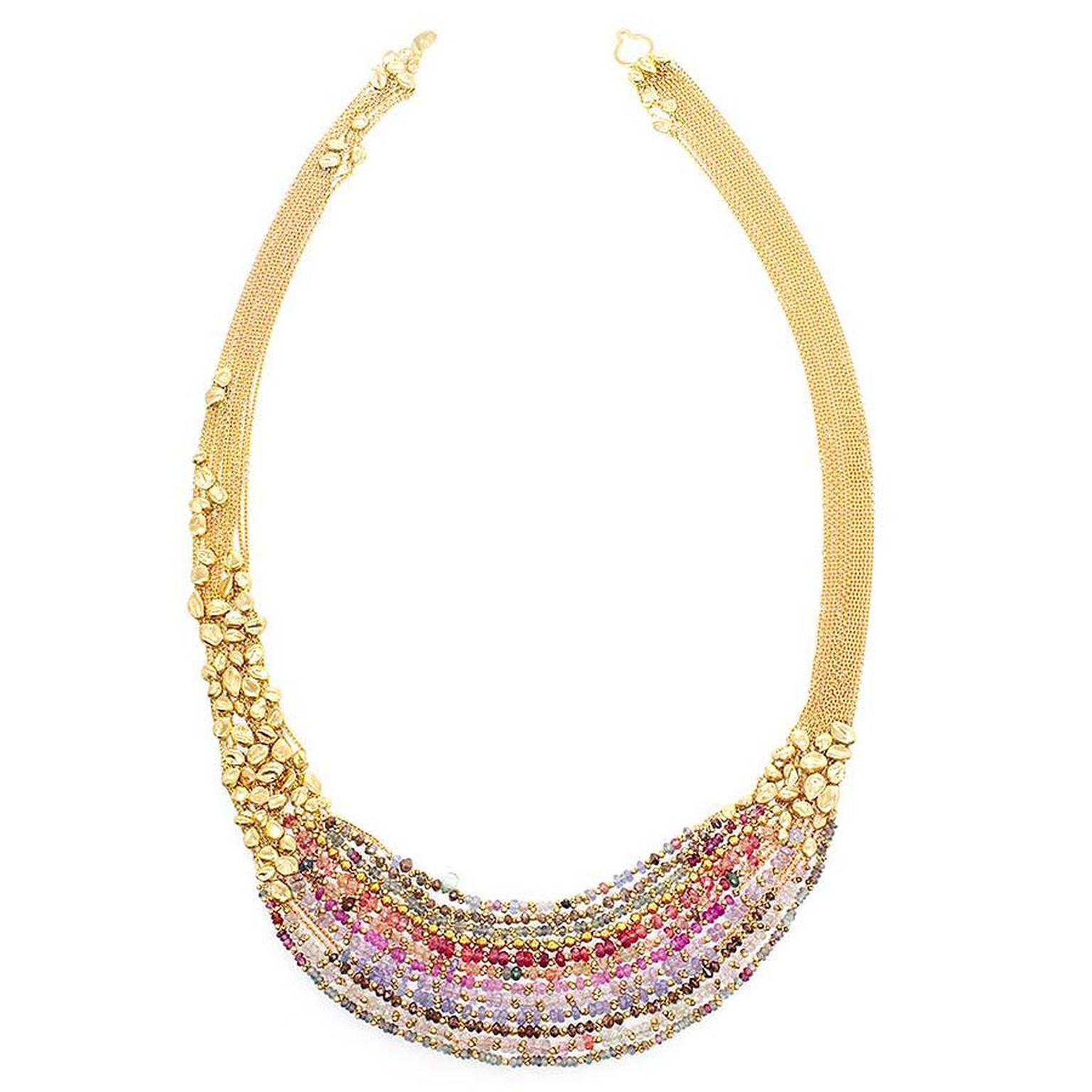 By Rebecca Doulton
Say Ibiza and most people will think of wild nightlife and non-stop clubbing. But a short drive inland reveals a bucolic world of whitewashed villages and secret coves, where every spectrum of the colour blue seems to have leaked into the sea. An islander since 2009, Natasha Collis left behind her native London and settled in the village of Sant Miquel in the northern part of Ibiza to pursue her "late blooming" passion for jewellery. The natural contours, precious stones and artistic freedom from conventional tenets light up Natasha's gold jewellery with rays of Iberian sunshine.
With a degree in fine arts from Slade, Natasha's initial calling was painting. Her studio, which she maintained by taking odd jobs and working as an assistant to Christopher Farr, did not, however, fulfil all her artistic yearnings and she admits that her "paintings were far too controlled". A trip to New York and a sojourn in jeweller Jessica Rose's Soho studio changed all that. "She had a huge loft and I started tinkering with her tools. I was fascinated with the sensations. I had finally found my medium," she tells me. "By 1997 I was spending more time making jewellery for my friends than painting."
Like so many of Ibiza's settlers  - from the Phoenicians who sailed here in 654BC, followed by the Carthaginians, Romans, Vandals, Byzantines, Arabs and Ottomans, to the hippies in the 1960s - Natasha was bewitched by the beauty and serenity of the Balearic island. "I fell in love with the energy of Ibiza. I liked the idea of living somewhere else, of being free and in an environment where you can be yourself. I found my signature."
It is easy to see the correlation between the natural bounties of the island - its light, its colours - and her jewellery. Asymmetric gold nuggets - a key motif in her collections - gleam with irregular shaped diamonds and precious stones, which transmit the warmth of the sunlight and recreate the patina of sea-worn pebbles on a beach. Strands of different-coloured stones in her Precious Colour Stories line - rubies, emeralds, tourmalines, spinels and coloured diamonds - cascade from the earlobe or encircle the neck in a statement of casual, artistic refinement. Natasha works on at least two statement pieces a year and has just finished a commission for Gemfields, the ethical mining company.
Working from her studio-showroom, housed in a rustic 300-year-old building with beamed ceilings and stone floors, Natasha confesses that her lack of formal training as a jeweller is actually an advantage, allowing her to develop a unique way of working metal. She works the gold while it is still hot to create natural, organic shapes, somewhat like a Murano glass blower breathing life into a molten blob of glass.
Like an opulent Lego set, most of Natasha's jewellery can be layered, stacked and built upon over time.  For starters, she suggests a basic nugget necklace combined, perhaps, with a Colour Stories necklace and a stack diamond ring. Although the gold coral-like diamond-encrusted cuff and the feathery fringe necklace would look so nice with my flowing white beach dress...decisions, decisions.
Natasha Collis Triple Chain Nugget necklace in yellow gold, with 50 gold nuggets arranged over three different length chains (€3,700).

Natasha Collis Treasure necklace in yellow gold, with tourmalines, agate stones, spinel drops, grey sapphires, peach sapphires, black diamonds, grey diamonds and sapphires (€14,758).

Natasha Collis Full Treasure necklace in yellow gold with grey sapphire beads, toumalines, rough grey diamonds, rough black diamonds, peach sapphires and sapphires (€14,085).

Natasha Collis Gemfields Collaboration Emerald necklace, a one-off piece created in 2013, set with over 7.00ct Gemfields emeralds into a mix of yellow and rose gold, currently on display in Natasha's Ibiza showroom (€45,690).

Natasha Collis Small Gold Cuff in yellow gold, made up of small interlinking hand-melted nuggets inlaid with white diamonds (€16,000).

Natasha Collis Treasure yellow gold earrings with grey sapphires, peach sapphires, spinel drops, black diamonds and grey diamonds (€7,555).

Natasha Collis yellow gold multi-strand earrings with hand-melted gold rods and rough peach sapphires (€1,585).

Natasha Collis Chandelier earrings in yellow gold, made up of interlinked nuggets with a suspended waterfall of chains and nuggets ((€5,095).

Natasha Collis' showroom in Sant Miquel, Ibiza.

Natasha Collis at the Gemfields launch.

Natasha Collis Colour stacking rings. These stones - in this case pink sapphires - are specifically chosen for their individuality then set into one of Natasha's hand-melted gold nuggets (from €1,800).

From Natasha Collis' classic collection, these Stack Diamond rings are individually melted and shaped, making each one unique (from €1,500 - €3,310).