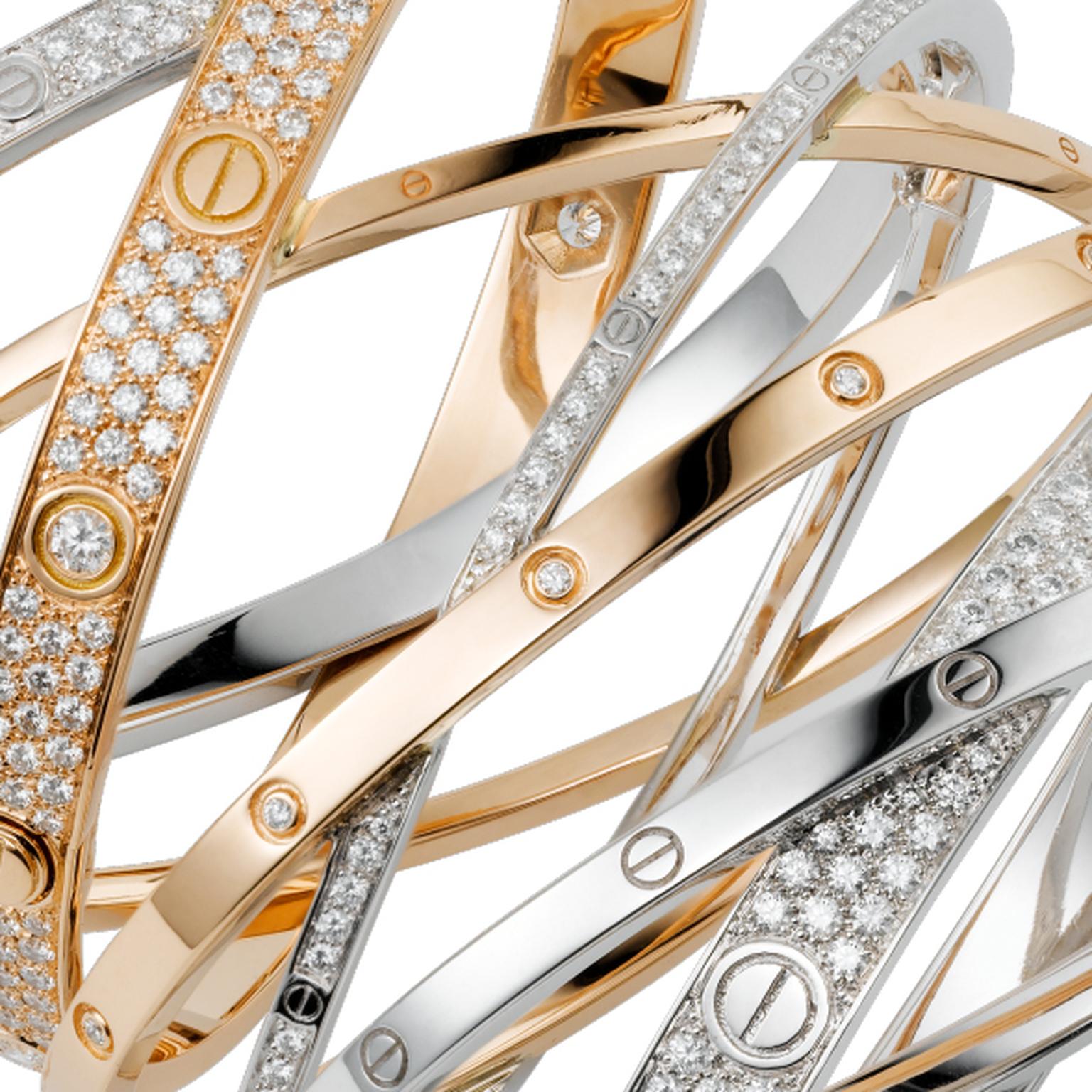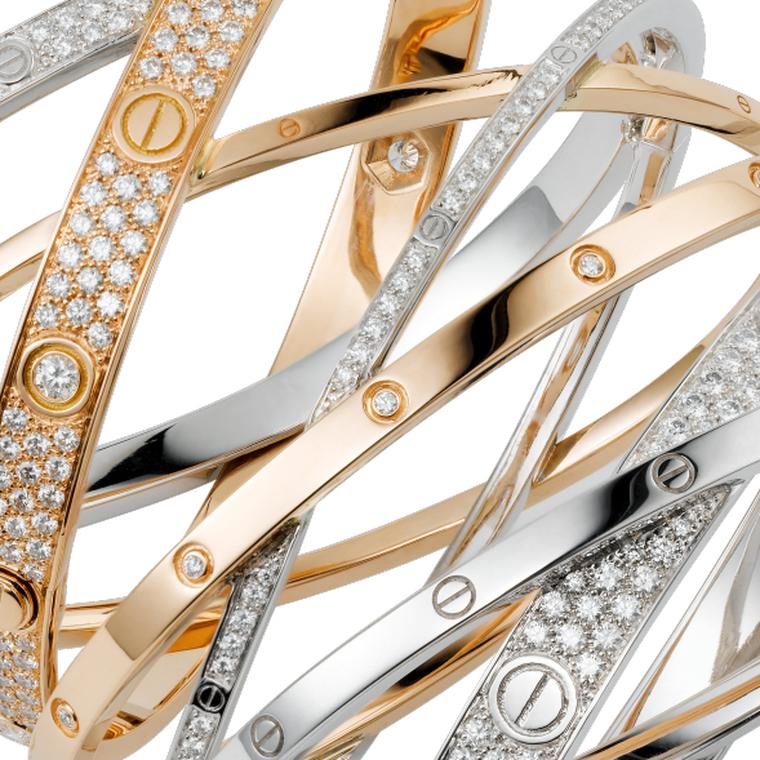 For more than 45 years, the iconic Cartier Love bracelet has been locked onto the wrists of those who want both a stylish and symbolic jewel, and one which represents commitment, fidelity and eternal love.
Not only have Cartier Love bracelets come to mean enduring devotion, but also everlasting chic. From its creation in the "Make Love Not War" era of the late 1960s, women are still head over heels with the original style as well as the myriad variations that have been launched since.
Read more about famous Cartier jewels
Created by designer Aldo Cipullo, who was inspired by ancient cultures and influenced by the medieval chastity belt, the Cartier bracelet is fitted onto the wrist in two parts, secured with a small screwdriver, and is to be worn "till death do us part". The screwdriver can also be worn as a unisex necklace - a smart move in the era of feminism.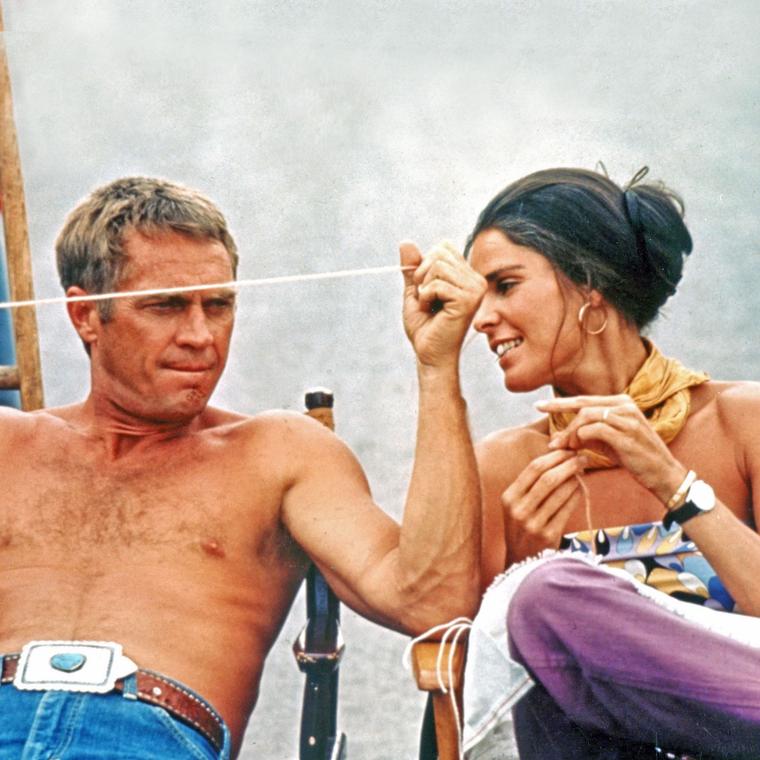 At the original launch at its boutique in New York, Cartier jewellery presented twin bracelets to 25 of the world's legendary couples of the time, including Elizabeth Taylor and Richard Burton, Sophia Loren and Carlo Ponte, and the Duke and Duchess of Windsor. Other couples that owned the bracelets were Nancy and Frank Sinatra, Dyan Cannon and Cary Grant, and Ali MacGraw and Steve McQueen. MacGraw wore her bracelet throughout the filming of The Getaway, and Liz Taylor wore hers in the movie X, Y & Zee.
Read more about Elizabeth Taylor's iconic Cartier jewellery
Modern-day celebrities still wear Cartier Love bracelets, and they have been spotted on famous wrists such as Cameron Diaz, Pippa Middleton, Sofia Coppola, Lindsay Lohan and Angelina Jolie. Today, however, the bracelet is also given as a present upon the birth of a child or as a gift to oneself to celebrate a special event.
In an interview with Cipullo after the Cartier Love bracelet's creation, he said: "What modern people want are love symbols that look semi-permanent or at least require a trick to remove. After all, love symbols should suggest an everlasting quality." When Cipullo innovated the Love bracelet, he didn't have to consider beepers going off at airport security lines or trying to explain to a guard who doesn't know what the Love bracelet is, "No sorry, I can't take it off". In Manhattan, it has been reported that hospitals keep the small screwdriver on hand in case of an emergency.
The Love collection is the largest and most successful in the brand's history and has grown to include Cartier rings, earrings, cufflinks and multiple versions of the bracelets with diamonds and coloured gemstones in pink, yellow and white gold. In addition to its original sentimental value, the Love bracelet is a timeless fashion staple that works with other fine jewellery pieces such as delicate diamond bangles or Victorian serpent bracelets, which is a relief since it is designed to never come off.
The Cartier Love bracelet, like this pink gold version set with pavé diamonds, has been locked on the wrists of many celebrities, from Elizabeth Taylor to Angelina Jolie.

Cartier Love bracelets were given to 25 of the world's legendary couples, including Steve Mcqueen and Ali McGraw, who wore her bracelet during the filming of The Getaway. Photo Courtesy of The Kobal Collection.

"What modern people want are love symbols that look semi-permanent or at least require a trick to remove. After all, love symbols should suggest an everlasting quality," said designer Aldo Cipullo, creator of the Cartier Love bracelet, shortly after it was launched.