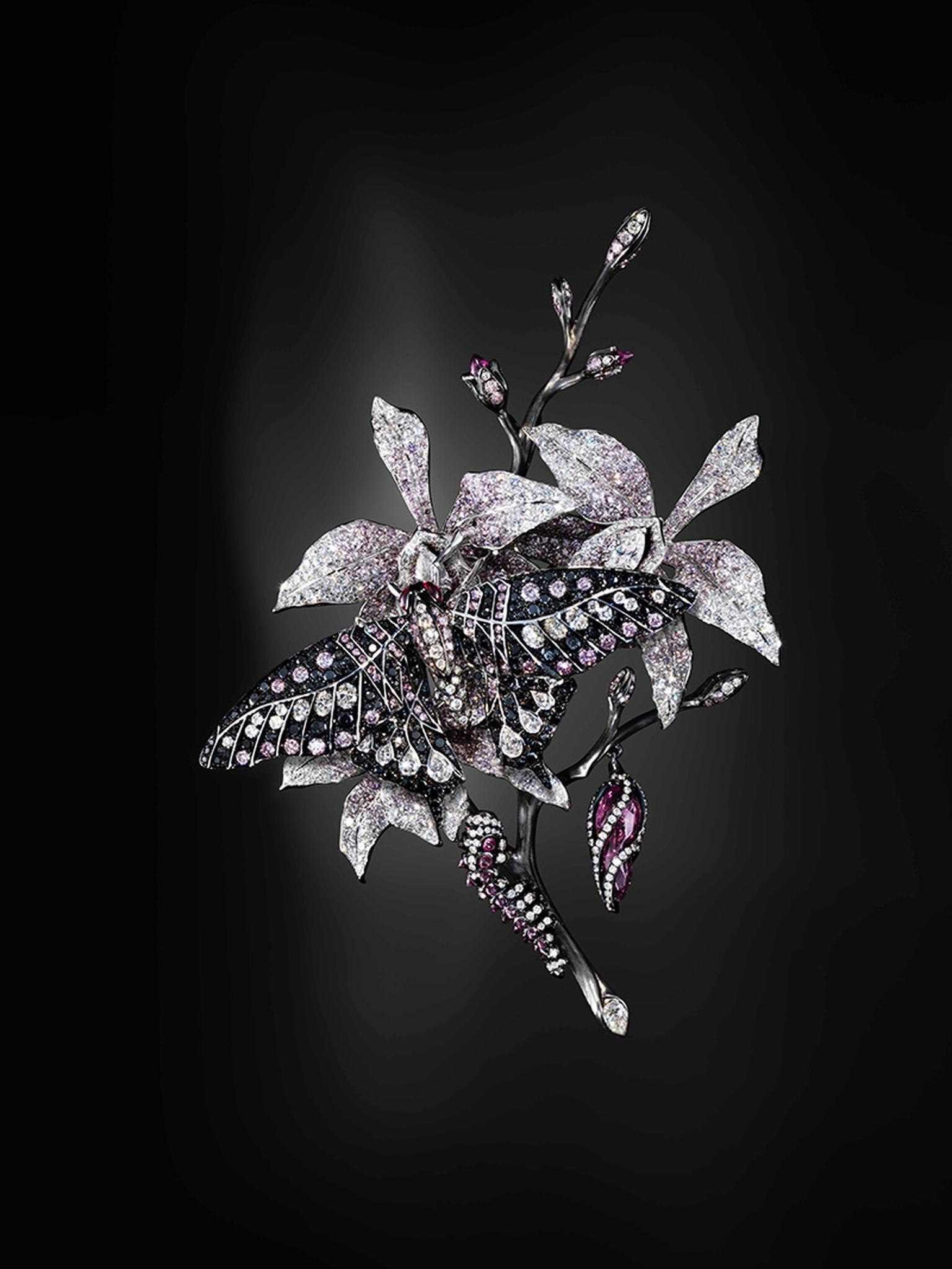 Carol Woolton, jewellery editor of UK Vogue, author and leading international authority on jewellery has brought an extra dose of brilliance to Masterpiece London. Occupying a prime location at the exhibition, this darkened exhibition space, called "Brilliant" is home to a rare collection of diamond jewels that explores the creativity and versatility of the top jewellery designers of our time. From a collar set with bars of black diamonds designed by Karl Lagerfeld to a diamond chandelier by Solange Azagury-Partridge or a dusky moth brooch by Jack du Rose, here is the place to see diamonds like you have never imagined them before. 
Challenging us to think differently about these precious stones, diamonds are transformed into a zip by Van Cleef & Arpels, crafted into a handbag by Hèrmes or shining out from the miniature jewels for a the black skull of an imaginary king that sits around your neck.  According to Carol Woolton:"With the Queen's Diamond Jubilee putting a spotlight on the Crown Jewels and historic Royal Regalia, "Brilliant" will show how diamonds, imbued with their own billion year old history and majestic role in Britain's heritage, remain relevant in our modern lives and at the forefront of ground-breaking contemporary design". 
The exhibition is structured according to four artistic disciplines -art, architecture, fashion and sculpture- to provoke surprise and discussion about the role of the world's most coveted gems. Whether incorporated into decorative artistic works such as chandeliers, seen as objects of beauty , or used as fashionable fastenings in the form of diamond zips, cuffs and collars, the exhibition asks us to consider the enduring hold diamonds have over us, or simply to enjoy the spectacle of such a rich variety of imagination and workmanship and a whole lot of carats.
Masterpiece London runs from 28 June to 4 July at the South Grounds of The Royal Hospital Chelsea, London SW3. True to the fair's commitment to showcase the best of the best, "Brilliant" promises to wow visitors with the finest diamond jewellery, as well as diamond performance art and never-before-seen, innovative one-off pieces.
Comète Chanel, a re-edition of Gabrielle Chanel's original design from 'Bijoux et Diamants' diamond jewel collection in 1932 with a 4 carat central diamond.

Forever by Stephen Webster features a diamond brooch that pins onto the work of tatto artist and can be detached or displayed with the dragon art work.

One of Victoire de Castellane's earlier collections included the Dior Roi d'Obsidienne pendant of carved rainbow obsidian and 376 diamonds weighing 21.39 carats.

Michelle Ong Sun Wave earrings Carnet Jewellery with 40.59 carats of diamonds carved in unusual shapes to create a surprising lightness.

jackduRosemothHP

Adler Pendant in white gold set with one pear-shaped diamond and diamonds with fancy Intense Yellow cushion cut diamond.

Adler necklace in carbon and white and yellow gold set with brown diamonds.

Jacqueline Cullen Whitby jet ring.

Collar by Karl Lagerfeld for Net-a-Porter.com with rhodium plated silver set with 1,000 black diamonds weighing over 40 carats and 22.23 carat hydrothermal (man made) emerald.

Cindy Chao Majestic Beauty fan in collaboration with Forevermark Diamantaire, Plucznik and Global Diamond Jewellery Co. set with 2,399 diamonds weighing 310.27 carats

Hubris brooch by Jack du Rose, from the Danger collection.