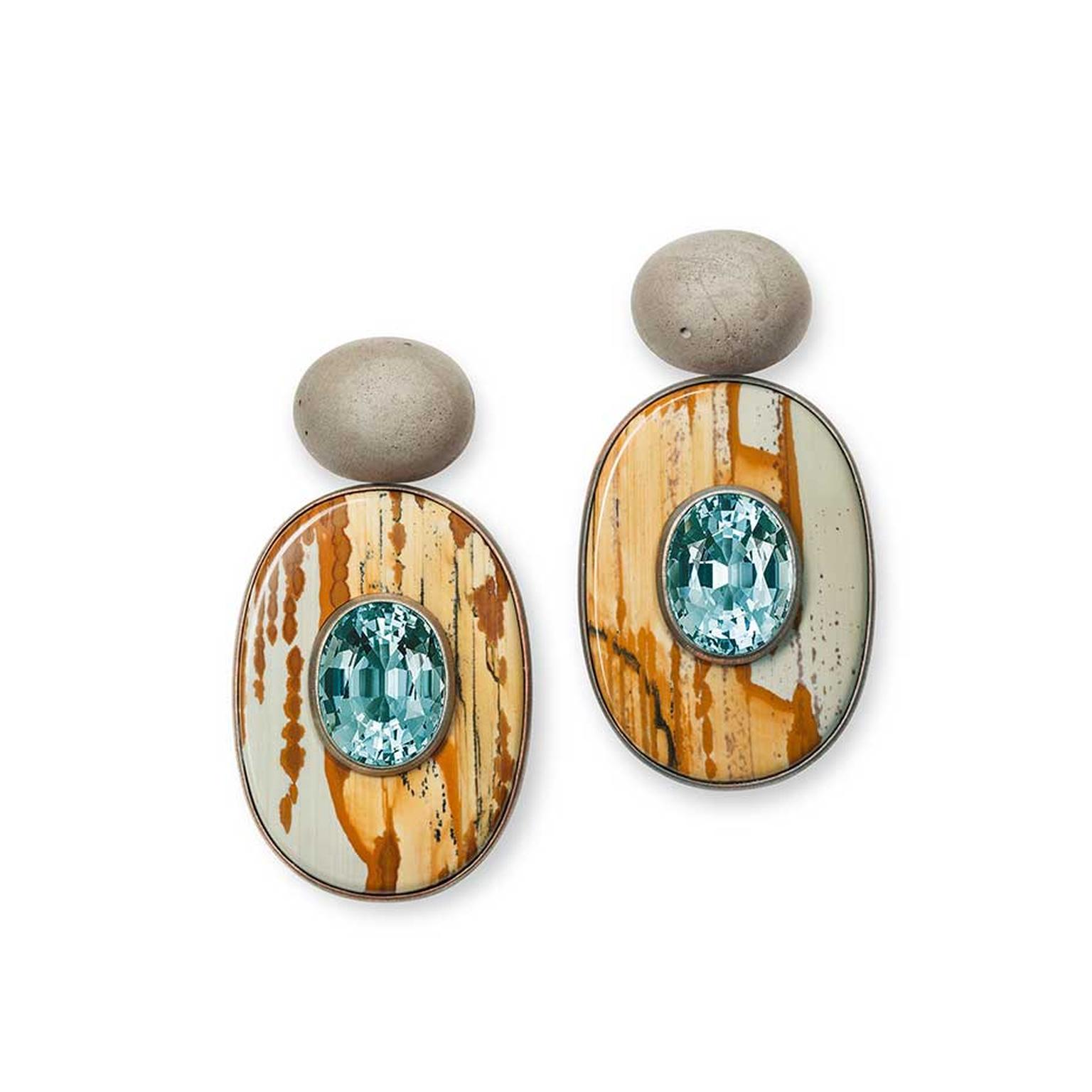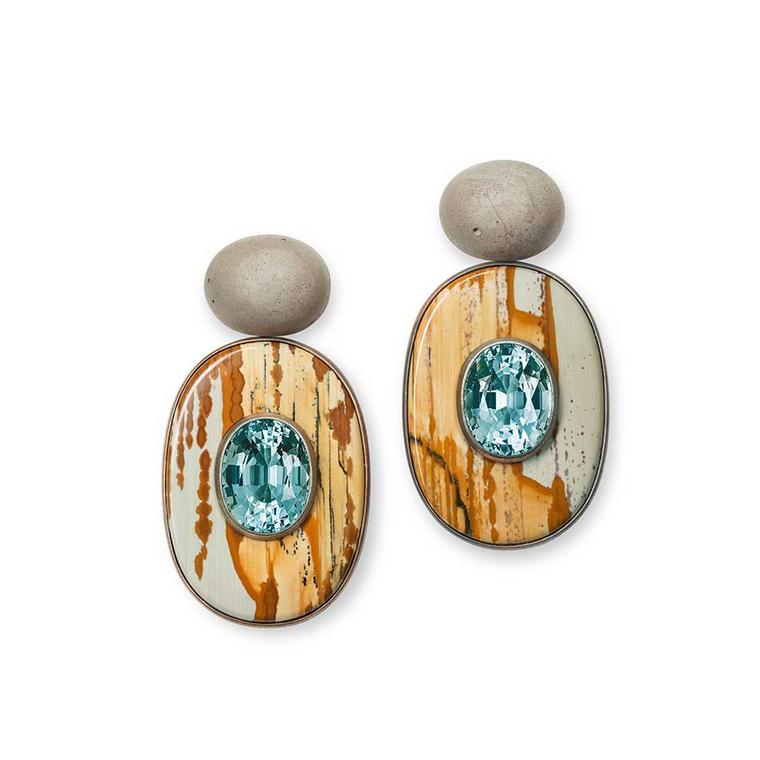 Masterpiece London, the art, antiques and design fair, runs from 26 June to the 2 July 2014. Now in its fifth year, it is increasingly becoming a destination for jewellery lovers. Amongst the statues, art and paintings is an exciting and carefully curated selection of exceptional jewels and watches, both old and new, all of which are for sale.
I have had a little look at some of the jewels and watches on display and here is what I think are some of the most exciting pieces on show.
I always head straight to Siegelson, the New York specialist who focuses on rare jewellery and particular fine gemstones and diamonds - in short, expect the very best from Siegelson. I particularly like the 1926 natural pearl and emerald pendant or brooch by Van Cleef & Arpels. The graduated stones and elongated baguette diamonds and just the splash of green are the quintessence of Art Deco style.
In total contrast is the Art Modern Gold and Ivory Tranche cuff by famed designer Suzanne Belperron and Jeanne Boivin, created for the house of René Boivin in 1931. Originality of materials, in this case ivory and gold disks, geometry and simple lines make this a fine example of the modernist movement.
Duke Fulco di Verdura founded his brand in 1939 along with his famous friends Cole Porter and Vincent Astor and made his name making jewels for demanding and stylish women such as Gabrielle Chanel. Today, the firm continues to make jewels that remind us of those worn by Gabrielle herself. These are made of mammoth ivory or black jade with diamonds, pearls and gold in the form of a Maltese cuff.
London antique jewellery dealer Symbolic & Chase has a beautiful example of a rare Cartier Tutti Frutti brooch from the 1920s that brought together the Cartier brothers' love of colour, inspired by their visits to India. But I have to say, I would love that Boucheron lapis lazuli clock on my desk to gaze at hour after hour.
Wartski, the London-based house that recently exhibited the Third Imperial Easter Egg and is known for its huge knowledge in all things Fabergé, has a delightful group of Fabergé enamelled picture frames, together with a cute pair of golden angels carrying a large diamond topped with a bright red ruby flame by Boucheron.
Fred Leighton of New York, known for vintage jewels from the Georgian era right through to the mid-20th century, brings us a hauntingly beautiful Belle Epoque butterfly brooch that trembles with each move.
One of the most intriguing and ancient jewels you will find here is a Ming dynasty cabochon ruby and natural pearl necklace at Susan Ollemans Gallery, which specialises in Early Oriental Art.
Closer to home and more recent is the work of Andrew Grima. The Grima name is being kept alive by his wife and daughter Francesca, and on sale are original pieces such as a gold and lapis lazuli or tourmaline and diamond brooch made by Andrew Grima, as well as designs by his daughter.
Another British brand that has been at Masterpiece from the start is Theo Fennell. This year look out for a ring and necklace featuring emerald beads from Gemfields' mine in Zambia: the larger of the two weighs an impressive 65.3 carats. And showing his characteristic quirky sense of humour, Fennell's Stable Door cufflinks and pendant are for the horse lover who wants to keep their beast close to hand. The miniature enamel painting can be fully appreciated once the hinged stable door is fully opened, and Fennell can even personalise them with a hand-painted portrait of your own horse. 
Bogh-Art, the Geneva based jeweller, is run by the fourth generation of the Boghossian family, and they are exceptionally skilled in finding innovative ways to set diamonds and precious stones. The Kissing Diamonds ring has an original construction with a diamond set inside a sapphire. The effect is stunning.
The Munich-based house Hemmerle turns convention on its head in a most beautiful way by combining the most precious stones with more humble materials. Its aquamarine earrings are set into slices of jasper with concrete, copper and gold.
Suzanne Syz's 'Take it or leave it' earrings are a humorous addition to Masterpiece. Made of enamel and diamonds, they are skilfully crafted yet light-hearted.
Adrian Sassoon is showing the work of an artist-jeweller from Italy called Giovanni Corvaja, who challenges himself to create the impossible. His Golden Fleece headpiece uses kilometers of  fine gold wire to create a fur-like pelt from almost invisible gold thread. It took 2,500 hours to make.
Making its first ever appearance at Masterpiece, Jaeger-LeCoultre marks the moment with the impressive Hybris Artistica collection of 12 outstanding timepieces, which showcase its range of artistic talent and rare handcrafts by embellishing some of its most famous models and complications.
The Jaeger-LeCoultre Duomètre à Grande Sonnerie watch is nothing less than the most complicated watch in the world, which is reason enough to go and see it, and you may even be lucky enough to hear it strike the hours to the chimes of Big Ben. Its sister, the Duomètre Sphérotourbillon, features a dramatic staggered frame descending to the suspended spherical tourbillon. The Duomètre Sphérotourbillon pocket watch is the first time a spherical tourbillon has been incorporated into a pocket watch.
So those are my top picks for Masterpiece London 2014, but do spend a day there yourself then I'm sure you will agree with me - Masterpiece London is bit like wondering round a museum, but you can buy everything.
Boghossian Kissing Diamonds ring with a diamond set inside a sapphire.

London antique jewellery dealer Symbolic & Chase's example of a rare Cartier Tutti Frutti brooch.

Wartski's Fabergé enamelled picture frames.

Fred Leighton Belle Epoque butterfly brooch.

Siegelson will be bringing this Van Cleef & Arpels diamond, emerald and pearl brooch dating from 1926.

Andrew Grima gold brooch with tourmalines and diamonds.

Andrew Grima brooch with yellow gold textured wire, cognac diamonds and lapis lazuli.

Theo Fennell gold Stable Door cufflinks, handcrafted in London.

Ming dynasty cabochon ruby and natural pearl necklace at the Susan Ollemans Gallery.

Theo Fennell white gold ring with a Gemfields emerald bead (38.70ct) surrounded by pavé diamonds and topped with a ruby.

Boucheron lapis lazuli clock.

At Siegelson one will find the Suzanne Belperron and Jeanne Boivin Art Modern gold and ivory Tranche cuff, created for the house of René Boivin in 1931.