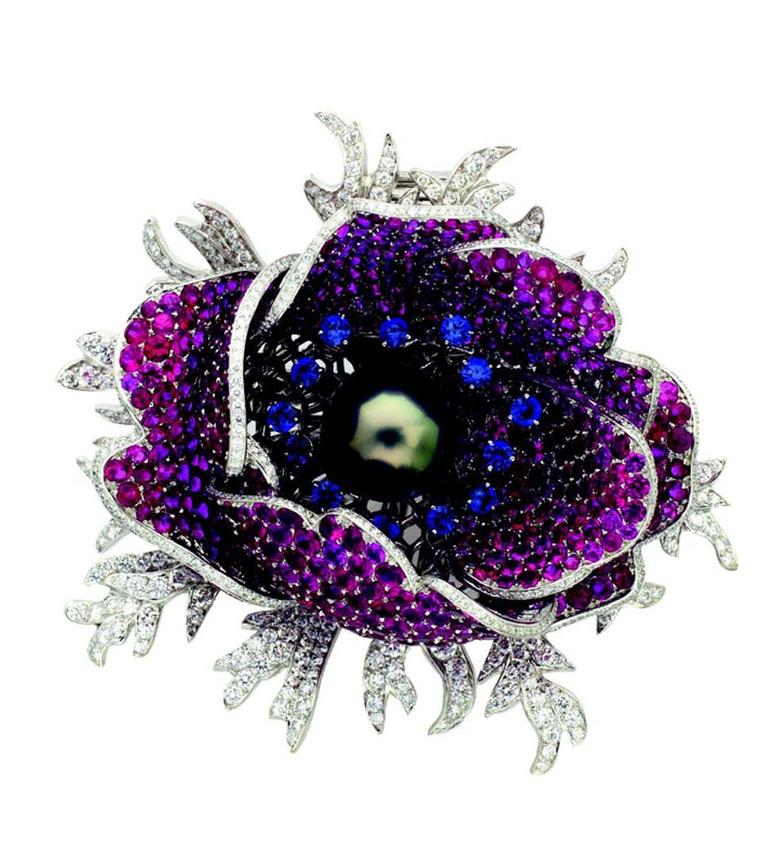 By Ase Anderson in London
From Chanel's camellia to Christian Dior's lily of the valley, flowers have been a constant source of inspiration to jewellers throughout the ages.
A new book by Carol Woolton, the jewellery editor of British Vogue magazine, explores the history of floral jewellery through the eyes of some of the world's leading designers. Divided into four seasons, the book captures some of the finest floral jewels in history in a series of 200 beautiful photographs, illustrations, sketches and gouaches. 
Delving into the vaults of the world's most respected jewellers, Woolton expertly guides the reader through the history of flowers in fine jewellery. The journey takes us from the botanical pieces created by old masters such as René Lalique and Peter Carl Fabergé on to the Belle Époque and into the 1920s, when Gabrielle Chanel first started incorporating her favourite flower, the camellia, into her jewellery designs.
Fast forward a few decades and in 1954 Christian Dior is designing his famous lily of the valley collection, while the rose de Noël - Christmas rose - has become synonymous with Van Cleef & Arpels.   
The elusive Parisian jeweller Joel Arthur Rosenthal - also known as JAR - has written a foreword to the book, and his marvellous floral pieces are featured in the 172-page tome, along with Cartier's orchids and more modern designs by the likes of Victoire de Castellane.Woolton is a leading authority on antique and contemporary jewellery and has previously written Drawing Jewels for Fashion and Fashion for Jewels. Published on 1 October 2014 by Prestel, this lavish book is the perfect Christmas gift for anyone who is passionate about jewellery.
Jean Schlumberger's Daisy brooch from 1950 with yellow and white diamonds and amethysts © Christie's Images Limited.

Suzanne Belperron Daisy brooch from the 1950s © Christie's Images Limited.

Fabergé's Dandelion brooch, circa 1900. Image courtesy of Wartski, London.

Boivin Foxglove brooch from 1944 with tourmalines and emeralds © Christie's Images Limited.

Verdura's 1956 Lily of the Valley brooch with pearls and diamonds © Verdura.

Anna Hu's Art Nouveau-style Celestial Lotus necklace features natural Fancy Intense vivid yellow, grey and white diamonds, natural Burmese rubies, Colombian emeralds, demantoid garnets, tsavorites, and multi-coloured pink sapphires, set in titanium.

Gimel's platinum Lotus brooch from 2001 featuring a flower head with pavé-set pink and colourless diamond petals leading to a circular-cut demantoid garnet and yellow diamond leaves. © Gimel Trading Co., Ltd.

Cartier's Orchid brooch, created in 2010. Image by: V. Wulveryck © Cartier.

Inside her new book, author and jewellery editor of British Vogue, Carol Woolton, expertly guides the reader through the history of floral jewellery, accompanied by a series of 200 photographs, illustrations, original sketches and gouaches.

Boivin's Violet from 1962 © Christie's Images Limited.

Chopard's 2013 Red Carpet collection Poppy necklace featuring pavé-set ruby petals, a similarly set bud and golden sheaves of wheat © Chopard.

Van Cleef & Arpels 2008 Garance Poppy clip set with rubies, blue sapphires and a grey cultured pearl © Van Cleef & Arpels.