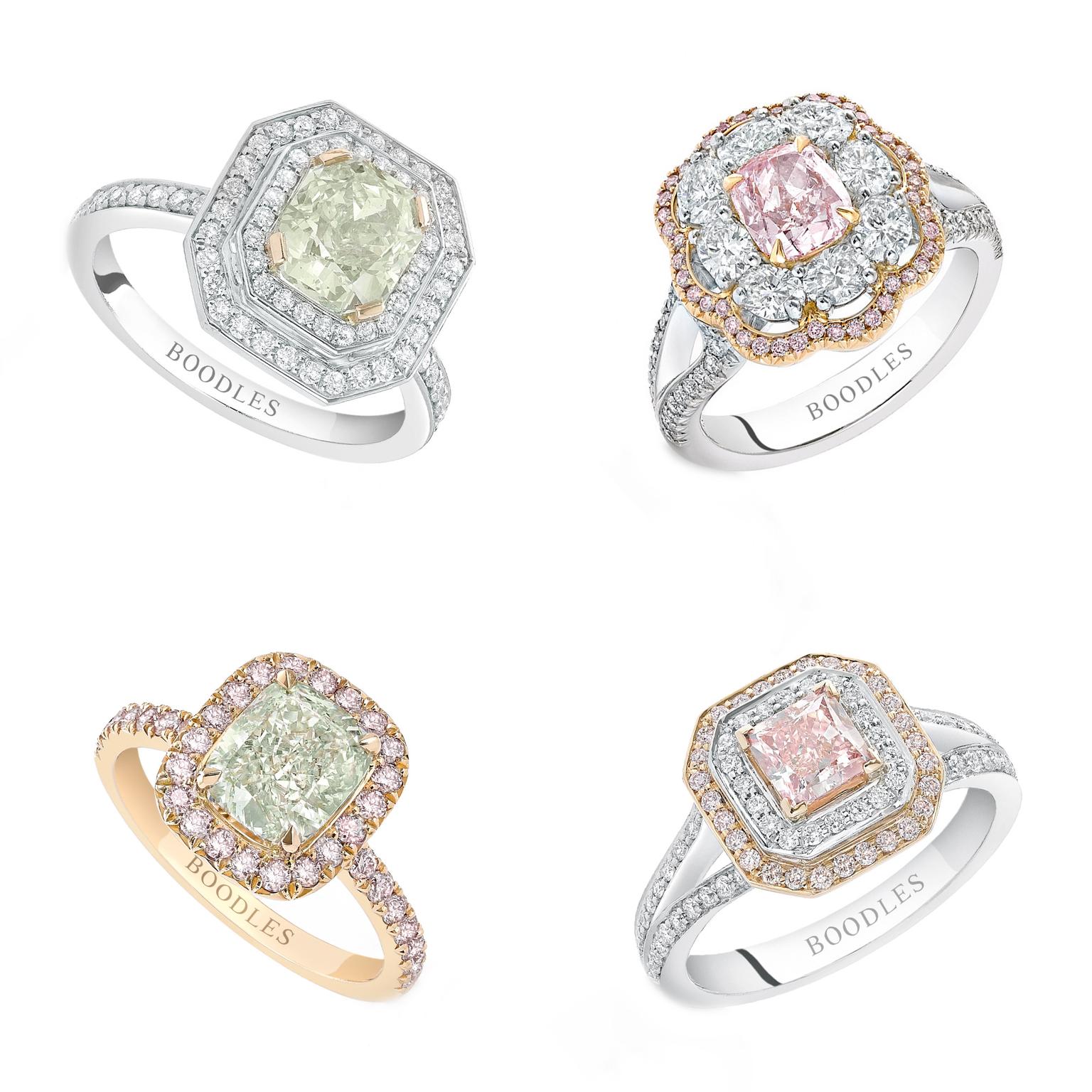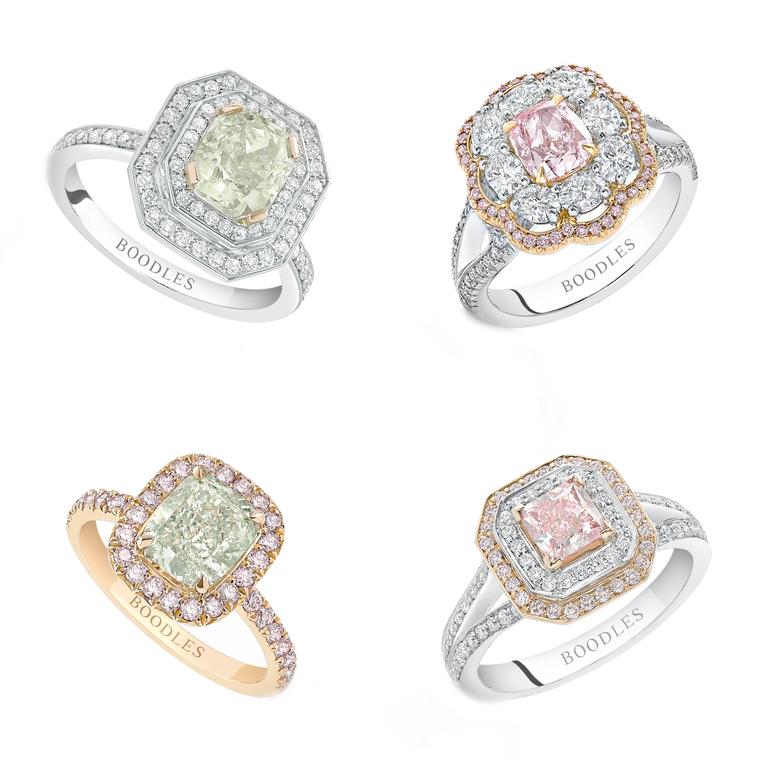 Walking into a room with dozens of coloured diamonds is like seeing a perfect rainbow shimmering across the horizon; you simply can't believe your eyes. But unlike rainbows, these rare diamonds are here to stay, their delicate colours set for eternity in a new collection of Boodles jewellery that showcases their beauty in some 40 unique pieces.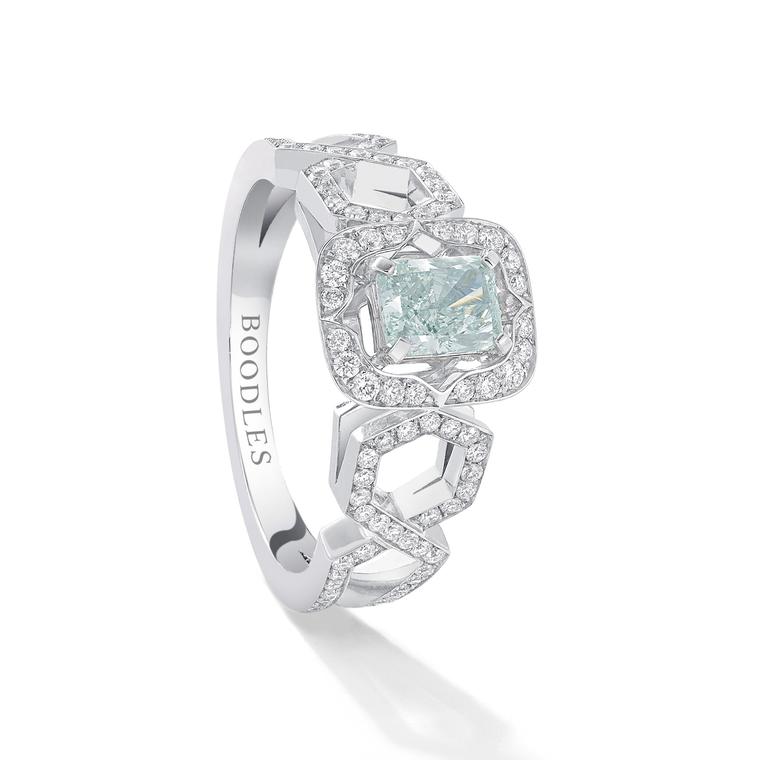 The collection is in fact an assembly of four different Boodles collections - Mosaic, Wisteria, Prism and Swirl - as well as unique one-off pieces showcasing spectacular coloured carats in hues that span the chromatic palette from green and violet, to yellow, pink and blue diamonds and which have taken the family-run firm years to gather.
Though rare and of great value, each jewel is extremely feminine and very wearable. The collection includes Boodles necklaces that can be worn either long or doubled up. And the mismatched earrings and heart-shaped diamonds make this a very modern way to wear precious gems, whose value lies in their colour, not merely their size. I tried on each and every jewel so can confirm that, despite their price tag, they are all easy to wear thanks to their finely articulated links, smooth surfaces, and ability to drape over the skin.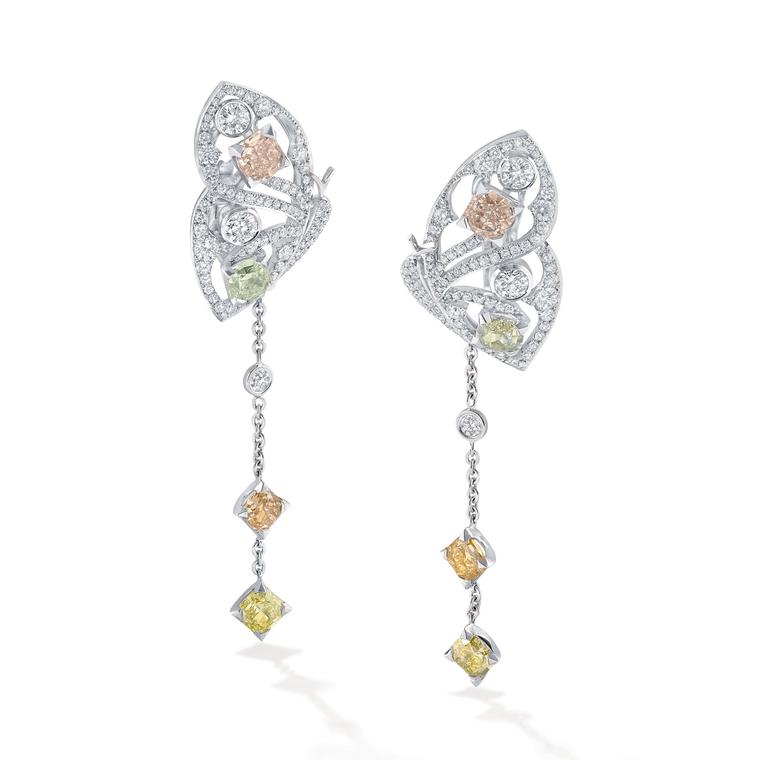 Rebecca Hawkins, head of design at Boodles, focussed on flowing forms, as seen in the Wisteria pendant with its sensual pear-drop shape that ends in a finely tapered point. The Swirl design is full of movement, yet light and airy, while the delicate openwork Butterfly pieces are decorated with soft pastel-coloured diamonds for a fairytale take on nature. Ashoka, heart-shape and marquis diamond cuts also add to the dynamism of these spectacular jewels.
The halo-style diamond setting is a perennial favourite, but when treated to coloured diamonds, it takes Boodles engagement rings into a new stratosphere with pink, green or blue diamond central stones. The Wisteria diamond necklace with its soft pink stone from the Argyle mine in Australia is a beautifully romantic design, and comes with a matching bracelet and earrings.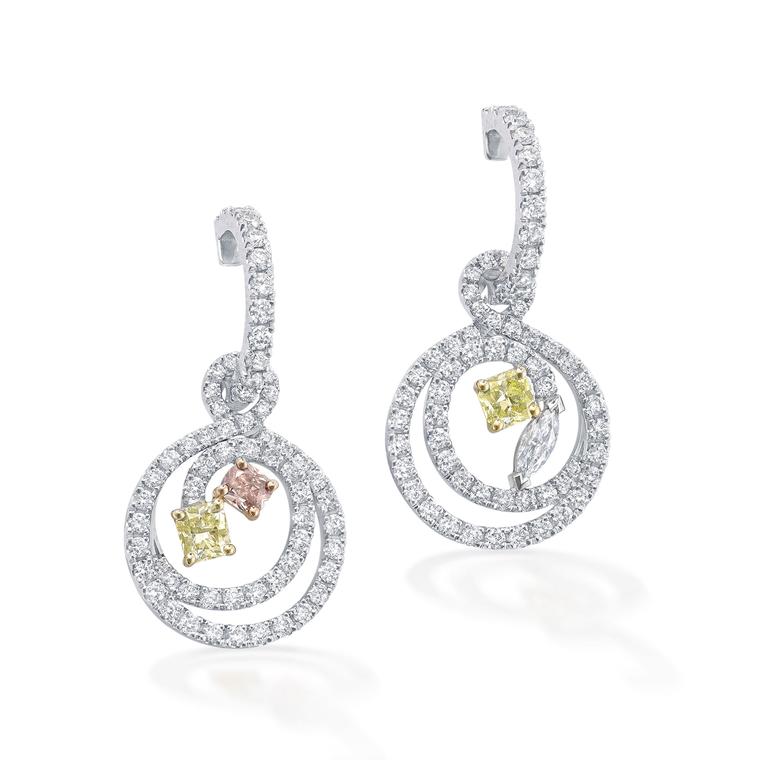 The man charged with hunting down these rare diamonds is Jody Wainwright, Director at Boodles and head of gem sourcing, and the sixth generation to work in the family business. He spent more than three years gathering together this kaleidoscope of diamonds, cherry-picking pinks from the Argyle mine in Australia, greens from Puerto Rico, and sunshine yellows from Zimmi in Sierra Leone. "For me, green diamonds are the most interesting," explains Wainwright. "On the value scale, reds are at the top, then greens, and blues are on a par with pinks. But I think green diamonds have been overlooked - they are very rare and have a lovely radiant colour and incredible intensity."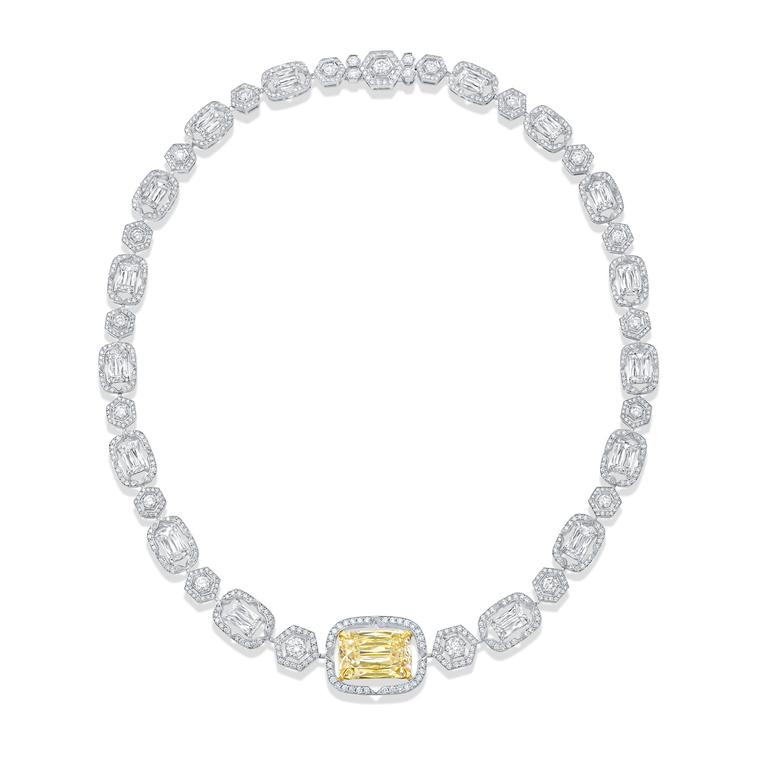 The most spectacular jewel in the Finely Coloured collection is the Mosaic diamond necklace and matching ring. A 12.00ct light yellow Ashoka diamond sits regally at the centre of the necklace, flanked by even more fabulous Ashoka-cut white diamonds. Wainwright explains the magic of the Ashoka diamond cut: "This is an exceptional stone cut in New York and it is the largest our stone cutter has produced in such an intense colour. The Ashoka, which is unique to us in the UK, is a little like an emerald cut. Although it is a shallow cut, the colour remains evenly saturated and, what's more, they look 30% bigger than an emerald cut so a 3.50ct would look the same size as a 4.00ct emerald cut. You also get these nice clean planes through which you can see, what we call, the 'scissor' effect of light refracting through the diamond."
Another showstopper in this new Boodles jewellery collection is a spectacular pair of heart-shaped 2.00ct yellow diamond earrings that beamed out across the room. Wainwright explains the provenance of this impressive duo of yellows: "These stunning diamonds are gorgeous because they are so very yellow and are from the Zimmi mine in Western Africa, which is known for diamonds that are so vivid that I call them 'vivid plus'! One of these is just over 2.00cts and the other just under. The larger one came first, I found it in Antwerp, and then a year later another fellow had a similar heart, and I thought, 'Gosh, it might be identical'. I got it back to London and compared it to the other diamond and they were indeed an almost perfect match. We had to do a little work on the second diamond to make them an even closer match, and now we have two almost identical Zimmi heart-shaped yellow diamonds; and that is one of the hardest things to replace and therefore very rare."
Boodles Mosaic radiant-cut, blue-green diamond ring set in platinum from the Finely Coloured collection (£37,000).

Boodles Autumn Butterfly ring featuring a total of six coloured diamonds set in platinum (£28,000).

Boodles Wisteria pendant necklace with a pink Argyle diamond in rose gold and platinum (£50,000).

Boodles Swirl coloured diamond drop earrings set in platinum from the Finely Coloured collection (£46,850).

Boodles Mosaic necklace with a 12.62ct yellow Ashoka diamond surrounded by white Ashoka diamonds (POA).

Boodles Double Vintage heart-shaped yellow diamond earrings from the Zimmi mine in West Africa (POA).

Boodles Autumn Butterfly drop earrings with white and coloured diamonds set in platinum (£50,000).

Boodles Prism yellow diamond ring with white diamonds set in platinum (£16,000).

Boodles 1.77ct green diamond ring, a 1.00ct pink diamond cluster ring, a 2.01ct green diamond ring, and a 0.73ct pink diamond ring (all POA).