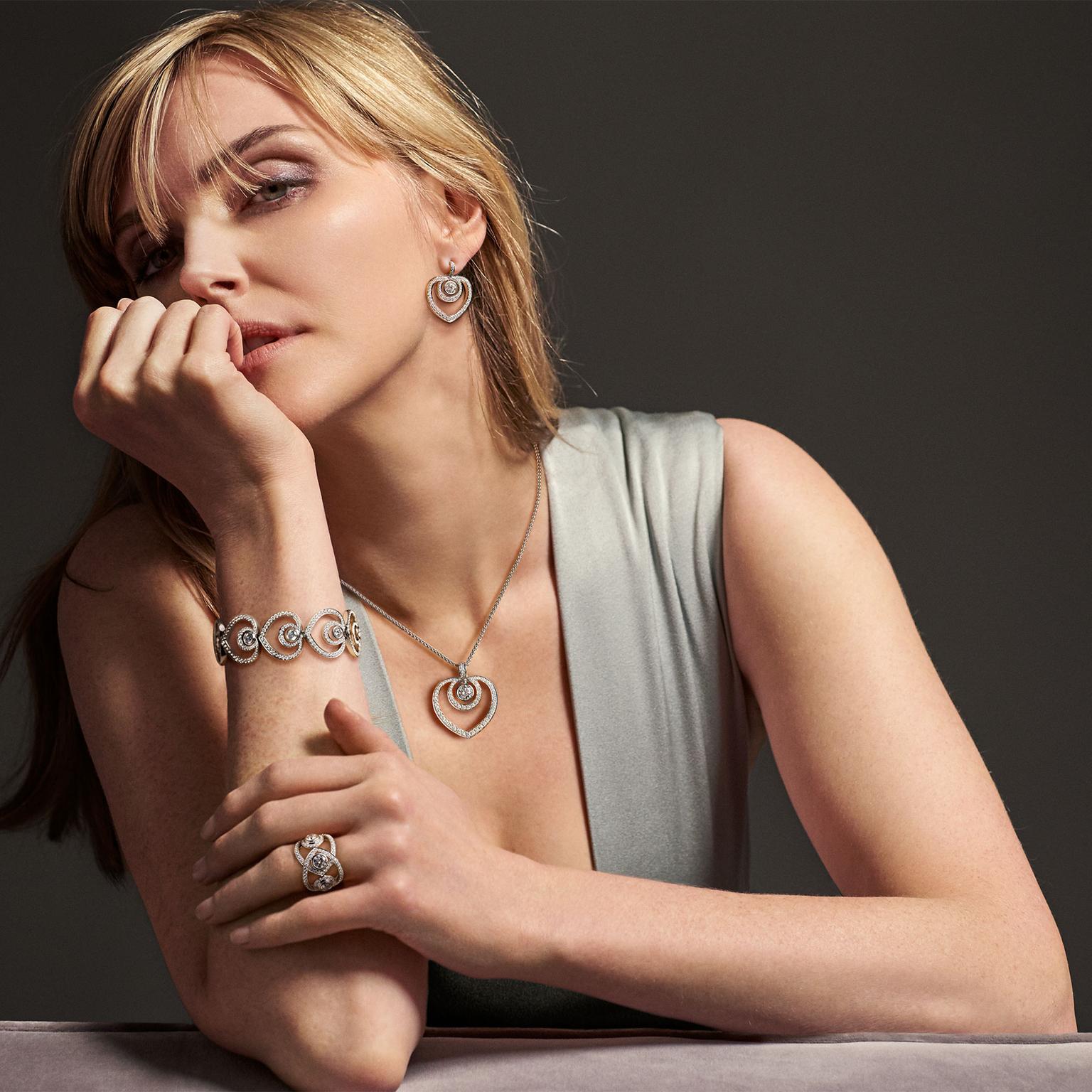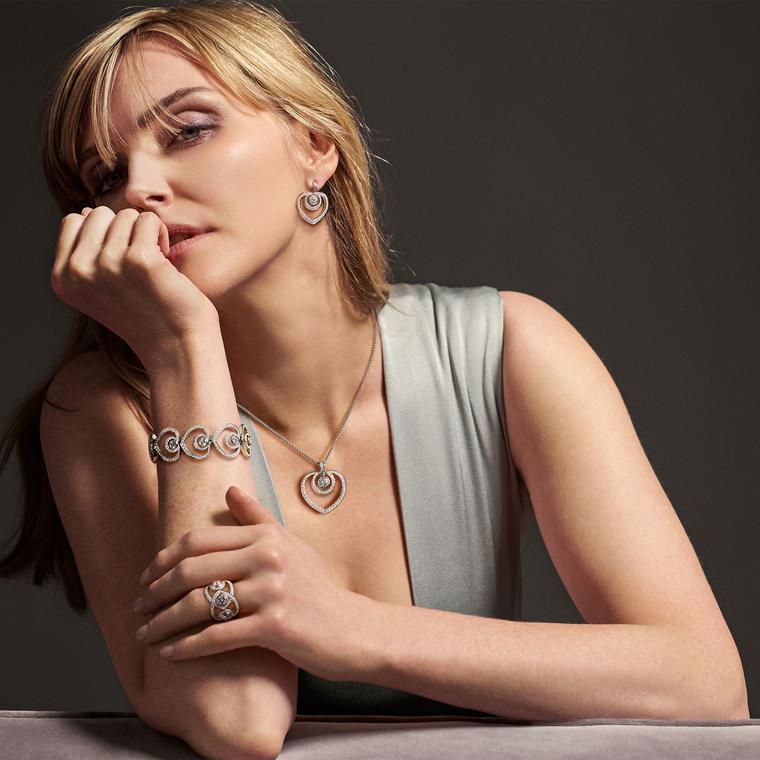 For the third year in a row, Sophie Dahl is the face of Boodles jewellery, with a new campaign shot by British photographer Greg Williams.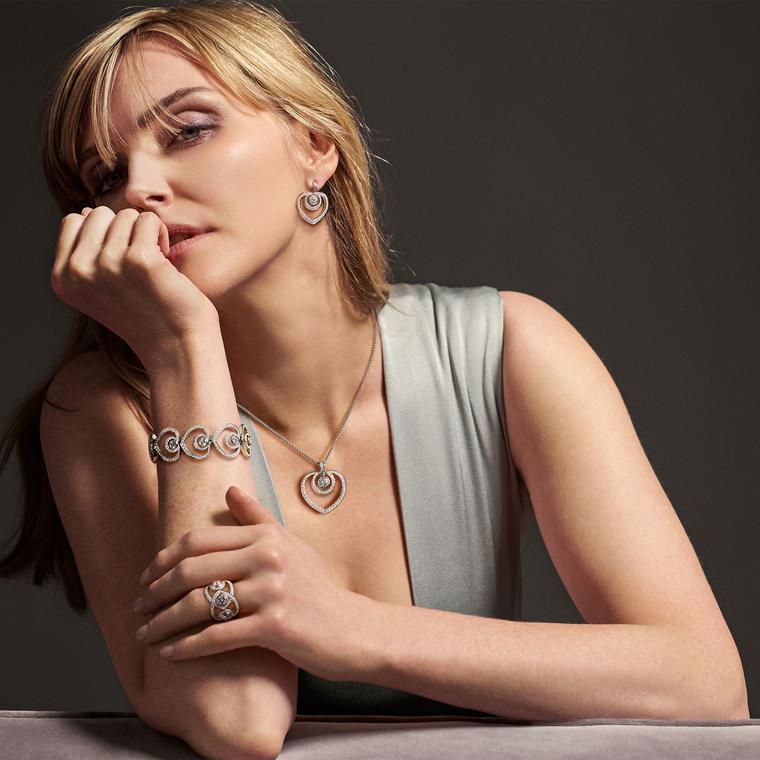 With her chin resting in her hand, Sophie Dahl casts a sultry gaze into the distance, as if unaware she is being photographed. Totally at ease, she is wearing some impressive Boodles diamond jewellery, looking as relaxed and natural as if caught in a moment of inner reflection.
Model, author, mother and cook, Sophie has been the face of Boodles' advertising campaigns since 2014. With this latest campaign she slips gracefully into Boodles' own low-key take on luxury, looking as comfortable wearing a pair of simple diamond earrings as she does a hugely valuable gemstone necklace.
The pictures, shot in saturated colours or elegant black and white, are the work of respected photographer Greg Williams. As an unobtrusive observer, Williams' naturalistic style is perfect for capturing the personality and nuances of Sophie, skills he learnt as a reportage photographer shooting behind the scenes at major feature films.
Sophie is becoming such a familiar face that she is now almost part of the Boodles clan. Nicholas Wainwright, Boodles Chairman and third generation to run this family-owned firm founded in Liverpool in 1798, says of choosing Sophie: "We were looking for someone who is so much more than a model. Sophie is a British treasure; she is intelligent, beautiful, real, charming, fun and hopefully someone who Boodles customers will be able to relate to."
In the different shots, Sophie Dahl wears jewels from several collections but she is most striking wearing the collection named in her honour. The Sophie collection was created as a tribute to her beauty and charisma, and the jewels are as feminine and natural as the woman herself. Voluptuous, softly curved and fluid in form, the jewels all feature an abstract heart shape that meets at the top to form another circle in which a brilliant-cut diamond is suspended. Delicate and light, pale pink or soft grey mother-of-pearl add a touch of colour to the rose gold and platinum jewels.  Full of movement and easy to wear, when worn by Sophie the term "dress-down diamonds" really comes to life. 
The Sophie collection is inspired by Boodles' muse, brand ambassador and national treasure, Sophie Dahl, pictured here in the British jeweller's latest ad campaign. 

Sophie Dahl looking relaxed, happy and extremely stylish at the launch of the Sophie collection in London. 

The Boodles Sophie earrings in platinum with brilliant-cut diamond hearts around a suspended central diamond (£9,500).

The Boodles Sophie earrings in platinum, grey mother-of-pearl and white diamonds: for an iridescent glow (£9,500).

The abstract hearts are so subtly realised in these Boodles Sophie earrings that she can wear these mother-of-pearl and diamond earrings everyday (£9,500).

The Boodles Sophie pendant necklace in platinum and white diamonds, with a suspended central diamond (£16,000).

Boodles Sophie pendant in rose gold, white diamonds and pink mother-of-pearl with a rose gold chain (£14,500).  

The Boodles Sophie bracelet in platinum and white diamonds: a pairing of femininity and wearability (£16,000).

The Boodles Sophie bracelet in platinum, white diamond and grey mother-of-pearl (£16,000).

Sophie Dahl modelling the Sophie collection, which was inspired by the quintessentially British model, author, mother, cook - and Boodles muse.