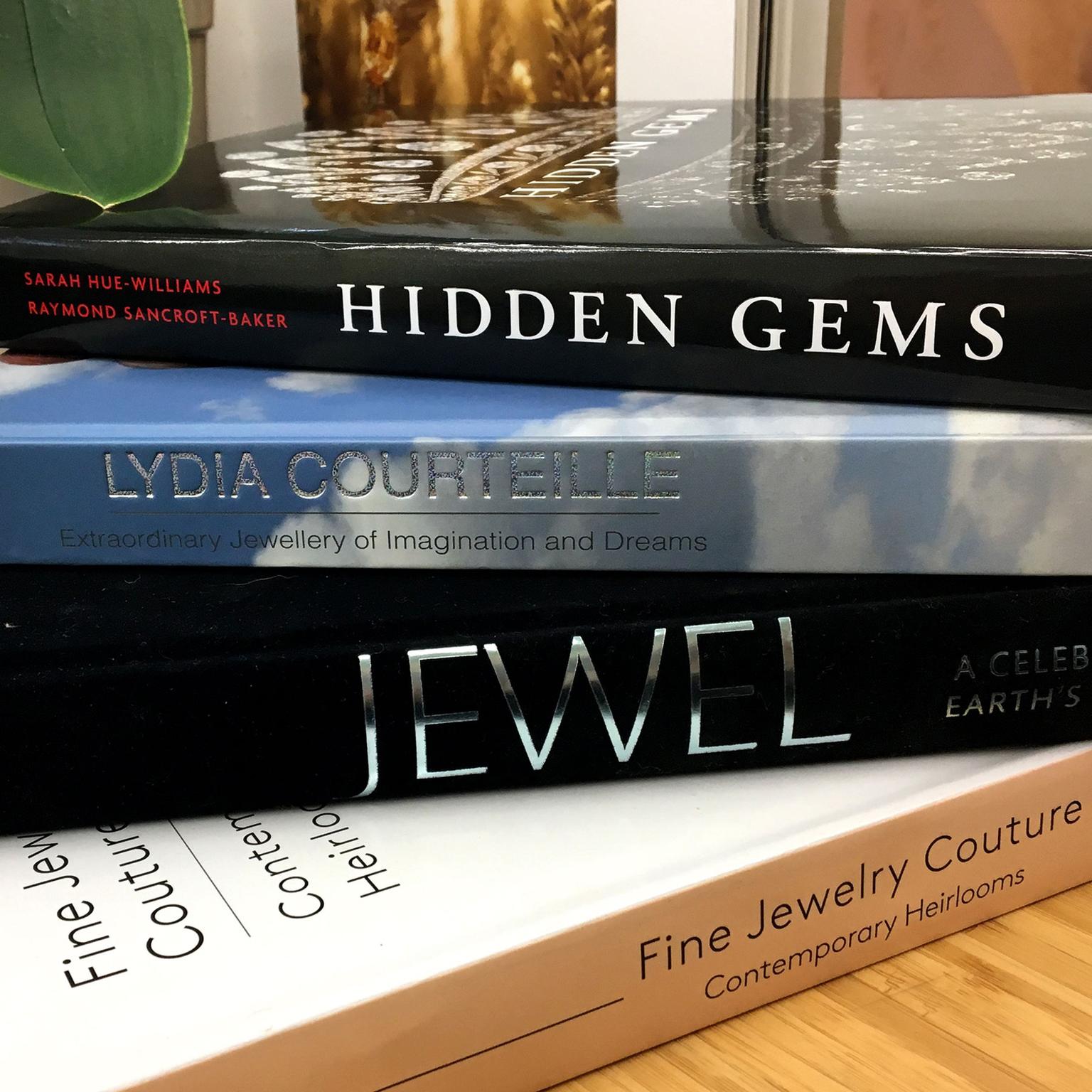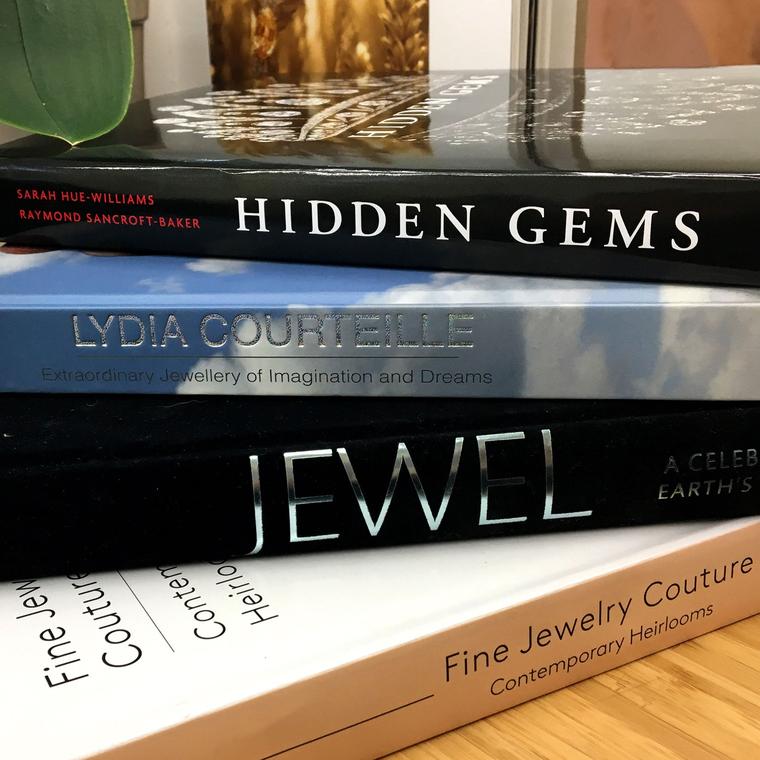 What a month it's been for reading about jewellery. Perhaps it's because Christmas is on the horizon and there is no greater gift than a large and luxurious coffee-table book devoted to gems – or the designers who transform them into jewels. Whatever the reason, there has been a glut of words written on the subject this season, from Dorling Kindersley's beautifully presented Jewel: A Celebration of Earth's Treasures to a fascinating glimpse into the passionate and provocative mind of one of my favourite jewellers in Lydia Courteille: Extraordinary Jewellery of Imagination and Dreams.
Jewel: A Celebration of Earth's Treasures
Since Jewel: A Celebration of Earth's Treasures landed on my desk a few weeks ago, I have been dipping in and out of it frequently. The strokeable black velvet front cover opens to reveal a comprehensive and beautifully photographed guide to gemstones, interspersed with spreads devoted to some of the most famous jewels in the world.
There are unexpected nuggets of information on virtually every page, with topics as diverse as the Halley's Comet opal, the Staffordshire Hoard and the gold-plated and heavily bejewelled Shwedagon Pagoda in Myanmar. Add to that the fact that it is priced at just £12 on Amazon and this is a must for jewellery lovers with an interest in gemstones and the precious jewels they are destined to become.
Published by Dorling Kindersley (£12).
Hidden Gems – Jewellery Stories from the Saleroom
If your passion for jewellery lies in the past, you will love Sarah Hue-Williams and Raymond Sancroft-Baker's new book, Hidden Gems – Jewellery Stories from the Saleroom. When we cover auctions on The Jewellery Editor, it is always those jewels with a story to tell that are the most intriguing, and it is this fascination with provenance, not monetary value, that is at the heart of this book.
Sarah Hue-Williams is a freelance gemologist and jewellery historian, while Raymond Sancroft-Baker was European Jewellery Director for the auction house Christie's for over 20 years. Their combined knowledge has created a spellbinding read that captures perfectly how a colourful history or a famous owner instantly make a jewel more desirable, be it a priceless pink Golconda diamond won by a Mughal Emperor in battle or a pearl and ruby necklace that once graced the neck of Marie Antoinette.  
The eclectic selection of jewels and gems whose tales are told over 300 pages are not necessarily the most expensive. "The stories we tell here are based on our first-hand encounters with jewellery in the salerooms at Christie's, and they reveal something of the resonance and personal meaning that jewels have had for their many different owners and wearers through the ages," the authors explain in their introduction. "Together, they tell of the secret journeys of gems and jewels: where they have come from, where they have gone, and what they have seen along the way." Combine these enthralling stories with advice on what to look for in a jewel and how to date them, in case you happen to have some potential heirlooms rattling around in the loft, and you have a book that should be top of the Christmas list for every antique jewellery enthusiast.
Published by Unicorn Press (£35).
Lydia Courteille: Extraordinary Jewellery of Imagination and Dreams
Written by one of our contributors, Juliet Weir-de La Rouchefoucauld, the magical Lydia Courteille: Extraordinary Jewellery of Imagination and Dreams is part biography, part retrospective. Tracing the designer's roots from her birth as Liliane Schoonjans, through her inquisitive teenage years and early career as a fashion designer, Courteille pays homage to her home city – "Paris is a huge museum of the past, a kind of curiosity cabinet" – and describes fortuitous encounters with experts, editors, designers and influencers, including fashion heavyweights Karl Lagerfeld and Yves Saint Laurent.
Peppered with candid shots of Lydia through the years, the latter part of the book takes you on a colourful journey through this avant-garde designer's weird and wonderful creations, encountering skeletons, crocodiles, chimps, sultans and roosters along the way. 
Published by ACC Art Books (£26).
Fine Jewellery Couture: Contemporary Heirlooms
Olivier Dupon's 2012 coffee table book The New Jewelers was a beautifully curated showcase of 108 established and emerging designers renowned for their exquisite craftsmanship, and his latest offering, Fine Jewellery Couture: Contemporary Heirlooms, continues in a similar vein. This time, however, he has turned his focus on those experimental designers producing high-end jewellery that is not merely valuable but creatively arresting also.
More than 35 jewellers from across the globe have been selected to appear in this glossy tome, which features sketches alongside images of jewels, and Dupon has a great eye. Many of my favourites designers appear on the list, including Fernando Jorge, Daniela Villegas, Ilgiz Fazulzyanov, Margot McKinney, Nikos Koulis, Ornella Iannuzzi, Silvia Furmanovich and Tomasz Donocik, with accompanying interviews in which Dupon examines how each designer works, and what fuels their ideas. For Nam Cho, "fashion trends play an important part in her creativity, to the extent that she compares following trends to breathing", while what Margot McKinney "loves, above all, is to sit with her collection of gems in front of her and to marry them together".
Published by Thames & Hudson (£25.99).
Jeweler – Masters, Mavericks and Visionaries of Modern Design
In Jeweler – Masters, Mavericks and Visionaries of Modern Design, author Stellene Volandes, Editor in Chief of Town & Country magazine, has focussed on the contemporary jewellers at work today that she considers to be the most influential in terms of both artistry and expertise. The perfect companion to Olivier Dupon's book, you could tuck yourself away for the weekend with both and emerge enlightened as to the movers and shakers in the world of jewellery right now.
A colourful mix of old-world – think Sevan Bicakci – and experimental – hello Hemmerle and Mark Davis – it is great to see heavyweights such as Giampiero Bodino and Wallace Chan rubbing shoulders with lesser-known designers like Luz Camino and Lauren Adriana. A foreword by fashion designer Carolina Herrera describes jewellery as "a personal expression of nature's beauty beyond time and fashion, created by artists with an eye for proportion, color, and shape", and it is the artistry that really jumps out at you as you flick through the pages, which are filled with colourful, often wildly inventive jewels.
With sculptural rings blown up in size to giant proportions, Popeye and his pals peeking out playfully from a double-page spread and whole worlds captured inside gemstones, Volandes has clearly had fun picking out the jewels that will create the most visual impact, accompanying them with insightful and personal introductions to each jeweller.
Published by Rizzoli (£55).
Other noteworthy new books
Written by award-winning journalist and jewellery historian Vivienne Becker, also launching this month is The Pearl Necklace, which delves into the history of this jewellery icon (Assouline, £55). And for anyone who wants to deepen their knowledge of gemstones, the second edition of Richard W. Wise's book, Secrets of the Gem Trade: The Connoisseurs Guide to Precious Gemstones, launches on 1 November. With 11 new chapters and existing sections rewritten in light of significant changes in the market, including the introduction of rubies from Mozambique and opals from Ethiopia, if you are serious about buying precious stones, this book is stuffed full of indispensable advice, including a section on grading gems.