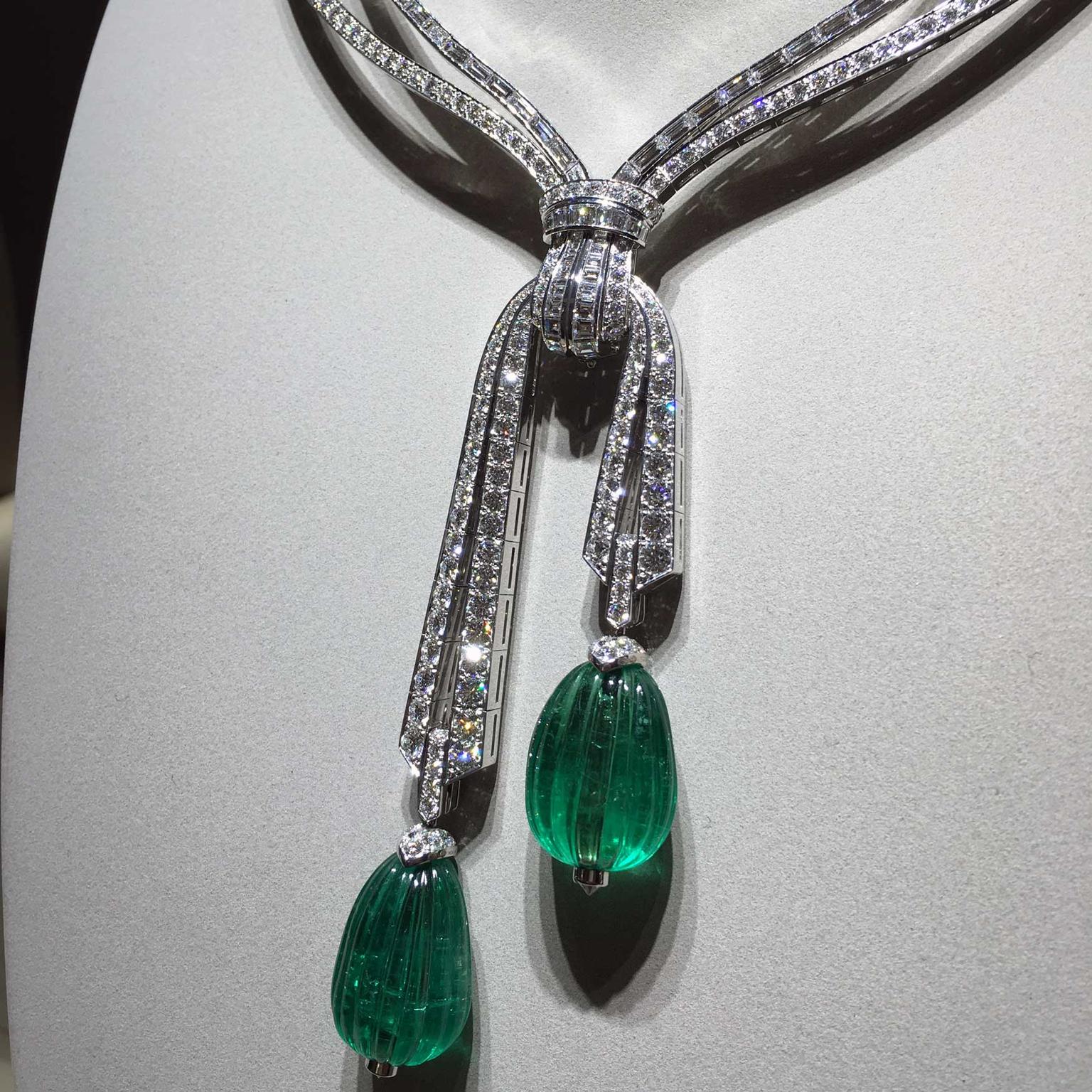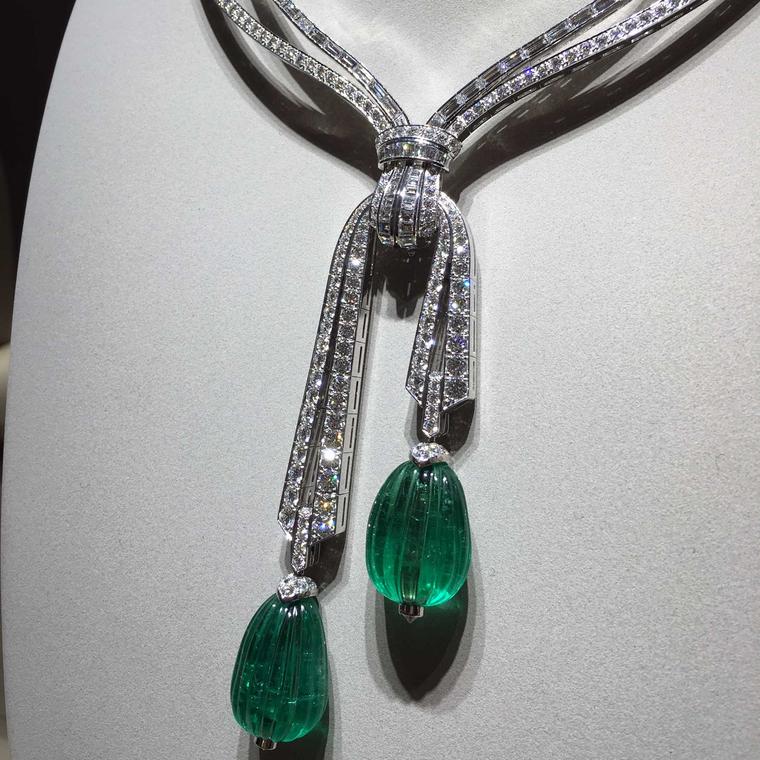 Maria has already written about the unstoppable rise of coloured gems in 2016, but there was one colour she omitted to include in her chromatic compilation of jewels: green. It's no coincidence that Pantone recently announced that its Color of the Year for 2017 is Greenery. If that past year is anything to go by, we will be seeing a lot more of green gemstones, whose colours range from apple to olive green, alongside emeralds, emeralds and more emeralds. 
Green with envy at Bayco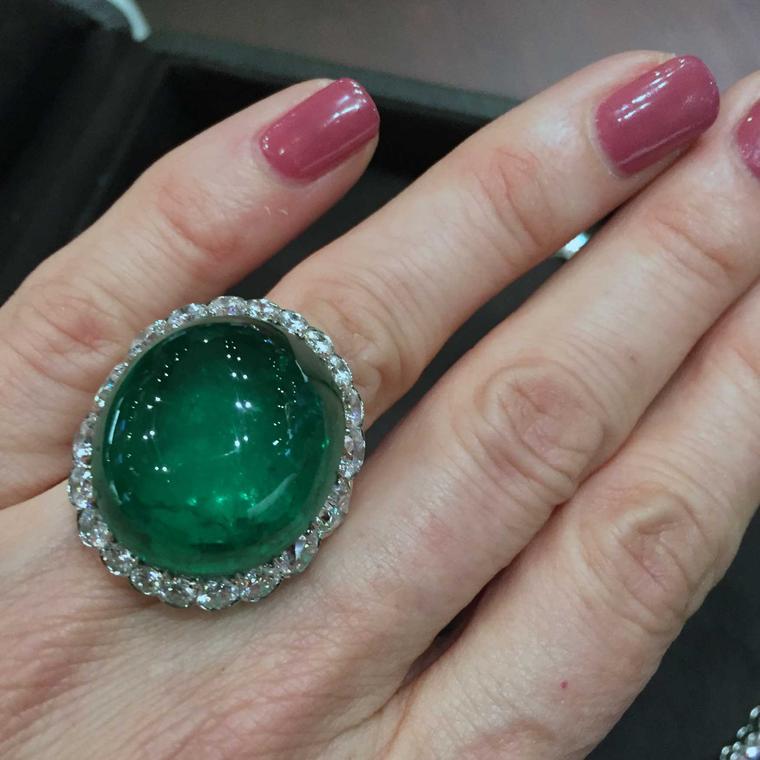 Plenty of jewellers got the green bug in 2016, and impressive emeralds were everywhere, with many finding their way on to our fingers.
At the Baselworld fair, Maria and I were presented with tray after tray of emeralds at Bayco. Over coffee, Maria and I tried on handfuls of the rich green gems, but it was this Colombian emerald cabochon that stuck in my mind.
If subtlety isn't your strong point, at 32.39 carats, this is the emerald ring for you.
The queen of green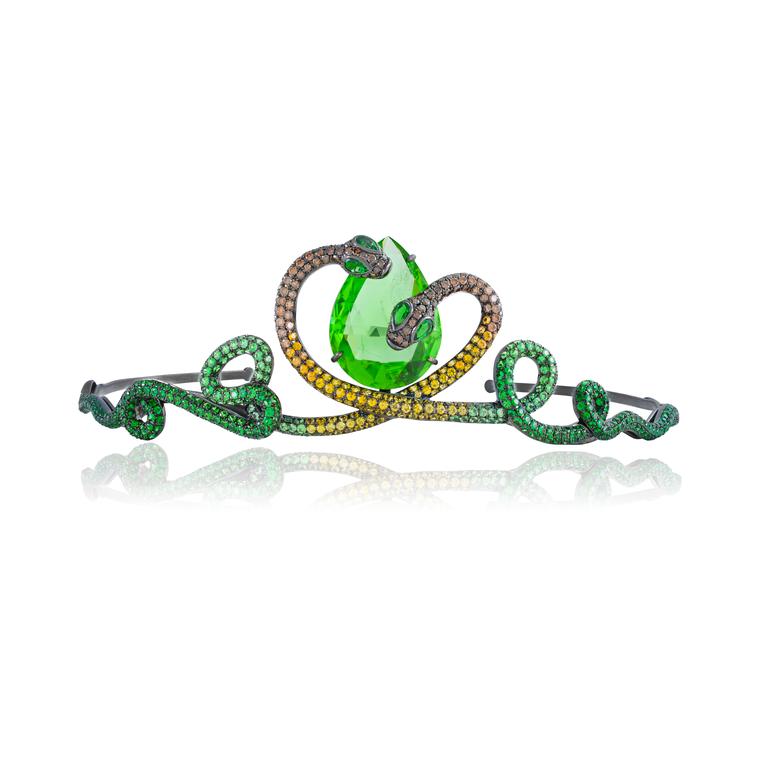 Also showing at Baselworld was Lydia Courteille, who took the green theme to heart and launched a whole jewellery collection, Queen of Sheba, devoted to a single colour. Inspired by the biblical queen and Ethiopia, the country she is said to have ruled 3,000 years ago, alongside the lush tourmalines and tsavorite garnets was an impressive pear-shape peridot, set into an exotic tiara comprised of intertwined snakes. Like many of Lydia's jewels, it sold immediately to a collector. Oh, to have been a fly on the wall when it received its first outing. 
A few months later it was time to head to Las Vegas for the annual Couture Show, where the mood is always infectiously upbeat, helped along by the perpetual sunshine and poolside parties.
A brand-new emerald cut is born
Debuting at the show was Muzo Emerald, a brand on a mission to promote the image of a modern Colombia through its legendary velvety-green gems by putting in place a system to track and document each gem from origin to customer.
In a luxurious Villa hired by Muzo specially to showcase some of its finest emeralds, I discovered a tray of gems as tempting as gumdrops, cut into a shape I had never seen before. This new cut, created exclusively by Muzo and christened the hexagonal sugarloaf, adds two further facets to the four-sided sugarloaf cabochon, giving each emerald a mouthwatering candy-like appeal.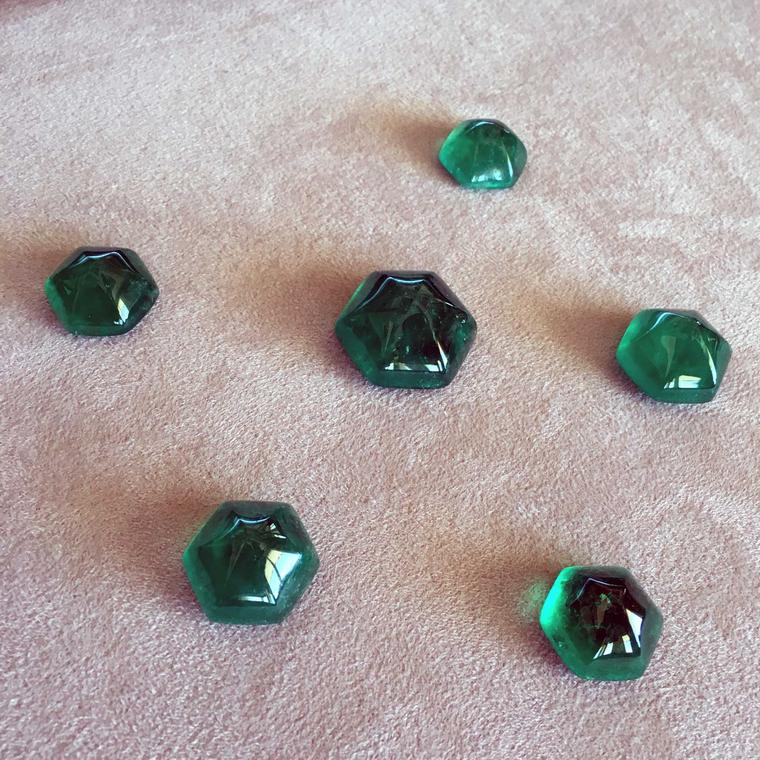 A highlight of the show are the hugely competitive Couture Design Awards, with exhibitors submitting their best jewels in categories that cover everything from silver to haute couture.
Selim Mouzannar's award-winning emeralds
Of all the 2016 award winners, it was Selim Mouzannar's trapiche emerald necklace, created in collaboration with Muzo Emerald and winner in the Colored Gemstones Above $20,000 category, that most impressed me.
This one-of-a-kind piece all the way from Beirut combines 47 emeralds from the famous Colombian mines with eight rare trapiche emeralds that are characterised by unusual spoke-like inclusions and which Selim has been collecting for many years - a true labour of love.
A new tsavorite from Tanzania 
During Couture Week in Paris last summer, Louis Vuitton took one of its best-known motifs, the blossom shape, and gave it a new lease of life in a bold new high jewellery collection that was all about the unusual gems. Of particular interest was a tsavorite from the Merelani mine in Tanzania that, according to Vuitton, has never been seen in a high jewellery collection before. Lighter and mintier in colour than a "traditional" tsavorite, expect to see more of this green gem in 2017.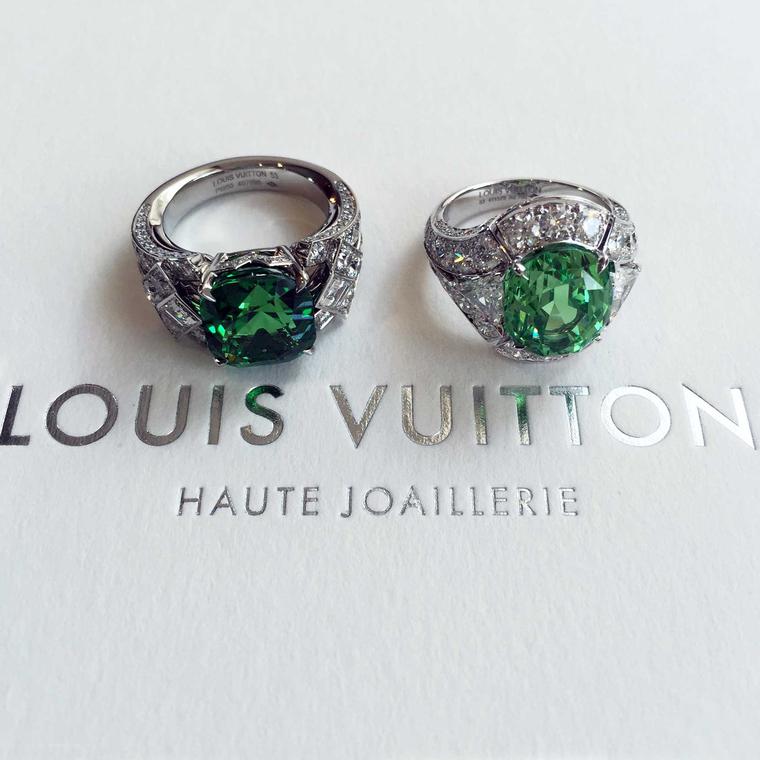 Emeralds fit for an Indian prince
Quite a departure from the wildly colourful Seven Seas high jewellery collection of 2015, Van Cleef & Arpels focussed on a single gemstone, the emerald, for its 2016 haute joaillerie extravaganza. But what the Émeraude en Majesté collection lacked in variety it made up for in top-quality gems.
The most impressive piece was the Grand Opus necklace, main image, showcasing three Colombian "old mine" emeralds weighing a total of 127.88 carats, engraved with gadroons in the style of antique emeralds from the time of the maharajas. 
Nirav Modi's heavyweight emeralds
Equally regal was Nirav Modi's Maharani necklace, which was among the most impressive high jewels on display at the Biennale de Paris, where this ambitious Indian jeweller made its debut this year. 
Channelling the spirit of the opulent maharaja necklaces worn by Indian royals in the 19th and early 20th century, the graduated emerald beads were collected by Modi over many years and weigh more than 870 carats, making this quite possibly the most valuable emerald jewel we've seen all year. See it in all its glory in our video below.
Hemmerle experiments with an unusual metal
A special mention must go to Hemmerle, also, which launched The [AL] Project in 2016, a collection of jewels designed to explore the properties of a material rarely seen in jewellery: aluminium. 
Combining coloured gems and aluminium coloured using a process known as anodizing, this house famous for its experimental approach to jewellery design unveiled some of the most original jewels of the year, including an incredibly lifelike clematis brooch, as well as more wearable jewels like the earrings below,  which were sold during PAD London, set with tsavorite garnets and green tinted aluminium.
Hemmerle The [AL] Project earrings set with tsavorite garnets in aluminium and white gold, courtesy of Hemmerle (sold).

Muzo Emerald debuted a brand-new cut at the Couture Show in Las Vegas: the hexagonal sugarloaf.

Never before seen in high jewellery, Louis Vuitton used a tsavorite from the Merelani mine in Tanzania (right) in its Blossom high jewellery collection, alongside a "traditional" tsavorite (left).

One-of-a-kind Bayco set with a 32.39 carat Colombian emerald and diamonds. 

A peridot is encircled by two diamond, sapphire and tsavorite snakes in the Queen of Sheba tiara by Lydia Courteille (sold).

Van Cleef & Arpels Grand Opus necklace from the Émeraude en Majesté collection, set with 127.88 carats of engraved Colombian "old mine" emeralds.