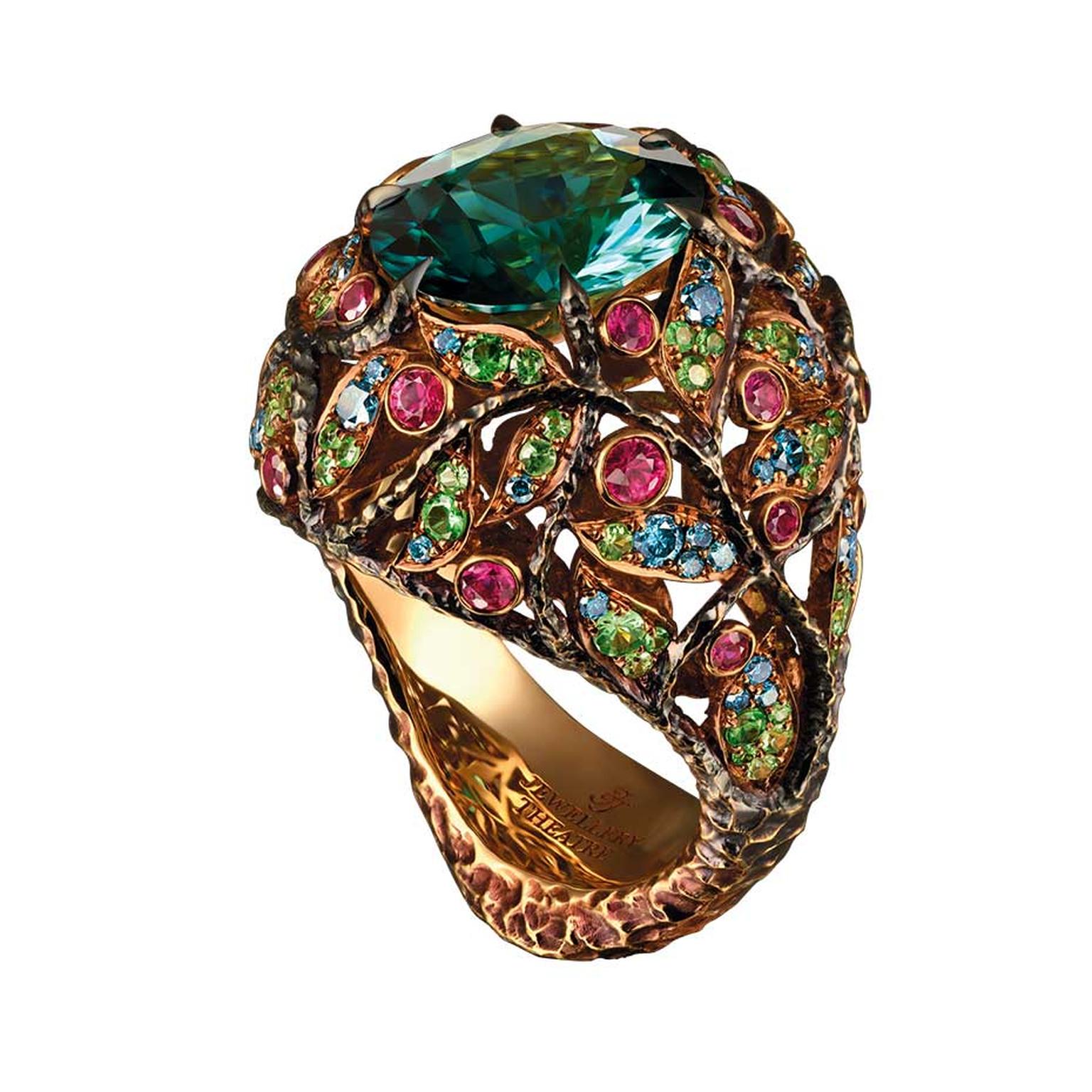 By Åse Anderson
Nature in all its colourful glory has long been a source of inspiration for jewellers and, this season, it is taking a decidedly tropical turn. Baselworld jewellery was bursting at the seams with mouth-watering coloured gemstones in vibrant hues, instantly conjuring up more alluring environs than the vast exhibition halls.
Read more about coloured gemstones
The exotic plants that thrive in the botanic gardens of her native Brazil, inspired the lush colours and shapes of Carla Amorim's Botanic fine jewellery collection.
The Fruity Ring by London-based Jewellery Theatre looks good enough to eat, with coloured gemstones that recreate the effervescent kaleidoscope of a majestic rainforest. With the Giglio high jewellery collection, Italian jeweller Damiani takes the delicate white lily and immerses it in an eruption of pink and fuchsia, with the help of colour-graduated sapphires and rubies.
Flowers are a perennial favourite in the high jewellery world and the stands at Baselworld 2015 were in full bloom this spring. A pearl necklace from the new Orchid collection by Autore jewellery combines luxurious, creamy South Sea pearls with coloured gemstones to create a floral motif inspired by the wild beauty of the native Australian orchid. Recognised the world over as a symbol of fertility, strength and loyalty, orchids are notoriously difficult to recreate in bejewelled forms. The company's CEO says: "Throughout the history of jewellery design, it has always been a challenge to resemble the true, life-like appearance of a flower, with orchids proving more difficult to portray than other flowers." 
View our gallery of other flower-inspired jewellery
Marco Bicego has added a number of jewels to his Lunaria high jewellery collection, featuring cool, luminous aquamarines contrasting with the warm glow of yellow gold. Inspired by the Lunaria - or the Honesty flower, as it is more commonly known - the silhouettes of the jewels mimic the oversized petals, and also feature Marco Bicego's signature Mulino finish, which gives the gold a beautiful, brushed effect.
Last but not least, the Ole Lynggaard high jewellery brooch in rose, white and yellow gold, set with diamonds, is a wonderfully versatile piece that can also be worn as a hair ornament. Taking its cue from nature's organic beauty, the luxury jewellery in the Leaves collection have a soft, satin-like surface with intricate hand-engraved leaf veins, which perfectly mirror their real-life counterparts.
Autore baroque South Sea pearl necklace from the new Orchid high jewellery collection, which takes its inspiration from native Australian orchids.

Carla Amorim earrings in white gold with tsavorites and black diamonds, from the new Botanic high jewellery collection.

Damiani ring from the new Giglio high jewellery collection, inspired by the white lily, in pink gold with white diamonds, emeralds, sapphires and rubies shading from fuchsia to pale pink.

Marco Bicego necklace in yellow gold from the Lunaria high jewellery collection, set with dark aquamarines and engraved with the iconic Mulino finish.

Ole Lynggaard Leaves brooch in hand-satinised rose, which can also be worn in the hair, in white and yellow gold with diamonds.

Palmiero Winged Flowers ring from the La terra e le Nostre Fantasia high jewellery collection.

Alessio Boschi Peony aquamarine ring from the Naturalia high jewellery collection.

Jewellery Theatre ring in yellow gold from the new Rainforest high jewellery collection, set with a central tourmaline, coloured diamonds, rubies and tsavorites.