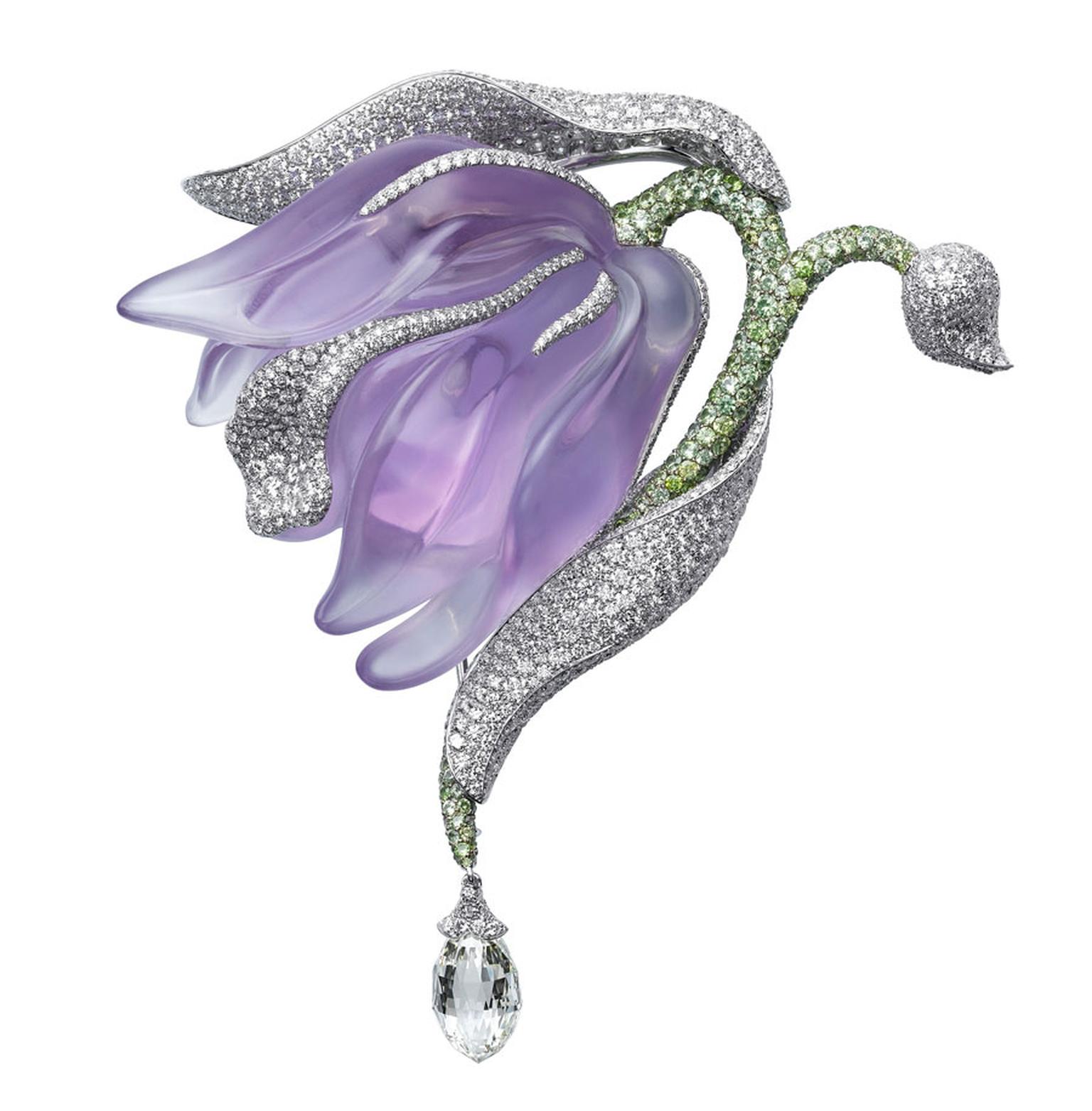 Cartier has long found inspiration in nature, be it the famous feral panther, a slithering snake or a more tame orchid. This season, Cartier remind us of the rich variety of plants and animals that have provided the theme of some of its most dramatic and precious jewellery creations. Here is a selection of some contemporary pieces that might just charm their way into your new year.
We can thank one of Cartier's most influential designers, Jeanne Toussaint, for the proliferation of wild things chez Cartier. Toussaint, a friend of Gabrielle Chanel, was hired by Louis Cartier just before the Second World War to design silver accessories and, by 1933, she was named head of fine jewellery at Cartier. Toussaint came to imprint her strong sense of style on the house, and she is responsible for Cartier's most iconic feline, the famous panther, worn by Wallis Simpson, the duchess of Windsor. 
Jeanne Toussaint's nickname was in fact 'the panther', thanks to her powerful character, independence and litheness. Toussaint, perhaps influenced by her taste for Indian jewellery, loved yellow gold and was interested in both precious and semi-precious gemstones. During the war years, with women's clothing reduced to the very basics, brooches and clips were one of the few ways in which women could add some much-needed style to their drab wardrobes, giving jewellers the perfect opportunity to create large jewels in an array of exotic materials.
Cartier's menagerie of animals began to grow and, so sophisticated were Toussaint's precious creations, that these jewels managed to go beyond mere adornment and convey personality - often that of the wearer. Toussaint's hunch that bejewelled, realistic-looking panthers would capture the hearts of a brave new pack of women ready to defy convention was spot on. Which brings us to that famous panther...
The first three-dimensional Cartier panther was crafted in yellow gold, with black enamel spots proudly sitting on the very large emerald that the Duke of Windsor bought for Wallis Simpson. A feline furore was unleashed, and the very next year the Duchess of Windsor acquired a second panther, followed by many more. Snarling and claiming ownership of the 152ct sapphire ball, the second panther was resplendent in a pelt of platinum, diamonds and sapphires and became a metaphor for the new post-war era and women who followed their hearts.
Today, the panther still expresses daring and defiance but, in his many guises, always remains a seductive feline that pads graciously through the decades. Small details change to reflect the style of the times: in the 1940s, the panther was very lifelike and wild, while in the 1950s, it became more playful. Today's panther embodies the trend for bold designs as seen in the large black fabric cuff adorned with an emerald-eyed panther who looks as groomed as a catwalk model.
But it is not just about the panther. Winged creatures, seen at Cartier since the 1940s and most notably on the Duchess of Windsor's Flamingo brooch, are fluttering back into the limelight. The snake has long been at home at Cartier. In 1919, the house created a platinum serpent necklace that drapes around the neck, his scales alive with the fire of old-cut round diamonds set with the millegrain technique. Flowers, including the orchid, also bloomed perennially bright at Cartier. Following on from the early garland-style compositions of symmetrical foliage and blossoms in platinum and diamonds, the arrival of exotic influences and a wider array of precious stones and colour after the Second World War added excitement to Cartier's lush garden.
Always inspired by its rich archives, this latest offering from the Cartier ateliers is rich in history yet contemporary - a delicate balance that Cartier prides itself on maintaining.
Panthère de Cartier cuff. White gold, emerald eyes, onyx nose, diamonds, toile de moire fabric. PHOTO: Vincent Wulveryck © Cartier 2011

Panthère de Cartier bracelet. White gold, tsavorite garnet eyes, onyx nose, black lacquer spots. PHOTO: Vincent Wulveryck © Cartier 2011

Caresse d'Orchidées par Cartier ring. White gold, sculpted charoite, tourmalines, amethysts, pink sapphires, diamonds. PHOTO: Vincent Wulveryck © Cartier 2011

Panthère de Cartier ring. White gold, emerald eye, onyx, diamonds. PHOTO: Vincent Wulveryck © Cartier 2011

Panthère de Cartier ring. Yellow gold, emerald eyes, onyx nose, diamonds. PHOTO: Vincent Wulveryck © Cartier 2011

Caresse d'Orchidées par Cartier ring. One-flower motif- pink gold, pink sapphires, tourmalines, rhodolite garnets, diamonds. PHOTO: Vincent Wulveryck © Cartier 2011

Caresse d'Orchidées par Cartier ring. One-flower motif, large model. White gold, black lacquer, diamonds. PHOTO: Vincent Wulveryck © Cartier 2011

Caresse d'Orchidées par Cartier ring. One-flower motif, large model. Pink gold, white opal, diamonds. PHOTO: Vincent Wulveryck © Cartier 2011

Panthère de Cartier earrings. Platinum, emerald eyes, onyx nose, diamonds. PHOTO: Vincent Wulveryck © Cartier 2011

Panthère de Cartier earrings. Platinum, emerald eyes, onyx nose, diamonds. PHOTO: Vincent Wulveryck © Cartier 2011

Caresse d'Orchidées par Cartier earrings. Platinum, briolette-cut diamonds, diamonds. PHOTO: Vincent Wulveryck © Cartier 2011

Caresse d'Orchidées par Cartier brooch. Platinum, rubies, brilliant-cut diamonds. PHOTO: Vincent Wulveryck © Cartier 2011