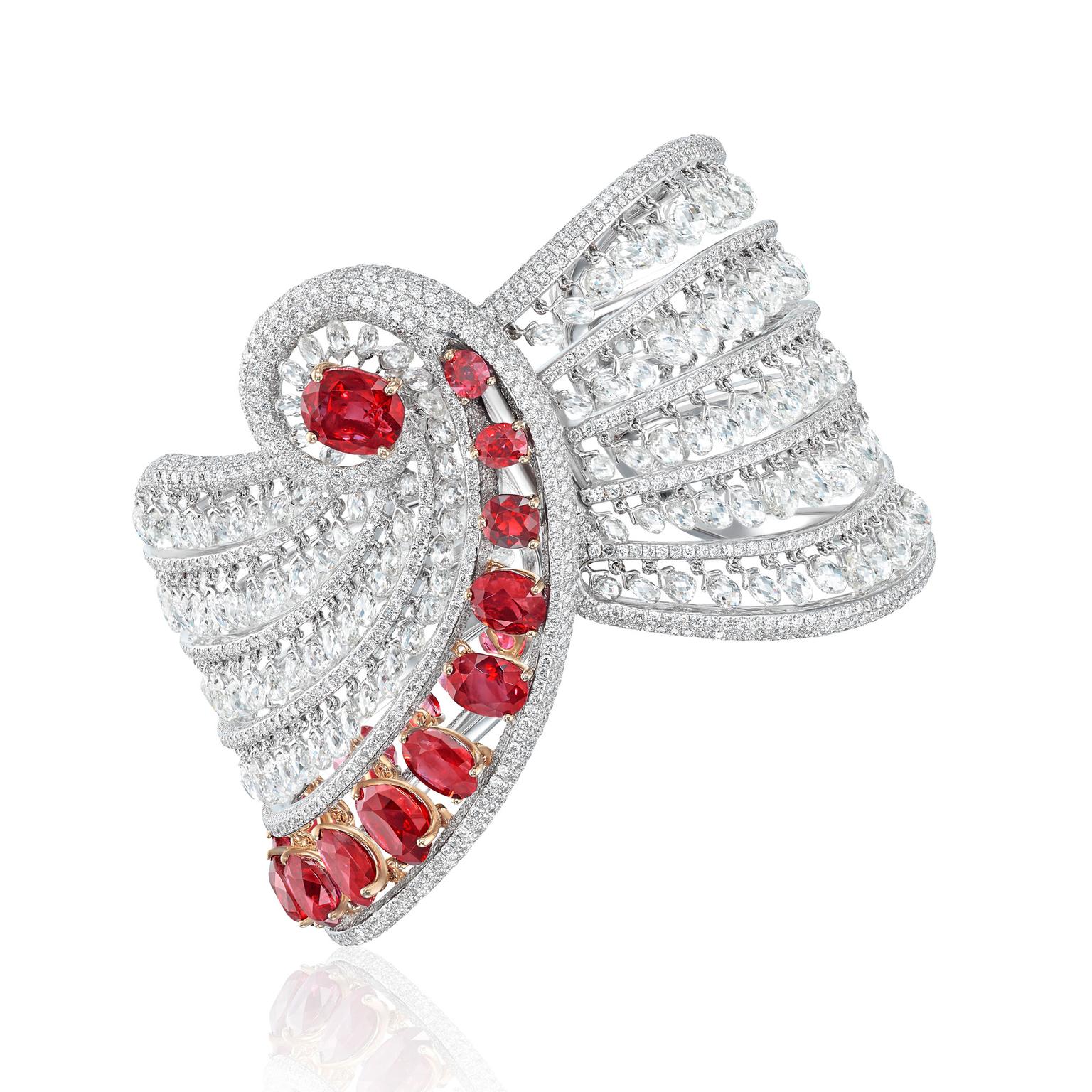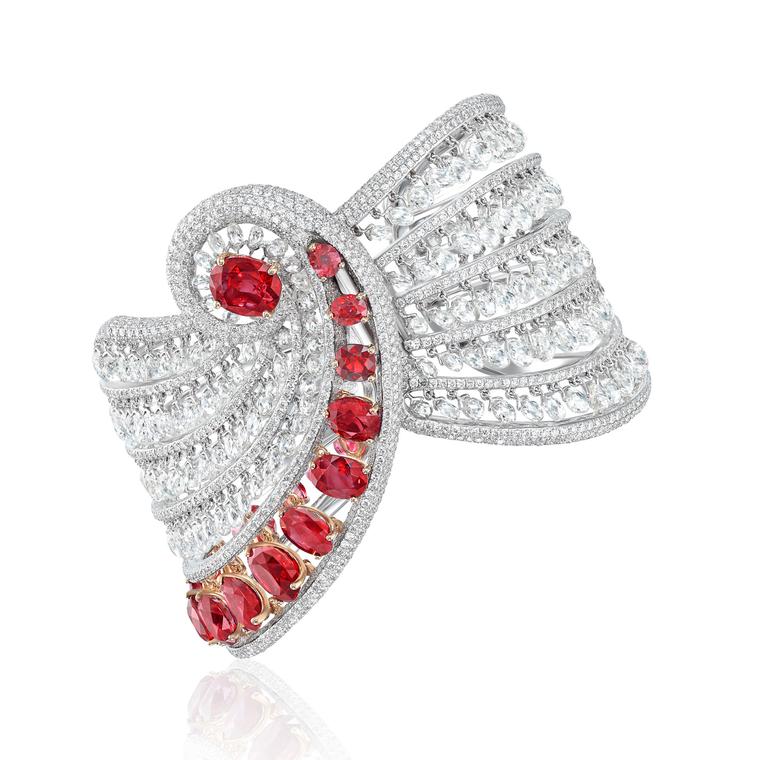 If gemstones could talk, the magnificent ruby would be able to regale us with fascinating tales of its rich and varied history. Mentioned in both the Bible and ancient Sanskrit texts, perhaps more than any other stone, the ruby has become shrouded in myth and legend.
The gemstone has long been associated with royalty and wealth, and in ancient times a ruby was thought to bring material riches to its owner. Legend has it that Chinese emperor Kublai Khan offered to exchange an entire city for one large ruby, while the Burmese believed that inserting a ruby into one's skin would offer protection against all evils. Royals closer to home also embraced the ruby's talismanic properties with both Queen Elizabeth I and Mary Queen of Scots favouring tiaras set with the fiery red gemstones.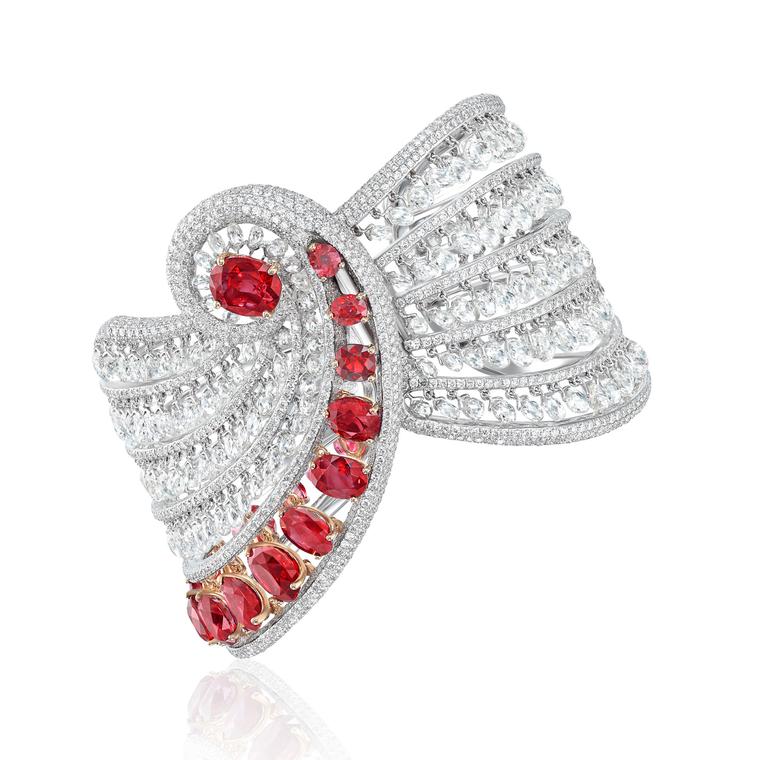 The word ruby comes from the Latin rubens, which means red, and the gem is also sometimes referred to as the "stone of kings". Rubies are part of the same corundum family as sapphires and get their red colour from traces of chromium. With a Mohs hardness of 9.0, they are extremely hardwearing and a popular choice for coloured gemstone engagement rings, especially as red is seen as representing love and passion. However, the chrome content also creates fissures and cracks within the ruby crystals, making it extremely difficult to find stones over three carats without numerous inclusions.
See our top five coloured gemstones
For many centuries, the Mogok Valley in Burma has been the main source of rubies but in recent years the supply has rapidly dwindled. Their availability has also been hampered by the fact that, in 2003, the US government banned all products from Burma, including rubies and other gemstones, because of the country's appalling human right's record.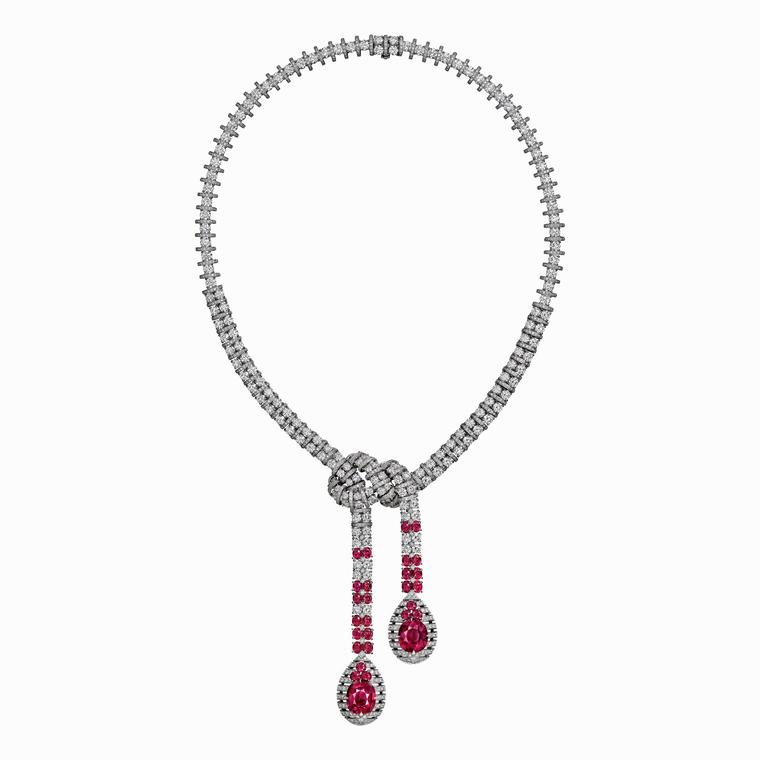 Rubies come in different shades of red, including pink, although the distinction between a pale ruby and a pink sapphire is not always clear. Burmese rubies are famous for their exceptional colour, especially the deep blood red known as "Pigeon's blood". Non-heat-treated rubies in this most sought-after colour can easily rival diamonds for price per carat. Burmese rubies also have a strong fluorescence that marks them out from their counterparts from other regions.
In ancient times, the Burmese believed that rubies ripened like a fruit and the deeper the tone, the riper the ruby.
While a famous mine doesn't guarantee good quality gemstones, rubies that have documentation of Burmese origin from an independent laboratory, such as the GIA, do command a premium in the market. Non-heat-treated rubies are extremely rare and usually only feature in the most exquisite high jewellery pieces such as this Cartier ruby necklace from the Étourdissant collection.
Read more about the Cartier Étourdissant collection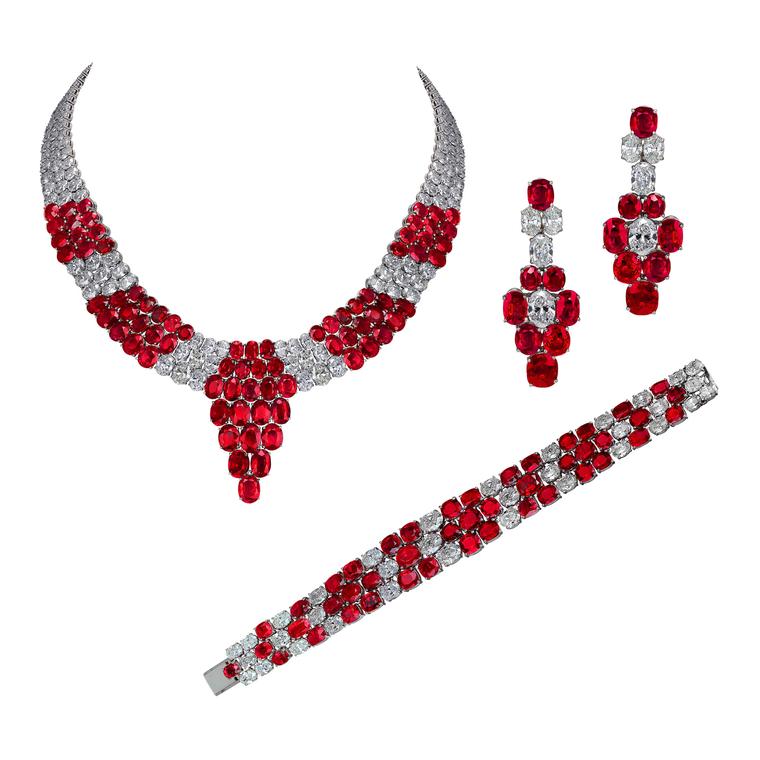 Jacob & Co has also created a resplendent high jewellery suite, designed to enhance the beauty of Burmese rubies acquired from a private collector in the United States. Founder Jacob Arabo says: "Burmese Pigeon's blood rubies are particularly rare, and there are a limited number of these highly coveted stones available worldwide. All of these extraordinary stones are unheated and radiate a truly exceptional and consistent colour in their natural form." 
His sentiments are echoed by Jody Wainwright, director and head of gemstone sourcing at Boodles: "Burma has always produced the finest crystal rubies, which often have the beautiful 'Pigeon's blood' red that is so desirable. Supply is extremely limited as the finest Burmese rubies are constantly in circulation and therefore hard to get hold of. Boodles are lucky to have a number of these fabulous stones in our collection."                                                                                    
British jeweller David Morris has also selected the very finest non-heat-treated Burmese gemstones as the focal points in a stunning double strand ruby necklace and matching bracelet.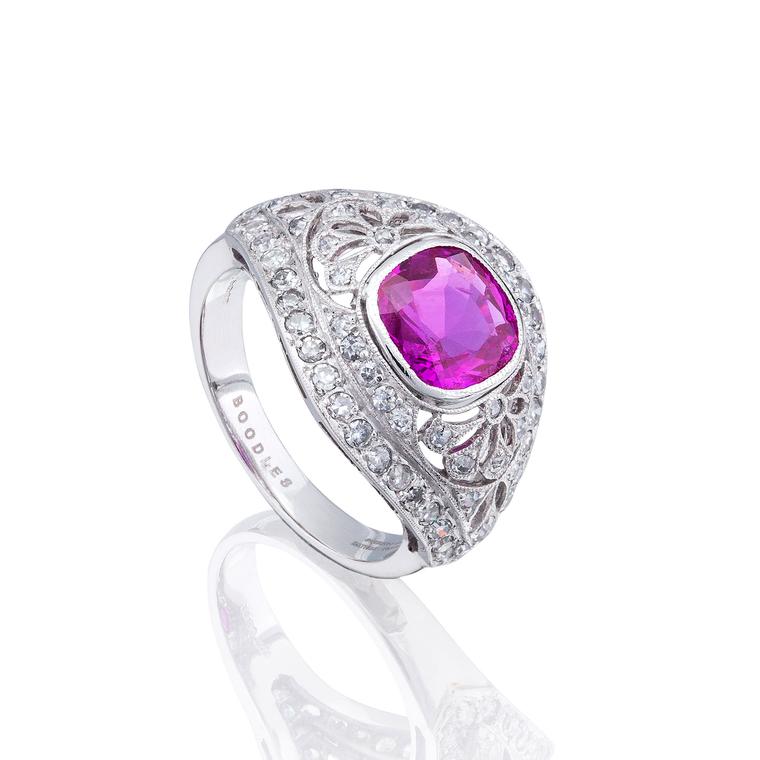 One of the world's most famous rubies is the Chhatrapati Manik - an oval Burmese cabochon of the very finest colour and weighing around 20ct, which is believed to date back 2,000 years. Signifing the sun surrounded by nine other gemstones representing the planets, it was set into the crown of King Vikramaditya of Ujjain, who ruled the northern Indian kingdom from 380-415AD. The famous ruby was last seen in London in 1934 as the centrepiece of a diamond tiara, but its current whereabouts are unknown. Other headline-grabbing rubies include the Alan Caplan ruby, named after the geologist who bought the 15.79ct untreated gem during a trip to Burma in the 1960s. Also known as the Mogok ruby, it is widely considered to be one of the finest rubies ever seen. It set a world record per carat when it was sold at Sotheby's New York in 1988 for $3.36m, which remained unbroken for 17 years.
The Graff Ruby, an unheated 8.62ct cushion-cut gem, sold for $8.6m at Sotheby's Geneva in November last year, setting a world auction record for a ruby. That record was surpassed earlier this year by the Burmese 25.59ct Sunrise Ruby, which became the most expensive coloured gemstone ever sold at auction when it fetched $30 million - more than $1m per carat - at Sotheby's Geneva in May.  
Read more about the world record auction for a ruby set at Sotheby's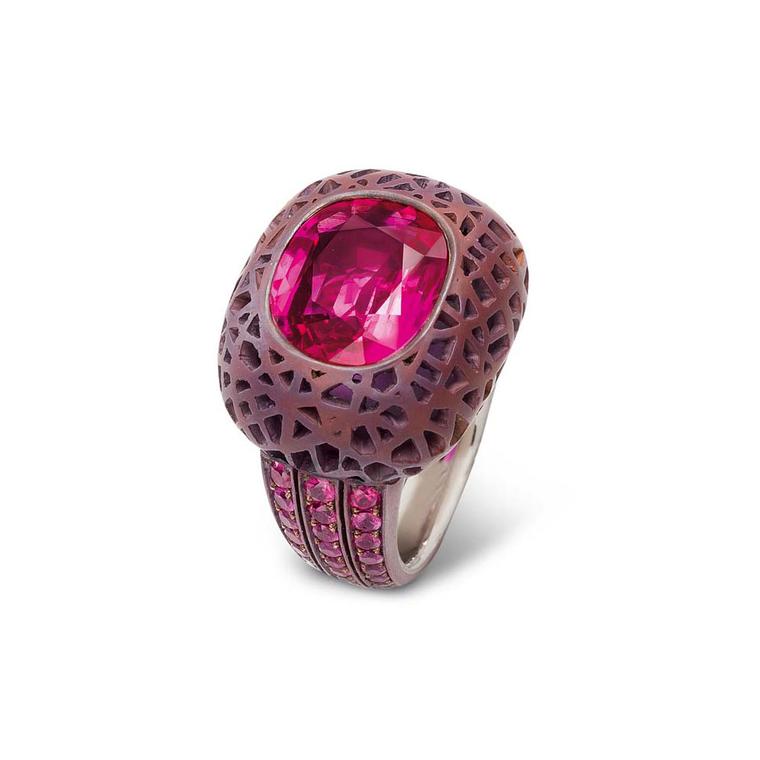 Rather confusingly, the term "Burmese ruby" is also used to describe the colour of the gemstone - a rich, full red with slightly bluish undertones - regardless of the country of origin. Rubies are also found in countries such as Vietnam, Pakistan, Kashmir, Laos, Nepal and Afghanistan. In recent years, the East African nations of Mozambique and Tanzania have also emerged as an important source of high quality rubies that vary in colour from light to dark red, often with a touch of purple. 
However, there is no doubt that Burmese rubies are still considered the crème de la crème of coloured gemstones and their increasing rarity will only ensure that they continue to command ever more astronomical prices as jewellery connoisseurs clamour to get their hands on these magnificent wonders of nature. 
Read about the auction of the Jubilee ruby
The Garance ruby necklace from the Étourdissant high jewellery collection by Cartier is set with 26 Burmese rubies and diamonds as well as two large cushion-cut rubies from Mozambique.  

Boodles ruby ring set with a pink-hued 2ct cushion-cut Burmese ruby mounted in a platinum pierced setting with diamonds.

Gold Jodphur ruby ring by Alice Cicolini in yellow gold set with an antique Burmese ruby.

Glenn Spiro titanium and white gold butterfly ring set with 431 brilliant-cut Burmese rubies and 253 white diamonds.  

This Important David Morris necklace and matching earrings feature non-heat treated Burmese rubies in the most desirable Pigeon's Blood red colour set in platinum with white diamonds.  

Hemmerle Burmese ruby ring set in copper and white gold.  

Burmese ruby jewellery suite by Jacob & Co comprising earrings, a necklace and bracelet set with non heat treated Pigeon's Blood rubies and white diamonds.

This Boghossian Reverence diamond bracelet creates a tiered formation of diamonds and graduated rubies that encircle the wrist, and which rise towards the centre, culminating in an impressive 3.06ct Burmese ruby.