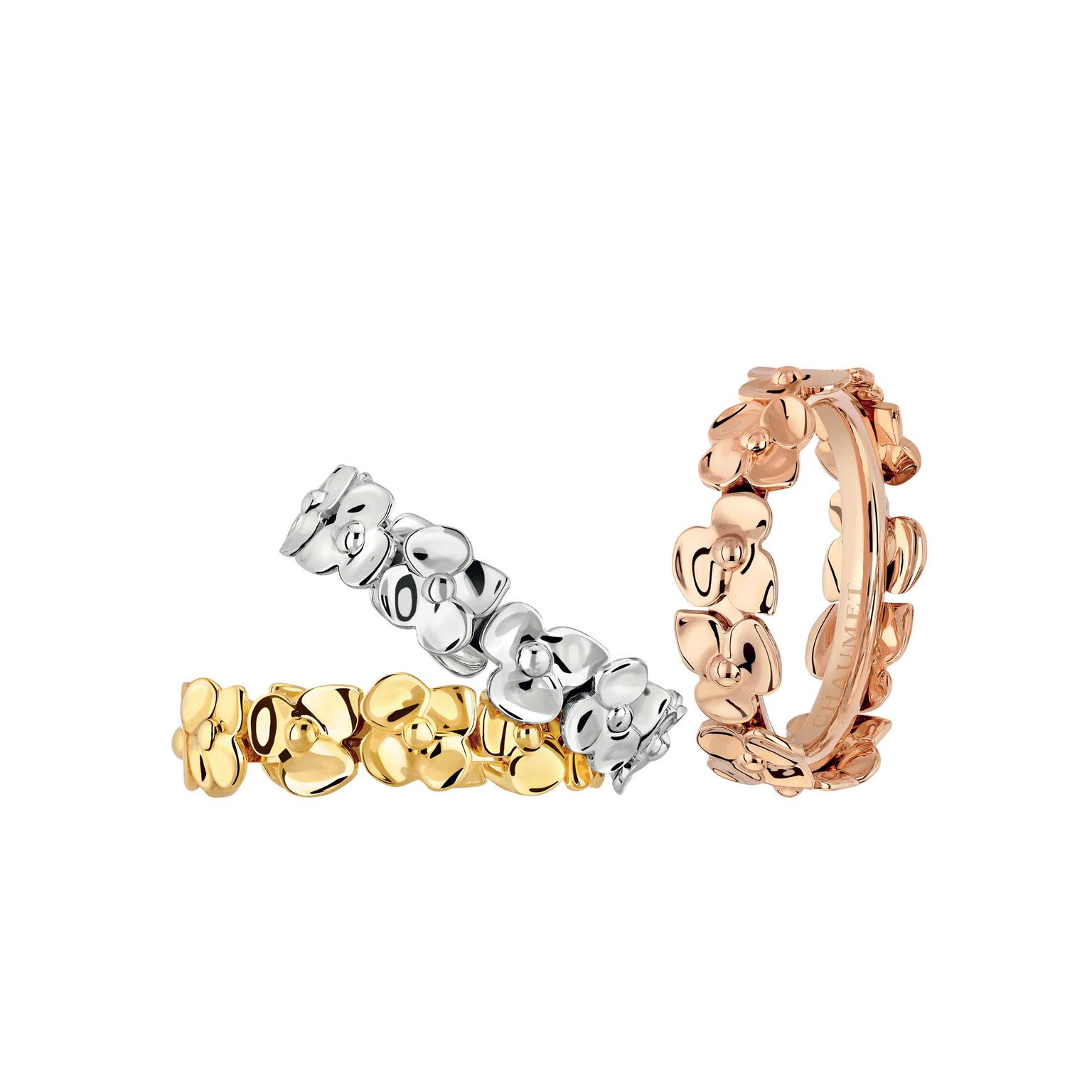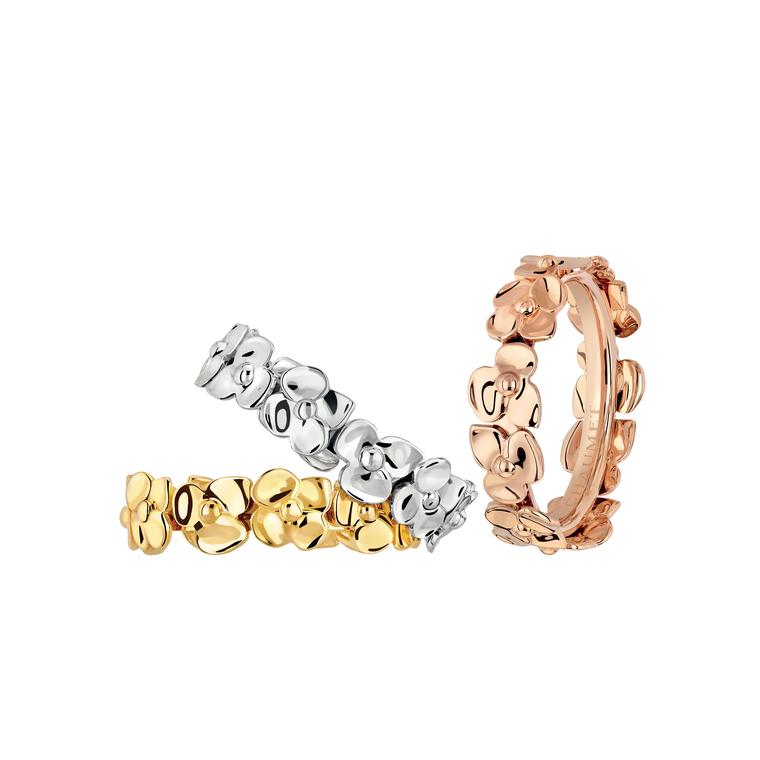 With precious few shopping days left until Christmas, there's no time for mistakes. Take the uncertainty out of gift shopping with this failsafe guide to classic fine jewellery that is guaranteed to be a winner.
1. Chopard
Happy Curves rose gold and diamond pendant
£3,090
Chopard's Happy Diamonds collection of jewels and watches fitted with freely rolling diamonds is simply iconic, and this Happy Curves pendant brings a cool edge to the theme. Three rolling diamonds are encased within a diamond-edged sapphire glass case set within an 18ct rose gold pendant with a square shape that hints beautifully at the trend for geometric jewels.
2. Chaumet
Hortensia gold rings
£980 to £1,140 each
Celebrate the beauty of hydrangeas with Chaumet's new Hortensia collection of botanical jewels. These simple rings are available in 18ct white, rose or yellow gold will bring a border of flowers to the finger. If you are feeling flush with Christmas spirit, they would look wonderful stacked.   
3. Boodles
Blossom rose gold and diamond pendant
£8,000
For a completely different interpretation of the rose, there is the Blossom collection by Boodles. The 18ct rose gold double-drop pendant we have plucked from the range is one of the more lavish designs – it is Christmas after all – and glistens with 1.47ct of white diamonds in bezel and pavé settings.
4. Tiffany & Co
Tiffany T yellow gold and diamond cuff
£2,525
Tiffany T cuffs are not only incredibly easy to wear, and a guaranteed crowd pleaser, they also carry the luxurious signature of one of the world's best-known brands, wrapped up in a little blue box that she'll instantly recognise. We particularly like the warmth of this super-slim 18ct yellow gold version with dazzling diamond Ts.
5. Cartier
Love bracelet in yellow gold
£4,600
Not many pieces of jewellery come with their own screwdriver, and this quirk –the bangles can only be secured on to the wrist by using it – has made Cartier's Love bangles design classics. The upmarket jewellery box staple first launched in 1969 and this enduring symbol of commitment will be just as well received this Christmas we can guarantee you.    
6. Piaget
Rose diamond and white gold pendant
$6,100
The flower is one of jewellery's most celebrated motifs, and the Piaget Rose jewellery collection captures the beauty of this most romantic of blooms. This 18ct white gold necklace leads down to a precious rose pendant set with 112 diamonds, with the final diamond reserved for the centre of a smaller polished gold rose planted further up the chain.
7. Chanel
Camélia rose gold and diamond earrings
£4,450
Give the gift of style this Christmas with these elegant earrings inspired by the camellia flower that Coco Chanel adopted as her personal talisman. The feminine, simple lines sparkle with cool diamonds while the warmth of the 18ct rose gold will flatter all skin tones.
8. Van Cleef & Arpels
Butterfly white gold and diamond ring
£19,400
The elegance that Van Cleef & Arpels is famed for is perfectly captured within this whimsical ring that sends two butterflies fluttering between the fingers. Round and marquise-cut diamonds sparkle on top of the 18ct white gold butterflies, which are a favourite motif of the French maison. 
9. Shaun Leane
Talon white gold and diamond earrings
£4,950
Shaun Leane's classic Hook earrings are notorious for selling out at Christmas, proving just how failsafe this jewellery style is, and true to form the Hooks are already gone. We have been reliably informed, however, that there are still a few of its sister style the Talon available. This white gold and diamond pair, inspired by Leane's catwalk creations for Alexander McQueen, will make a wonderfully exclusive gift.
10. Boucheron
Quatre Black white gold and diamond ring
£4,600
Four styles within one clever ring make for a classic Boucheron design that is infused with just a hint of Parisian rock 'n' roll spirit. Smooth and textured 18ct white gold strips sit next to a loop of tiny diamonds and faceted blocks of gold blackened with a raven PVD coating for a dramatic contrast.
Opt for a twist of cool geometric style with this square pendant from the much-loved Chopard Happy Diamonds collection with freely rolling diamonds (£3,060)

The soft floral shapes and delicate diamond accents of this rose gold double-drop Blossom necklace from Boodles won't fail you on Christmas (£8,000).

You can never go wrong with a Tiffany T bracelet, and this yellow gold and diamond version has extra sparkle (£2,525).

The classic Cartier Love bangle is sold with its very own screwdriver that is used to lock it onto the wrist (£4,600).

This delicate white gold Rose pendant by Piaget is set with 113 diamonds ($6,100).

Textured and smooth white gold, a strip of diamonds and black PVD faceted cubes combine to make the striking Quatre ring by Boucheron (£4,600).

These rings from Chaumet's Hortensia collection are available in rose, yellow and white gold (£980-£1,140).