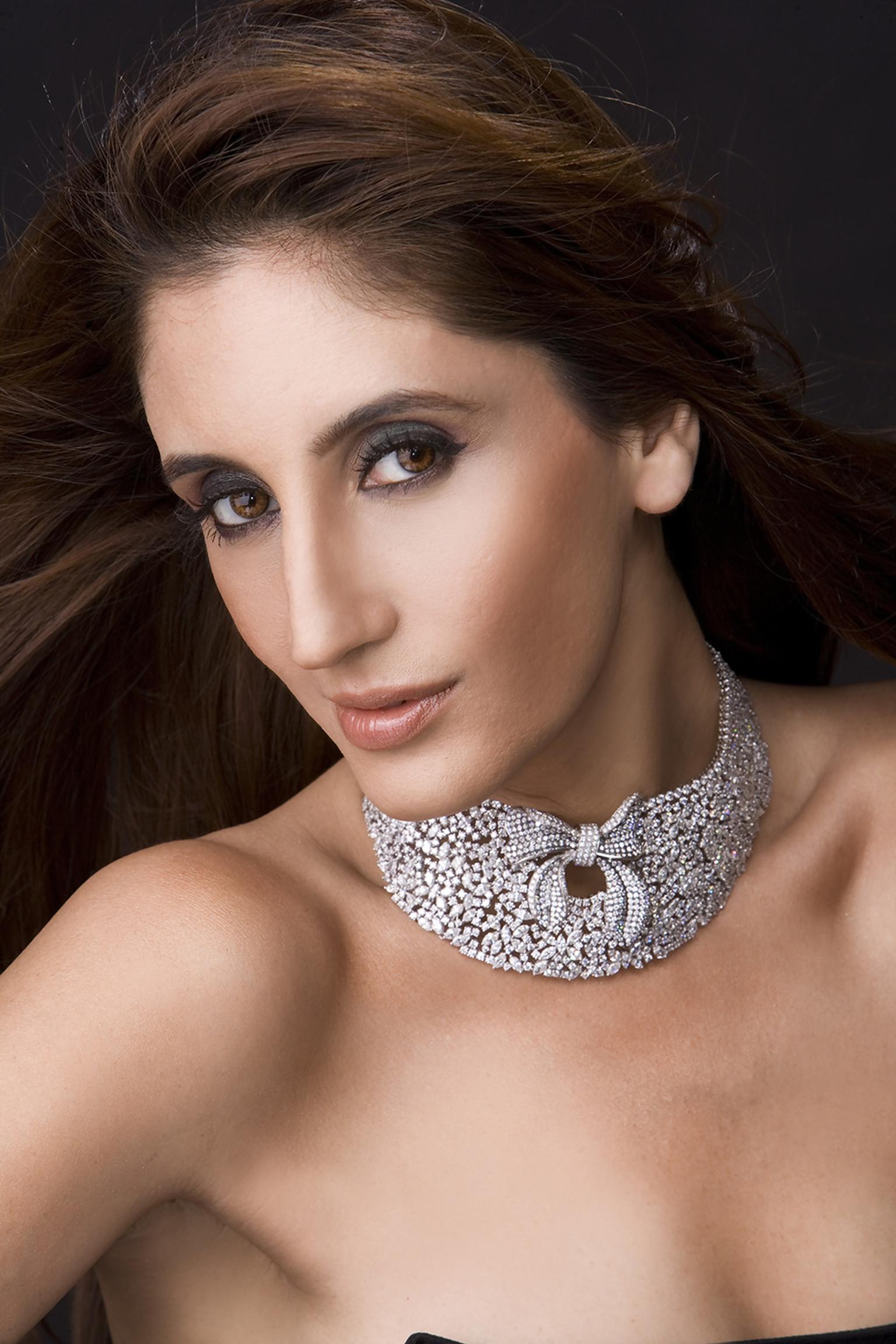 By Preeta Agarwal
Farah Khan's fine jewellery is unique. Like her flamboyant personality, it is intricate yet striking, bold yet feminine. Her signature style incorporates majestic tigers, snakes, insects, floral motifs and Egyptian heads, encrusted with the finest diamonds and gemstones, and she has designed for some of the top Bollywood and Hollywood stars and India's foremost families.
Crowned one of India's most renowned jewellery designers and gemologists, Farah insists that every single design should be a masterpiece. So it is hard to believe that she found her way into jewellery making quite by chance. Coming from a famous Bollywood family, there were expectations that she would pursue a career in acting or filmmaking. But all that changed when she enrolled herself on a gemology course at GIA. It marked the start of a journey that today spans 20 years, with many accolades earned along way.
Farah's journey took another momentous turn recently with the opening of her flagship store at Turner Road Jewellery Boulevard in Bandra, Mumbai. Spread over two floors, it is a visual delight, with jewellery themed around a story that will change every few months. The inaugural "Alice in Wonderland" theme, with its vivid orange windows and quirky displays, is designed to create an emotional connection with the customer, making them - just like Alice - curiouser to find out more. "I believe that anything is possible. Just like Alice, I daydream, except I make those dreams come true," says Farah proudly.
In an exclusive interview for The Jewellery Editor, Preeta Agarwal (PA) spoke to Farah Khan (FK) about her decades-spanning career and passion for jewellery design:
PA: What made you pursue the GIA course? 
FK: My initial idea was to go to LA and party for six months, so I was shocked when I realised the course was no joke. So, the only way out was to learn. It left me inquisitive, so I enrolled into the GIA's Jewellery Design course next.
PA: You graduated back in 1993, when jewellery design as a concept was unheard of in India. What were those initial years like?
FK: During those first years I worked with various jewellers in Mumbai, interacted with Indian craftspeople and gained a lot of hands-on knowledge. But unlike most jewellers, who took the route of safe jewellery designs, I itched to make something original. How will a customer know they have a taste for the different if they don't have the opportunity to see something different? I started designing for family and friends and had my jewellery manufactured by a close friend/jewellery manufacturer. The combination of my designs and his manufacturing worked for many years, and I launched my label "Farah Khan Fine Jewellery" in 2004. Then I started my own jewellery design workshop, which houses 80 craftsmen and a skilled design team. Today, with the launch of my new store, I have a retail presence in Delhi and Mumbai.
PA: You are the daughter of a famous Bollywood family. How has that affected your career?
FK: To begin with there were benefits. The Bollywood angle encouraged customers to walk through the door, but my designs made them stay. Adversely, most potential buyers who like my work think my jewellery is super-expensive. To break this myth, my new store is in the biggest high-end jewellery retail market in Mumbai. In the midst of all that competition, I hope that even if guests walk in just to browse, they will realise that my jewellery is equally affordable as my neighbours'.
PA: You are often referred to as a 'jeweller to the stars'. Did you set out with that aim?
FK: Being from a famous Bollywood family, it did give me fame initially as I have many celebrities who wear my jewellery. But I see jewellery as an artform; I make it for those who appreciate art. If they love my work and feel like a princess wearing it, it doesn't matter if a customer is a celebrity or a housewife.
PA: Your designs are more contemporary Indian than traditional. Where do you get your inspiration from and how do you go about designing pieces?
FK: Designs need to have a definite language. I believe in reinventing the past along with creating something new. I make jewellery to suit not just Indian garments but also Western outfits. Most of my inspiration comes from nature. I absolutely love designing bejewelled, three-dimensional animals and insects so that they apear almost alive. I use only gemstones that are lively and have a beautiful lustre - stones that sparkle and leave a twinkle in the eye.  
PA: Your jewellery has adorned many international personalities. Now with stores in Delhi and Mumbai, do you have plans to develop an international presence?
FK: My next project is online retail, which is set to launch in a couple of months. I do have clients across the globe, and next on my list is a store in Dubai and then London.
PA: Define Farah Khan.
FK: Eccentric and creative. It is important to make a style statement, but one should not overdo it. The trick is to find the perfect mix of confidence and attitude.
Farah Khan diamond aquamarine Seaweed ring.

Farah Khan diamond bow necklace.

Farah Khan diamond and emerald choker.

Farah Khan diamond studded Ant ring.

Farah Khan diamond-studded Snake bracelet.

Farah Khan emerald and diamond ring.

Farah Khan's new fine jewellery store in Mumbai.

The Alice in Wonderland-themed window display at Farah Khan's new Mumbai store.

Farah Khan's new Mumbai store opened in April at the Turner Road Jewellery Boulevard in Bandra.

Farah Khan with former Miss Universe and actress Sushmita Sen at the launch party for her new Mumbai store.

Farah Khan Indo Western polki necklace.

Farah Khan ruby and diamond earrings.